You´re dubbing a video? We have great tips for you!
Whether in the cinema or on video platforms like Netflix, Amazon Prime and alugha, people don't want to miss the advantages of synchronized movies.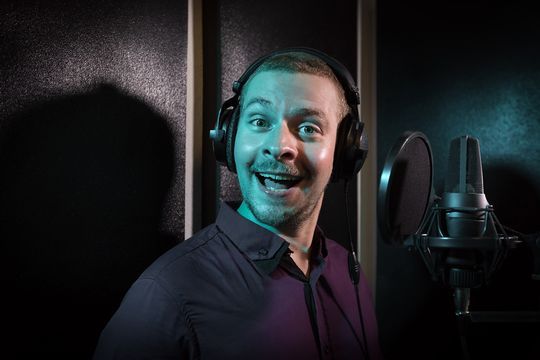 Read this article in: Deutsch, English, Español, Português, हिन्दी
Estimated reading time:
3
minutes

Synchronization is the reason why series like "The Simpsons" and "House of Cards" are that successful. But distributing movies and series abroad hasn't always been so easy. The first movies distributed abroad had been recorded in two languages - the original language and in a foreign one.
To film movies in several languages, the actors Stan Laurel and Oliver Hardy had to learn their scripts in different languages (Spanish, French, German and Italian) with the help of language coaches. During the filming the text was written phonetically on large cards and the cast consisted mostly of people from the respective countries, depending on the version filmed.
The versions in foreign language were also edited differently. Some had longer scenes and many did feature additional scenes that weren't available in the American original. This solution was obviously not very economic and in 1930 Jacob Karol invented a recording system that allowed to synchronize audio with the image. It was the birth of dubbing.
Today, new technology changed the situation. It's much easier to offer videos in different languages for different markets. With alugha you can combine all languages worldwide in one single video and publish it on websites, social media or own platforms, reducing loading time, data traffic and storage space.
Types of dubbing
Before you start synchronizing a video, you must first decide what type of dubbing you'll apply: time or lip sync?
Time synchronization is the easiest way for dubbing. The text is spoken independently to lip movements. The dubbing person speaks the text at the same time as the characters in the film do. This type of dubbing is often used in advertising.
Ideally, the audience will not notice any difference to the original if you do lip sync dubbing, as the spoken words are synchronized with the lip movements of the characters on screen. However, it's almost impossible to do a perfect synchronic dubbing as languages differ in spelling. So you need to put more work into your script. This type of dubbing is quite expensive, so that you mainly find it in cinemas.
Tips for dubbing
While translating you need to pay attention to the language and the society and culture behind it as well as what message really needs to be transmitted. We have some tips for you:
To achieve a certain synchronism, you need to have about the same sentence length. Also slang and expressions should fit.
Sometimes you need to consider the content of the movie. Some things that work in one language might not work in another.
Prefer simple words and phrases. Complicated words and phrases make it difficult to understand the message.
Being too close to the microphone causes noise. You should always keep a hand´s width distance away from the microphone. In case you're not loud enough, you still can get a little closer to the microphone.
On the other hand, you should avoid being too far away from the microphone when you're speaking loudly, otherwise this can cause a strange sound.
You should practice your text several times before recording so that speaking sounds fluent and secure.
It's important to capture the emotions of a scene. Get into the scene and try to adapt the character's expression and apply it in your language.
Obviously, languages are different from each other, so the intonation also differs. It should fit the meaning of the sentences.
Prior to every dubbing you must warm up your voice!
At alugha we offer you every support you need to make your video multilingual - from choosing a language to transcription, dubbing, hosting and marketing of your project. Just write us an e-mail if you're interested.
Or create your own free account and get your hands dirty, already! Join our multilingual universe!
Thank you for your time!
Wilgen and the alugha team!
#alugha
#doitmultilingual
#everyone'slanguage
Code

Name

Views

Percentage

por
Português

1,028

70.65%

eng
English

169

11.62%

deu
Deutsch

148

10.17%

spa
Español

83

5.7%

hin
हिन्दी

27

1.86%

Total

1,455

100%
More articles by this producer