Weekly Update - what's new at alugha
Here at alugha, we love technology and leveraging it in creative ways for our users to provide unique features and a stellar experience.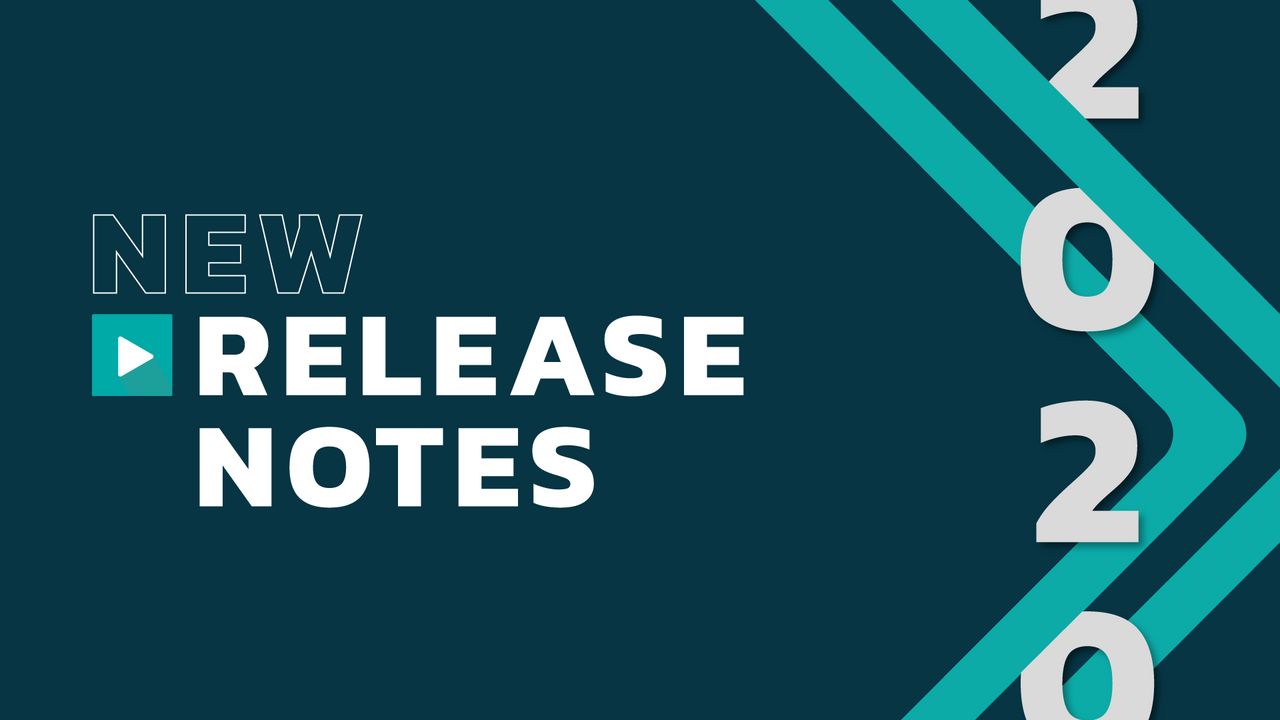 Read this article in: Deutsch, English, Español
Estimated reading time:
29
minutes

That's why we constantly develop, tweak, update and expand our tools and features. Big changes and new feature releases will be announced via email and in our blog section, but there are a lot of improvements happening on a daily basis that you might have missed. We also enjoy receiving your feedback so that we can integrate your ideas into our platform. Send your ideas and feature requests to: support@alugha.com
You can read up on the latest changes below.
12 October 2020
Improvement: Add telephone number input

Improvement: Redesign the press navigation

Improvement: Add feature section on the Player Product Page

Fix: Videos with 2 languages are not appearing in overview-latest-videos

Fix & Improvement: Removed tracks are included in manifests

Improvement: As alugha I want to offer the AppSumo yearly deal

Replace Christian G and add Natalie to team page

Fix & Improvement: Refactor screen breakpoints

Improvement: Graphql viewer-assets endpoints are broken

Improvement: Create removedVideosCount and update removedVideos

Fix: CreateVideo mutation is broken, initial track is not listed in video.languages

Fix: Uploading new audio in the dubbr track-info is broken when selecting "save" first and "save and close" right after

Fix: Publisher does not set the published date for the video when it is initially public

Fix & Improvement: S2T timeout should have a minimum

Fix: YouTube videos don't play in the android app
5 October 2020
Fix: Limit tags don't work for copy and past

Improvement: Add hint for video categories limitation

Improvement: As user I want to pick the STT source language directly in the modal

That's a cool update!

 Now you can choose your language for the automatic transcription from the existing audio files. This will reduce your workflow.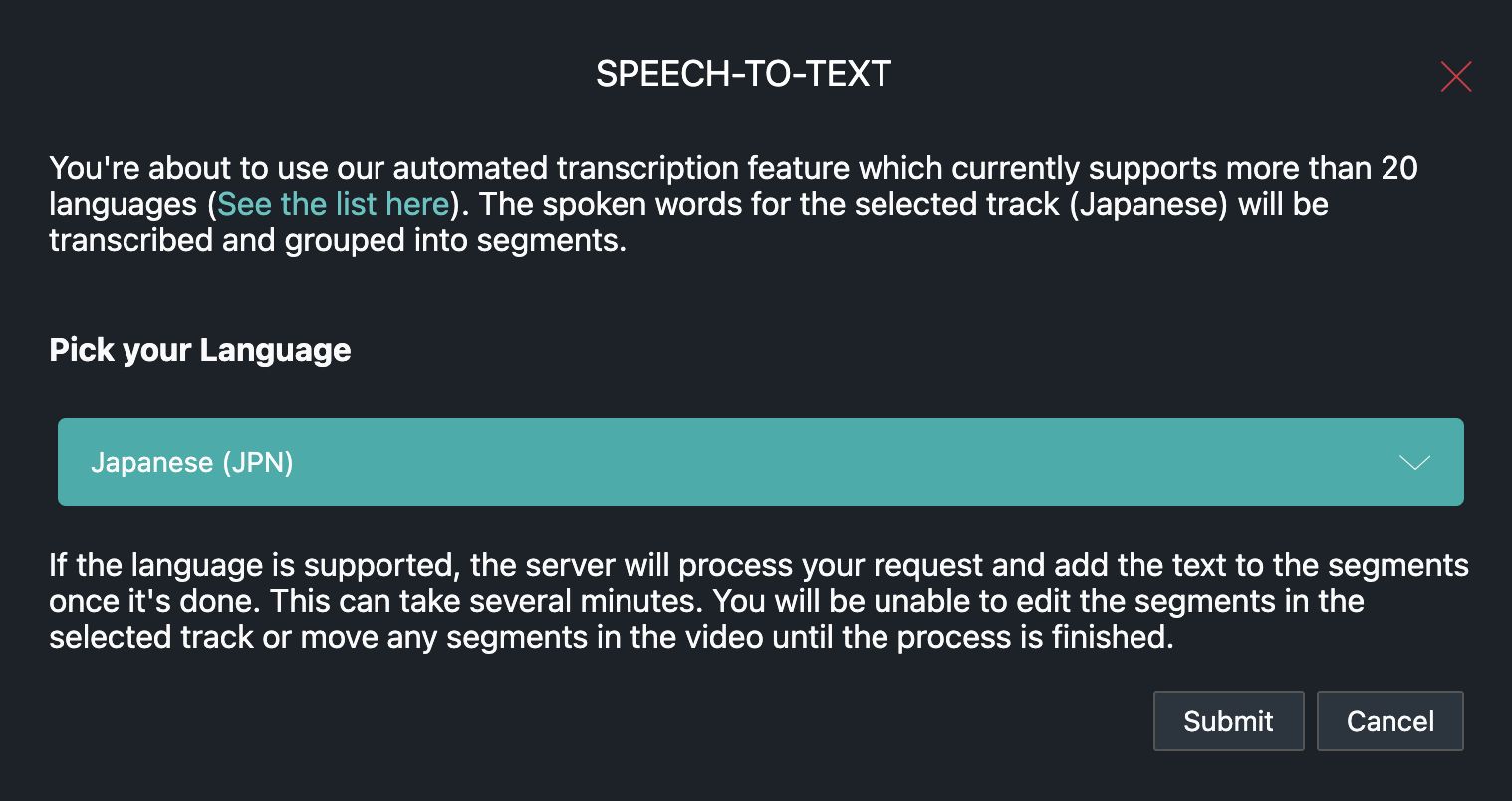 Improvement: update videoCount query in graphql

Fix: Opening the subtitle text-editor page crashes the dubbr

Fix: iOS app cannot load single videos

Fix & Improvement: Some videos have incorrect output length

That's a cool update! 

Some problems are so weired that it's almost impossible to localize them. Especially, if only one user has this problem and only when he uses a special programm, which made everything even more complicated. So, we adjusted many screws on our encoding server and voilá! In the end we not only solved the problem but optimized a lot of other things. 

Fix: Can' select asset from library
28 September 2020
Improvement: (For the page management) implement UI on the adminPage to make some videoOverview sections dynamic

Improvement: implement graphql part to manage admin-VideoOverviewPage

Improvement: Replace marketplace buttons with general shared buttons (unify buttons)

Improvement: Refactor marketplace card component

Improvement: Reduce watchlist & alucation query data

That's a cool update!

 We've improved performance dramatically and we've tidied up the Watchlists. 

Improvement: Limit Tags and Categories for assets

Improvement & Fix: Archive - removed videos list does not sort entries by last-modified descending

Fix: new_publisher did not let regular users convert their YouTube videos

Improvement & Fix: clean up asset mutation imports

Fix: collaboration ui breaks for pending invites

Fix: SVP throws an error
21 September 2020
Improvement: "Beliebte Kanäle" in der Videoübersicht

That's a cool update! 

You now can see trending video producers in our video overview. Trends are defined by the total number of views on the website, so you can see which producer is the most popular on alugha. 

Fix & Improvement: Move UUID validation to schema level

Improvement: Replace JS calculations with media queries on watchlist cards

Fix: Auth directive with role parameter does not work correctly

Fix: First Name and Last Name input fields are not getting initialized properly

Improvement: Add "video" translation

Improvement: Enhance user admin page

That's a cool update!

 

This is not that relevant at first glance for you as a user, but we made some changes to our admin-interface. Now alugha can react much faster to your needs. 

Improvement: lower threshold for sidechain compression

Improvement: update graphql error message name in useNotification hook

Improvement: Publish the Publisher

That's a big update!

 

There it is! A huge step for the new publisher is taken! This part of alugha was the last big chunk still written in angular, but now is working on react. Rewriting this bit we also rethought the whole concept an optimized the process based on what we learned so far. There are two functions missing in the new publisher, but as soon as their online, you'll be very happy about everything, like we are now!
Phase #1: Publishing an article, uploading a video or importing a video (currently from YouTube)

Phase #2: Thumbnail, title and video language  
Phase #3: Edit general information (valid for YouTube and also self hosted videos)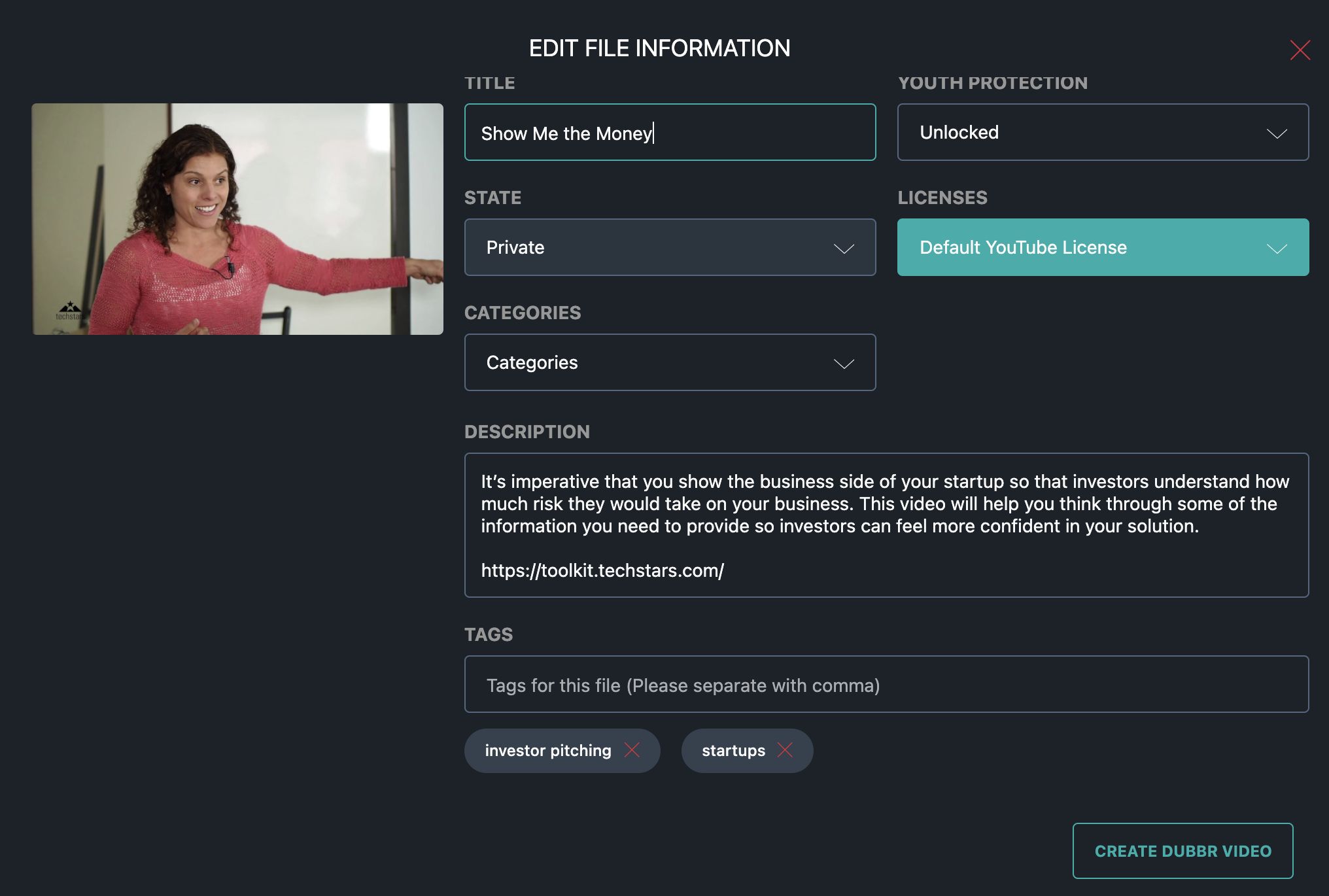 Phase #3a: Uploading a self hosted video you can place it directly on our Marketplace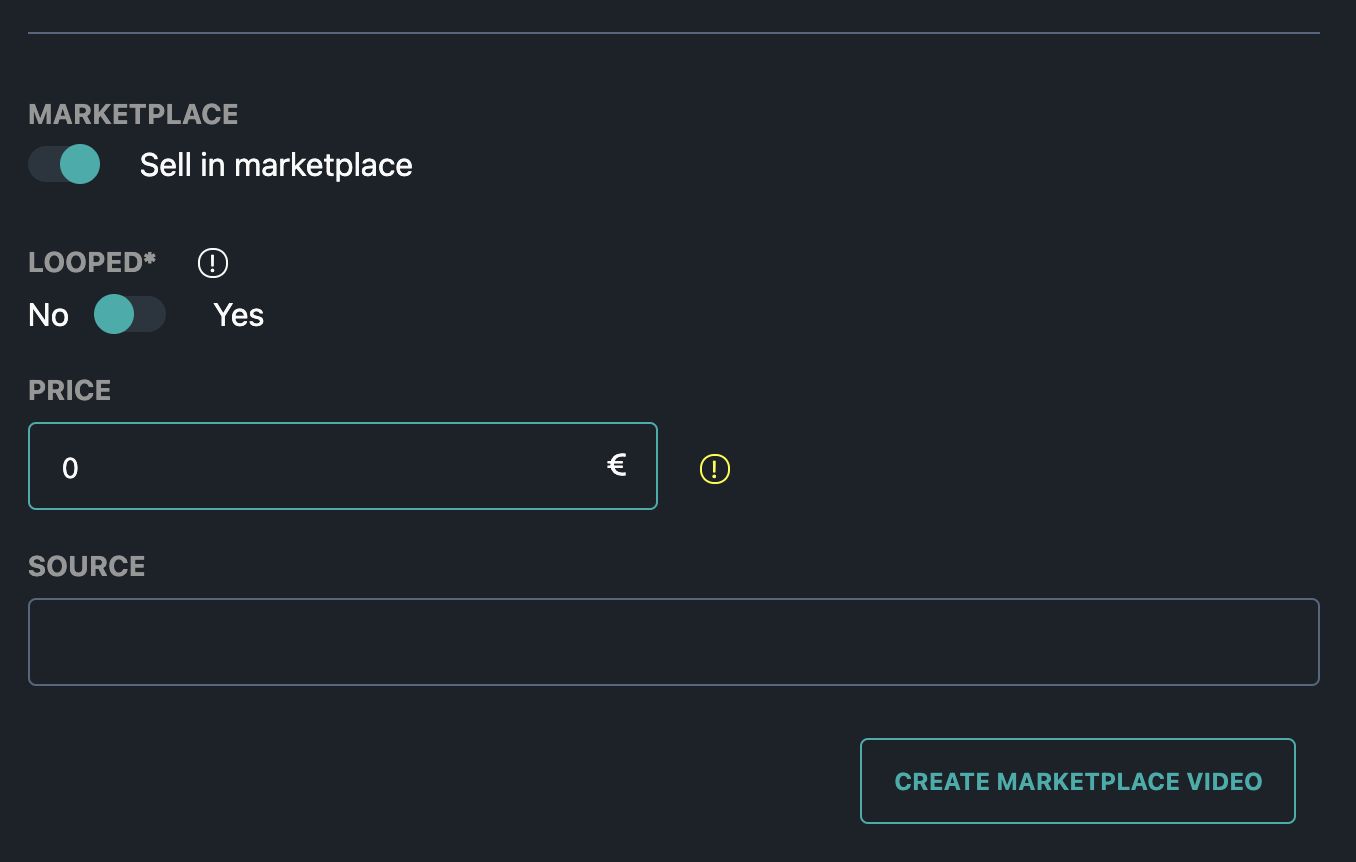 Fix & Improvement: AI/STT → Send NATS reply instead of publishing on a fixed response subject

Fix & Improvement: Make graphql listen to NATS replies, instead of subjects

Fix: View documents set the ownerId to the track owner
14 September 2020
Improvement: As alugha I want to check on used S2T minutes

Fix & Improvement: Marketplace crashes when trying to query for asset that has a waveform representation

Improvement: Remove "Draft" from video states

Improvement: As a user, I want a video to start in Full HD and then adapt to my bandwidth

That's a cool update!

 Our player works perfectly in adaptive streaming. Up to this update, we started videos with 360p and after a few seconds raised the video quality up to 2k depending on the stats of the user. For some time now, we collect much less user data and can only save them if the user agrees to the cookie settings. But to offer the best service also to those users who don't accept the cookies, we now do a quick performance check at the beginning of every video and start it directly in the best possible video quality. 

Fix: Add enum for delete asset errors

Fix: Fix login issues

Fix: Fix typo in library

Fix: Downloadassetbutton chokes on library picked assets

Improvement: As a user, I want to change the video playback rate in the player

That's a big update!

 User kept asking us if we couldn't offer the possibility to change the playing speed of a video. Well, sure... we can! And we did - you can choose between these playing speeds: 0,25x - 0,5x - 0,75x - 1x - 1,25x - 1,5x - 1,75x - 2x.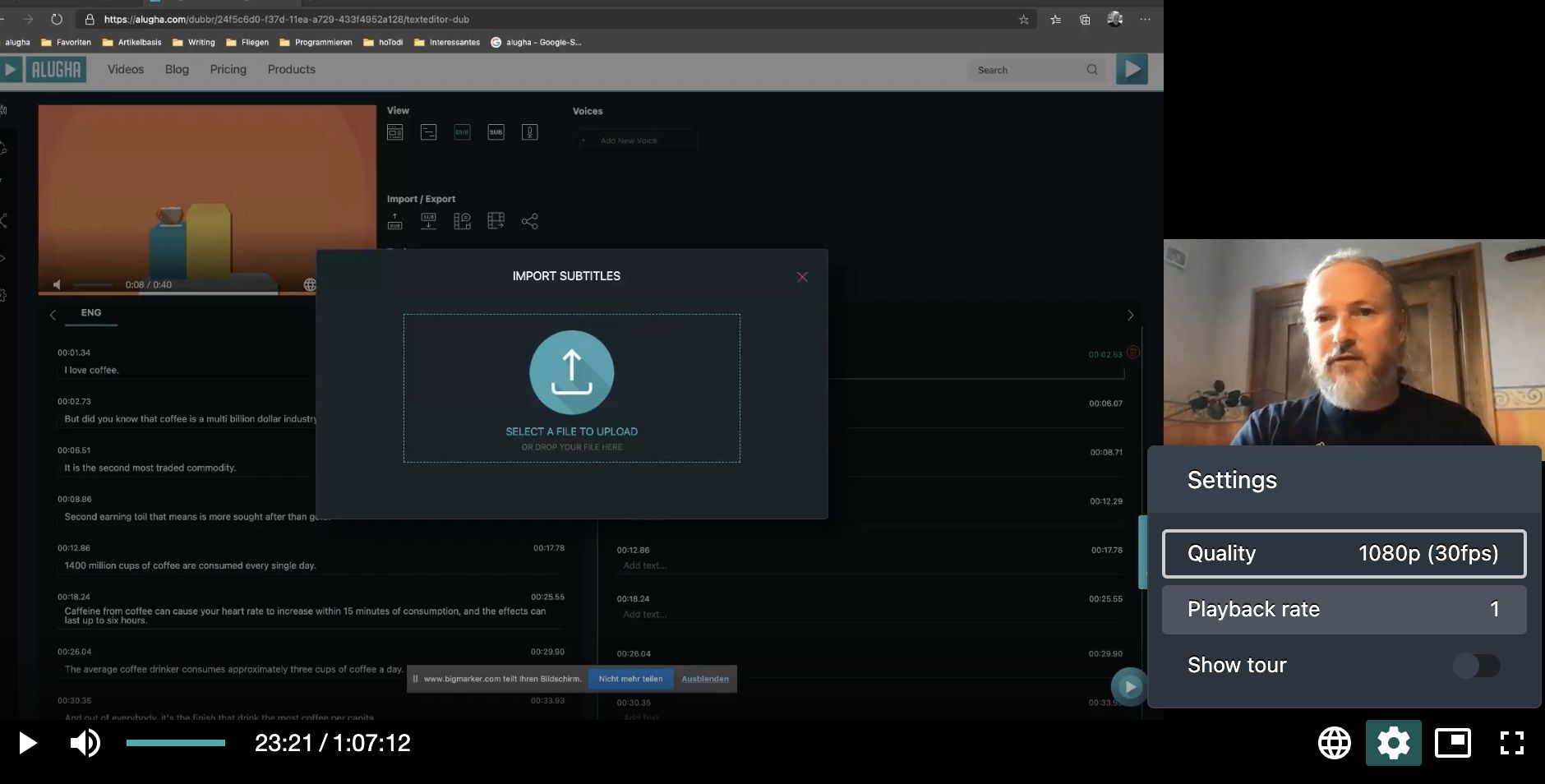 07 September 2020
Improvement: Investigate dropping the mp3 encoder completely and only use Flac

That's a cool update! 

The first version of the dubbr used flac and mp3 file formats. Nowadays, all relevant browser can handle flac files, so we dismissed mp3 formats saving a lot of storage space (and we love that!) and adding some more performance to the current dubbr.

Remove translator job offers

Fix: Let dubbr onboarding use linker instead of relative url

Improvement: Product pages call-to-action is confusing users

Fix & Improvement: Added note for delete asset and refactore component

Fix: Fix broken watchlist cards on alucation

Improvement: As an alugha user, I want to be able to download track audio

That's a cool update!

 This week is another highlight. Your audio file is final with all segments, exported and available on your multilingual video. But you want to use the audio file also elsewhere. Now you can download your audio files on your computer as AAC(LC) with 48kHz samplerate and variable bit rate. 

Improvement: Make default track state public
31 August 2020
Improvement: Embed code doesn't contain the autoplay attribute

That's a cool update!

 It was about time! Finally, we embeded videos can start automatically. You've asked for it... again and again... so we tought, well yeah, that's cool, let's do it... and here it is!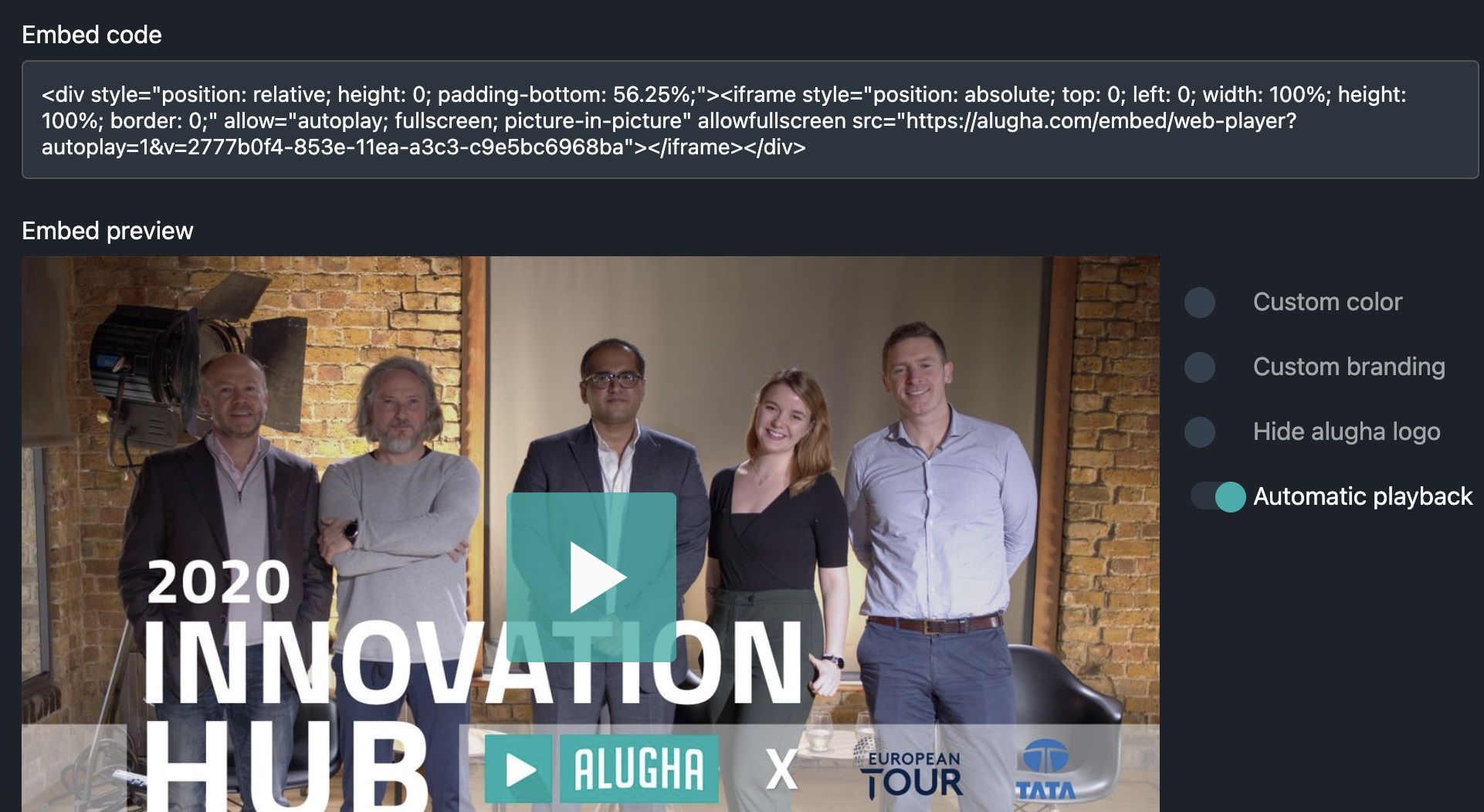 Improvement: Split video page tabs into separate chunks

That's a cool update!

 Doesn't sound that spectacular... but it is. The performance is very important to us and in this point we want to be one step ahead of other websites. Therefore, it sometimes is necessary to optimize "old" code and check it again. Thanks to the splitting we were able to improve SVP performance by 5 points (PageSpeed). 

Improvement & Fix: Prevent

alugha.com

from being embedded in an iframe unless it's the alugha player

Improvement: Languages not included in defaultLangCodes aren't getting considered at all

That's a cool update!

 Another one? Really? Yes! We've extended our language codes once again and now there are many more ISO langugage codes available for you.

Fix: Add firstVideoHref on uni-react

Improvement & Fix: Some video queries show removed videos

That's a cool update!

 The video overview hasn't been as performant as we wanted it to be. It took us some time to localize the problem, but we did it and fixed it. On top, we now use less server and GraphQL capacity which improves the performance of our website even more. 

Improvement: Add Mareike to team page.

WELCOME!

Improvement: enhanceDowngradeIntent must not be relative to current day

Improvement: Improve contact form traceability

Improvement: Do not set cookies and local storage until user consented

That's a big update!

 Again and again we read how much Google and Facebook deliberately abuse our data. Often it is not even wanted by the user, but he just doesn't understand what is happening in the background. "Don't be Evil" was once the guideline of Google. Today, we could describe our guideline something like this: Don't be "GooBook". From now on we will not activate cookies or the local storage in the player until the user really agrees. And even there, we do not use any tools or " Pixel" from Google or Facebook. We store on our own servers and do not give your data to anyone! This also applies to the embedded player.

Improvement & Fix: Sounds are not updating when moving segments while playing

Improvement: Put the waveforms into objectStorage and load them as asset representations

That's a big update!

 These last two improvements are quite something and are the next step for the upcoming major update for the dubbr. You can now easily move recorded segments within the timeline, even when the video is running. The video will then stop and as soon as the element is moved, the video will continue exactly at that position. Oh, and btw... We have improved the performance of the dubbr yet again with this update. 
24 August 2020
Improvement: Finally our entire contact section moved from angular to react. 

Improvement: Improve video overview for RTL

That's a cool update!

 We're international and many of our users speak Arabic. RTL (right to left) is therefore something important for us. With this update we optimized our latest video overview. 

ix: dubbr → When coming from archive or single video page, the video in dubbr can't be started

Improvement: Get a warning for invalid file format in the publisher and marketplace

FIx and Improvement: dubbr->Recording cache items don't get purged when new recording exists

Improvement: dubbr → Segment cue timing offset is not labeled

Fix: Fix contact form colors

Improvement and Fix: Tree shaking doesn't work properly, causing huge vendor chunks

That's a big update!

 Over time our services and pages have grown larger. At some point it's time to optimize the code behind it. By reducing the amout of code, we reduced the loading time of our website significantly. But there is still room for improvement...

Fix: dubbr → subtitle segment creation is broken

Improvement: Add autoplay and watchlist options to embed video settings

That's a big update! 

Wait a moment! What? That sounds cool! You are already able to embed your video where ever you want. Then we also added the possibility for you to decide who can embed your videos elsewhere. Next, we enabled personalizing the player with your own color and branding... but! This was only true for one video so far! From now on you can set this settings for whole watchlists and embed these. You can learn how this works here: 

https://support.alugha.com/help/en-us/3/108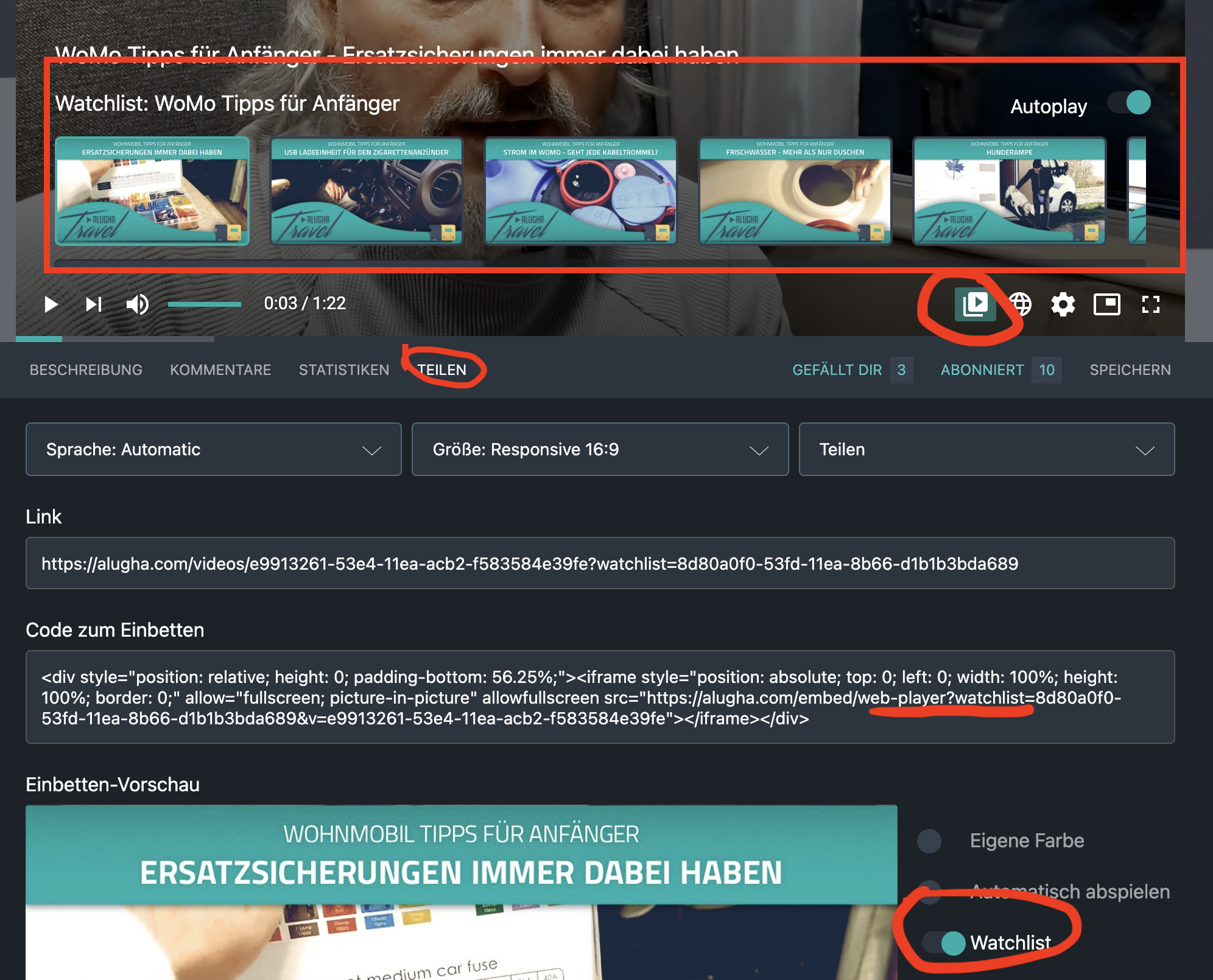 17 August 2020
Improvement: Finally our entire press section moved from angular to react. 

Improvement: As a dubbr user I want to have more control over the dubbing intensity before exporting &

Improvement: add ducking intensity parameter to finishTrackJob &

Improvement: Expose ducking intensity slider

That's a big update! Our ducking has been an issue for some time now. We optimized the code several times, but in the end you need the option to adjust your ducking intensity individually for an excellent result. Therefore, we now have an intensity ratio of 1:20 -> 0% == 1:20 and 100% == 20:20. Enjoy!
Improvement: Put segment meta assets into the asset collection

That's a cool update!

 Next big step for improving the dubbr to be ready for the next really bug update for you guys! We are in the middle of preparing the dubbr to store data differently. 

Fix: STT Modal needs text content

Improvement: As an alugha user I want to see the most recent videos of a category when visiting the video overview

Improvement: As a dubbr user I want to read all language names in my UI language

That's a cool update!

  From now on you can choose your language in YOUR language. This means if you're looking for Russian, you don't need to know how "Russian" is written in Russian language. 

Fix: Videos by category - endpoint does not check if video has playable tracks

Fix: dubbr-> Segment meta are still active while the track is flagged for removal

Fix: flexbox based modal styles are broken

Improvement: Player → Hide tour in embedded player if alugha branding is disabled

Fix: Player → Ensure tooltips do not move outside the player

Improvement: Player → New language menu design

That's a cool update! We changed the menu completely. Now you can see with only one click which languages are available for audio and subtitles. Both are scrollable individually using mouse or keyboard. 
Ready for the gigantic stuff!?!?
We always want to reach the people that normally don't have access to specific things. This is why we started to make the player controlable with the keyboard (you can read more here). Now this is where we are: 
The Basics: Semantic accessibility optimizations: attributes and correct tags

The next step to "communicate" with the whole website using the keyboard: Improved keyboard control and focus management

The real game: Optimize player and related video cards for screen readers.
Yes... you read correctly! Screenreader and complete controle over the player with the screenreader and your keyboard. We are working on covering the WCAG standard at alugha. However, so far, you can manage a huge part of alugha using a screenreader and your keyboard. 
12 August 2020
Fix: In the Producer pages → Can not save user socials due to invalid input object

Fix: In the dubbr → The segment meta asset should be located in the assets collection

Fix: S2T broken due to model changes

Improvement: Remove Experimental Alpha handling for S2T

Improvement: Adjust UI for the STT AI

Improvement: New Speech-To-Text engine

That's a big update!

 It took some time, but finally it's here! Our new STT engine is online! Press start, lean back and let yourself get impressed by the output! These are the languages we already support: Australian English (en-AU) - Brazilian Portuguese (pt-BR) - British English (en-GB) - Canadian French (fr-CA) - Chinese Mandarin - Mainland (zh-CN) - Dutch (nl-NL) - Farsi (fa-IR) - French (fr-FR) - German (de-DE) - Gulf Arabic (ar-AE) - Hebrew (he-IL) - Indian English (en-IN) - Indian Hindi (hi-IN) - Indonesian (id-ID) - Irish English (en-IE) - Italian (it-IT) - Japanese (ja-JP) - Korean (ko-KR) - Malay (ms-MY) - Modern Standard Arabic (ar-SA) - Portuguese (pt-PT) - Russian (ru-RU) - Scottish English (en-AB) - Spanish (es-ES) - Swiss German (de-CH) - Tamil (ta-IN) - Telugu (te-IN) - Turkish (tr-TR) - US English (en-US) - US - Spanish (es-US) - Welsh English (en-WL)

Improvement: Auto segmentation

That's a big update!

  It wouldn't be alugha, if we didn't have even more for you. We took another step further and we'll listen to your video. The segments are created automatically including punctuation. You just need to the finishing touch. With this update we reduce your workflow by about 50-60 % ! That's awesome. 
05 August 2020
Fix: Producer page display is broken when opened directly by URL

Improvement: Implement CEO's recommendation section in VideoOverview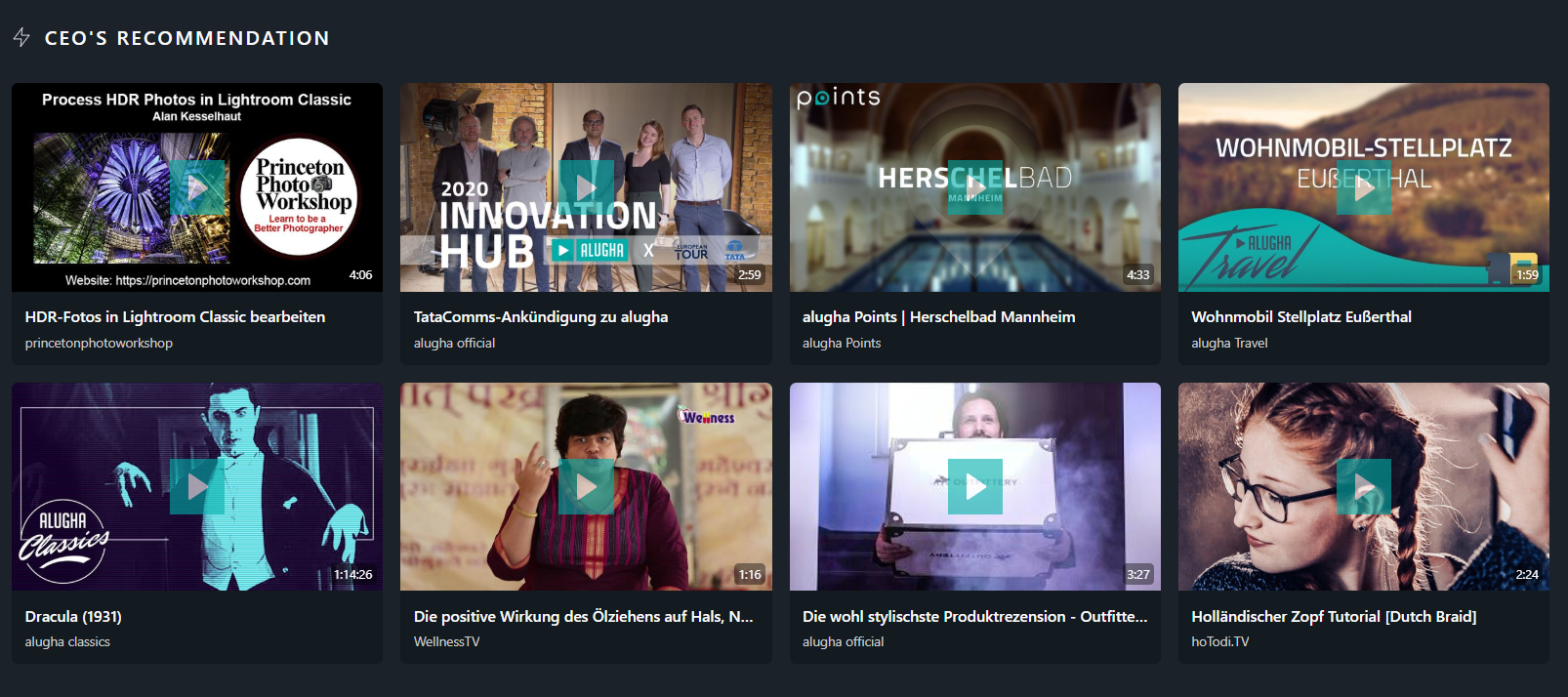 Improvement: Update users filter prop naming 

Improvement: Update gql naming for filter prop

Fix: Validate assetIds before setting them

Add translator job offers

Improvement: Use redis for most popular channels

Improvement: There is no hint that the yt video could be in the trash

Improvement: Migrate dubbing segments, metas and respective assets into the video document and

Refactor React app to work with the changed graphql schema

That's a big update!

 The first big step for a huge coming update. The dubbr is being optimized regarding performance and stability. Recordings are stored directly in the object storage and subscriptions are more stable. Database and segmenting have been reprogrammed to prepare everything for the next step in which new functions will be added to the dubbr. 

Fix: a security issue was fixed
27. July 2020
Improvement: Migrating press pages/section from angular to react

Improvement: implement alugha classics-Section in VideoOverview + VideoInfo portrait thumbnail

Thats a cool update!

 We've taken the next step and made it possible for our video producers to include portrait thumbnails for DVD/BD boxes and movie posters on their videos.

Fix: Registration confirmation is broken, the already-logged-in page is shown instead

Fix: When registering through collaboration invites, the logout prompt breaks the redirect

Fix: Didn't set language and draft state for new created article

Fix: Get wrong error for exisiting yt-videos

Fix: Update video error enum

Improvement: Update create video handlers / funtions

Fix: Fix navbar alignment

Improvement: STT can now recognize up to 28 languages

Improvement: Autosegmentation in the dubbr

That's a big update!

 From now on our mega big update for our AI in the Speech 2 Text section is available for the first users. We not only support 28 languages, but also automatic segmentation and recognition of punctuation marks! Here is a demo video:
Improvement: Enable all languages for "nextgen" skynet S2T / auto segmenting
20 July 2020
Improvement: We integrated the press section into our React codebase. Another important step to drop Angular.

Improvement: Miscellaneous style improvements for alucation

BIG Improvement: Lazy load categories on the video overview. This is a HUGE performance boost!

Improvement: Added a shortcut to show the desired page number. This will save you a lot of time clicking through the pages on the video overview.

Fix: Resolved an issue where users could not remove their dubbr segments under certain conditions

Fix: Resolved an issue that prevented users to invite collaborators to their projects 

→ now there should be nothing in your way. 
13. July 2020
Fix: Resolved an issue that relied on a static URL structure for assets taken from the library 

Fix: The alugha player now starts as expected when a user has blocked cookies and localStorage directly in the browser settings

Improvement: Added "alugha Travel and Points" section to the video overview (

https://alugha.com/all

)

Improvement: Link to edit article after creation and check description slice

Improvement: Added "most popular channels" section to the video overview (

https://alugha.com/all

)

Thats a cool update!

 Now you can see the trend on alugha right on the first page with the top ten of alugha videos...

Fixed a bug where the producer page did not render under certain circumstances

Fix: Added a shortcut to the video cards where you could jump from one of your videos directly to the dubbr

Thats a cool Update!

 

We established a new possiblity to edit your own video as a producer in the dubbr. From now on you'll find a link to the dubbr in the context menu from your video (the small pop-up that appears clicking on the three dots in the bottom right corner of the video card. 

Fix: Resolved an issue where the user's plan does not update immediately after the successful redemption of an AppSumo code. The quota (i.e. streaming, upload and encoding minutes) do also update immediately now.

Improvement: Introduce custom license 

Fix: Resolved an issue where the dubbr crashes after adding or removing a subtitle segment under certain circumstances
07. Juli 2020
Improvement: Integrate and swtich to Weblate

That's a big update!

 From now on the translation of alugha websites and services will be much easier. We have switched completely to Weblate and thus simplified and accelerated the workflow of translations.

Improvement: Always minimize all tracks in the timeline that are not active or locked

That's a big update!

 From now on you will only see the complete track you are working on in the dubbr. For that you can pin the main track at the top and customize the timeline view in the dubbr to your own needs with certain key combinations.

Improvement: Take quotaBoost into account

That's a big update!

 Yeah, one more! It is now possible for users to "top up" individual quotas individually. Be it for streaming, hosting, encoding... We have built an extra admin area where this can be done easily. In addition, we can now also build promo packages directly and pass them on to the users.

Improvement: Smooth out login process by providing more detailed error messages

Improvement: VideoCards limit depending on windowSize + cardMenu positioning

Fix: Resizing browser windows triggers scrollintoview

Improvement: Remove alucation-section in VideoOverview

Improvement: Add Points+Travel section in VideoOverview

Improvement: Include users parameter in videos query graphql

Improvement: For AppSumo Users better explanation about the difference between plans and extra minutes

Fix: getTrackTagsQuery is missing showUnlistedTracks

Fix: Make sure we always import at least one format from YT

Improvement: create graphql query to filter most popular users

Fix: Users can not submit vtt/srt with input files larger tha 100kB
29. June 2020
Improvement: Implement alucation-Section in VideoOverview

Fix: If the last article of a page is removed in the organizer, the reloading gets stuck

Use pagination in videoOverview sections

That's a big update!

 We have added "Pagination" for each category on the new videos page. Now you can browse easily through many videos on one page. We have also paid a lot of attention to performance.

Fix: 'id' must be provided to format a message (CategorySelection)

Improvement: Modify videosByCategory & recommendedVideos query to make it work with pagination

Improvement: Include offset in videos query to make pagination work

Fix: User has no access to video thumbnail and background (image)

Improvement: Update SB/Influencer/Enterprise streaming minutes

That's a big update!

 We have made a lot of adjustments and put the whole machinery in motion to make this update possible. There are only three numbers listed at the end, but they are very impressive. We had to optimize a lot in the background so that we could keep the costs under control despite the massive increase. Streaming is now much more appealing. Small business has increased from 5,000 minutes to 15,000 streaming minutes, Influencer from 40,000 to 65,000, and Enterprise even from 100,000 to 400,000 minutes. Now that's something!

Improvement: Add admin reencode buttons for video & (audio) track
22. June 2020
Improvement: Streaming, storage, and encoding minutes were not clearly explained. We have now split them up in backend/payment.

Improvement: The status of a video and of an audio track had the same label. We have now changed the status of audio.

Fix: FeaturedBanner: Something went wrong by changing the window-size.

Improvement: Redesign of the VideoInfoCards

Fix: finishTrack job must not use linked asset as a target

Fix: Subtitle-only tracks sometimes show up in audio selection

Fix: SRT import dialog is too large on Safari

Improvement: Implement category-Sections in videoOverview

That's a big update!

 We get more and more producers, users, and videos. So far, we have simply always shown the latest videos that have at least two languages in the video overview. Additionally, we have selected a few categories we provide. After some development time, we have taken the next big step towards offering a Video Hosting Consuming platform. From now on, we will display the latest videos from each category.

Improvement: Convert TOS to React

Fix: Viewing watchlist videos results in unexpectedly high CPU usage and may even freeze the tab.

Improvement: Added new category "Video and Photography".
16. June 2020
Fix: Don't crash when video asset has no image representation

Add Ian on team page

Fix: Lower number of tracks in sitemap

Add default alugha license

As an alugha admin, I want to mark a video an alucation video

That's a cool update! 

More and more video producers and tutors are discovering the diverse possibilities on alugha. Multilingual education is unique! From now on, we can define which videos are displayed in our overview 

https://alucation.alugha.com/all

 and therefore we can support our producers more efficiently. 

As a user I want to be informed about alughas products

That's a cool update! 

alugha has a lot to offer, and the beautiful thing about this is our modular concept. Every user can pick the cherries he or she needs. Our product pages will explain all the benefits to you. 

As a user, I want to be able to upload an alternate default language audio asset

That's a big update!

 Imagine you've uploaded a video with audio to alugha, but later you get an even better audio recording for that video - what now? Upload the video again and lose the generated clicks on it? No! You now can update your default audio track and upload better quality if need be. 

Implement recommended videos

That's a big update!

 

Oh, wow! That's two big updates in one! Our user number is growing. With over 5.5 million returning users watching about 8 minutes of video material at each visit that's quite a lot of traffic. But we have also more producers on our website and therefore more videos to watch. So far, the videos shown to the user were random. But that's not good. You want to watch videos that match your interests! Sounds easy but it's quite tricky to implement. However, we finally managed it and are proud to present the slider on top of the page where you'll find six interesting videos. 
08. June 2020
Add navigation on landing page

Create Video Overview Banner

That's a cool update!

 So far, most alughans landed directly on a single video page. That's why our video overview was quite simple (

https://alugha.com/all

). As our number of videos is growing, we started designing them more intuitive. Beginning with a banner on top in which we can promote the very special videos.  

Add dubbr onboarding

That's a cool update!

 The dubbr is our flag ship and has many features. However, feedback from users has been, that the first step aren't very clear. That's why we started implementing a tour on those pages. 

Add translations & team members

Fix: Disable Feedback Widgets on small screens

Fix: Only account for public tracks when checking for maxTracks while setting a state to public

Fix: Fix dubbr buttons
02. June 2020
Migrate the press resources page from legacy-web

Add dynamic link for video:content_loc in sitemap

That's a cool update!

 In regard to SEO we are already quite good equipped. For every language we create an own listing for the search engines meaning that a video with five languages tracks is found as five videos - one video for each language. We are optimizing this process contanstly. 

Split AssetContentMobile in different files

FIx: Update link flow to single asset page / producer page

FIx: update pricing page to display "unlimited" instead of -1

FIx: No success message appears after finalizing a track in the dubbr

Fix: Didn't show download progress for larger assets

Fix: Users logged in with a persona should still be able to correctly update their main account managers

Fix: As a sumo-ling I don't want to be routed to the checkout page when I didn't redeem a code yet

Fix: Update the info message that states the available languages of skynet

Fix: Window is not defined in the Upload/Marktpalce for Thumbnails and background

Fetch all possible resolutions from YouTube

That's a big update! 

alugha aims to optimize everything and save ressoureces where ever possible. So far, you could merge your videos from YouTube to alugha and turn them multilingual. Therefore, we used the highest available resolution of the video and encoded it. This is an unnecessary step in the process using up a lot of computing power and energie. After all, YouTube had already done it. If you verified your alugha account with your YouTube account and you want to merge your videos to alugha, it will cost you nothing. We simply transfer your videos on our alugha server. 

Fix: Linked to about:blank for click on library card
25. May 2020
Remember this day! We come out with alugha 2.0! You can only see the changes from the last 4 weeks but imagine... we do this every Monday and this since 4 years now! And finally we reached a totally new level in alugha!
Fix: Waive watchlist limit when it's a negative number

Implement GQL mutation for (re)encoding an asset

That's a cool update!

 You might not really notice but we are thrilled! It can sometimes happen that a video gets stuck in the encoding process - for whatever reason. It's really rare, but however, so far we had to go to the server and undo it "manually". Now it's just a push of a button.

Add platform product page

That's a cool update!

 The alugha universe is huge and you can get lost in the vast space... another alugha page that will explain all possiblities you have. 

Add / Update test for marketplace overview

Remove routeConfig file and fix some typos

Fix: Import sub/trans fails if the input SRT file contains special characters

Fix: Fix import subtitles on macOS/Safari

Download assets from the Marketplace.

That's a cool update!

You are now free to download and save videos and images from the alugha marketplace. You can even choose the image resolution. 

Fix: As a dubbr user I need more clarification what a langCode is and why I need it

Fix: maxTracks calculation includes removed tracks

Fix: Producer page onboarding

Fix: Legacy routes in alucation show navigation of main page

Enabled new encoding server infrastructure

That's a big update!

 We reached the champions league! Encoding a movie on alugha could take quite some time, 4k could take up to 5-8 hours. We worked hard on this one... Encoding now only takes minutes!

Fix: Make video categories not required
19. May 2020
Update encoding server for new plan structure

Fix: Plan upload limits don't seem to work properly

Manage multiple brands and select them when creating my embed code

That's a big update!

 Now you can create different brands and links to your website and manage them before you embed the video. 

Handle reload after successful account creation

Let user create invites for his managers &

Make Personas removable by user(manager)

That's a big update!

 You can now invite other alugha users to manage your account!

Fix: Register with oauth fails when clicking the register button the first time

Check for maxTracks when user changes track visibility state

Add auth actions to login and signup

Make VideoTable responsive

That's a cool update!

 The tables looked really cool so far... but only on a performant display. From now on our tables are responsive and adapt to the size of your screen. 

Add hosting product page

Update Arabic translations

Fix: Video filter in ProducerPage

Fix: Article filter on producer page crashes when filtering categories

Fix: The video owner is not able to remove tracks created by collaborators
13. May 2020
Update encoding server for new plan structure

As an alugha user, I want to be able to remove player branding

That's a big update!

  You can now remove the alugha logo from the player when you embed the video somewhere else!

As an alugha user, I want to be able to add my company's logo to the player

That's a big update!

  You can now add your logo to the player and it will be at top of the video when you embed it somewhere else!

Streamline modal header styles throughout the dubbr

Create button too small in the marketplace

Add player product page

That's a cool update! 

Our player became an incredibly big part of alugha and it was the start of all. Over the years it got SO many improvements. Time to give it its own page on alugha to explain what you can do with it.

Apollo cache didn't update for delete element from producer activities

Only offer tracks with valid asset-Id as source for background audio

Some translations are wrong - Improved Spanish and Catalan

Add Photo and Videography category

That's a cool update! 

For the first time we added another category. We got SO many valid requests for this category that we decided to add it.

Now the entire alucation website is also available in Arabic
04. May 2020
Added search field to activities header. You can now search within your activities.

As a user I want to get an onboarding

That's a cool update!

You now get an onboarding within different pages on alugha to understand how it works.

languages array in video is not updated (or wasn't at some point)

Add "videos" alucation page

That's a big update!

We now have created a totally independent instance of alugha! It is all about education in different languages with the entire alugha technologies.

Added query props for view request

Track if users register from alucation or alugha

That's a cool update! 

Sounds "dangerous" but is pretty cool! We want to make sure that if you apply for free education, only you will not get disturbed from us with alugha activities.

Store "domain" of user when created in graphQL server

That's a cool update! 

Sounds "dangerous" but is pretty cool! We want to make sure that if you get further informations from us or you watch videos, you get them in YOUR language!

As a dubbr user I want to set the default track as background audio

That's a big update!

You can now set the default audio from your video as the background track to any other language track and get the ducking and merging done by our dubbr!!

Remove old settings page

That's a cool update! 

In fact after we merged all the settings into the new react page it was time to say goodbye to the old angular page!

Fix links to alucation videos page

Add youth protection field to video sitemaps

That's a cool update! 

We have added the option to set your video as not good for young people and we want to make sure, that any other search engine will respect this too so we added it to the sitemaps.
27. April 2020
Let user create invites for his managers

Refactor react routing

Fix German translation typo

Add fallback route on participate page

Mixed-up video and track owner for video activities

Added activities

That's a big update!

You can now manage all the activities within alugha. See all the videos you watched and in which language, same to articles...
24. April 2020
As a user, I want to get localized error messages for failed requests

Include missing settings to Producer Page settings

That's a big update!

We merged from the old and separate settings page to the new React settings page 

Include word wrap in VideoTable Languages. 

We improved the table style

Upgrade to react-intl 4 and add unified number formatting

That's a cool update!

Sounds pretty boring, doesn't it? Well with this update we finally can respect any number format in any language on earth! We are so thrilled to let our users read in THEIR language and read the numbers the way they are familar with. 

Updated gql views request by group

Added delete with item ids for views

Added sort for views request

Add possibility to link to specific participate content

Fix privacy page translations
20. April 2020
Video player overlay sometimes disappears even when the mouse is on top and has just been moved

Add UI component to video page for converting youtube videos to self-hosted

Prevent google from crawling embedded videos

As a video owner, I want to invite collaborators via email

That's a big update!

We always expected from our producers to know the alugha-ID - AND in fact that they already had an alugha account! -of the people they want to invite to translate and dubb. Now it became SO much easier! You can put in the mail address and our system is checking if the user exists. If not he gets an email and with two clicks his account gets created and he is part of YOUR multilingual journey.

Participate page style improvements

Activate userback feedback button

Remove speakers preview tab

Tools page style improvements
#alugha
#multilingual
#everyoneslanguage
More articles by this producer
Our new computer linguist is not only skillful with words.
Our Bavarian soldier presents alugha to the world. Usually with a lot of heart and well organized.
There is nothing that brings us together than music. A song can be one of the unique connections we share with our partner; it can move us to tears; it can start a room full of strangers singing together and dancing.
Videos by this producer
As the summer vacations in Baden-Württemberg are about to begin, Mannnheim's Mayor Dr. Peter Kurz addresses the citizens. For all information on the Corona situation in Mannheim visit: https://www.mannheim.de/corona
The roughly 3-minute film provides an initial impression of the MAHLE plant and also presents the principles and values that govern the way the team works together on a daily basis. And, of course, it highlights the innovative technologies that find application in the MAHLE thermal management produc