Weekly Update - das ist neu bei alugha
Hier bei alugha lieben wir die Technologie und setzen sie auf kreative Weise für unsere Nutzer ein, um einzigartige Funktionen und ein herausragendes Erlebnis zu bieten.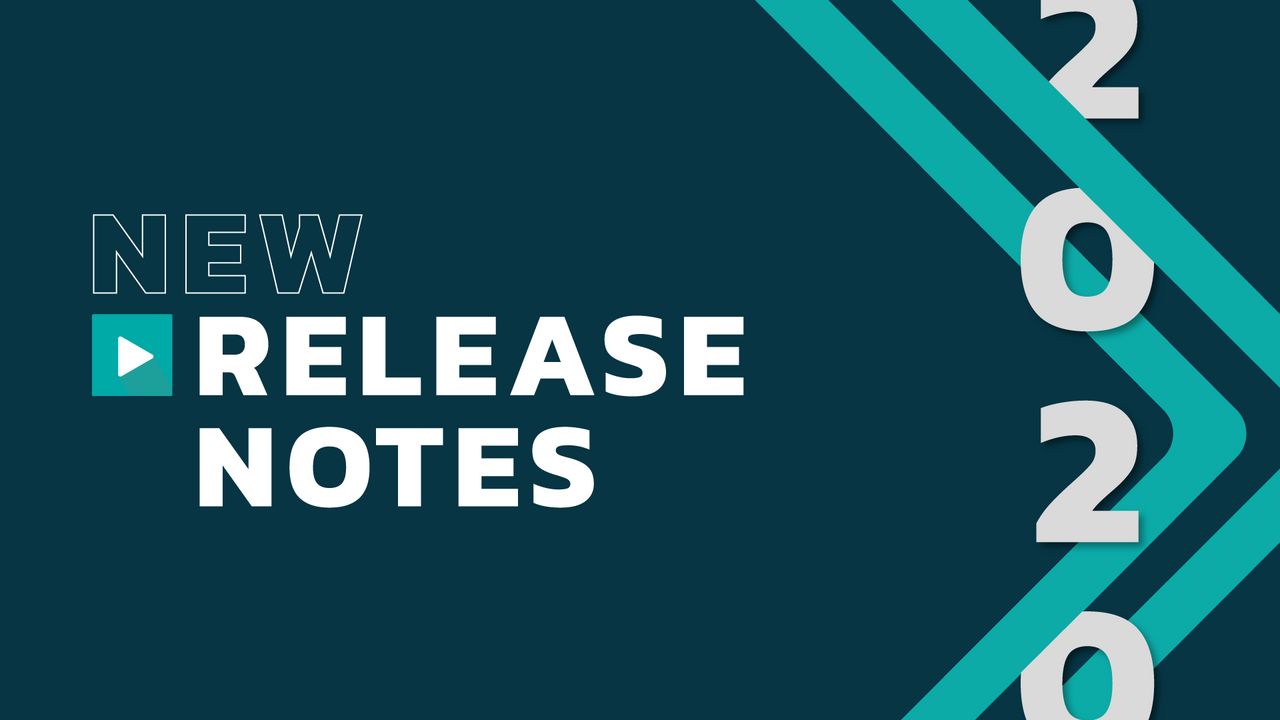 Read this article in: Deutsch, English, Español
Estimated reading time:
29
minutes

Aus diesem Grund entwickeln, optimieren, aktualisieren und erweitern wir ständig unsere Tools und Funktionen. Große Änderungen und neue Funktionsveröffentlichungen werden per E-Mail und in unserem Blog-Abschnitt angekündigt, aber es geschehen täglich viele Verbesserungen, die du vielleicht verpasst hast. 
Wir freuen uns auch über Feedback, damit wir deine Ideen in unsere Plattform integrieren können. Sende deine Ideen und Feature-Wünsche an: support@alugha.com.
Nachfolgend kannst du dich über die neuesten Änderungen informieren.
12. Oktober 2020
Improvement: Add telephone number input

Improvement: Redesign the press navigation

Improvement: Add feature section on the Player Product Page

Fix: Videos with 2 languages are not appearing in overview-latest-videos

Fix & Improvement: Removed tracks are included in manifests

Improvement: As alugha I want to offer the AppSumo yearly deal

Replace Christian G and add Natalie to team page

Fix & Improvement: Refactor screen breakpoints

Improvement: Graphql viewer-assets endpoints are broken

Improvement: Create removedVideosCount and update removedVideos

Fix: CreateVideo mutation is broken, initial track is not listed in video.languages

Fix: Uploading new audio in the dubbr track-info is broken when selecting "save" first and "save and close" right after

Fix: Publisher does not set the published date for the video when it is initially public

Fix & Improvement: S2T timeout should have a minimum

Fix: YouTube videos don't play in the android app
05. Oktober 2020
Fix: Limit tags don't work for copy and past

Improvement: Add hint for video categories limitation

Improvement: As user I want to pick the STT source language directly in the modal

That's a cool update!

 Ab sofort kannst du die Sprache für die automatische Transkription selbst aus den vorhandenen Sprachen auswählen. Dies reduziert den Workflow.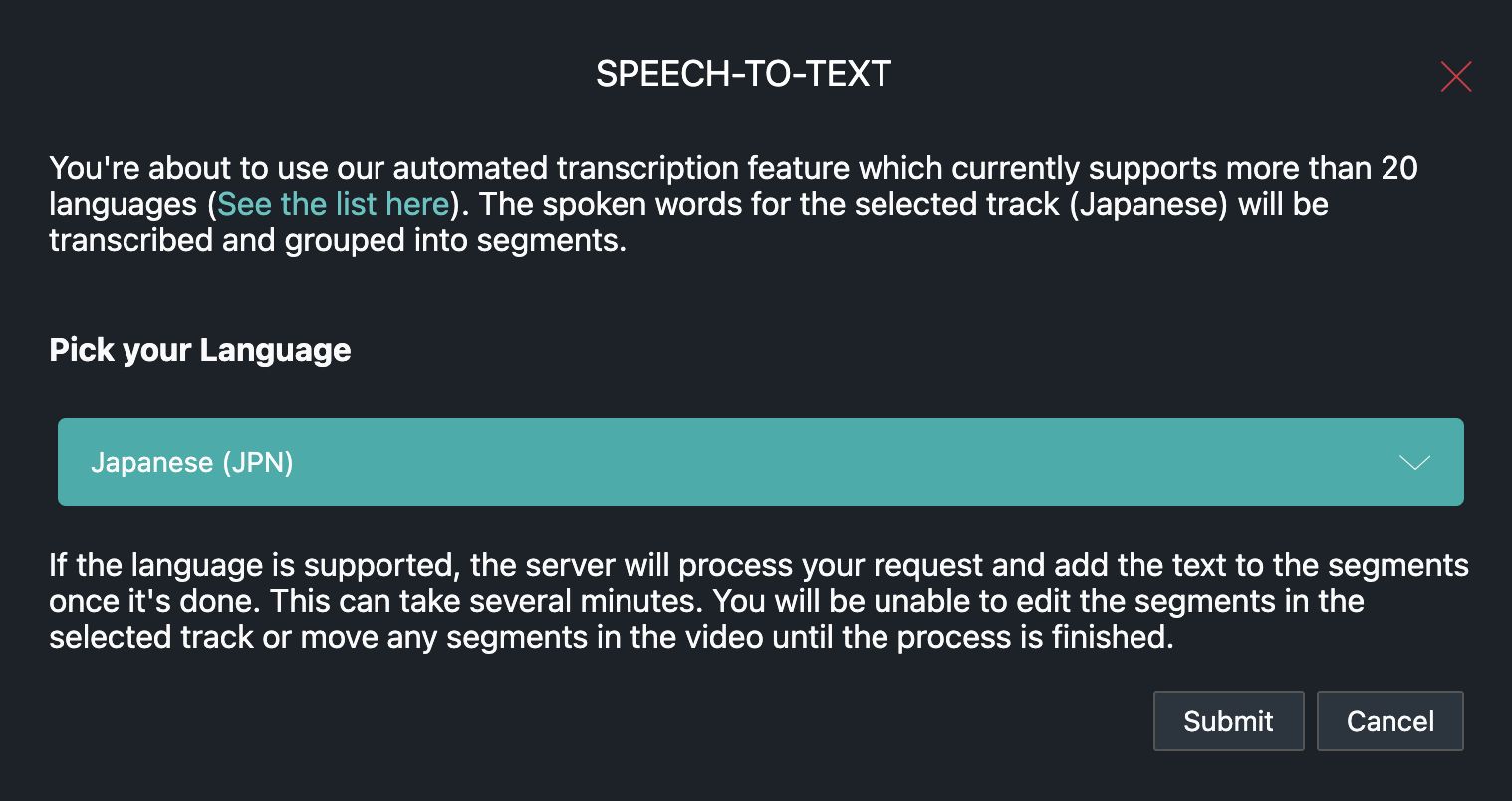 Improvement: update videoCount query in graphql

Fix: Opening the subtitle text-editor page crashes the dubbr

Fix: iOS app cannot load single videos

Fix & Improvement: Some videos have incorrect output length

That's a cool update!

 Es gibt Probleme, die echt so komisch sind, dass es nahezu unmöglich ist, diese zu lokalisieren. Besonders wenn man bisher nur einen User hat, der extrem frustriert war und seine Videos echt immer wieder asynchron wurden. Besonders verwirrend war die Tatsache, dass es nur auftrat, wenn man die Videos mit Blender exportiert hatte. Wir haben mächtig an unserem Encoding Server geschraubt, um dieses Problem zu lösen und am Ende gleich noch einiges mehr optimiert.

Fix: Can' select asset from library
28. September 2020
Improvement: (For the page management) implement UI on the adminPage to make some videoOverview sections dynamic

Improvement: implement graphql part to manage admin-VideoOverviewPage

Improvement: Replace marketplace buttons with general shared buttons (unify buttons)

Improvement: Refactor marketplace card component

Improvement: Reduce watchlist & alucation query data

That's a cool update!

 Wir haben mächtig an der Performance Schraube gedreht und in den Watchlists ordentlich aufgeräumt. 

Improvement: Limit Tags and Categories for assets

Improvement & Fix: Archive - removed videos list does not sort entries by last-modified descending

Fix: new_publisher does not let regular users convert their YouTube videos

Improvement & Fix: clean up asset mutation imports

Fix: collaboration ui breaks for pending invites

Fix: SVP throws an error
21. September 2020
Improvement: "Beliebte Kanäle" in der Videoübersicht

That's a cool update!

 Ab sofort sind in der Videoübersicht unsere trendigen Produzenten sichtbar für euch. So könnt ihr schnell entscheiden wen ihr gerne anschauen wollt. Die Sortierung erfolgt auf Basis der Gesamt-Videoaufrufe.

Fix & Improvement: Move UUID validation to schema level

Improvement: Replace JS calculations with media queries on watchlist cards

Fix: Auth directive with role parameter does not work correctly

Fix: First Name and Last Name input fields are not getting initialized properly

Improvement: Add "video" translation

Improvement: Enhance user admin page

That's a cool update!

 Für euch auf den ersten Blick nicht ganz so relevant, aber wir haben so einiges an unserem Admin-Interface geschraubt, um euch in Zukunft noch schneller Pakete zuweisen zu können und diverse Anpassungen am System mit wenigen Klicks realisieren zu können.

I

mprovement: lower threshold for sidechain compression

Improvement: update graphql error message name in useNotification hook

Improvement: Publish the Publisher

That's a big update!

 Es ist so weit und der erste RIESEN Schritt für den neuen Publisher ist getan! Dies war einer unserer letzten großen Baustellen von Angular auf React. Mit dem Umstieg haben wir aber auch gleich alles neu entwickelt und die Erfahrungen der Letzten Jahre komplett einfließen lassen. Es fehlen nun nur noch zwei Funktionen für den Publisher und dann sind wir völlig aus dem Häuschen (Ihr dann auch, 100%).
Phase #1: Veröffentlichen eines Artikels, Hochladen eines Videos oder Importieren eines Videos aus anderen Quellen (derzeit YouTube)

Phase #2: Thumbnail, Titel und Video-Sprache
Phase #3: Bearbeiten der META Daten (gilt für YouTube und Self-Hosted Videos gleichermaßen)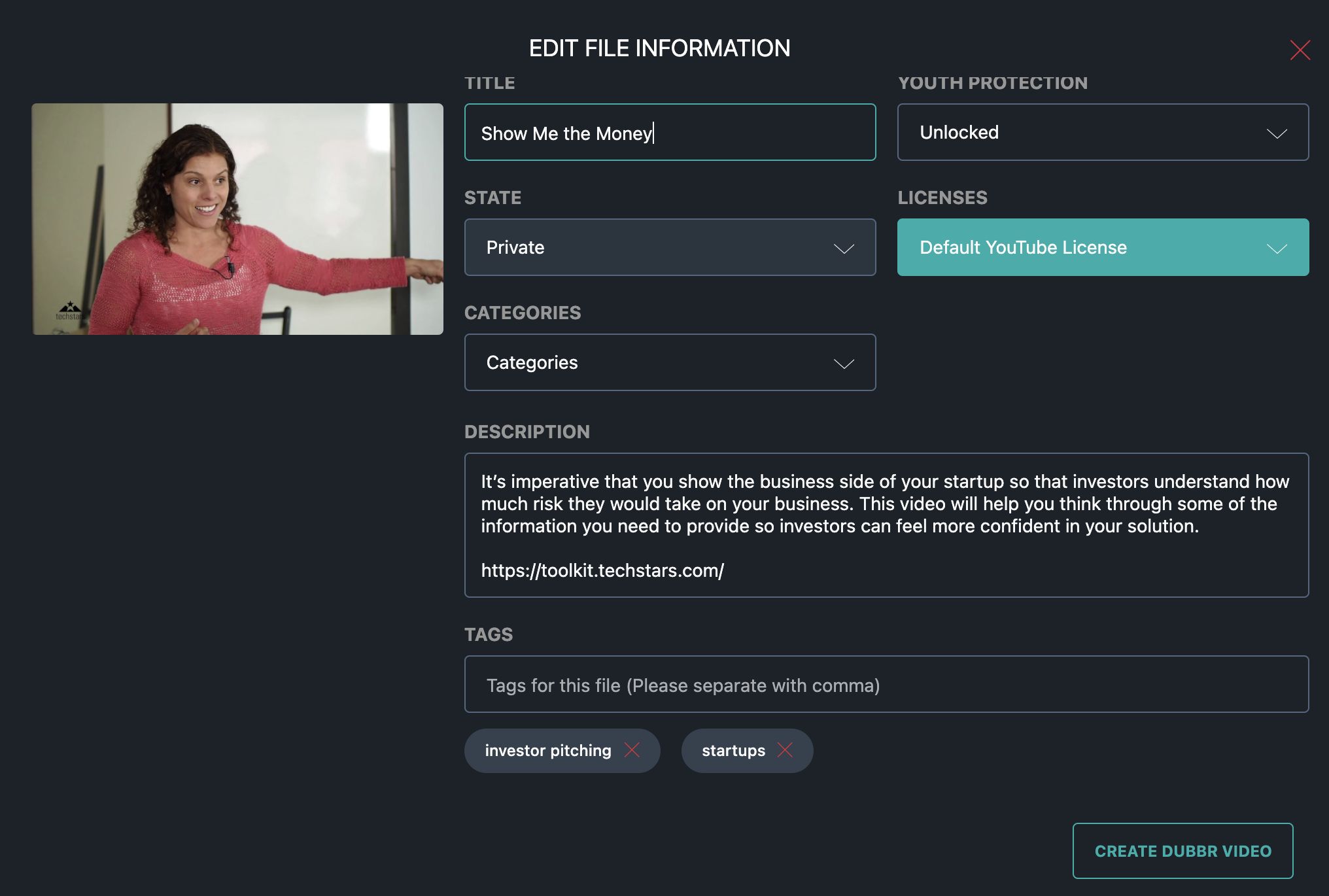 Phase #3a: Wenn man ein Self-Hosted Video hat, kann man es auch direkt in den Marketplace packen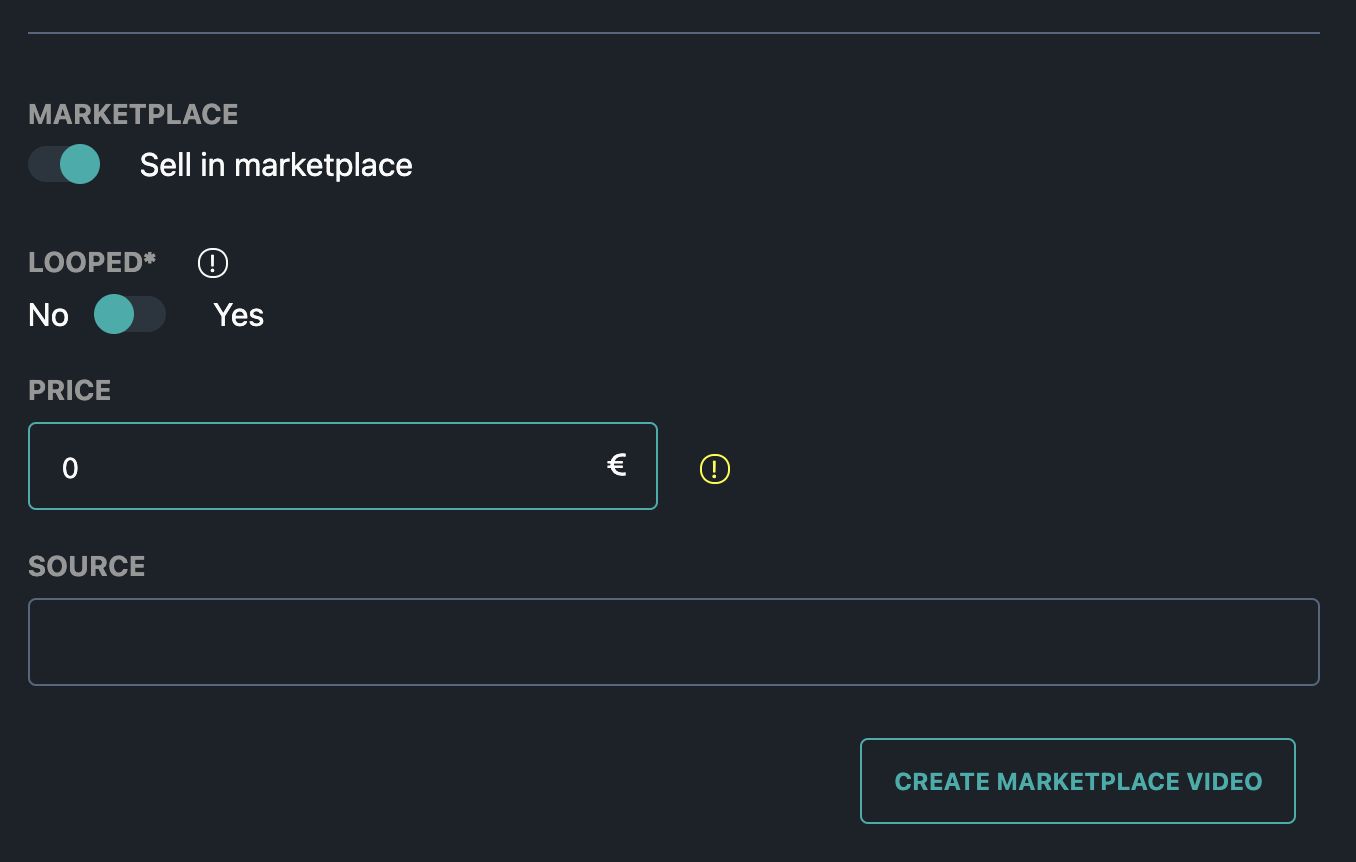 Fix & Improvement: AI/STT → Send NATS reply instead of publishing on a fixed response subject

Fix & Improvement: Make graphql listen to NATS replies, instead of subjects

Fix: View documents set the ownerId to the track owner
14. September 2020
Improvement: As alugha I want to check on used S2T minutes

Fix & Improvement: Marketplace crashes when trying to query for asset that has a waveform representation

Improvement: Remove "Draft" from video states

Improvement: As a user, I want a video to start in Full HD and then adapt to my bandwidth

That's a cool update!

 Unser Player funktioniert perfekt im Adaptive Streaming. Bisher haben wir immer mit 360p angefangen und nach wenigen Sekunden die beste Qualität herausgefunden und dann die Videoauflösung hochgesetzt auf bis zu 2k. Da wir seit kurzem wesentlich weniger Nutzerdaten auslesen ist die höhere Auflösung nur speicherbar, wenn der Nutzer die Cookies wirklich akzeptiert hat. Um auch die Nutzer nicht auszugrenzen, die Ihre Daten nicht an uns weitergeben möchten, haben wir den Player etwas angepasst und machen vor dem Start einen kurzen (für den Zuschauer nicht wahrnehmbaren) Performance-Check und starten das Video direkt in einer höheren möglichen Auflösung.

Fix: Add enum for delete asset errors

Fix: Fix login issues

Fix: Fix typo in library

Fix: Downloadassetbutton chokes on library picked assets

Improvement: As a user, I want to change the video playback rate in the player

That's a big update!

 Wir wurden immer wieder darauf angesprochen, ob wir nicht die Abspielgeschwindigkeit flexibel gestalten könnten. Hm, naja... können wir. Ach und HABEN wir direkt eingebaut. Die Geschwindigkeiten können sein: 0,25x - 0,5x - 0,75x - 1x - 1,25x - 1,5x - 1,75x - 2x.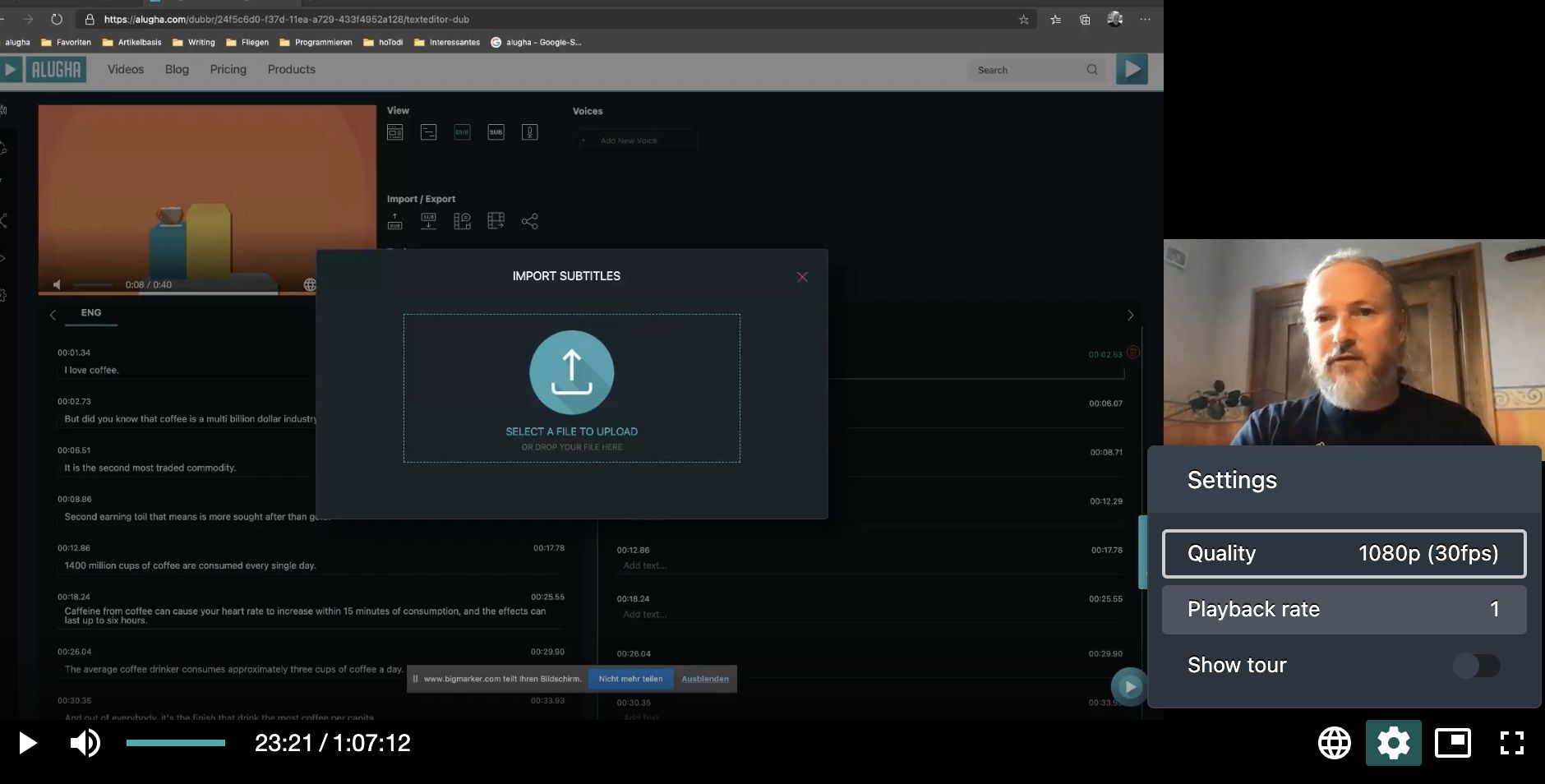 07. September 2020
Improvement: Investigate dropping the mp3 encoder completely and only use Flac

That's a cool update!

 Als wir mit dem dubbr anfingen, brauchten wir noch flac und mp3. Mittlerweile können aber alle relevanten Browser sehr gut mit FLAC umgehen. Daher haben wir den Code etwas umgebaut und MP3 von Board geworfen. Das spart erheblichen Speicher (yeah das lieben wir!) und macht den dubbr um EINIGES performanter.

Remove translator job offers

Fix: Let dubbr onboarding use linker instead of relative url

Improvement: Product pages call-to-action is confusing users

Fix & Improvement: Added note for delete asset and refactore component

Fix: Fix broken watchlist cards on alucation

Improvement: As an alugha user, I want to be able to download track audio

That's a cool update!

 Wir haben mal wieder richtig einen drauf gelegt für diese Woche! Deine Audiospur ist final mit allen Sprachsegmenten, normalisiert und exportiert und befindet sich nun auf deinem multilingualen Video. Du möchtest die Tonspur aber auch noch anderweitig verwenden. Daher steht dir ab sofort die Möglichkeit bereit, diese Spur einfach auf deinen Computer runterzuladen. Alle Audiotracks werden in AAC(LC) 48KHz Samplerate  und variabler Bitrate heruntergeladen.

Improvement: Make default track state public
31. August 2020
Improvement: Embed code doesn't contain the autoplay attribute

That's a cool update!

 War auch an der Zeit! Endlich können auch eingebettete Videos mit Autoplay gestartet werden. Ihr habt danach gefragt... immer wieder... und wir so: Hey klar, ist cool, packen wir in Kürze rein... und nun ist es da!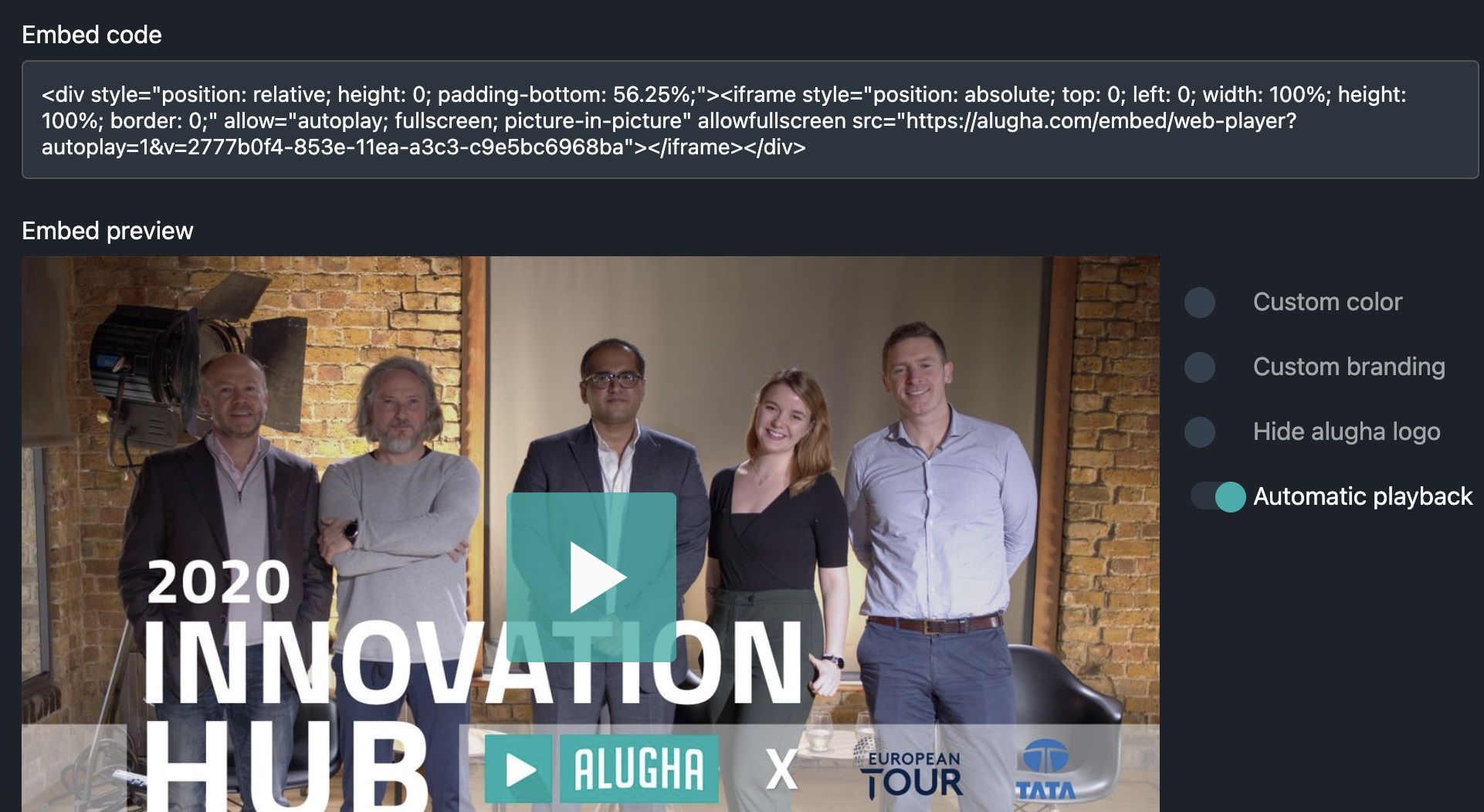 Improvement: Split video page tabs into separate chunks

That's a cool update!

 Klingt jetzt nicht so spektakulär... ist es aber schon. Die Performance ist uns sehr wichtig und wir wollen hier anderen Seiten immer einen Schritt voraus sein. Manchmal ist es daher notwendig den Code, den wir vor Monaten geschrieben haben zu optimieren und erneut auf den Prüfstand zu packen. Dank dem Splitting konnten wir die Performance in der SVP um etwa 5 Punkte (PageSpeed) erhöhen.

Improvement & Fix: Prevent

alugha.com

from being embedded in an iframe unless it's the alugha player

Improvement: Languages not included in defaultLangCodes aren't getting considered at all

That's a cool update!

 Was! Noch Eins? Ja! Wir haben die Sprachauswahl um einiges erweitert und ab sofort stehen erheblich mehr ISO Sprachcodes zur Verfügung.

Fix: Add firstVideoHref on uni-react

Improvement & Fix: Some video queries show removed videos

That's a cool update!

 Es gab immer wieder vereinzelt massive Performance Einbußen in der Videoübersicht. Wir haben einige Zeit gebraucht um dieses Problem zu lokalisieren, aber es letzten Endes gefunden und gefixt. Auch das hat dazu geführt, dass wir wesentlich weniger Server- und GraphQL-Auslastung haben und die Leistungsfähigkeit der Seiten generell um einiges verbessern konnten.

Improvement: Add Mareike to team page.

WELCOME!

Improvement: enhanceDowngradeIntent must not be relative to current day

Improvement: Improve contact form traceability

Improvement: Do not set cookies and local storage until user consented

That's a big update!

 Immer wieder lesen wir wie sehr Google und Facebook unsere Daten bewusst missbrauchen. Oft ist es nicht einmal vom Anwender gewollt, aber er versteht einfach nicht, was da so im Hintergrund passiert. "Don't be Evil" war einmal der Leitfaden von Google. Wir könnten heute unseren Leitfaden etwa so beschreiben: Don't be "GooBook". Ab sofort werden bei uns erst einmal gar keine Cookies oder der lokale Speicher im Player aktiviert bis der Anwender damit wirklich einverstanden ist. Und selbst da greifen wir auf keinerlei Werkzeuge oder "Pixel" von Google oder Facebook zurück. Wir speichern auf unseren eigenen Servern und geben NIEMANDEM eure/diese Daten! Dies gilt auch für den eingebetteten Player.

Improvement & Fix: Sounds are not updating when moving segments while playing

Improvement: Put the waveforms into objectStorage and load them as asset representations

That's a big update!

 Diese letzten beiden Improvements haben es in sich und sind er nächste Schritt für das anstehende GANZ große Update für den dubbr. Du kannst jetzt fertig aufgenommene Segmente innerhalb der Timeline einfach verschieben, auch wenn das Video läuft. Das Video stoppt dann und sobald das Element verschoben ist, wird das Video genau an der Stelle fortgeführt. Ach und btw... Wir haben die Performance erheblich verbessern können im dubbr mit diesem Update. 
24. August 2020
Improvement: Finally our entire contact section moved from angular to react. 

Improvement: Improve video overview for RTL

That's a cool update!

 Wir sind international und viele unserer User kommen aus dem arabischen Sprachraum. RTL (Right To Left) ist uns daher ein großes Anliegen. Mit diesem Update konnnten wir unsere erst vor kurzem überarbeitete Videoübersicht endlich dafür optimieren.

Fix: dubbr → When coming from archive or single video page, the video in dubbr can't be started

Improvement: Get a warning for invalid file format in the publisher and marketplace

FIx and Improvement: dubbr->Recording cache items don't get purged when new recording exists

Improvement: dubbr → Segment cue timing offset is not labeled

Fix: Fix contact form colors

Improvement and Fix: Tree shaking doesn't work properly, causing huge vendor chunks

That's a big update!

 Im Laufe der Zeit sind unsere Services und Seiten immer größer geworden. Irgendwann ist es an der Zeit, den Code dafür genauer zu analysieren und eine neue Optimierungsrunde zu starten. Wir haben die Ladezeit unserer Seiten wieder signifikant verbessern und den Code dafür ebenso erheblich reduzieren können. Aber hier kommt noch einiges mehr in Kürze...

Fix: dubbr → subtitle segment creation is broken

Improvement: Add autoplay and watchlist options to embed video settings

That's a big update!

 Halt Stop! WAS?! Oha jetzt wird es richtig cool! Irgedwann mal haben wir angefangen und den Player so umgestellt, dass ihr die Videos bei euch einbetten könnt. Dann haben wir es so umgebaut, dass ihr das sogar bestimmen könnt, WER die Videos von euch wo einbetten darf. Dann fanden wir es cool, dass ihr die Farben des Players anpassen und unser Logo ausblenden konntet... Aber! Das war immer nur für EIN Video! Seit heute könnt ihr gesamte Watchlists erstellen und diese einbetten. Wie das geht zeigen wir dir hier: 

https://support.alugha.com/help/en-us/3/108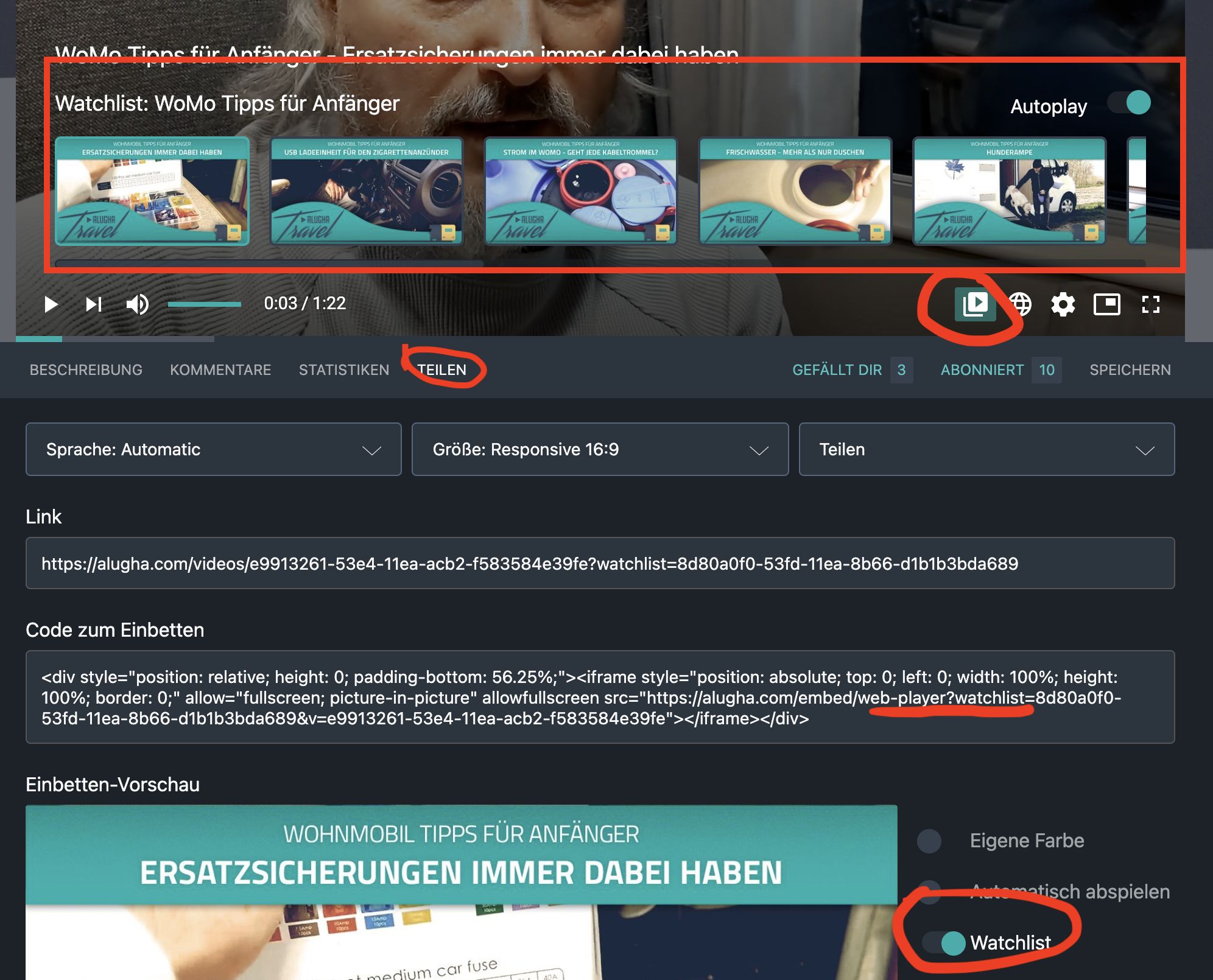 17. August 2020
Improvement: Finally our entire press section moved from angular to react. 

Improvement: As a dubbr user I want to have more control over the dubbing intensity before exporting &

Improvement: add ducking intensity parameter to finishTrackJob &

Improvement: Expose ducking intensity slider

That's a big update! Immer wieder haben wir uns geärgert, wenn unser ducking nicht den gewünschten Erfolg gebracht hat. Wir haben im Code immer wieder Optimierungen vorgenommen aber am Ende ist es einfach so, dass man die Möglichkeit braucht um die Intensität des Duckings selbst anzupassen! Wir haben eine Ration von 1:20. 0% == 1:20 und 100% ist 20:20. VIEL SPAß damit!
Improvement: Put segment meta assets into the asset collection

That's a cool update!

 Nächster Schritt, um den dubbr für das richtig große Update vorzubereiten. Wir arbeiten an der Art und Weise, wie der dubbr speichert und werden den Vorgang optimieren. 

Fix: STT Modal needs text content

Improvement: As an alugha user I want to see the most recent videos of a category when visiting the video overview

Improvement: As a dubbr user I want to read all language names in my UI language

That's a cool update!

  Ab sofort kannst du die Sprache in DEINER Sprache auswählen. Du musst also nicht wissen, wie "Russisch" in Russisch aussieht um es auszuwählen.

Fix: Videos by category - endpoint does not check if video has playable tracks

Fix: dubbr-> Segment meta are still active while the track is flagged for removal

Fix: flexbox based modal styles are broken

Improvement: Player → Hide tour in embedded player if alugha branding is disabled

Fix: Player → Ensure tooltips do not move outside the player

Improvement: Player → New language menu design

That's a cool update! Wir haben das Menü komplett überarbeitet und im Grunde neu geschrieben. Ab sofort sieht man vom ersten Klick an die Sprache für Audio und Untertitel. Beide lassen sich getrennt scrollen und mit der Tastatur bedienen.
Bereit für das richtig coole Zeug!?!?
Für uns war es schon immer wichtig, dass wir die Menschen "abholen", die nicht einfach unsere Produkte konsumieren können. Vor längerer Zeit haben wir damit begonnen, im Groben den Player per Tastatur steuerbar zu machen (hier könnt ihr darüber lesen). Aber jetzt wird es richtig cool! Der Reihe nach...
Die Grundlage: Semantic accessibility optimizations: attributes and correct tags

Der nächste Schritt um mit der Tastatur über die ganze Videoseite zu "kommunizieren": Improved keyboard control and focus management

Die Kür: Optimize player and related video cards for screen readers.
Yep... richtig gelesen! Screenreader und komplette Steuerung des Players mit dem Screenreader und der Tastatur. Wir arbeiten sehr hart daran, dass wir nach und nach den WCAG Standard in alugha unterstützen werden. Wir sind aber soweit, dass ihr alugha über den Screenreader und die Tastatur steuern könnt und damit ein Großteil davon schon abgedeckt ist.
12. August 2020
Fix: In the Producer pages → Can not save user socials due to invalid input object

Fix: In the dubbr → The segment meta asset should be located in the assets collection

Fix: S2T broken due to model changes

Improvement: Remove Experimental Alpha handling for S2T

Improvement: Adjust UI for the STT AI

Improvement: New Speech-To-Text engine

That's a big update!

 Lange haben wir daran gearbeitet und jetzt ist es endlich so weit! Ab sofort steht dir unsere neue STT Engine zur Verfügung! Starten, zurücklehnen und machen lassen und danach beeindruckt sein!  Hier sind die Sprachen die wir direkt unterstützen mit dem Start: Australian English (en-AU) - Brazilian Portuguese (pt-BR) - British English (en-GB) - Canadian French (fr-CA) - Chinese Mandarin - Mainland (zh-CN) - Dutch (nl-NL) - Farsi (fa-IR) - French (fr-FR) - German (de-DE) - Gulf Arabic (ar-AE) - Hebrew (he-IL) - Indian English (en-IN) - Indian Hindi (hi-IN) - Indonesian (id-ID) - Irish English (en-IE) - Italian (it-IT) - Japanese (ja-JP) - Korean (ko-KR) - Malay (ms-MY) - Modern Standard Arabic (ar-SA) - Portuguese (pt-PT) - Russian (ru-RU) - Scottish English (en-AB) - Spanish (es-ES) - Swiss German (de-CH) - Tamil (ta-IN) - Telugu (te-IN) - Turkish (tr-TR) - US English (en-US) - US - Spanish (es-US) - Welsh English (en-WL)

Improvement: Auto segmentation

That's a big update!

  Wir wären nicht wir, wenn uns das mit dem großen STT Update genügt hätte. Wir sind gleich einen Schritt weiter gegangen und hören deinem Video zu. Die Segmente werden dabei automatisch angelegt und Satzzeichen werden ebenso hinzugefügt. Du kannst dann nur noch den Rest anpassen innerhalb der Segmente und er Länge eben dieser. durch dieses Update reduzieren wir deinen Workflow auf etwa 50-60% des vorherigen Aufwands!
05. August 2020
Fix: Producer page display is broken when opened directly by URL

Improvement: Implement CEO's recommendation section in VideoOverview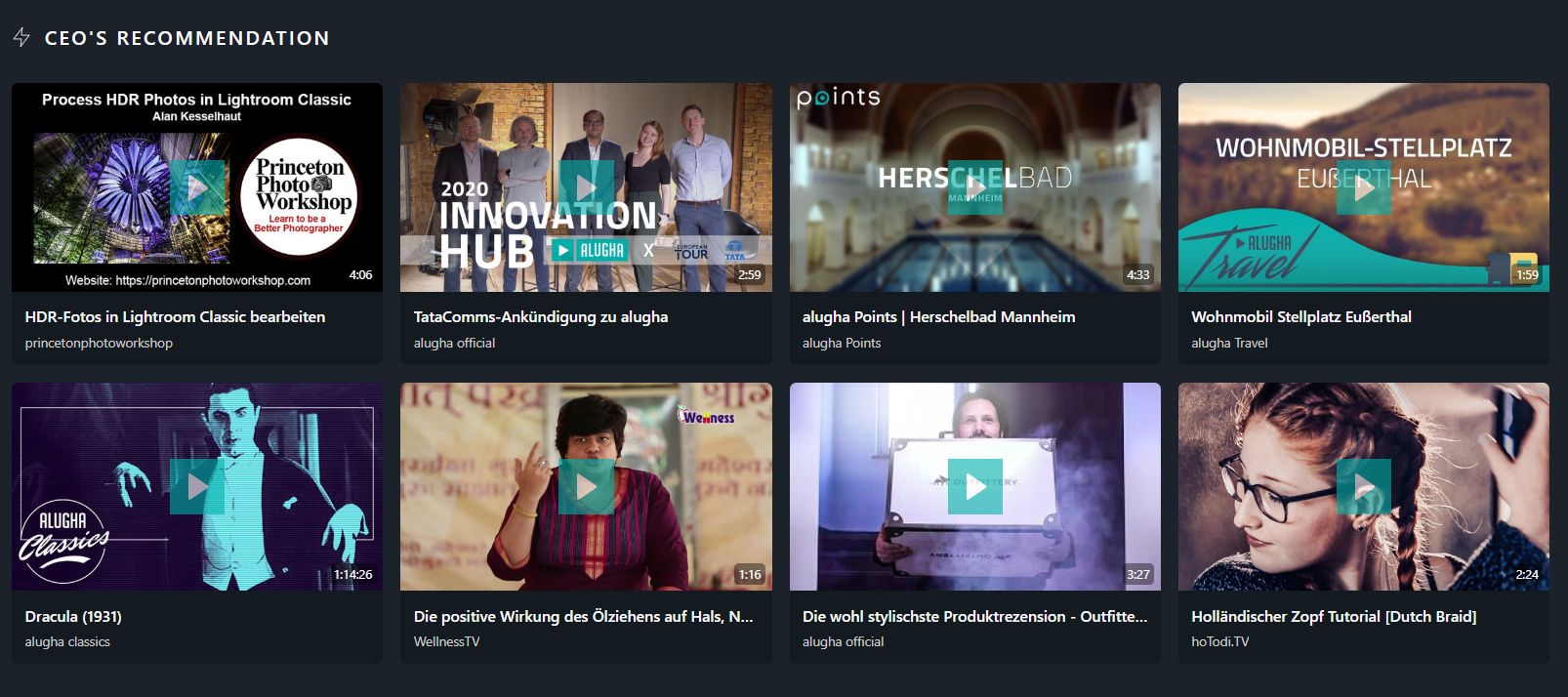 Improvement: Update users filter prop naming 

Improvement: Update gql naming for filter prop

Fix: Validate assetIds before setting them

Add translator job offers

Improvement: Use redis for most popular channels

Improvement: There is no hint that the yt video could be in the trash

Improvement: Migrate dubbing segments, metas and respective assets into the video document and

Refactor React app to work with the changed graphql schema

That's a big update!

 Der erste große Schritt für ein kommendes Update. Der dubbr erfährt gerade einige sehr wichtige Optimierungen in Performance und Stabilität. Aufnahmen werden jetzt direkt in den ObjectStorage gespeichert und die Subscriptions laufen jetzt stabiler. Die Datenbanken und die Segmente wurden komplett umgeschrieben, um auf das nächste große Update vorzubereiten, in dem es viele neue Funktionen für den dubbr geben wird.

Fix: eine Sicherheitslücke wurde gefixt.
 27. Juli 2020
Improvement: Migrating press pages/section from angular to react

Improvement: implement alugha classics-Section in VideoOverview + VideoInfo portrait thumbnail

Thats a cool update!

Wir haben den nächsten Schritt getan und unseren Videoproduzenten die Möglichkeit geschaffen, dass sie auch Portrait Thumbnails für DVD/BD Boxen und Filmplakate auf ihre Videos dazu packen können.

Fix: Registration confirmation is broken, the already-logged-in page is shown instead+

Fix: When registering through collaboration invites, the logout prompt breaks the redirect

Fix: Didn't set language and draft state for new created article

Fix: Get wrong error for exisiting yt-videos

Fix: Update video error enum

Improvement: Update create video handlers / funtions

Fix: Fix navbar alignment

Improvement: STT can now recognize up to 28 languages

Improvement: Autosegmentation in the dubbr

That's a big update!

 

Ab sofort steht den ersten Nutzern unser mega großes Update für unsere KI im Bereich Speech 2 Text (Sprache zu Text) zur Verfügung. Wir unterstützen nicht nur 28 Sprachen, sondern auch noch dazu automatische Segmentierung und das Erkennen von Satzzeichen! Hier ein Demo video:
Improvement: Enable all languages for "nextgen" skynet S2T / auto segmenting
 20. Juli 2020
Improvement: We integrated the press section into our React codebase. Another important step to drop Angular.

Improvement: Miscellaneous style improvements for alucation

BIG Improvement: Lazy load categories on the video overview. This is a HUGE performance boost!

Improvement: Added a shortcut to show the desired page number. This will save you a lot of time clicking through the pages on the video overview.

Fix: Resolved an issue where users could not remove their dubbr segments under certain conditions

Fix: Resolved an issue that prevented users to invite collaborators to their projects 

→ jetzt sollte euch nichts mehr aufhalten!
13. Juli 2020
Fix: Resolved an issue that relied on a static URL structure for assets taken from the library 

Fix: The alugha player now starts as expected when a user has blocked cookies and localStorage directly in the browser settings

Improvement: Added "alugha Travel and Points" section to the video overview (

https://alugha.com/all

)

Improvement: Link to edit article after creation and check description slice

Improvement: Added "most popular channels" section to the video overview (

https://alugha.com/all

)

Thats a cool update!

Wir haben nun endlich die erfolgreichsten Kanäle auf alugha direkt in einer kleinen "Top 10" für euch, so könnt ihr direkt sehen, wo der Trend hingeht...

Fixed a bug where the producer page did not render under certain circumstances

Improvement: Added a shortcut to the video cards where you could jump from one of your videos directly to the dubbr

Thats a cool Update!

Wir haben eine weitere Möglichkeit geschaffen in der du als Produzent noch einfacher in den dubbr kommst um dein Video zu bearbeiten. Ab sofort findet sich auch im Kontextmenü der Videokarten (Das kleine Popup, das erscheint, wenn du auf die drei gestapelten Punkte unten rechts in der Ecke einer Videokarte klickst) ein Eintrag, mit dem du direkt zum dubbr kommst, falls du eins deiner eigenen Videos angeklickt hast.

Fix: Resolved an issue where the user's plan does not update immediately after the successful redemption of an AppSumo code. The quota (i.e. streaming, upload and encoding minutes) do also update immediately now.

Improvement: Introduce custom license 

Fix: Resolved an issue where the dubbr crashes after adding or removing a subtitle segment under certain circumstances
07. Juli 2020
Improvement: Integrate and swtich to Weblate

That's a big update!

 Ab sofort wird das Übersetzen der alugha-Webseiten und -Services um ein vielfaches einfacher. Wir haben komplett auf Weblate umgestellt und damit den Flow der Übersetzungen um ein vielfaches vereinfacht und beschleunigt.

Improvement: Always minimize all tracks in the timeline that are not active or locked

That's a big update!

 Ab sofort wird dir nur noch der Track im dubbr komplett angezeigt, in dem du auch arbeitest, dazu kannst du den Haupttrack oben anpinnen und auch noch mit bestimmten Tastenkombinationen die Ansicht der Timeline im dubbr an deine eigenen Bedürfnisse anpassen.

Improvement: Take quotaBoost into account

That's a big update!

 Ja, noch eines! Es ist nun möglich, dass die User einzelne Quotas einzeln "aufladen" können. Sei es für Streaming, Hosting, Encoding ... Dazu haben wir einen extra Admin-Bereich gebaut, in dem das einfach erledigt werden kann. Dazu kommt, dass wir nun auch Promo-Pakete direkt bauen und an die User weitergeben können.

Improvement: Smooth out login process by providing more detailed error messages

Improvement: VideoCards limit depending on windowSize + cardMenu positioning

Fix: Resizing browser windows triggers scrollintoview

Improvement: Remove alucation-section in VideoOverview

Improvement: Add Points+Travel section in VideoOverview

Improvement: Include users parameter in videos query graphql

Improvement: For AppSumo Users better explanation about the difference between plans and extra minutes

Fix: getTrackTagsQuery is missing showUnlistedTracks

Fix: Make sure we always import at least one format from YT

Improvement: create graphql query to filter most popular users

Fix: Users can not submit vtt/srt with input files larger tha 100kB
29. Juni 2020
Improvement: Implement alucation-Section in VideoOverview

Fix: If the last article of a page is removed in the organizer, the reloading gets stuck

Use pagination in videoOverview sections

That's a big update!

 Ab sofort haben wir für jede Kategorie auf der neuen Videoübersicht "Pagination" eingebaut. Ihr könnt also ganz entspannt auf einer Seite viele Videos durchstöbern. Dabei war uns die Performance ein sehr großes Anliegen

Fix: 'id' must be provided to format a message (CategorySelection)

Improvement: Modify videosByCategory & recommendedVideos query to make it work with pagination

Improvement: Include offset in videos query to make pagination work

Fix: User has no access to video thumbnail and background (image)

Improvement: Update SB/Influencer/Enterprise streaming minutes

That's a big update!

 Wir haben mächtig die Stellschrauben und die ganze Machinerie in Bewegung gesetzt um euch dieses Update zu ermöglichen. Am Ende stehen hier nur drei Zahlen, aber die haben es in sich. Dazu musste im Hintergrund viel optimiert werden, damit wir die Kosten trotz der teils massiven Erhöhung alles im Griff behalten können. Streaming wird nun um einiges attraktiver. Im Small Business sind wir von 5.000 Min auf 15.000 Streaming-Minuten. Im Influencer von 40.000 auf 65.000 und beim Enterprise sogar von 100.000 auf 400.000 Minuten. Wenn DAS nichts ist!

Improvement: Add admin reencode buttons for video & (audio) track
22. Juni 2020
Improvement: Die Streaming-, Storage- und Encoding-Minuten waren nicht klar verständlich. Wir haben das im Backend/Payment nun aufgeteilt-Improvement: Der Status für ein Video und für eine Audiospur hatten die gleichen Bezeichnungen. Wir haben daher nun den Status für Audio überarbeitet

Improvement: The status of a video and of an audio track had the same label. We have now changed the status of audio.

Fix: FeaturedBanner: Something went wrong by changing the window-size.

Improvement: Redesign of the VideoInfoCards

Fix: finishTrack job must not use linked asset as a target

Fix: Subtitle-only tracks sometimes show up in audio selection

Fix: SRT import dialog is too large on Safari

Improvement: Implement category-Sections in videoOverview

That's a big update!

 Wir haben immer mehr Produzenten, User und Videos. Bisher war es so, dass wir einfach immer die neuesten Videos, die mindestens zwei Sprachen haben, in der Videoübersicht angezeigt haben. Dazu kommt, dass wir uns bewusst für einige Kategorien entschieden haben, die wir bereitstellen. Nach einiger Entwicklungszeit haben wir den nächsten großen Schritt in Richtung Video Hosting Consuming Plattform gemacht. Ab sofort zeigen wir die neuesten Videos aus den einzelnen Kategorien an.

Improvement: Convert TOS to React

Fix: Viewing watchlist videos results in unexpectedly high CPU usage and may even freeze the tab.

Improvement: Neue Kategorie "Video- und Photographie" hinzugefügt.
16. Juni 2020
Fix: Don't crash when video asset has no image representation

Add Ian on team page

Fix: Lower number of tracks in sitemap

Add default alugha license

As an alugha admin, I want to mark a video an alucation video

That's a cool update!

 Wir haben immer mehr Videoproduzenten und Tutoren, die die Vielfalt von alugha für sich entdeckt haben. Mehrsprachige Bildung ist einzigartig! Ab sofort können wir selektieren, welche Videos auf 

https://alucation.alugha.com/all

 stattfinden können und damit die Produzenten in ihrer Reichweite unterstützen.

As a user I want to be informed about alughas products

That's a cool update! 

alugha hat sehr viel zu bieten und das Schöne dabei... Wir sind sehr modular aufgebaut, jeder kann für sich den besten Nutzen ziehen. Unsere Product Pages werden nun nach und nach die einzelnen Produkte beschreiben.

As a user, I want to be able to upload an alternate default language audio asset

That's a big update!

 Stell dir vor, du hast ein Video komplett mit Audio hochgeladen und nach einiger Zeit bekommst du eine bessere Aufnahme... Und nun? Video wieder hochladen und alle Klicks... verlieren? Mit diesem Update haben wir nun die  Möglichkeit geschaffen, dass du sogar deinen Default-Track mit einer neuen Aufnahme versehen kannst!

Implement recommended videos

That's a big update!

 Oha! Gleich ZWEI big updates in einem! Immer mehr Leute schauen bei uns Videos. Bei über 5,5 Mio wiederkehrenden Besuchern, die im schnitt etwa 8 Minuten ein Video je Besuch anschauen kommt da mächtig was zusammen. Auf der anderen Seite haben wir immer mehr Produzenten, die alugha nutzen und somit kommen immer mehr Videos an. Bisher war es so, dass wir einfach alle Videos der Reihe nach auf /all aufgelistet hatten. Das muss aber aufhören! Wir wollen, dass du DIE Videos siehst, die DICH interessieren.Das klingt alles sehr banal aber Videos, basierend auf deinen Interessen sind eine echte Herausforderung. Wir freuen uns riesig, dass wir das nun endlich ermöglichen können. 

Und wir haben endlich einen Slider ganz oben auf der Seite, wo wir dir immer sechs interessante Videos anzeigen werden.
08. Juni 2020
Add navigation on landing page

Create Video Overview Banner

That's a cool update!

 Bisher war es so, dass die meisten alughaner direkt auf eine Single Video Page (SVP) gelangt sind. Wir hatten daher immer nur eine recht spartanische Videoübersicht (

https://alugha.com/all

). Da wir immer mehr Videos bekommen haben wir damit begonnen, diese schrittweise intuitiver zu gestalten. Angefangen mit einem obernen Banner in dem wir immer wieder tolle Videos hervorheben werden.

Add dubbr onboarding

That's a cool update!

 Der dubbr ist unser Flagschiff und er kann auch schon richtig viel. Oft hören wir aber von den Nutzern, dass die ersten Schritte nicht ganz klar sind, daher haben wir begonnen, auf solchen Seiten eine Tour einzubauen.

Add translations & team members

Fix: Disable Feedback Widgets on small screens

Fix: Only account for public tracks when checking for maxTracks while setting a state to public

Fix: Fix dubbr buttons
02. Juni 2020
Migrate the press resources page from legacy-web

Add dynamic link for video:content_loc in sitemap

That's a cool update!

 In Sachen SEO haben wir schon viel gemacht was unsere Seiten angeht. So liefern wir für jede Sprache einen eigenen Eintrag an die Suchmschinen, womit ein VIdeo mit 5 Sprachspuren als 5 Videos und in der jeweiligen Sprache gefunden wird. Wir optimieren diesen Vorgang ständig.

Split AssetContentMobile in different files

FIx: Update link flow to single asset page / producer page

FIx: update pricing page to display "unlimited" instead of -1

FIx: No success message appears after finalizing a track in the dubbr

Fix: Didn't show download progress for larger assets

Fix: Users logged in with a persona should still be able to correctly update their main account managers

Fix: As a sumo-ling I don't want to be routed to the checkout page when I didn't redeem a code yet

Fix: Update the info message that states the available languages of skynet

Fix: Window is not defined in the Upload/Marktpalce for Thumbnails and background

Fetch all possible resolutions from YouTube

That's a big update!

 alugha steht dafür alles zu optimieren und dabei so viele Ressourcen wie möglich einzusparen und nicht unnötig zu verschwenden. Bisher war es so, dass man seine Videos von YouTube auf alugha mergen und sie dann multilingual machen konnte. Wir haben dazu dann die größte Auflösung des Videos auf alugha gezogen und dann in die von uns vorgesehenen Auflösungen encodiert. Dabei entsteht ein völlig unnötiger Zwischenschritt und damit ein Aufwand, welcher durch große Rechenzentren und die dadurch verbundenen Energie Ressourcen aufgebracht werden muss. YouTube hat das schließlich schon getan! Wer seinen Account mit dem eigenen YouTube Kanal verifiziert hat und seine Videos auf alugha merged, muss für das Encoding in diesem Fall nicht bezahlen. Wir ziehen die schon encodierten Videos in denen von YouTube bereitgestellten Auflösungen direkt 1:1 auf die alugha Server.

Fix: Linked to about:blank for click on library card
25. Mai 2020
Erinnere dich an diesen Tag! Wir haben alugha 2.0. Du siehst hier nur die Änderungen der vergangenen 4 Wochen, aber wir machen das jeden Montag seit bereits 4 Jahren. Und endlich haben ein neues Level mit alugha erreicht!
Fix: Waive watchlist limit when it's a negative number

Implement GQL mutation for (re)encoding an asset

That's a cool update!

 Du wirst es gar nicht wirklich wahrnehmen aber für uns ist das super! In seltenen Fällen kann es mal vorkommen, dass ein Video - aus welchen Gründen auch immer - beim Encodieren hängen bleibt. Wir haben das wirklich sehr selten aber wenn... Bisher musste der Admin da immer auf den Server und das händisch nochmal anstoßen. Jetzt ist das nur noch ein Klick

Add platform product page

That's a cool update!

 Das alugha Universum ist groß und so mancher verliert sich in den unendlichen Weiten unseres Weltraums... Die nächste Seite, die dir die tollen Möglichkeiten von alugha näher bringt.

Add / Update test for marketplace overview

Remove routeConfig file and fix some typos

Fix: Import sub/trans fails if the input SRT file contains special characters

Fix: Fix import subtitles on macOS/Safari

Download assets from the Marketplace.

That's a cool update!

 

Du kannst jetzt Videos und Bilder vom alugha Marketplace runterladen und speichern. Du kannst sogar die Auflösung der Datei bestimmen. 

Fix: As a dubbr user I need more clarification what a langCode is and why I need it

Fix: maxTracks calculation includes removed tracks

Fix: Producer page onboarding

Fix: Legacy routes in alucation show navigation of main page

Enabled new encoding server infrastructure

That's a big update!

 Wir sind dann mal in der Champions League angekommen! Einen Film auf alugha encodieren konnte bisweilen wirklich lange dauern, So 4k im schlechtesten Fall 5-8h. Ein 1080p mit 1h Länge auch noch immer so 30-60 Minuten. Wir haben lange daran gearbeitet... Das encodieren dauert nun nur noch wenige Minuten!

Fix: Make video categories not required
19. Mai 2020
Update encoding server for new plan structure

Fix: Plan upload limits don't seem to work properly

Manage multiple brands and select them when creating my embed code

That's a big update!

 Du kannst jetzt in deinem Player unterschiedliche Logos von deinen Brands sowie die Links zu der Seite vor dem Einbetten anlegen und verwalten.

Handle reload after successful account creation

Let user create invites for his managers &

Make Personas removable by user(manager)

That's a big update!

 Du kannst jetzt andere alugha Nutzer einladen um sie deinen Account managen zu lassen! 

Fix: Register with oauth fails when clicking the register button the first time

Check for maxTracks when user changes track visibility state

Add auth actions to login and signup

Make VideoTable responsive

That's a cool update!

 Die Tabellen sahen schon echt cool aus... Aber halt nur auf einem ausreichenden Display. Ab sofort sind unsere Tabellen so gebaut, dass sie sich der Breite DEINES Monitors anpassen.

Add hosting product page

Update Arabic translations

Fix: Video filter in ProducerPage

Fix: Article filter on producer page crashes when filtering categories

Fix: The video owner is not able to remove tracks created by collaborators
13. Mai 2020
Update encoding server for new plan structure

As an alugha user, I want to be able to remove player branding

That's a big update!

 Du kannst jetzt das alugha Logo oben im Player entfernen, wenn du das Video woanders einbettest. 

As an alugha user, I want to be able to add my company's logo to the player

That's a big update!

 Du kannst jetzt dein eigenes Logo oben im Player anzeigen lassen, wenn du dein Video woanders einbettest. 

Streamline modal header styles throughout the dubbr

Create button too small in the marketplace

Add player product page

That's a cool update!

 Unser Player ist ein großer Teil alughas und war der Beginn von allem. Über die Jahre erhielt er viele Verbesserungen. Es wird Zeit, dass er seine eigene Seite auf alugha bekommt, auf der alles relevante erklärt wird. 

Apollo cache didn't update for delete element from producer activities

Only offer tracks with valid asset-Id as source for background audio

Some translations are wrong - Improved Spanish and Catalan

Add Photo and Videography category

That's a cool update!

 Zum ersten Mal seit Beginn haben wir eine Kategorie hinzugefügt - Fotografie und Videos. 

Now the entire alucation website is also available in Arabic
04. Mai 2020
Added search field to activities header. You can now search within your activities.

As a user I want to get an onboarding

That's a cool update!

 Du bekommst jetzt kurze Erklärungen auf verschiedenen Seiten auf alugha. 

languages array in video is not updated (or wasn't at some point)

Add "videos" alucation page

That's a big update! 

Wir haben eine neuen Bereich bei alugha! Es dreht sich komplett um das Thema Bildung in verschiedenen Sprachen und allen alugha Funktionen.. 

Added query props for view request 

Track if users register from alucation or alugha

That's a cool update! 

Klingt "gefährlich", ist aber ziemlich cool. Wir wollen sich stellen, dass du bei einer Anfrage nach kostenloser Bildung, nicht von den anderen Aktivitäten auf alugha gestört wirst. 

Store "domain" of user when created in graphQL server

That's a cool update! 

Klingt "gefährlich, ist aber ziemlich cool. Wir wollen sicher stellen, dass Informationen von uns an dich in der richtigen Sprache bei dir ankommen. 

As a dubbr user I want to set the default track as background audio

That's a big update!

Ab jetzt kannst du die originale Tonspur deines Videos als Hintergrundtonspur bei allen anderen Audiospuren hinterlegen und das Ducking erledigt der dubbr selbst. 

Remove old settings page

That's a cool update! 

Nachdem wir nun alle Einstellungen auf die neue React-Seite gepackt haben, wurde es Zeit sich von der alten Angular-Seite zu verabschieden. 

Fix links to alucation videos page

Add youth protection field to video sitemaps

That's a cool update! 

Du kannst Videos als "nicht Jugendfrei" markieren und damit sich auch alle Suchmaschinen daran halten, haben wir es zu den Sitemaps hinzugefügt. 
27. April 2020
Let user create invites for his managers

Refactor react routing

Fix German translation typo

Add fallback route on participate page

Mixed-up video and track owner for video activities

Added activities

That's a big update!

 Du kannst jetzt alle Aktivitäten auf alugha managen. Hier siehst du alle Videos, die du gesehen hast und in welcher Sprache, gleiches gilt für Blogartikel...
24. April 2020
As a user, I want to get localized error messages for failed requests

Include missing settings to Producer Page settings

That's a big update!

 Wir sind von der alten Einstellungsseite auf die neue React Einstellungsseite gewechselt. 

Include word wrap in VideoTable Languages. 

Wir haben das Styling verbessert.

Upgrade to react-intl 4 and add unified number formatting

That's a cool update!

Klingt langweilig, richtig? Mit diesem Update können wir allerdings jedes Nummern-Format der Welt darstellen! Wir freuen uns so sehr, dass jetzt jeder seine Sprache und Zahlen in der Weise sehen kann, wie sie wirklich geschrieben werden. 

Updated gql views request by group

Added delete with item ids for views

Added sort for views request

Add possibility to link to specific participate content

Fix privacy page translations
20. April 2020
Video player overlay sometimes disappears even when the mouse is on top and has just been moved

Add UI component to video page for converting youtube videos to self-hosted

Prevent google from crawling embedded videos

As a video ower, I want to invite collaborators via email

That's a big update!

 Bisher mussten unsere Produzenten die alugha ID derjenigen wissen, die sie zum übersetzen und dubben eines Projekts einladen wollten. Das ist jetzt viel einfacher! Die E-Mail Adresse eingeben und alugha prüft, ob schon ein Account besteht. Falls nicht, sendet alugha direkt eine E-Mail raus und mit zwei Klicks ist dein Wunsch-Partner auf deinen multilingualen Reise dabei. 

Participate page style improvements

Activate userback feedback button

Remove speakers preview tab

Tools page style improvements
#alugha
#multilingual
#everyoneslanguage
More articles by this producer
Unsere neue Computerlinguistin kann sich nicht nur mit Worten gut wehren.
Unser Bayer bringt alugha in die Welt hinaus. Und das mit viel Herz und Ordnung.
Es verbindet uns nichts so sehr wie Musik. Ein Lied kann eine einzigartige Verbindung zu unserem Partner darstellen, es kann uns zu Tränen rühren, es kann einen Raum voller Fremder dazu bringen gemeinsam zu singen und zu tanzen.
Videos by this producer
Zum Beginn der Sommerferien in Baden-Württemberg wendet sich Mannnheims Oberbürgermeister Dr. Peter Kurz an die Bürgerinnen und Bürger. Alle Informationen zur Corona-Situation in Mannheim: https://www.mannheim.de/corona
Der Film bietet in rund drei Minuten eine erste Einstimmung auf das Werk und zeigt, nach welchen Leitlinien und Werten das Team im Alltag zusammenarbeitet, aber natürlich auch, mit welchen innovativen Technologien die MAHLE Thermomanagement-Produkte in Werk Mühlacker gefertigt werden.