Let's talk! Jonas - our office Swabian
¡Bonjour muchachos! Yes, simply switching between languages. Crazy, I've already done that before I ended up at alugha.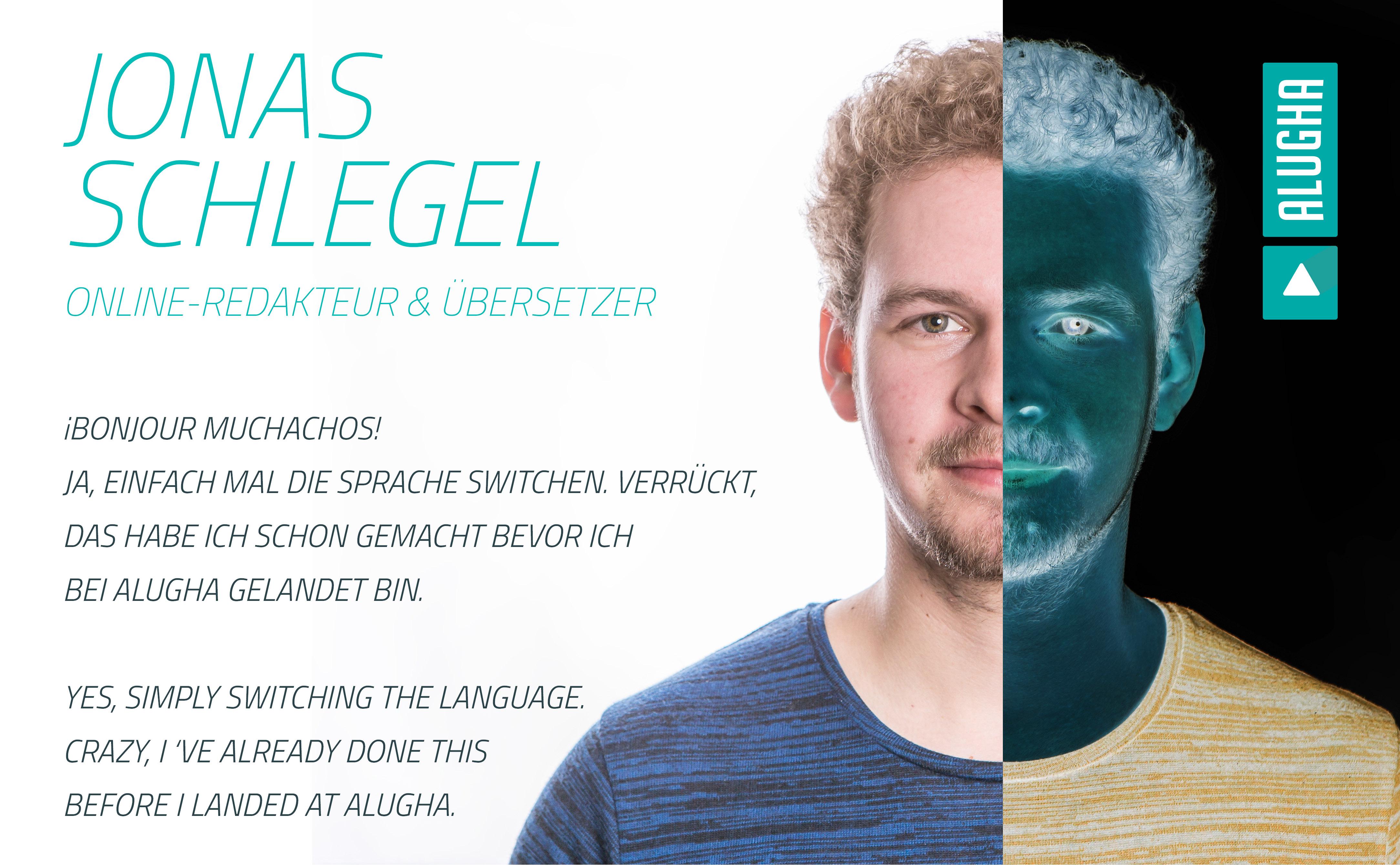 Read this article in: Català, Deutsch, English, Español, Français, العربية
Estimated reading time:
2
minutes

Shortly introduce yourself: Who are you and what are you doing?  
My name is Jonas Sebastian Emil Schlegel and I have to mention all of my first names, because they make up my outstanding e-mail address: jses@alugha.com. Haha! You get it, right? In the last years, I worked as a foreign language correspondent and excellent teacher for French, English, Spanish and German and helped small and big kids learn. Additionally, I did some translations on the side, which eventually guided me to alugha.
Which three keywords describe you best?
Spaetzle with sauce
What is your favourite thing to do in your free time?
Sports, politics, cultures, languages, media, friends. 
What guided you to alugha?
Vitamin B. My girlfriend works in the same building as alugha, and so the boss learned about my language skills and invited me in April 2015. He explained the terrific idea behind alugha to me and offered me to dub one of the promo videos in Spanish and French. I was excited, enjoyed the work and thought: "Dude! If they're going to expand and hire me, I can probably do this every day!" Of course, the company has been expanded, and these languages are indispensable in the long run, so I recommended myself again in 2016 and: "Dude! I can do this every day now!"
What are your tasks and what is your impression of working at alugha?
I translate and dub articles and videos of all kinds (where I can constantly learn something new). I also write texts for our own videos, so I work editorially, too. In addition, I often attend alugha's video shoots. We all work together, inspire and help each other - we stand behind what we do one hundred per cent! 
What do you like best about the work here?
The diversity, the learning, the insights I gain into various topics and especially the meaning behind it all. 
Where do you see yourself and the company in the future?
I see myself having gained a great deal of experience. I will probably be somewhere on earth, and alugha will be all around the globe. 
What is your own big dream?
Having my own autarkic island! 
More articles by this producer
Our new computer linguist is not only skillful with words.
Here at alugha, we love technology and leveraging it in creative ways for our users to provide unique features and a stellar experience.
Our Bavarian soldier presents alugha to the world. Usually with a lot of heart and well organized.
Videos by this producer
The roughly 3-minute film provides an initial impression of the MAHLE plant and also presents the principles and values that govern the way the team works together on a daily basis. And, of course, it highlights the innovative technologies that find application in the MAHLE thermal management produc