Dubbing: alugha presents the dubbr
In the age of digitalization, it is important to reach as many people as possible with your message. If you want to reach a global audience with your videos, you need to offer them in multiple languages because the world has become a village. In Mannheim alone, 30 languages are spoken.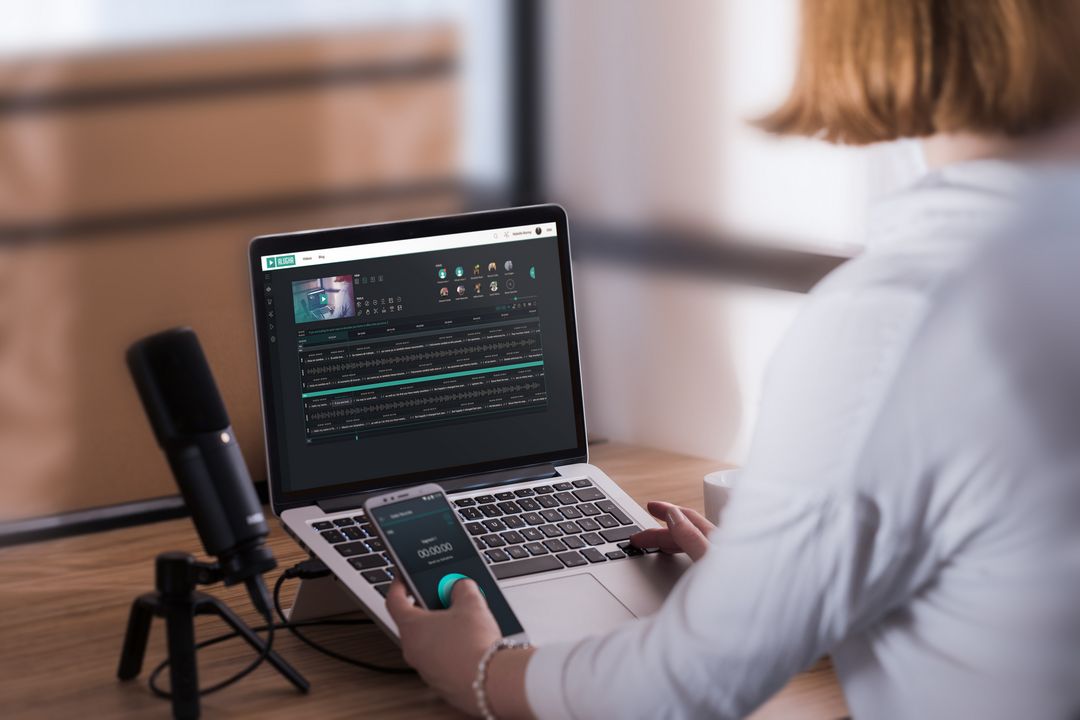 Read this article in: Deutsch, English, Español, Français, Polski, Português, Ελληνικά, Русский, العربية, हिन्दी, 中文
Estimated reading time:
5
minutes

With the dubbr, we have succeeded in developing a tool with which you can become a global player simply with your video. The developed online tool has all you need to make videos multilingual. From transcribing to publishing: everything from a single source without additional licenses and without having to buy additional software. We spoke with Bernd Korz and he revealed to us how he and his team redefined the dubbing world so that any message can reach the world.
What is the dubbr?
With the dubbr, you can easily transcribe your videos, create subtitles, translate, and dub the voiceover. You can do this on your own or together with several people around the world simply in your browser. You can add all metadata for each language of the video. The dubbr is an online equivalent to programs such as Pro Tools or Adobe Audition with which you can also record audio. It was very important to us not to overload the dubbr with features.
The dubbr combines a proprietary Speech2Text engine and an AI that "understands" what is being said in the video and subsequently creates the subtitles and transcript. The AI learns and works better and better with every video and every additional language. The combination of dubbr and multilingual video hosting makes alugha a perfect video platform.
Is the dubbr user-friendly?
There are many tools with which you can record and mix audio, with which you can translate, with which you can dub, with which you can edit metadata. There are online tools with which you can work together with others on projects… it's complicated to combine all relevant features to make a multilingual video. With the dubbr, we have succeeded in developing a tool that works in a browser and with which you can quickly and easily - together with people around the world - make your video multilingual.
How does the dubbr work?
The way it works is very intuitive and brilliant. The steps are simple: upload a video to alugha, create segments when someone is speaking, activate the Speech2Text engine, wait until the text is added and then edit it if necessary, and finally share the link. Whoever has the link can log in and directly start to translate or record audio.
An international audio track feature is also included. It saves atmosphere, sounds and music separately. For example, documentaries, interviews, and movie versions can be dubbed and published completely online in multiple languages. In addition, you can directly add background music through an upload window. In the video information editor tab, you can add title, description, tags, thumbnail and background image for each language separately. All the metadata for each language is then sent to every search engine and so the videos for every language are found even better. When exporting, you can also activate ducking. This is often used in documentaries. The volume of the main language will be decreased to 30% when someone speaks in a different language.
What are the advantages of the dubbr?
You are independent from time and place, it helps you translate a video into many languages directly in the browser. You don't need to buy any software and you can - as you might know from Wikipedia -simply work together with many people on a project. It has never been easier to become a global player with your online video and such low effort.
For whom is the dubbr intended?
For anyone who produces videos and wants to offer them in multiple languages.
How did you come up with the idea?
Out of necessity. We ourselves produce multilingual videos all the time and we translate and dub for our customers. Since we spend a lot of money on expensive software that is simply not efficient and we exactly know what we need, I had the idea for our own application.
Is there a market for the product? How is the market right now? Is the market ready for it?
There are over ten million active video producers and more than two billion people who speak two or more languages. In the world, there are over 7600 languages and dialects, and the world has never been closer together and further apart than today. With our dubbr, we connect billions of people around the world and make it possible that a quality education can be achieved from anywhere.
How much will the users have to pay?
The dubbr is included in all alugha accounts. It will even be included in the free beginner package.
Who are your competitors and how do they work?
So far there's only ZOODigital and Translate.com who also offer dubbing tools. However, they follow a different approach. We combine our own hosting platform, a proprietary HTML5 multitrack player and online software to manage multilingual videos. All the tools and much more in one place.
Why should customers use the dubbr?
Because you can track everything in real time and contribute, because the dubbr is cool, because our tools are perfectly tailored to each other. Because we are unique. 
Is the product scalable?
Yes, because the more videos and the more speakers, the more possibilities. The dubbr is decentralized and can be used by producers and speakers around the world. There is no limit.
Do the customers need our product?
Yes. Absolutely! If you want to reach as many people as possible with your videos, you need to offer multiple languages. In Mannheim alone, over 30 languages are spoken. In Berlin, it's over 80. So if you think you are only operating "locally", you will quickly realize that you also need your videos in as many languages as possible. If you want to reach your target group, you have to speak THEIR language and not vice versa.
#alugha
#multilingual