"Mission: Impossible - Fallout" - We'll show you the most dangerous scenes!

Tom Cruise, playing the main character in the "Mission: Impossible" movies, proves that he is still in great shape for a 55 year-old by doing all of his own very dangerous stunts in "Fallout".
This video is hosted on the YouTube video platform. Therefore, playing this video requires embedding the YouTube video player by YouTube LLC, USA which belongs to Google LLC, USA. By accepting, you agree that we embed their video player, which is able to set third-party cookies, including those used for advertisement and tracking, and may transfer your browser information and IP address to Google servers. For more information, see
Google's privacy policy
.
Read this article in: Deutsch, English, Português
It isn't news that Tom Cruise does most of his own stunts, especially in his "Mission: Impossible" movies. He already dangled from a cliff, the side of a cargo aircraft, the Burj Khalifa and he might have been training for one year to do one of his scenes in "Fallout". 
We put together a list of the most impressive scenes done by Tom Cruise in his "Mission: Impossible" movies: 
Mission: Impossible
The IMF (Impossible Mission Force) agent Ethan Hunt and his colleagues receive a mission to prevent the theft of the NOC list (Non Official Cover, a list of non-official government agents). Hunt's task is not only to prevent the theft from happening, but also to follow the thief and find out who gave the order in the first place. 
The team is ambushed and Ethan and one other agent are the only survivors. After this incident, Ethan is considered a traitor, so he flees to prove his innocence.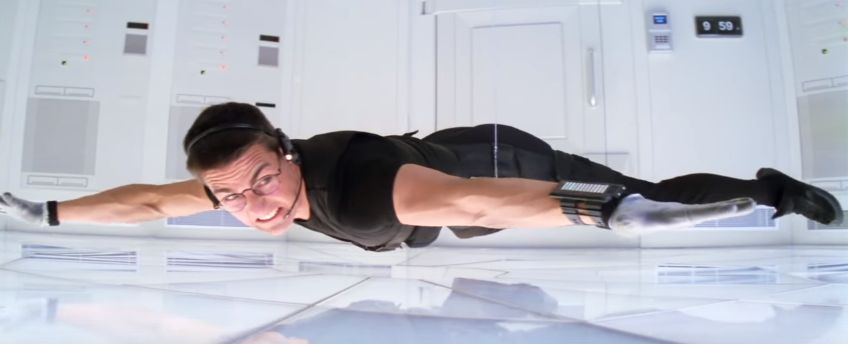 In the most impressive scene of the movie, Hunt enters a vault with sensors covering the floor and sound and temperature sensors. Hunt is hanging on a rope upside down trying not to make any noise or even move. 
Mission: Impossible 2
Agent Hunt and his team have the mission to recover a deadly virus and destroy it before it falls into the wrong hands. Hunt recruits a thief named Nyah Nordolf-Hall (Thandie Newton) and falls in love with her. Nyah, however, needs to get involved with her ex-lover Sean Ambrose (Dougray Scott), who is planning to spread the virus, which has a 20-hour dormant period before it causes death.
The scene showing Ethan Hunt hanging in a canyon was shot at the Dead Horse Point State Park in Utah, USA. Tom Cruise, who was dangling from a cliff while wearing a safety harness for this scene, had to repeat it 7 times until the director John Woo was satisfied with the footage. 
Mission: Impossible 3 
In the third movie, Hunt focuses more on his private life and trains agents for the IMF (Impossible Mission Force). During his engagement party with Julia (Michelle Monaghan), Ethan receives a call from one of the IMF bosses, John Musgrave (Billy Crudup), informing him that his best student, Lindsey Farris (Keri Russell), was kidnapped by the arms dealer Owen Davian (Philip Seymour Hoffman). Ethan decides to return to active service to save Lindsay. For the first time, he does not only have to save the world, but also his love.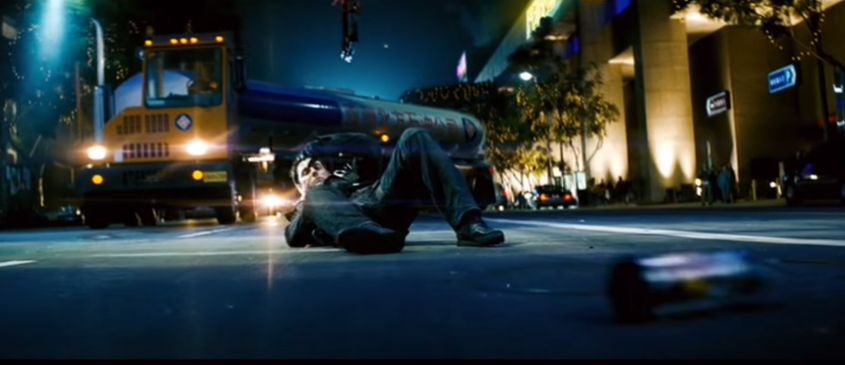 After stealing some mysterious artifact, Ethan ends up hanging upside down in a parachute in the middle of a lively street in Shanghai. A truck is coming straight at him, he frees himself from his parachute and lays down on the street as the truck goes into a jackknife and skids over him.
Mission: Impossible -  Ghost Protocol 
In the fourth movie of the series, secret agent Hunt is leading an IMF team again. This time, the team has to steal a file containing Russian nuclear launch codes. The terrorist Kurt Hendricks (Michael Nyqvist) gets hold of the file first and destroys much of the Kremlin. The IMF are blamed and the American government starts the Ghost Protocol, giving the movie its name. Having to act on their own now, without any support, Hunt and his team need to stop Hendricks from starting a nuclear war that could destroy the world.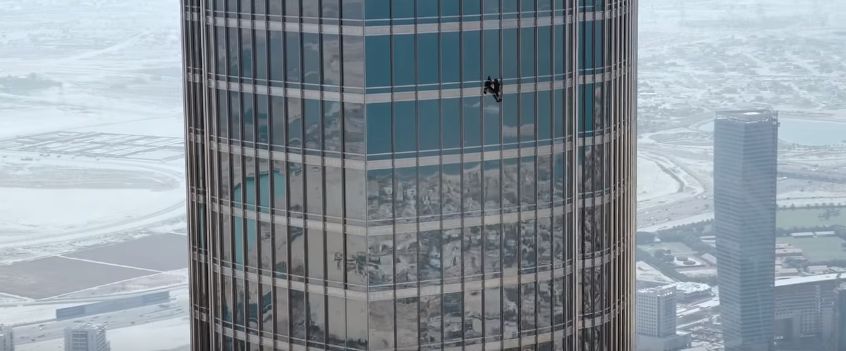 One of the most controversial scene shows agent Ethan hanging from the tallest building in the world, the Burj Khalifa. The skyscraper is 828 meters high and has 160 floors. To actually do the scene, Cruise had to fire his insurance company.
Mission: Impossible - Rogue Nation
While Ethan discovers that the infamous Syndicate really exists and is trying to destroy the IMF, the agency is put under pressure by the US government, which believes that the Syndicate was created by Hunt himself to cover up his own crimes. With the help of Benji Dunn (Simon Pegg), Ethan finds plans against important European politicians. Without the support of his government, Ethan is able to stop the Syndicate with the help of William Brandt (Jeremy Renner), Luther Stickell (Ving Rhames) and Dunn. In this movie, Ilsa Faust (Rebecca Ferguson) is both helping and playing with Hunt, as she is at the same time infiltrating the Syndicate and being involved with Hunt.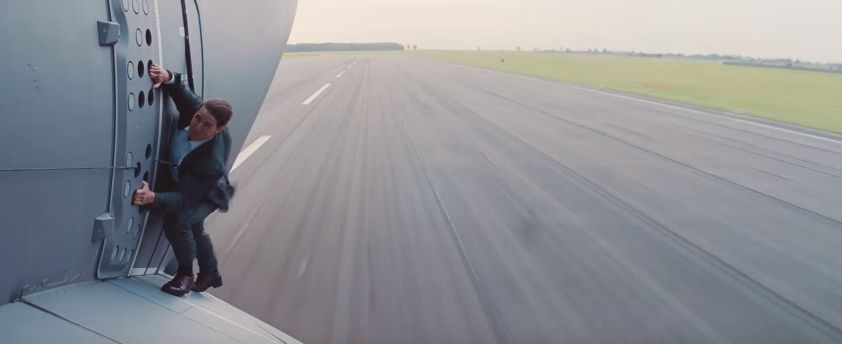 The most astonishing scene is without doubt the opening scene in which agent Ethan is hanging on to the side of a plane while it is taking off. 
Mission: Impossible - Fallout 
Ethan and his IMF team (Alec Baldwin, Simon Pegg, Ving Rhames) together with their allies (Rebecca Ferguson, Michelle Monaghan) find themselves in a race against time after a mission goes wrong.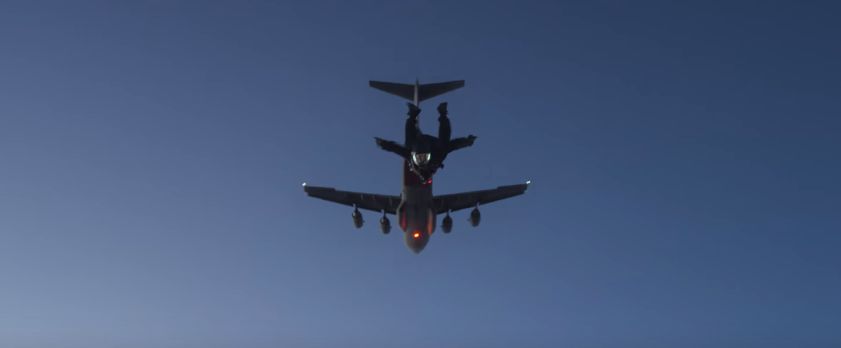 This next movie will top everything. According to the website Deadline, the Hollywood star had to jump out of a plane 106 times until he was happy with the result. Cruise hurt his ankle while filming this. The movie audience will see how Cruise jumps out of a plane at 33,000 feet to catch his opponent August Walker (Henry Cavill) in free fall. And as if this wasn't enough, the plane is going around 220 mph. 
Filming took place in the United Arab Emirates, as this was the only country that gave them the permission to shoot these scenes. 
It seems as if Tom Cruise has the same sense of perfection and adventure as actor Jackie Chan. We are excited to see the new scenes in Mission: Impossible - Fallout!
Thank you for reading this!
Wilgen and the alugha team!
#alugha
#doitmultilingual
#everyones'language
#MissionImpossible
Picture source: Paramount