Timestamp support
Small gifts maintain the friendship. We work tirelessly on alugha and have tackled many things in the last months. We want to share this regularly with you. So, today we'll talk about the "timestamp" feature and how it makes work easier.
Read this article in: Deutsch, English, Español, Português, العربية, 中文
Estimated reading time:
1
minute
We've always wanted to make our videos more dynamic. Especially when it comes to explaining features, it was very important that you were able to find the specific part in the video instantly. But that's not all: what if you had a question about a specific part of the video? Wouldn't it be best if you could specify a time and the video would directly start playing there? 
You can see in this video that there is now some kind of "table of contents". When you click a time, the video directly jumps to this exact spot. It's particularly convenient when a video producer goes over and explains several things in a video.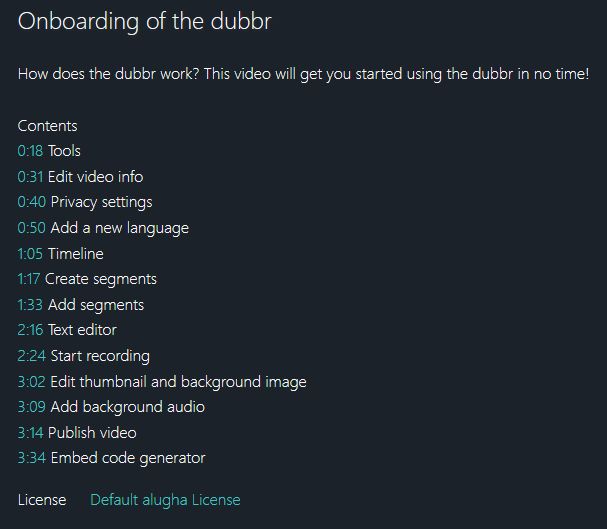 But that wasn't enough for us. The next screenshot shows that this also works in the comments.
You can now ask questions about a specific part of the video, or make suggestions when working on joint projects. This creates a very efficient workflow, especially in combination with the dubbr and when you are collaborating with other people.
How does it all work? It's SUPER simple!
Just write a time in the text and you are done. Our system automatically detects where the player has to start playing. So, 0:30 is 30 seconds, 1:30 for one minute and 30 seconds and 1:10:10 for one hour, 10 minutes and 10 seconds. Even more interesting is that - like everything at alugha - it can be done separately for each language through our multilingual comment system
If you have suggestions or questions, fire away. What do you think of this update? Feedback would be highly appreciated.
Stay tuned!
Your alugha chief
Bernd Korz 
#alugha 
#doitmultilingual 
#everyoneslanguage 
More articles by this producer
Is it necessary to have multilingual videos even though you only operate in a local market?
As a result of globalization, more and more people speak one of the major world languages, while regional dialects constantly lose importance at the same time. People want to communicate worldwide, and they can not do that with only speaking their regional languages. We'll tell you more about the gl
Our alugha page exists in 16 languages, one of them is Chinese. We cover the most spoken language in the world with that. Have we done our duty? Do we really reach most people on the global Internet?
Videos by this producer
I decided a few days ago to switch from Firefox to the EDGE from Microsoft completely after I have extensively tested it for three months. Unfortunately my entire AutoFill data has been completely destroyed. I could not find a way to delete them. Even deleting the browser data did not really help me
As a result of globalization, more and more people speak one of the major world languages, while regional dialects constantly lose importance at the same time. People want to communicate worldwide, and they can not do that with only speaking their regional languages. We'll tell you more about the gl