Actualización semanal: qué hay de nuevo en alugha
En alugha, nos encanta la tecnología y la aprovechamos de manera creativa para que nuestros usuarios cuenten con características únicas y una experiencia cósmica.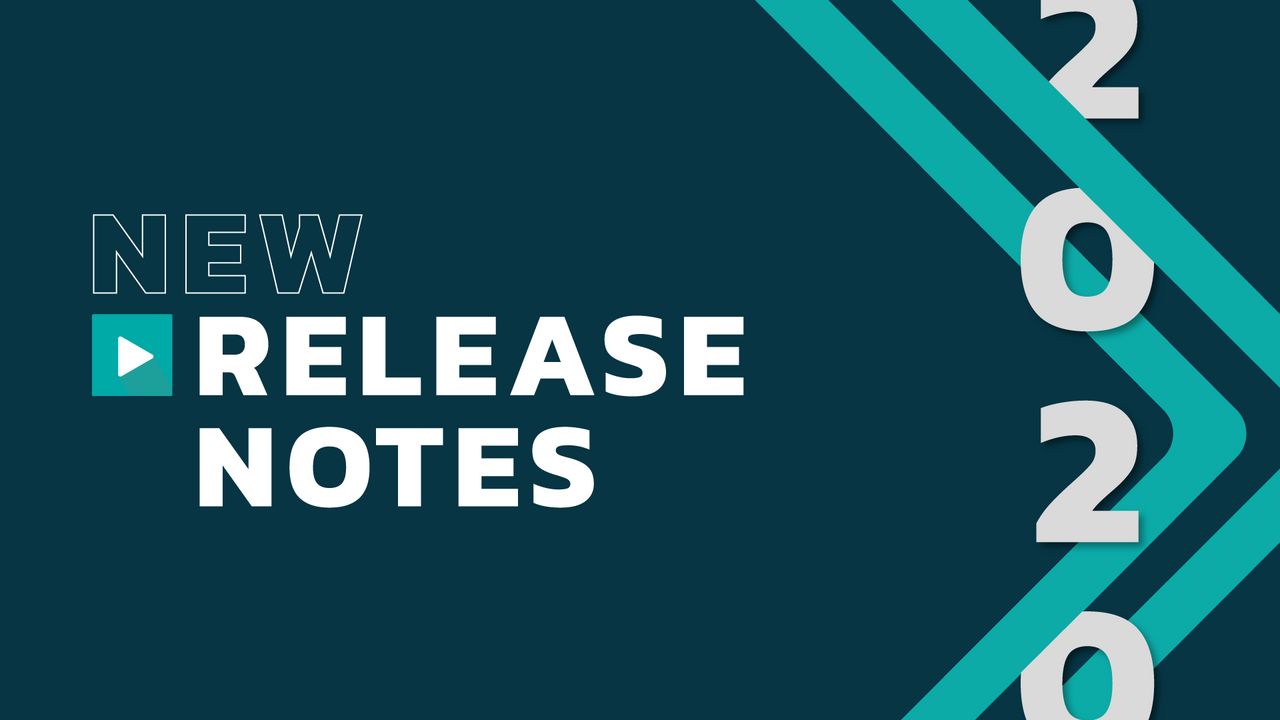 Read this article in: Deutsch, English, Español
Estimated reading time:
27
minutes

Por esta razón constantemente desarrollamos, retocamos, actualizamos y ampliamos nuestras herramientas y características. Los grandes cambios y las novedades se anunciarán por correo electrónico y en nuestro blog, pero a diario se producen muchas mejoras y quizás te las has perdido. También nos gusta recibir tus comentarios para, así, integrar tus ideas en nuestra plataforma. Envía tus ideas y solicitud de funciones a: support@alugha.com
A continuación te detallamos los últimos cambios:
21 de septiembre de 2020
Improvement: "Beliebte Kanäle" in der Videoübersicht

That's a cool update! 

Ahora puedes ver a los productores de vídeo de moda en la vista general de vídeo. Las tendencias se definen por el número total de visitas en la página web, así que puedes ver qué productor tiene más éxito en alugha.

Fix & Improvement: Move UUID validation to schema level

Improvement: Replace JS calculations with media queries on watchlist cards

Fix: Auth directive with role parameter does not work correctly

Fix: First Name and Last Name input fields are not getting initialized properly

Improvement: Add "video" translation

Improvement: Enhance user admin page

That's a cool update!

 A primera vista no es tan relevante como usuario, pero hemos realizado algunos cambios en nuestra interfaz de administración. Ahora alugha puede reaccionar mucho más rápido a tus necesidades.

 

Improvement: lower threshold for sidechain compression

Improvement: update graphql error message name in useNotification hook

Improvement: Publish the Publisher

That's a big update!

 ¡Ahí está! ¡Se ha dado un gran paso para el nuevo editor! Esta parte de alugha era la última que aún estaba escrita en Angular, pero ahora funciona en React. Al reescribir esta parte también repensamos todo el concepto y optimizamos el proceso basado en lo que hemos aprendido hasta ahora. Faltan dos funciones en el nuevo editor, pero tan pronto como esté en línea, te encantará, ¡igual que a nosotros!
Phase #1: Publishing an article, uploading a video or importing a video (currently from YouTube)

Phase #2: Thumbnail, title and video language  
Phase #3: Edit general information (valid for YouTube and also self hosted videos)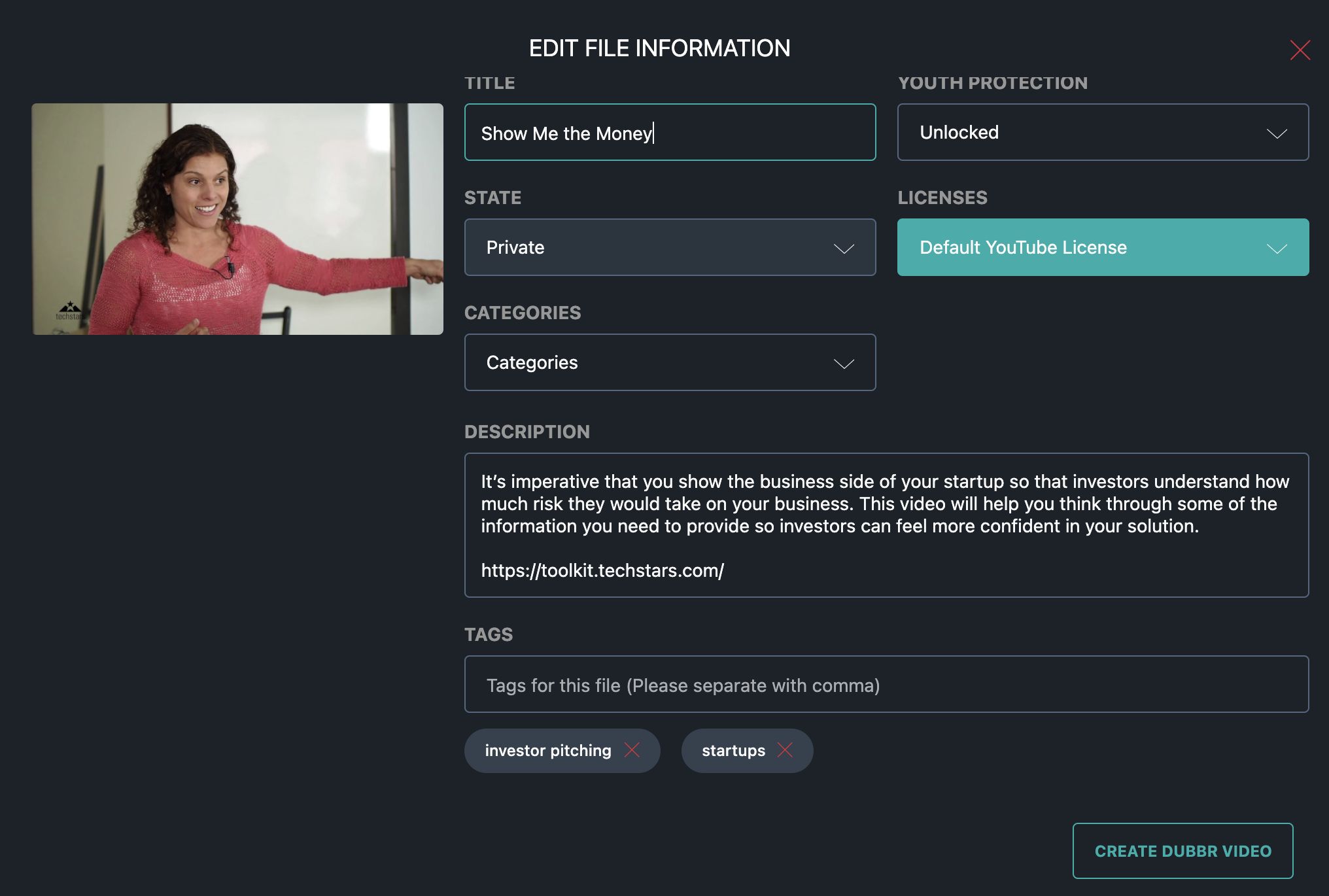 Phase #3a: Uploading a self hosted video you can place it directly on our Marketplace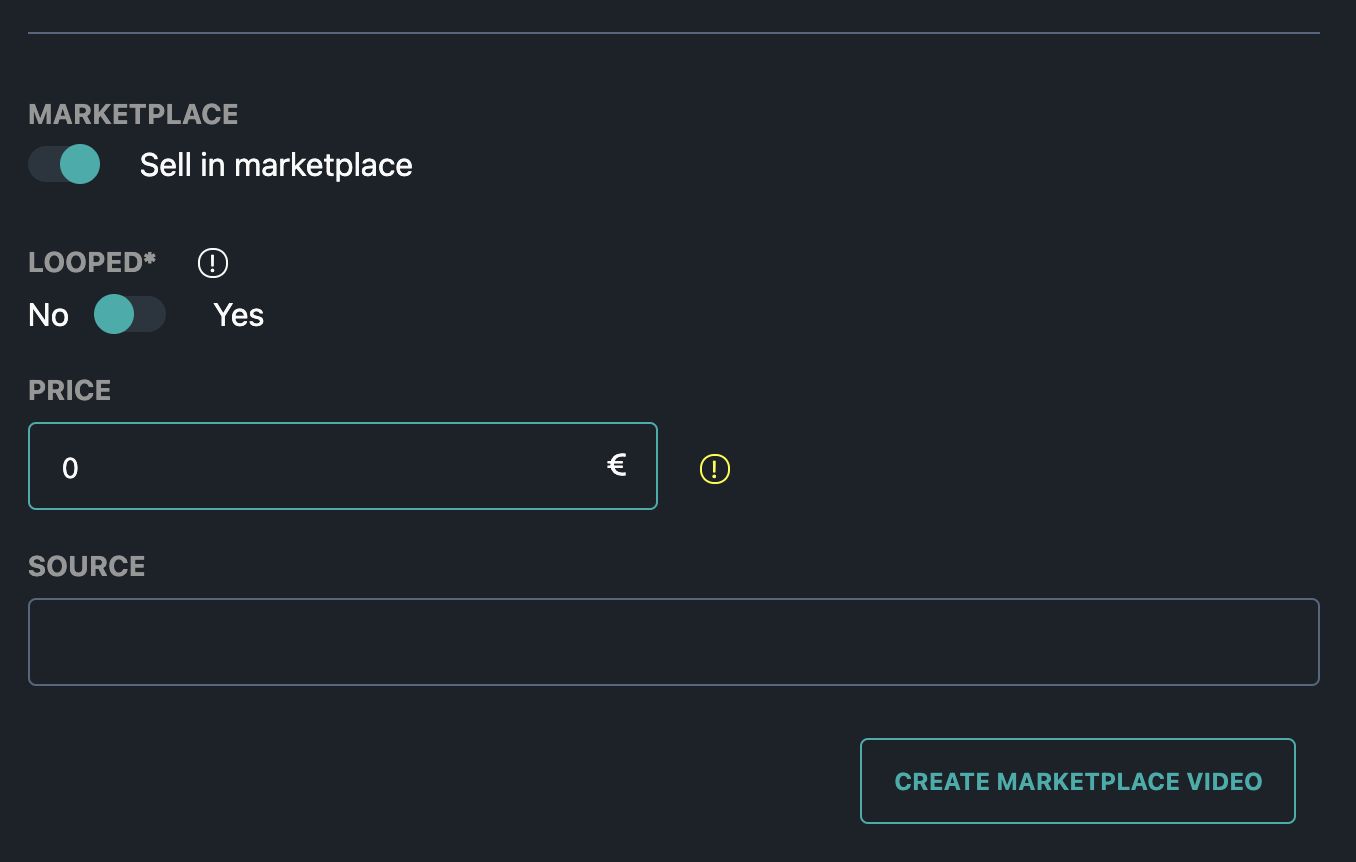 Fix & Improvement: AI/STT → Send NATS reply instead of publishing on a fixed response subject

Fix & Improvement: Make graphql listen to NATS replies, instead of subjects

Fix: View documents set the ownerId to the track owner
14 de septiembre de 2020
Improvement: As alugha I want to check on used S2T minutes

Fix & Improvement: Marketplace crashes when trying to query for asset that has a waveform representation

Improvement: Remove "Draft" from video states

Improvement: As a user, I want a video to start in Full HD and then adapt to my bandwidth

That's a cool update!

 

Nuestro reproductor funciona perfectamente en transmisión en tiempo real adaptativa. Hasta esta actualización, los vídeos empezaban con 360p y después de unos segundos la calidad del vídeo subía hasta 2k según las estadísticas del usuario. Desde hace algún tiempo, recogemos menos datos de los usuarios y solo podemos guardarlos si el usuario está de acuerdo con la configuración de las galletas. Pero para ofrecer el mejor servicio, también a los usuarios que no aceptan las galletas, ahora realizamos una rápida comprobación del rendimiento al principio de cada vídeo y lo iniciamos en la mejor calidad de vídeo posible

Fix: Add enum for delete asset errors

Fix: Fix login issues

Fix: Fix typo in library

Fix: Downloadassetbutton chokes on library picked assets

Improvement: As a user, I want to change the video playback rate in the player

That's a big update!

 Los usuarios no dejaban de pedirnos si podíamos ofrecer la posibilidad de cambiar la velocidad de reproducción de un vídeo. ¡Claro que podemos! Y lo hemos hecho... ahora puedes elegir entre estas velocidades de reproducción: 0,25x - 0,5x - 0,75x - 1x - 1,25x - 1,5x - 1,75x - 2x.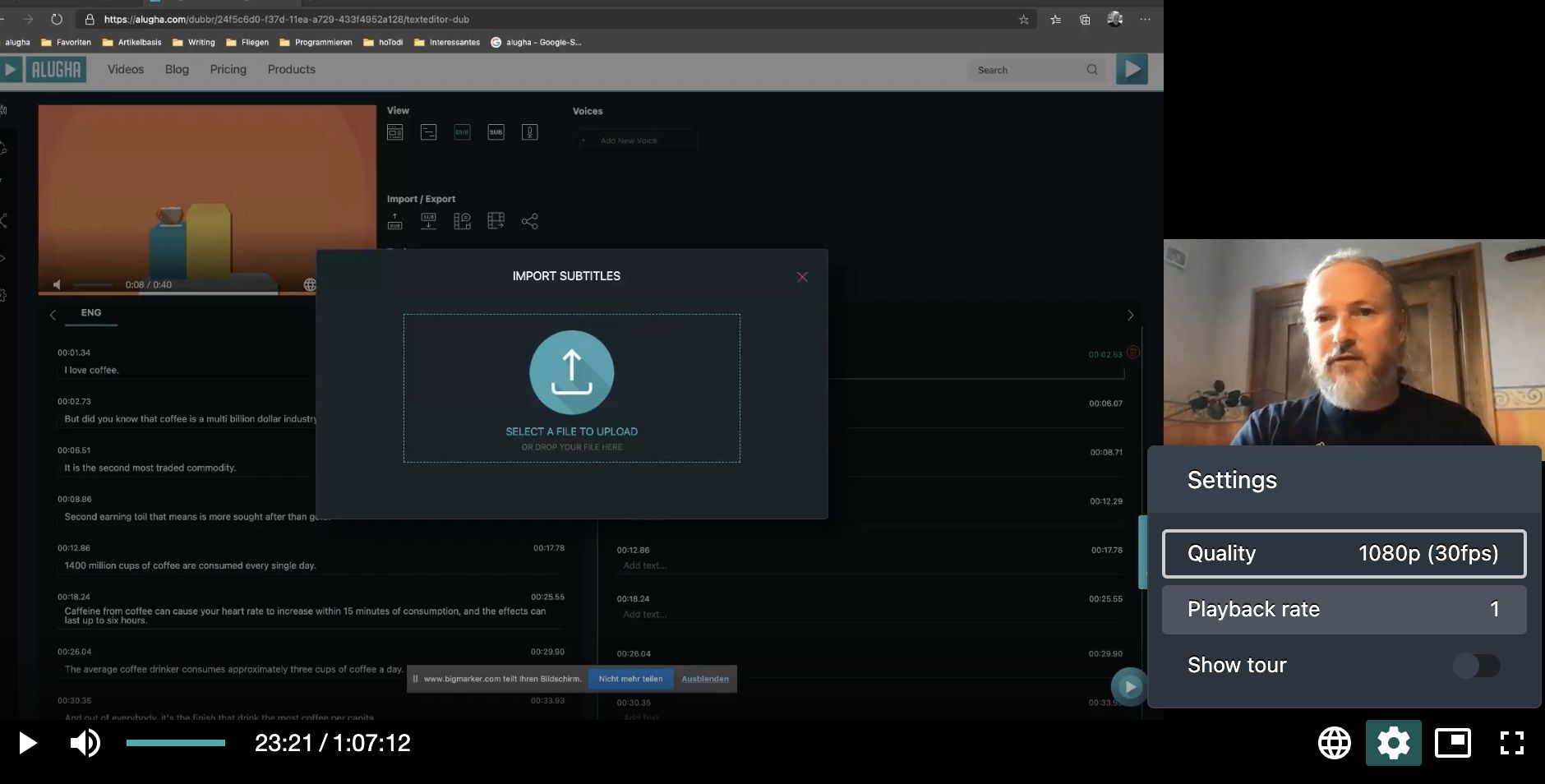 07 de septiembre de 2020
Improvement: Investigate dropping the mp3 encoder completely and only use Flac

That's a cool update! 

La primera versión del dubbr utilizó los formatos de archivo flac y mp3. Ahora todos los navegadores relevantes pueden gestionar archivos flac, así que descartamos los formatos mp3, con lo que ahorramos mucho espacio de almacenamiento (¡y eso nos encanta!) y añadimos un poco más de rendimiento al dubbr actual.

Remove translator job offers

Fix: Let dubbr onboarding use linker instead of relative url

Improvement: Product pages call-to-action is confusing users

Fix & Improvement: Added note for delete asset and refactore component

Fix: Fix broken watchlist cards on alucation

Improvement: As an alugha user, I want to be able to download track audio

That's a cool update!

 Esta semana es otro punto culminante. El archivo de audio es definitivo: con todos los segmentos, exportado y disponible en tu vídeo multilingüe. Pero quieres usar el archivo de audio en otro lugar. Ahora puedes descargar tus archivos de audio en tu ordenador como AAC(LC) con una frecuencia de muestreo de 48kHz y una velocidad de bits variable. 

Improvement: Make default track state public
31 de agosto de 2020
Improvement: Embed code doesn't contain the autoplay attribute

That's a cool update!

 ¡Ya era hora! Por fin hemos incrustado vídeos que se reproducen automáticamente. No habéis parado de pedirlo... así que pensamos, bueno sí, está bien, hagámoslo... ¡y aquí está!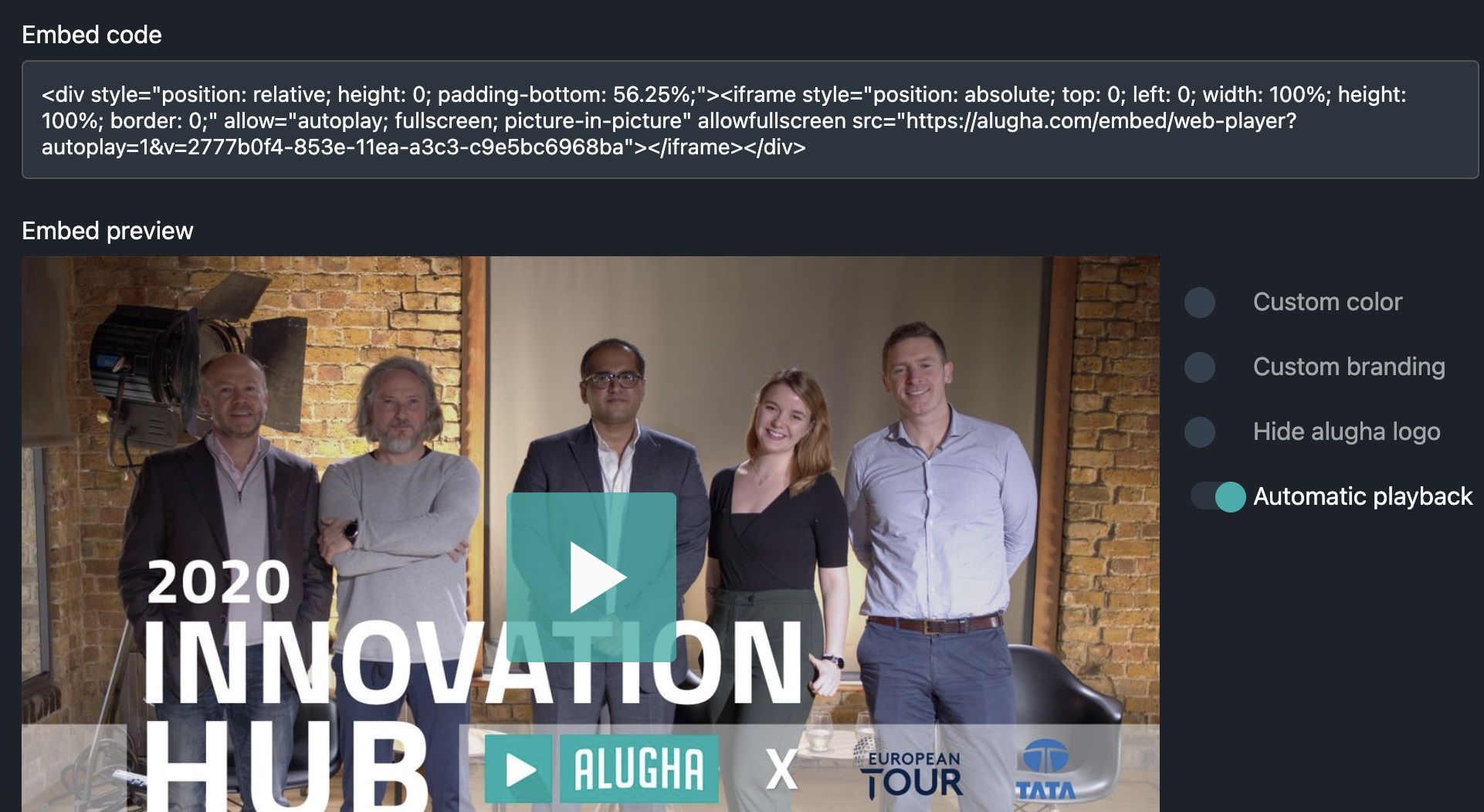 Improvement: Split video page tabs into separate chunks

That's a cool update!

 No parece tan espectacular... pero lo es. El resultado es muy importante para nosotros y en este punto queremos estar un paso por delante de otros sitios web. Por lo tanto, a veces es necesario optimizar el código "viejo" y revisarlo de nuevo. Gracias a la división hemos mejorado el rendimiento de la SVP en 5 puntos (PageSpeed). 

Improvement & Fix: Prevent

alugha.com

from being embedded in an iframe unless it's the alugha player

Improvement: Languages not included in defaultLangCodes aren't getting considered at all

That's a cool update!

 ¿Otro? ¿De verdad? Sí. Hemos ampliado nuestros códigos de idiomas una vez más y ahora tienes muchos más códigos de idiomas ISO disponibles.

Fix: Add firstVideoHref on uni-react

Improvement & Fix: Some video queries show removed videos

That's a cool update!

 El resumen del vídeo no ha resultado ser tan eficiente como queríamos. Nos llevó un tiempo localizar el problema, pero lo hicimos y lo arreglamos. Además, ahora usamos menos capacidad de servidor y GraphQL lo que mejora el rendimiento de nuestro sitio web aún más. 

Improvement: Add Mareike to team page.

WELCOME!

Improvement: enhanceDowngradeIntent must not be relative to current day

Improvement: Improve contact form traceability

Improvement: Do not set cookies and local storage until user consented

That's a big update!

 No paramos de leer sobre la cantidad de datos de los que se aprovechan Google y Facebook deliberadamente. A menudo ni siquiera el usuario lo quiere, pero simplemente no entiende lo que de verdad está pasando. "No seas malvado" fue una vez la pauta de Google. Hoy en día, podríamos describir nuestra pauta de trabajo de esta manera: No seas "GooBook". A partir de ahora no activaremos las cookies o el almacenamiento local en el reproductor hasta que el usuario esté totalmente de acuerdo. Y aún así, no usamos ninguna herramienta o "Pixel" de Google o Facebook. Almacenamos tus datos en nuestros propios servidores y no damos tus datos a nadie. Esto también es así para el reproductor integrado.

Improvement & Fix: Sounds are not updating when moving segments while playing

Improvement: Put the waveforms into objectStorage and load them as asset representations

That's a big update! 

Estas dos últimas mejoras son bastante importantes y son el siguiente paso para la próxima gran actualización del dubbr. Ahora puedes mover fácilmente los segmentos grabados dentro de la línea de tiempo, incluso cuando el vídeo se está reproduciendo. El vídeo se detendrá y, tan pronto como el elemento se mueva, el vídeo continuará exactamente en esa posición. Ah, y por cierto... hemos mejorado el rendimiento del dubbr una vez más con esta actualización.
24 de agosto de 2020
Improvement: Finally our entire contact section moved from angular to react. 

Improvement: Improve video overview for RTL

That's a cool update!

 Somos internacionales y muchos de nuestros usuarios hablan árabe. La escritura de derecha a izquierda (RTL, por sus siglas en inglés) es importante para nosotros. Con esta actualización hemos optimizado nuestra última visión general de vídeo. 

Fix: dubbr → When coming from archive or single video page, the video in dubbr can't be started

Improvement: Get a warning for invalid file format in the publisher and marketplace

FIx and Improvement: dubbr->Recording cache items don't get purged when new recording exists

Improvement: dubbr → Segment cue timing offset is not labeled

Fix: Fix contact form colors

Improvement and Fix: Tree shaking doesn't work properly, causing huge vendor chunks

That's a big update!

 Con el tiempo nuestros servicios y páginas han crecido mucho. Ha llegado el momento de optimizar el código que hay detrás. Al reducir la cantidad de código, hemos reducido el tiempo de carga de nuestro sitio web significativamente. Pero todavía hay espacio para mejorar...

Fix: dubbr → subtitle segment creation is broken

Improvement: Add autoplay and watchlist options to embed video settings

That's a big update!

 ¡Un momento! ¿Qué? ¡Suena genial! Ya puedes incrustar tu vídeo donde quieras. También hemos añadido la posibilidad de que decidas quién puede incrustar tus vídeos en otro lugar. A continuación, habilitamos la personalización del reproductor con tu color y marca personalizados... Además, hasta ahora, esto ha sido así para un solo vídeo. A partir de ahora, puedes establecer esta configuración para listas de seguimiento enteras e incrustarlas. Puedes ver cómo funciona aquí: 

https://support.alugha.com/help/en-us/3/108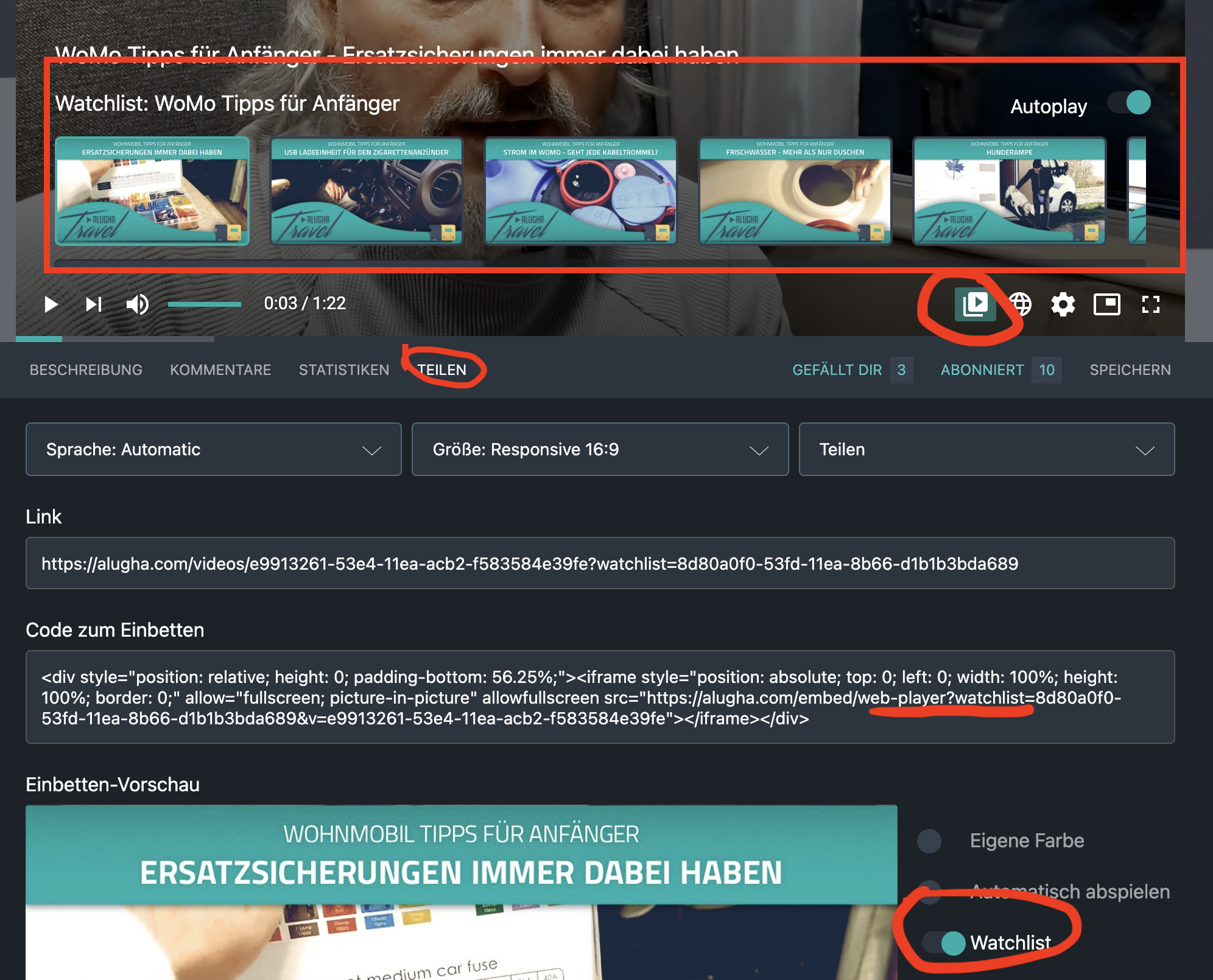 17 de agosto de 2020
Improvement: Finally our entire press section moved from angular to react. 

Improvement: As a dubbr user I want to have more control over the dubbing intensity before exporting &

Improvement: add ducking intensity parameter to finishTrackJob &

Improvement: Expose ducking intensity slider

That's a big update! Nuestra atenuación de sonido ha sido un problema desde hace algún tiempo. Hemos optimizado el código varias veces, pero al final se necesita la opción de ajustar la intensidad de la atenuación de forma individual para un resultado excelente. Así ahora tenemos un ratio de intensidad de 1:20 -> 0% == 1:20 y 100% == 20:20. ¡Disfrutadlo!
Improvement: Put segment meta assets into the asset collection

That's a cool update!

 El siguiente gran paso para mejorar el dubbr y que esté listo para la próxima actualización de errores. Estamos preparando el dubbr para que almacene datos de forma diferente.

Fix: STT Modal needs text content

Improvement: As an alugha user I want to see the most recent videos of a category when visiting the video overview

Improvement: As a dubbr user I want to read all language names in my UI language

That's a cool update!

  A partir de ahora puedes elegir un idioma en TU idioma. Esto significa que si quieres buscar el ruso, no necesitas saber cómo se escribe "ruso" en ruso.

Fix: Videos by category - endpoint does not check if video has playable tracks

Fix: dubbr-> Segment meta are still active while the track is flagged for removal

Fix: flexbox based modal styles are broken

Improvement: Player → Hide tour in embedded player if alugha branding is disabled

Fix: Player → Ensure tooltips do not move outside the player

Improvement: Player → New language menu design

That's a cool update! Cambiamos el menú completamente. Ahora puedes ver con un solo clic qué idiomas están disponibles para el audio y los subtítulos. Ambos se pueden desplazar individualmente con el ratón o el teclado. 
Ready for the gigantic stuff!?!?
We always want to reach the people that normally don't have access to specific things. This is why we started to make the player controlable with the keyboard (you can read more here). Now this is where we are: 
The Basics: Semantic accessibility optimizations: attributes and correct tags

The next step to "communicate" with the whole website using the keyboard: Improved keyboard control and focus management

The real game: Optimize player and related video cards for screen readers.
Yes... you read correctly! Screenreader and complete controle over the player with the screenreader and your keyboard. We are working on covering the WCAG standard at alugha. However, so far, you can manage a huge part of alugha using a screenreader and your keyboard. 
12 de agosto de 2020
Fix: In the Producer pages → Can not save user socials due to invalid input object

Fix: In the dubbr → The segment meta asset should be located in the assets collection

Fix: S2T broken due to model changes

Improvement: Remove Experimental Alpha handling for S2T

Improvement: Adjust UI for the STT AI

Improvement: New Speech-To-Text engine

That's a big update!

 Nos ha llevado un tiempo, pero ya está aquí: ¡nuestro nuevo motor STT está en línea! Presiona "start", reclínate y déjate impresionar por la salida. Estos son los idiomas que ya ofrecemos: Inglés australiano (en-AU) - Portugués brasileño (pt-BR) - Inglés británico (en-GB) - Francés canadiense (fr-CA) - Chino mandarín - continental (zh-CN) - Holandés (nl-NL) - Farsi (fa-IR) - Francés (fr-FR) - Alemán (de-DE) - Árabe del Golfo (ar-AE) - Hebreo (he-IL) - Inglés indio (en-IN) - Hindi indio (hi-IN) - Indonesio (id-ID) - Inglés irlandés (en- IE) - Italiano (it-IT) - Japonés (ja-JP) - Coreano (ko-KR) - Malayo (ms-MY) - Árabe estándar moderno (ar-SA) - Portugués (pt-PT) - Ruso (ru-RU) - Inglés escocés (en-AB) - Español (es-ES) - Alemán suizo (de-CH) - Tamil (ta-IN) - Telugu (te-IN) - Turco (tr-TR) - Inglés de EE.UU. (en-US) - EE.UU. - Español (es-US) - Inglés galés (en-WL)

Improvement: Auto segmentation

That's a big update!

  No sería alugha si no tuviéramos más para ti. Hemos dado un paso más y escucharemos tu vídeo. Los segmentos se crean automáticamente e incluyen la puntuación, solo debes dar el toque final. Con esta actualización reducimos el flujo de trabajo en un 50-60 % ¡Impresionante!
05 de agosto de 2020
Fix: Producer page display is broken when opened directly by URL

Improvement: Implement CEO's recommendation section in VideoOverview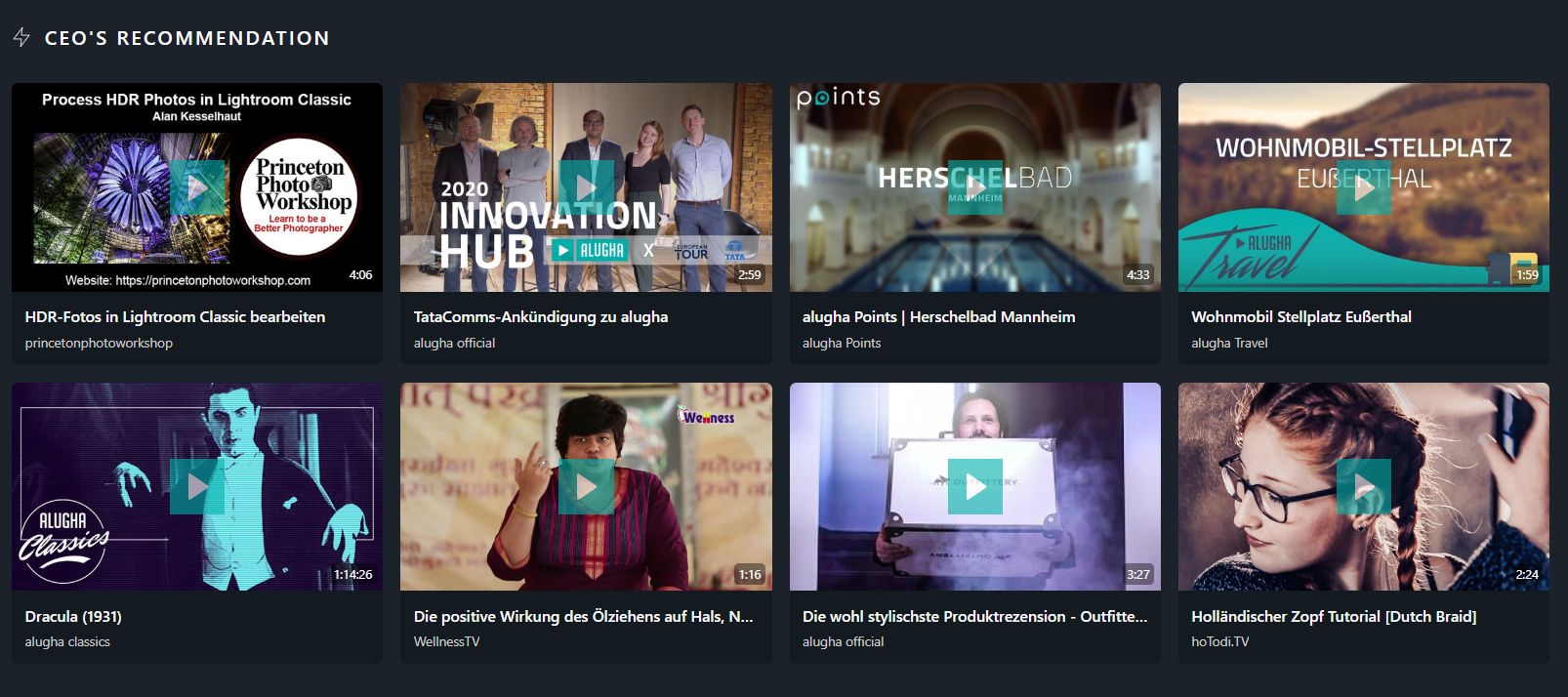 Improvement: Update users filter prop naming 

Improvement: Update gql naming for filter prop

Fix: Validate assetIds before setting them

Add translator job offers

Improvement: Use redis for most popular channels

Improvement: There is no hint that the yt video could be in the trash

Improvement: Migrate dubbing segments, metas and respective assets into the video document and

Refactor React app to work with the changed graphql schema

That's a big update!

 El primer gran paso para la próxima actualización. El dubbr pasa por optimizaciones muy importantes en cuanto a rendimiento y estabilidad. Las grabaciones se almacenan ahora directamente en el ObjectStorage y las suscripciones son más estables. Las bases de datos y los segmentos se han reescrito completamente para preparar la próxima gran actualización, que traerá muchas nuevas funciones al dubbr.

Se ha arreglado una vulnerabilidad de seguridad.
27 de Julio de 2020
Improvement: Migrating press pages/section from angular to react

Improvement: implement alugha classics-Section in VideoOverview + VideoInfo portrait thumbnail

Thats a cool update!

 Hemos dado el siguiente paso y hemos hecho posible que nuestros productores de video incluyan miniaturas de retratos para cajas de DVD/BD y carteles de películas en sus videos.

Fix: Registration confirmation is broken, the already-logged-in page is shown instead+

Fix: When registering through collaboration invites, the logout prompt breaks the redirect

Fix: Didn't set language and draft state for new created article

Fix: Get wrong error for exisiting yt-videos

Fix: Update video error enum

Improvement: Update create video handlers / funtions

Fix: Fix navbar alignment

Improvement: STT can now recognize up to 28 languages

Improvement: Autosegmentation in the dubbr

That's a big update!

 

A partir de ahora nuestra mega gran actualización de nuestra IA en la sección Speech 2 Text está disponible para los primeros usuarios. No sólo apoyamos 28 idiomas, sino también la segmentación automática y el reconocimiento de los signos de puntuación! Aquí un video de demostración:
Improvement: Enable all languages for "nextgen" skynet S2T / auto segmenting
20 de Julio de 2020
Improvement: We integrated the press section into our React codebase. Another important step to drop Angular.

Improvement: Miscellaneous style improvements for alucation

BIG Improvement: Lazy load categories on the video overview. This is a HUGE performance boost!

Improvement: Added a shortcut to show the desired page number. This will save you a lot of time clicking through the pages on the video overview.

Fix: Resolved an issue where users could not remove their dubbr segments under certain conditions

Fix: Resolved an issue that prevented users to invite collaborators to their projects 

-> Ahora, nada te puede parar
13 de Julio de 2020
Fix: Resolved an issue that relied on a static URL structure for assets taken from the library 

Fix: The alugha player now starts as expected when a user has blocked cookies and localStorage directly in the browser settings

Improvement: Added "alugha Travel and Points" section to the video overview (

https://alugha.com/all

)

Improvement: Link to edit article after creation and check description slice

Improvement: Added "most popular channels" section to the video overview (

https://alugha.com/all

)

Thats a cool update!

 Ahora puedes ver la tendencia de alugha en la primera página con los diez mejores vídeos de alugha...

Fixed a bug where the producer page did not render under certain circumstances

Improvement: Added a shortcut to the video cards where you could jump from one of your videos directly to the dubbr

Thats a cool Update!

 Hemos establecido la posibilidad de editar tu vídeo como productor en el dubbr. A partir de ahora encontrarás un enlace al dubbr en el menú contextual de tu vídeo (el pequeño pop-up que aparece al hacer clic en los tres puntos de la esquina inferior derecha de la tarjeta de vídeo. 

Fix: Resolved an issue where the user's plan does not update immediately after the successful redemption of an AppSumo code. The quota (i.e. streaming, upload and encoding minutes) do also update immediately now.

Improvement: Introduce custom license 

Fix: Resolved an issue where the dubbr crashes after adding or removing a subtitle segment under certain circumstances
07 de Julio de 2020
Improvement: Integrate and swtich to Weblate

That's a big update!

 A partir de ahora la traducción de los sitios web y servicios de alugha será mucho más fácil. Hemos cambiado a Weblate y así simplificamos y aceleramos el flujo de trabajo de traducción.

Improvement: Always minimize all tracks in the timeline that are not active or locked

That's a big update!

 A partir de ahora, en el dubbr solo verás la pista en la que trabajas. Para ello, puedes fijar la pista principal en la parte superior y personalizar la vista de la línea de tiempo en el dubbr a tus necesidades con algunas combinaciones de teclas.

Improvement: Take quotaBoost into account

That's a big update!

 ¡Bien, una más! Ahora los usuarios pueden "recargar" cuotas individuales de forma individual. Ya sea para el streaming, el alojamiento, la codificación... Hemos construido un área de administración extra donde se puede hacer fácilmente. Además, también podemos construir paquetes promocionales directamente y pasarlos a los usuarios.

Improvement: Smooth out login process by providing more detailed error messages

Improvement: VideoCards limit depending on windowSize + cardMenu positioning

Fix: Resizing browser windows triggers scrollintoview

Improvement: Remove alucation-section in VideoOverview

Improvement: Add Points+Travel section in VideoOverview

Improvement: Include users parameter in videos query graphql

Improvement: For AppSumo Users better explanation about the difference between plans and extra minutes

Fix: getTrackTagsQuery is missing showUnlistedTracks

Fix: Make sure we always import at least one format from YT

Improvement: create graphql query to filter most popular users

Fix: Users can not submit vtt/srt with input files larger tha 100kB
29 de Junio de 2020
Improvement: Implement alucation-Section in VideoOverview

Fix: If the last article of a page is removed in the organizer, the reloading gets stuck

Use pagination in videoOverview sections

That's a big update!

 Hemos añadido "Paginación" a cada categoría en la nueva página de vídeos. Ahora puedes navegar fácilmente a través de muchos vídeos en una única página. También hemos prestado mucha atención al rendimiento.

Fix: 'id' must be provided to format a message (CategorySelection)

Improvement: Modify videosByCategory & recommendedVideos query to make it work with pagination

Improvement: Include offset in videos query to make pagination work

Fix: User has no access to video thumbnail and background (image)

Improvement: Update SB/Influencer/Enterprise streaming minutes

That's a big update! 

Hemos hecho muchos ajustes y hemos puesto en marcha toda la maquinaria para hacer posible esta actualización. Al final solo hay tres números, pero son muy impresionantes. Tuvimos que optimizar mucho en el fondo para poder mantener los costos bajo control a pesar del aumento masivo. La reproducción en directo es ahora mucho más atractiva. Small business ha aumentado de 5.000 minutos a 15.000 minutos de streaming, Influencer de 40.000 a 65.000, y Enterprise de 100.000 a 400.000 minutos. ¡Eso es mucho!

Improvement: Add admin reencode buttons for video & (audio) track
22 de Junio de 2020
Improvement: Streaming, storage, and encoding minutes were not clearly explained. We have now split them up in backend/payment.

Improvement: The status of a video and of an audio track had the same label. We have now changed the status of audio.

Fix: FeaturedBanner: Something went wrong by changing the window-size.

Improvement: Redesign of the VideoInfoCards

Fix: finishTrack job must not use linked asset as a target

Fix: Subtitle-only tracks sometimes show up in audio selection

Fix: SRT import dialog is too large on Safari

Improvement: Implement category-Sections in videoOverview

That's a big update!

 Cada vez tenemos más productores, usuarios y vídeos. Hasta ahora, simplemente hemos mostrado los últimos vídeos que tienen al menos dos idiomas en la vista general del video. Además, hemos seleccionado algunas de las categorías que ofrecemos. Después del tiempo que nos ha llevado el desarrollo, hemos dado el siguiente gran paso para ofrecer una plataforma de alojamiento y consumo de vídeo. A partir de ahora, mostraremos los últimos vídeos de cada categoría.

Improvement: Convert TOS to React

Fix: Viewing watchlist videos results in unexpectedly high CPU usage and may even freeze the tab.

Improvement: Added new category "Video and Photography".
16 de Junio de 2020
Fix: Don't crash when video asset has no image representation

Add Ian on team page

Fix: Lower number of tracks in sitemap

Add default alugha license

As an alugha admin, I want to mark a video an alucation video

That's a cool update!

 

Cada vez hay más productores de vídeo y tutores que descubren la diversidad de alugha por sí mismos. ¡La educación multilingüe es única! A partir de ahora podemos seleccionar los vídeos en  

https://alucation.alugha.com/all

 y así ayudar a los productores a llegar a más audiencia.

As a user I want to be informed about alughas products

That's a cool update! 

alugha tiene mucho que ofrecer y lo mejor es que somos muy modulares, todos pueden beneficiarse de las mejores características de nuestros productos. A partir de ahora, nuestras páginas de productos describirán productos individuales paso a paso.

As a user, I want to be able to upload an alternate default language audio asset

That's a big update! 

Imagina que has subido un vídeo completo con audio y después de un tiempo obtienes una grabación mejor... ¿Y ahora qué? Sube el vídeo de nuevo y todos los clics... ¿Perder todos los clics? Con esta actualización hemos creado la posibilidad de que incluso puedas añadir una nueva grabación a tu pista por defecto!

Implement recommendedVideos

That's a big update!

 

¡Vaya! ¡Dos actualizaciones importantes en una! Cada vez más gente ve vídeos con nosotros. Contamos con más de 5,5 millones de visitantes que vuelven, que ven una media de 8 minutos de vídeo por visita, ¡no está mal! Por otro lado, más y más productores usan alugha y, por lo tanto, llegan más y más vídeos. Hasta ahora, simplemente hemos enumerado todos los vídeos uno tras otro en / todos. ¡Pero esto tiene que parar! Queremos que veas los vídeos que te interesan, todo suena muy banal pero los vídeos basados en tus intereses son un verdadero desafío. Estamos muy contentos de que finalmente podamos hacerlo posible. Y finalmente tenemos una pestaña en la parte superior de la página donde siempre te mostraremos seis vídeos interesantes.
08 de Junio de 2020
Add navigation on landing page

Create Video Overview Banner

That's a cool update!

 Hasta ahora, la mayoría de los alughanos aterrizaron directamente en una página de vídeo. Por eso nuestro resumen en vídeo era bastante simple (

https://alugha.com/all

). A medida que el número de vídeos aumentaba, empezamos a diseñarlos de forma más intuitiva. Empezamos por una banderola digital en la parte superior en la que podemos promover vídeos muy especiales.  

Add dubbr onboarding

That's a cool update!

 El dubbr es nuestra nave insignia y tiene muchas características. Sin embargo, según los comentarios de los usuarios, los primeros pasos no son muy claros. Es por eso que empezamos a implementar un recorrido por esas páginas. 

Add translations & team members

Fix: Disable Feedback Widgets on small screens

Fix: Only account for public tracks when checking for maxTracks while setting a state to public

Fix: Fix dubbr buttons
02 de Junio de 2020
Migrate the press resources page from legacy-web

Add dynamic link for video:content_loc in sitemap

That's a cool update!

 En cuanto al SEO ya estamos bastante bien equipados. Hemos creado un listado propio para los motores de búsqueda en cada idioma, lo que significa que un vídeo con cinco pistas de idiomas se encuentra como cinco vídeos, un vídeo para cada idioma. Optimizamos este proceso constantemente. 

Split AssetContentMobile in different files

FIx: Update link flow to single asset page / producer page

FIx: update pricing page to display "unlimited" instead of -1

FIx: No success message appears after finalizing a track in the dubbr

Fix: Didn't show download progress for larger assets

Fix: Users logged in with a persona should still be able to correctly update their main account managers

Fix: As a sumo-ling I don't want to be routed to the checkout page when I didn't redeem a code yet

Fix: Update the info message that states the available languages of skynet

Fix: Window is not defined in the Upload/Marktpalce for Thumbnails and background

Fetch all possible resolutions from YouTube

That's a big update!

alugha tiene como objetivo optimizarlo todo y ahorrar recursos donde sea posible. Hasta ahora, podrías fusionar tus vídeos de YouTube a alugha y convertirlos en multilingües. Por lo tanto, usamos la más alta resolución disponible de vídeo y lo codificamos. Se trata de un paso innecesario en el proceso que consume mucha potencia de cálculo y energía. Después de todo, YouTube ya lo había hecho. Si verificas tu cuenta de alugha con tu cuenta de YouTube y quieres fusionar tus vídeos con alugha, no te costará nada. Simplemente transferimos tus vídeos a nuestro servidor de alugha. 

Fix: Linked to about:blank for click on library card
25 de Mayo de 2020
Recuerda este día. ¡Estrenamos Alugha 2.0! Solo verás los cambios de las últimas 4 semanas pero imagina... ¡lo hacemos todos los lunes y ya hace 4 años! Y por fin alcanzamos un nivel totalmente nuevo en alugha!
Fix: Waive watchlist limit when it's a negative number

Implement GQL mutation for (re)encoding an asset

That's a cool update!

 ¡Puede que no lo sepas, pero estamos encantados! A veces un vídeo puede atascarse en el proceso de codificación, por lo que sea. Es raro, pero sin embargo, hasta ahora hemos tenido que ir al servidor y arreglarlo "manualmente". Ahora solo hay que pulsar un botón.

Add platform product page

That's a cool update!

 El universo alugha es enorme y puedes perderte en el vasto espacio... otra página alugha que explicará todas las posibilidades que existen. 

Add / Update test for marketplace overview

Remove routeConfig file and fix some typos

Fix: Import sub/trans fails if the input SRT file contains special characters

Fix: Fix import subtitles on macOS/Safari

Download assets from the Marketplace.

That's a cool update!

 

Ahora es posible descargar y guardar videos e imágenes del Marketplace de alugha. Incluso puedes elegir la resolución de la imagen

Fix: As a dubbr user I need more clarification what a langCode is and why I need it

Fix: maxTracks calculation includes removed tracks

Fix: Producer page onboarding

Fix: Legacy routes in alucation show navigation of main page

Enabled new encoding server infrastructure

That's a big update!

 ¡Llegamos a la Liga de Campeones! Codificar una película en alugha puede llevar bastante tiempo, 4k puede llevar hasta 5 u 8 horas. Hemos trabajado mucho en ello... ¡Codificar ahora solo cuesta unos minutos!

Fix: Make video categories not required
19 de Mayo de 2020
Update encoding server for new plan structure

Fix: Plan upload limits don't seem to work properly

Manage multiple brands and select them when creating my embed code

That's a big update!

 Ahora puedes crear diferentes marcas y enlaces a tu sitio web y administrarlos antes de incrustar el vídeo. 

Handle reload after successful account creation

Let user create invites for his managers &

Make Personas removable by user(manager)

That's a big update!

 ¡Ahora puedes invitar a otros usuarios de alugha a gestionar tu cuenta!

Fix: Register with oauth fails when clicking the register button the first time

Check for maxTracks when user changes track visibility state

Add auth actions to login and signup

Make VideoTable responsive

That's a cool update!

 Los gráficos se veían muy bien hasta ahora... pero solo en una pantalla de rendimiento. A partir de ahora nuestros gráficos son sensibles y se adaptan al tamaño de tu pantalla. 

Add hosting product page

Update Arabic translations

Fix: Video filter in ProducerPage

Fix: Article filter on producer page crashes when filtering categories

Fix: The video owner is not able to remove tracks created by collaborators
13 de Mayo de 2020
Update encoding server for new plan structure

As an alugha user, I want to be able to remove player branding

That's a big update!

  ¡Ahora puedes eliminar el logotipo de alugha del reproductor cuando insertes el vídeo en otro lugar!

As an alugha user, I want to be able to add my company's logo to the player

That's a big update!

  

¡Ahora puedes agregar tu logotipo al reproductor y estará en la parte superior del vídeo cuando lo insertes en otro lugar!

Streamline modal header styles throughout the dubbr

Create button too small in the marketplace

Add player product page

That's a cool update! 

Nuestro reproductor se ha convertido en una parte increíble de alugha y fue el inicio de todo. A lo largo de los años, se ha mejorado mucho. Es hora de darle su propia página en alugha para explicar qué puedes hacer con él.

Apollo cache didn't update for delete element from producer activities

Only offer tracks with valid asset-Id as source for background audio

Some translations are wrong - Improved Spanish and Catalan

Add Photo and Videography category

That's a cool update! 

Por primera vez agregamos otra categoría. Recibimos tantas solicitudes para añadir esta categoría que decidimos hacerlo.

Now the entire alucation website is also available in Arabic
04 de Mayo de 2020
Added search field to activities header. You can now search within your activities.

As a user I want to get an onboarding

That's a cool update!

 Ahora tienes una incorporación dentro de diferentes páginas en alugha para saber cómo funciona.

languages array in video is not updated (or wasn't at some point)

Add "videos" alucation page

That's a big update!

 ¡Hemos creado un artículo totalmente independiente de alugha! Se trata de educación en diferentes idiomas con toda la tecnología alugha.

Added query props for view request

Track if users register from alucation or alugha

That's a cool update! 

Parece arriesgado pero es genial! Queremos asegurarnos de que si pides educación gratuita, que no te molestaremos con nuestras actividades alugha.

Store "domain" of user when created in graphQL server

That's a cool update! 

Parece arriesgado pero es genial! Queremos asegurarnos de que si recibes más información de nosotros o ves vídeos, ¡los obtienes en tu idioma!

As a dubbr user I want to set the default track as background audio

That's a big update!

 

¡Ahora puedes configurar el audio predeterminado de tu vídeo como la pista de fondo a cualquier otra pista de idioma y hacer que el doblaje y la fusión se realicen mediante nuestro dubbr!

Remove old settings page

That's a cool update! 

De hecho, después de fusionar todas las configuraciones en la nueva página de reacción, ¡es hora de decir adiós a la antigua página angular!

Fix links to alucation videos page

Add youth protection field to video sitemaps

That's a cool update! 

Hemos añadido la opción de configurar tu vídeo como no apto para jóvenes y queremos asegurarnos de que cualquier otro motor de búsqueda también lo respete, así que lo hemos añadido a los mapas del sitio.
27 de Abril de 2020
Let user create invites for his managers

Refactor react routing

Fix German translation typo

Add fallback route on participate page

Mixed-up video and track owner for video activities

Added activities

That's a big update!

 Ahora puedes gestionar todas las actividades en alugha. Mira todos los vídeos que has visto y en qué idioma, al igual que los artículos...
24 de Abril de 2020
As a user, I want to get localized error messages for failed requests

Include missing settings to Producer Page settings

That's a big update!

 Hemos fusionado la antigua página separada de ajustes a la nueva página de ajustes de React.

Include word wrap in VideoTable Languages. 

We improved the table style

Upgrade to react-intl 4 and add unified number formatting

That's a cool update! 

 

Parece aburrido, ¿no? Pues bien, ¡con esta actualización finalmente respetamos cualquier formato numérico en cualquier idioma del planeta! Nos encanta que nuestros usuarios puedan leer en su idioma, tanto palabras como cifras, de la manera que les es familiar. 

Updated gql views request by group

Added delete with item ids for views

Added sort for views request

Add possibility to link to specific participate content

Fix privacy page translations
20 de Abril de 2020
Video player overlay sometimes disappears even when the mouse is on top and has just been moved

Add UI component to video page for converting youtube videos to self-hosted

Prevent google from crawling embedded videos

As a video ower, I want to invite collaborators via email

That's a big update!

 Siempre hemos querido que los productores conocieran el ID de alugha, y de hecho ¡ya tenían una cuenta alugha! de las personas que quieren invitar a traducir y doblar. ¡Ahora es mucho más fácil! Puedes introducir la dirección de correo y nuestro sistema comprueba si el usuario existe. Si no, recibes un correo electrónico y con dos clics creas una cuenta y ya forma parte de tu viaje multilingüe.

Participate page style improvements

Activate userback feedback button

Remove speakers preview tab

Tools page style improvements
#alugha
#multilingual
#everyoneslanguage
Automatic
Deutsch
English
Español
E-Mail
Twitter
Reddit
LinkedIn
Pinterest
WhatsApp
Tumblr
VKontakte
Xing
More articles by this producer
Nuestra nueva linguista informática no solo es hábil con las palabras.
El bávaro que presenta alugha al mundo. Y lo hace con un gran corazón y mucho orden.
No hay nada que nos una más que la música. Una canción puede ser una de las conexiones inestimables que compartimos con nuestra pareja, puede hacernos llorar, puede hacer que una sala llena de personas extrañas empiece a cantar y bailar a la vez.
Videos by this producer
The roughly 3-minute film provides an initial impression of the MAHLE plant and also presents the principles and values that govern the way the team works together on a daily basis. And, of course, it highlights the innovative technologies that find application in the MAHLE thermal management produc