Uploading video - super easy!
First my video is on camera, after finishing editing it's on my hard drive. Now I can invite people to a movie night or upload it for free on an online platform, so that the whole world can enjoy it - maybe even in their mother tongue. Today, we'll talk about upload a video!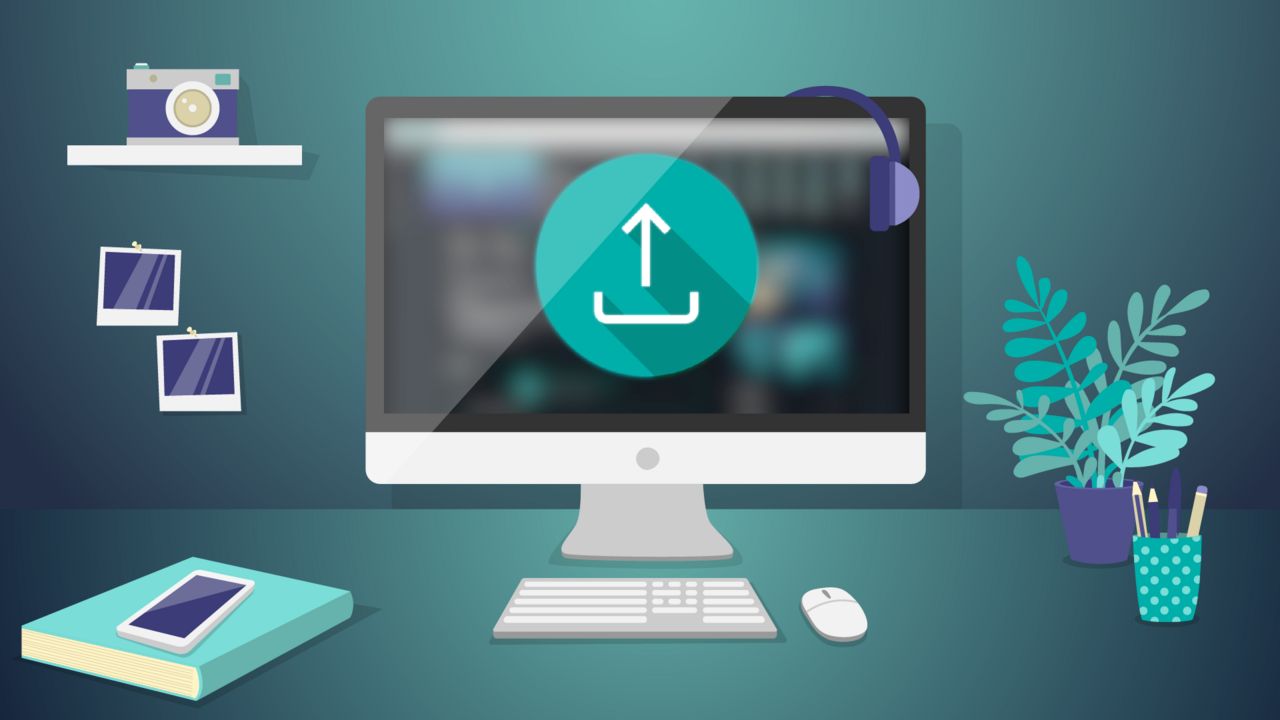 Read this article in: Deutsch, English, Español, Português, العربية, 中文
Estimated reading time:
7
minutes
There are many ways to make a video available to the general public and just as many different platforms. YouTube is probably the best known way to publish a video. Although Facebook has been trying for a long time to knock the top dog off the throne, most producers still use YouTube. On alugha you can upload your (private) video, just as on other video platforms, but we have some more unique features ready. But before we go into details now, we don't want to keep our impatient readers from creating an account and publishing a video. In fact, it only takes three steps.
Three steps to upload your video
Create an

account

on alugha.com. It also works with Facebook and Google login.

Afterwards upload your video.

Wait until it is rendered (processed), set it to listed or not listed and you're ready to send the link!
But as I already mentioned at the beginning, alugha stands out from others in many facets and therefore I would like to explain to you in individual steps what is special about us. Creating the account is the most unspectacular thing. Once you have created your account, it is best to feed your producer page with your social networks and other information. This will make it easier to find you and your video(s) in the future and gives your viewers a good overview of everything. You can find the link in the avatar menu in the top right corner.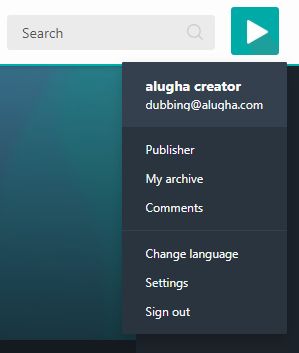 Now it's getting exciting. As soon as you have everything ready, go to the publisher. Now you can click on "Upload video" and the file manager will open, choose your video file. We at alugha know that there are people out there who export videos in all kinds of formats. Be it on an Atari, on an Amiga (yep crazy, right!?)  ), be it an mp4, avi, mpeg, wmv or whatever. We make sure that most common formats can be processed by our system. The most common format at the moment is (Full)HD. So you can upload videos in 720p, 1080p and more to alugha.
During the uploading process, you can customize the title, description, thumbnail, background, video language, visibility, tags and much more. As you can now see, alugha processes all META data for one language at a time. So if you have made a video in German, you can easily add more languages and subtitles later in our dubbr. But we'll go into the details here again to give you as clear a guide as possible. But don't worry, alugha is so easy to use that it's just a first "briefing" to show you how cool and easy it all is. It is important that you provide the information in the language in which you want to publish your video.
At alugha we have another special feature that is important and very effective for you. We split audio and video from the beginning. So we start with the area that is responsible for the video itself.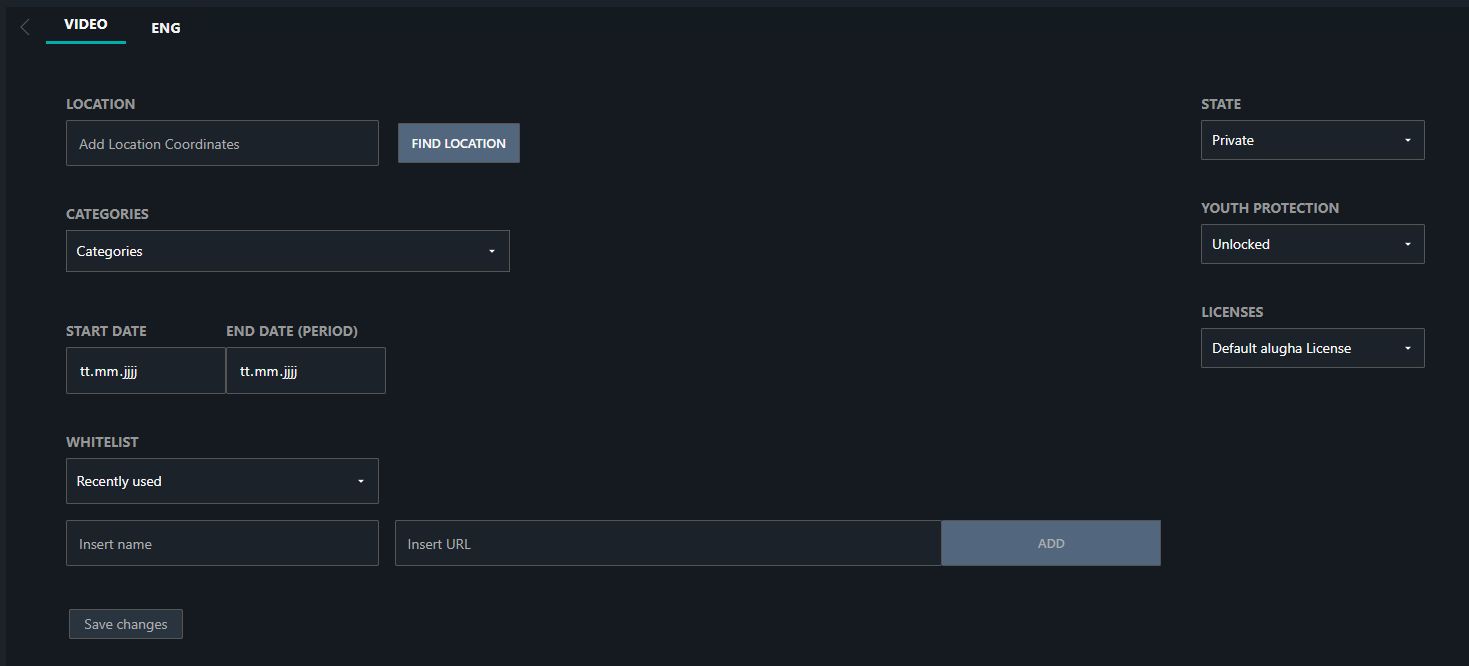 Location
Here you can specify where your video was shot. This is exciting later if you want to publish a video series about sights or history, for example. Users can then search and watch multilingual videos based on their location on alugha.
Categories
Here you have the possibility to select at least one and up to three categories in which your video fits best. Categories differ slightly from TAGS because they are predefined and translated into every interface language of alugha. We also have a special filter in the search, as well as on the producer pages, so that your videos can be found even more targeted and faster.
Start and end date
Maybe you would like to publish a private video which should only be public for a certain period of time, or private until it becomes relevant for your project. For a birthday e.g. or an event... But you can also specify here when your video should disappear from the public again and in the end everything will be fully automated.
Whitelist
That's quite a cool feature! If you want to publish your private video and only want it to be available on your site, whitelist support allows you to explicitly specify URLs where your video can be embedded.
Status
Here you can decide whether your video should be private and only you can see it, whether it should not be listed and only people can see it if they have the link to it (with this status you can embed your video on your website), or whether it should be public. This way it can be found on alugha and any search engine.
Youth protection
Not every online video is free for minors. The FSK has very clear guidelines. Help us and your viewers to recognize this quickly and easily. By default, the value is set to youth-free. However, you can define that your video content is not free for minors. This allows the system to filter more specifically.
Licenses
In general, every video you publish on alugha is first under the standard alugha license. You can also select CC or other licenses. We want to protect the content for you and others and create a stable legal basis for you and other users (especially with the CC license).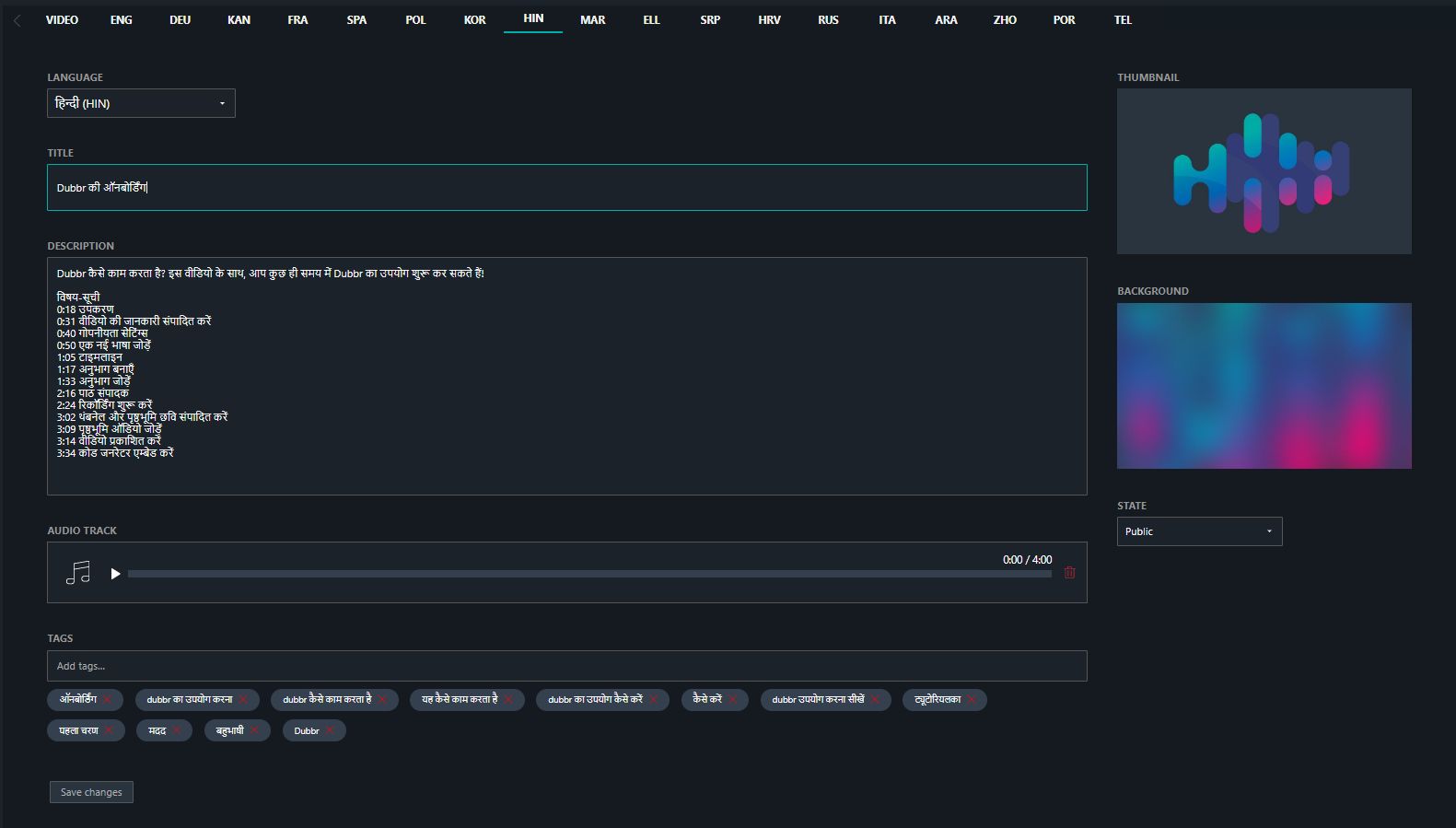 alugha has its strengths especially in the multilingual field. Each language is handled like a separate video for search engines, which makes it very interesting especially for video SEO. If you want to upload a multilingual video to YouTube, you have to do it for each language separately. Publishing a video on alugha is much more efficient. We separate audio/voice and video into two separate areas. To the right of the video tab you can see the settings for each language.
Language
Select the language spoken in your video. You can capture the meta data for each language (as you can see in my screenshot) separately when you upload a video. Alugha has stored the ISO data for almost all languages and dialects, but even we're not perfect and if it really happens that you want to have a non predefined language or even a very own title for the track, you can select "Custom" as language and enter what you want.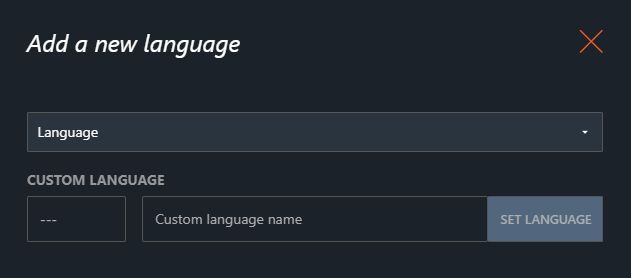 We often have young filmmakers who like to use alugha to provide a second track for the Director's Comments. You could for example create "DCE" "Directors Comments English" or whatever. There are no limits to your imagination and flexibility.
Title
Your title should be chosen so that you can directly understand what your video is about. Unlike uploading videos to YouTube, you can omit the language here for info, such as "My Video (English)" .
Description
In your description you can write everything about your video that seems important to you. The first sentence should be very meaningful, because it is shown next to the title and the thumbnail in the search. Another interesting feature are the so-called "timestamps". Look (here) at them NOW! They can give your published video a lot of dynamics for the viewer.
Audio file
You can either upload a premade audio track for your language (not the track of the video itself!). You can also record an audio track in the dubbr itself. For this purpose we have an interesting video for you on alugha. Depending on the type of account you have with alugha, you can also import all data for a video from YouTube completely automatically.
TAGS
It's important how you want to be found. With the title and the description you can already cover some things. But if you also want to be found on alugha for certain words, you can do that via TAGS. Whenever you enter a comma, the words in between are saved as a single tag. You can also delete them by clicking on the "x" in any TAG box.
Status
Another special feature of alugha is that you can set the status of your video, as well as a single language, separately from each other. Maybe you already want to publish your video but you are not finished with another language/audio track, you can solve that with this.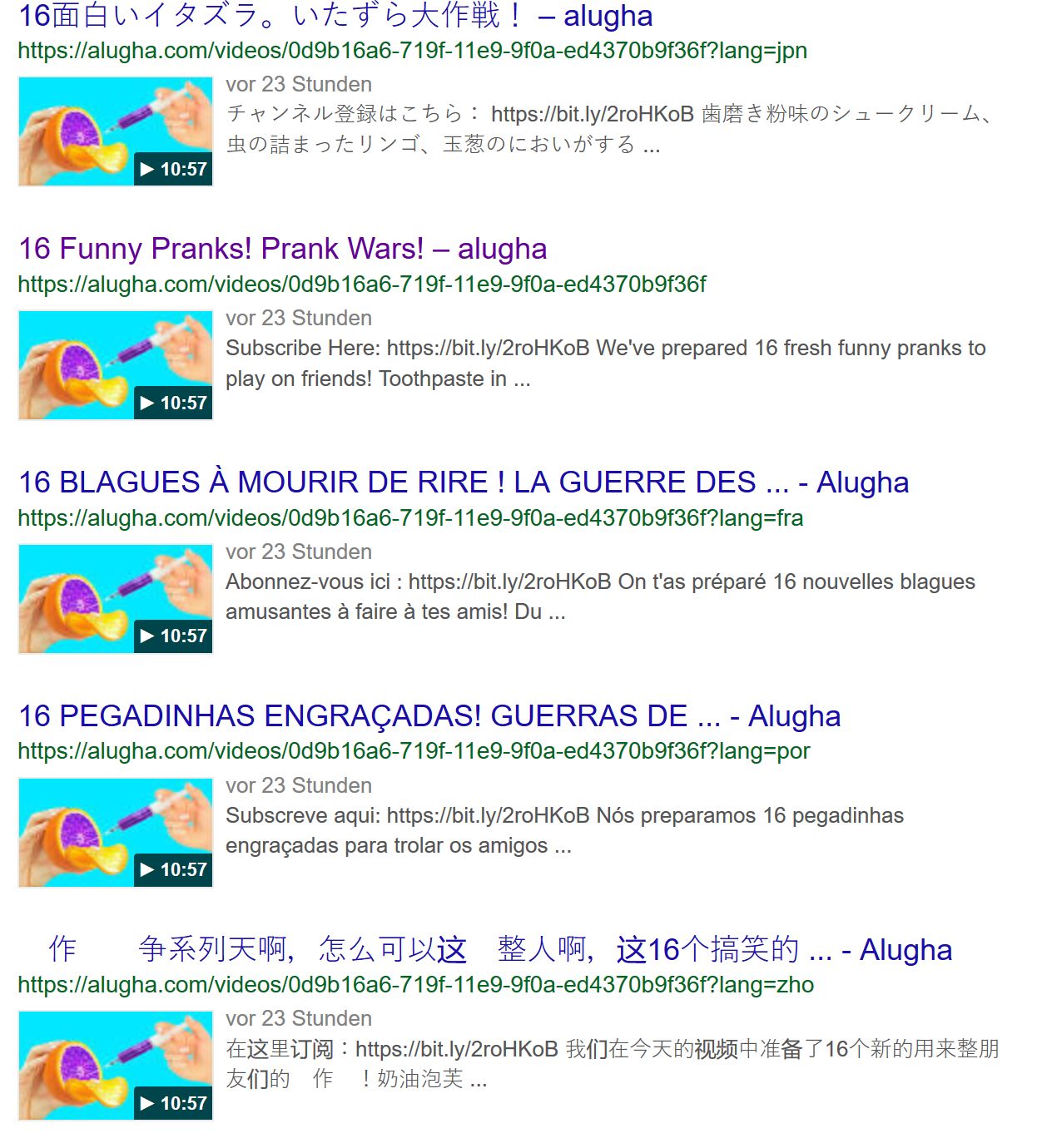 So far so good  . When you are done, you can sit back and let alugha do the rest for you. Alugha first encodes your video in all possible resolutions, like Full-HD, etc., puts your video into our index, then sends the info to Google and all other search engines, distributes it all over the world on our CDN servers and makes sure that it can be downloaded really fast everywhere.
The alugha universe is big and we have developed many unique and helpful tools so you don't just upload a video. If you want to know more, take a look at our website. We have a lot of articles and videos in many languages! If you have any questions, write them in the comments and we will be happy to help!
Bernd Korz
PS: I LOVE this platform!
#alugha
#doitmultilingual
#everyoneslanguage