Let's Talk Again - Helena Gouveia
I really enjoy being with my colleagues. All the small rituals in the morning or at lunch are a real boost of happiness during the day.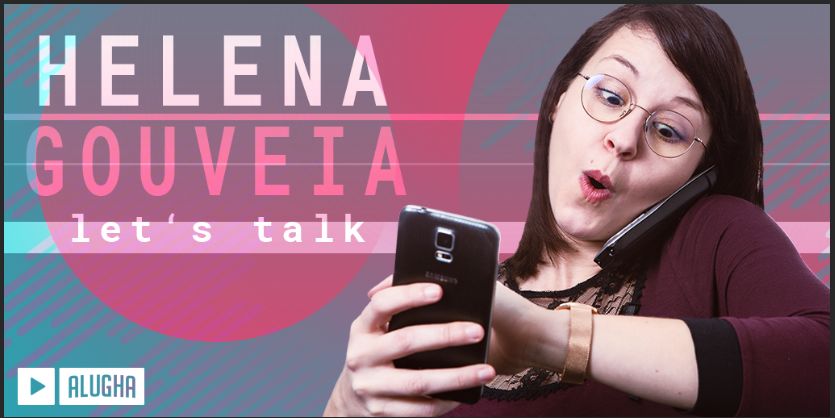 Read this article in: Deutsch, English, Español, Português
Estimated reading time:
4
minutes

How long have you been working for alugha?
I started working for alugha in July 2016. Back then I translated the website into Portuguese. This task was very challenging for me, as I was raised bilingual but never had to deal with technical terms in Portuguese. So I had to do some research and I hope I got it right. Today, I also do project management and try to transfer my compulsive sense of order to others. Just doesn't work so well somehow .
What's the first thing you do in the office?
After dropping off my bag and jacket, I ALWAYS go straight to our coffee machine. I'm definitely addicted to coffee and can't get anything done before my first dose. Since I sit at the front desk at alugha, most colleagues pass my desk in the morning on their way to the kitchen. It's very nice to see and greet them in the morning. You can see who's in a good mood and who it would be better to leave alone for the rest of the day.
What part of your job do you enjoy most?
I really enjoy being with my colleagues. All the small rituals in the morning or at lunch are a real boost of happiness during the day. We all get along well and when it gets stressful, I know I can rely on my colleagues helping me out, which really isn't a given thing and I'm very grateful for it. Moreover, I love that my working day isn't predictable. I have to adapt to new situations a lot, this can be exciting and stressful at the same time. Also a nice task during my day is welcoming our guests and customers and meeting new people.
Which project / task / experience did you enjoy most in the last year?
There has been a lot I have enjoyed doing. I always look forward to dubbing a new video. Mostly they are voice-overs that need some voice variations, but are quite easy to dub. But one time, I was allowed to dub a video with the help of my colleague Kasia, in which I had to synchronize twins. This video made me do a lot of weird stuff in the dubbing room. Kasia coached me very well and tried to get the best out of my voice. It was really great to see how much I could do with my voice and fascinating how body language and movements influence your sound. I hope I get the chance to do a project like this again, someday!
What has made you laugh today?
Fortunately, I laugh a lot in this office. Today, we got really excited about the fact that a new burger restaurant close to the office will open soon... This means we can have a burger day during the week! How cool is that!
No workplace is perfect. What would you like to change at alugha?
An advantage for small companies is the short official channel. However, this can easily become a disadvantage, as at alugha at times. You discuss your ideas with your colleague, or why you aren't able to finish a task in time. But unfortunately, people often forget to inform project management which leads to confusion and misplanning, because something is missing or some task needs to be done additionally and throws over the whole schedule. I would appreciate more communication and caution in general.
Have you discovered a new side to yourself?
I can't say that I have. But I realized how much my former workplace had influenced me. When I first started at alugha, I had trouble to leave my old habits behind. Wearing chucks with jeans and a shirt with print in the office? Is that possible?
To what extent did the international team influence you?
With new cultures you'll always learn something. At alugha, I'm impressed that the team works together very naturally. The different cultures are seen as a benefit for the team and not as something that needs to be addressed. We talk about how we can learn from new points of view and not why this could be a problem. I really like this approach from everyone.
What's your advice to a new alughan?
There's not much to consider. Be yourself and have some sense of humor. At alugha you can try new ways if your have the guts to go through with it and stand behind your choices. In this office you'll meet a kind and friendly multicultural team that will be happy to welcome you. If you're prepared to handle chaos, you're definitely at the right place here!
#alugha
#doitmultilingual
#everyoneslanguage
More articles by this producer
Our new computer linguist is not only skillful with words.
Here at alugha, we love technology and leveraging it in creative ways for our users to provide unique features and a stellar experience.
Our Bavarian soldier presents alugha to the world. Usually with a lot of heart and well organized.
Videos by this producer
The roughly 3-minute film provides an initial impression of the MAHLE plant and also presents the principles and values that govern the way the team works together on a daily basis. And, of course, it highlights the innovative technologies that find application in the MAHLE thermal management produc