Let's talk! Naveen, our computer geek from India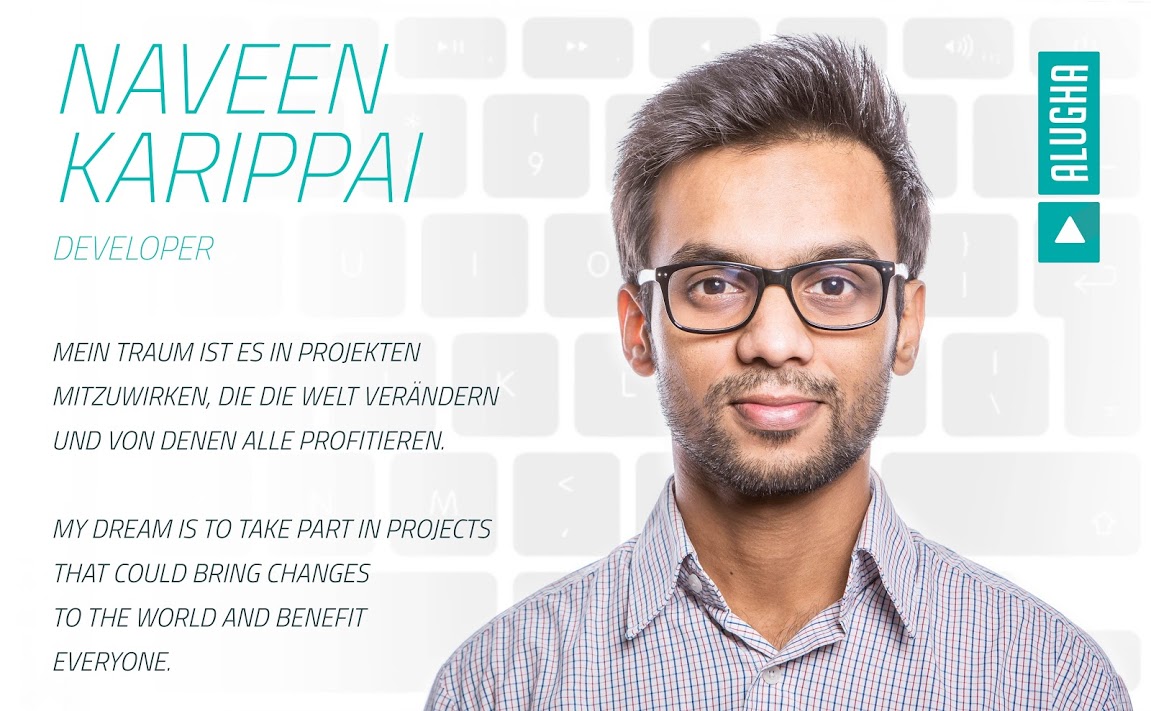 Read this article in: Deutsch, English
Estimated reading time:
1
minute

My name is Naveen and I'm from India. I completed my Master of Science in sensor systems technology at HS-Karlsruhe. Software development and programming is my passion! Since December 2015, I've been working at alugha as technology developer. Which three keywords best describe you? Geek, beer lover, table football fan What do you like doing in your spare time? During my spare time, I like listening to music and visiting friends. Besides I like to go swimming. What guided you to Germany and what do you like about the country? My sister used to work at Robert Bosch in Stuttgart. She gave me a pretty good impression about Germany and the lifestyle here. This inspired me to apply at a German university to pursue higher studies. The education system and the work culture are pretty cool here and that's what I like about Germany the most. How did you end up at alugha? I had been focusing more on programming and software development during my studies. The passion to continuously improve my software skills inspired me to apply at alugha. What are your tasks here? As a technology developer at alugha, I'm currently working on a frontend project with AngularJS. The technology stack at alugha looks very promising and I'm also excited to do some server-side programming with 'Go lang' in the future. What are in your opinion the advantages of a start-up? Start-ups choose most promising technology stack compared to big companies which are afraid to bring changes. It's also a big plus for start-ups that a contribution from an individual employee brings a huge impact on the project and development. The last point is about big dreams – do you have some? My dream is to make huge contributions to open source software and take part in projects that could bring changes to the world and benefit everyone.
More articles by this producer
Our new computer linguist is not only skillful with words.
Here at alugha, we love technology and leveraging it in creative ways for our users to provide unique features and a stellar experience.
Our Bavarian soldier presents alugha to the world. Usually with a lot of heart and well organized.
Videos by this producer
The roughly 3-minute film provides an initial impression of the MAHLE plant and also presents the principles and values that govern the way the team works together on a daily basis. And, of course, it highlights the innovative technologies that find application in the MAHLE thermal management produc