Get the coffee ready, here's our new programmer Christian Gitter from Saxony.
I'm going on a trip … and I am taking friendliness, craziness and pragmatism with me.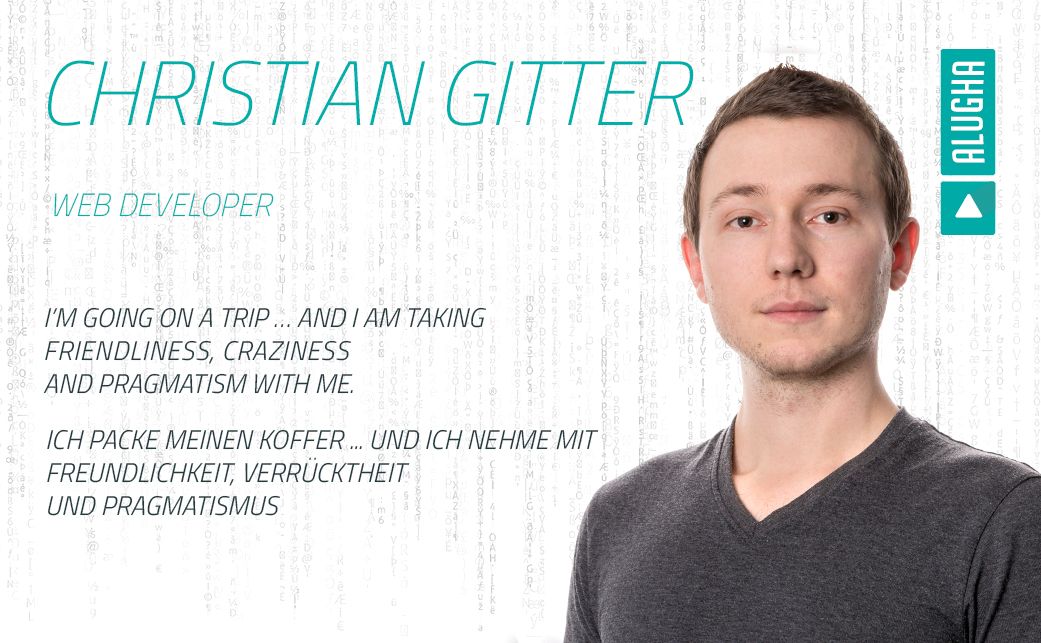 Read this article in: Deutsch, English, Español
Estimated reading time:
1
minute

Briefly introduce yourself: Who are you and what do you do?
I am Christian Gitter, 27 years old and a web developer.
Which three words describe you best?
Friendly, crazy, pragmatic
How are you different now than you were ten years ago? 
10 years ago, I didn't know what to do with my life. I was naive and impulsive. Today, I am a little more experienced. I'm still groping in the dark for the most part, but at least I'm going in the right direction.
What is your favourite thing to do in your freetime? 
I do sports almost every day, because I simply need to balance all the sitting in the office. In addition, I like to play PC games, read sci-fi books and watch anime shows.
What are your tasks at alugha?
I'm part of the developer team and so responsible for the technical implementation of the alugha website and services. You can describe it like this: Chug a lot of coffee and you will get a halfway readable code eventually.
What guided you to alugha?
Alugha was looking for developers and when I was offered the job, I didn't have to think for too long. I immediately packed my stuff and moved to Mannheim. I am from a small town in Saxony. I am sure I made the right decision.
Why do you like being an alughian?
Because we are trying to solve problems and help people with our product.
Where do you see yourself and the company in the future?
I don't doubt alugha will be successful and I hope I can be a part of this as long as possible.
What is your own big dream?
I want to do my bit for society and influence lives positively.
#alugha
#doitmultilingual
#crew

Man kann nie genug Christians haben! :P

Irgendwann wirds aber unübersichtlich :)

Tolles Interview! So schnell wirst du uns auch nicht mehr los! :)
More articles by this producer
Our new computer linguist is not only skillful with words.
Here at alugha, we love technology and leveraging it in creative ways for our users to provide unique features and a stellar experience.
Our Bavarian soldier presents alugha to the world. Usually with a lot of heart and well organized.
Videos by this producer
The roughly 3-minute film provides an initial impression of the MAHLE plant and also presents the principles and values that govern the way the team works together on a daily basis. And, of course, it highlights the innovative technologies that find application in the MAHLE thermal management produc