Let's talk - Kat: ¡La eliminadora del caos!
Katharina Finke - Gestor de proyectos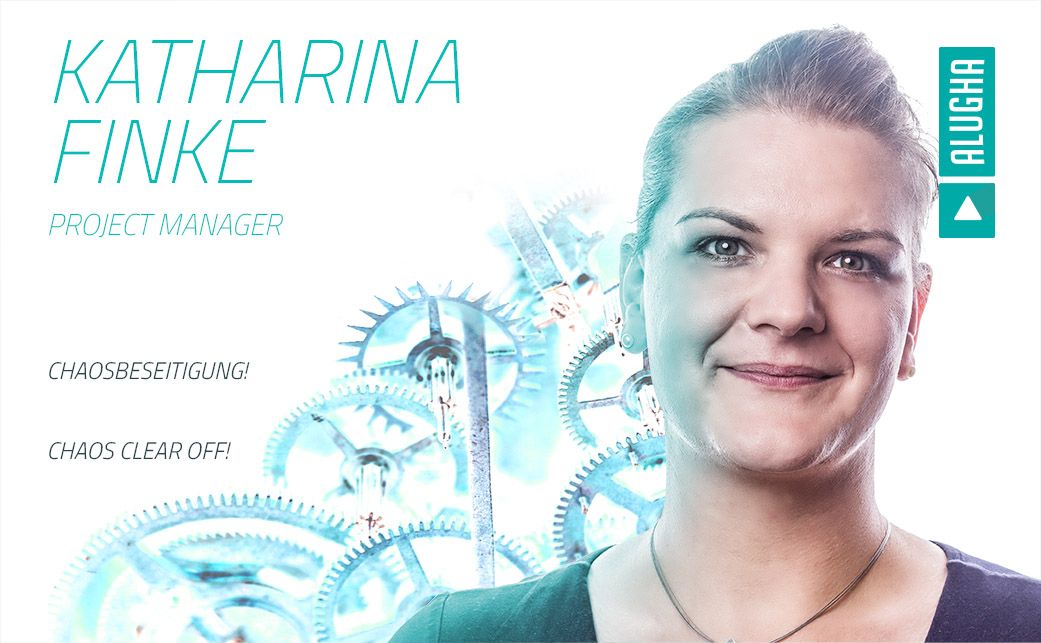 Read this article in: Català, Deutsch, English, Español, Français, العربية
Estimated reading time:
1
minute

Preséntate brevemente: ¿Quién eres y qué haces?
Yo soy Katharina e intento eliminar el caos en la empresa. 
¿Cuales son las tres palabras que mejor te describen?
Organizada, tranquila, sarcástica.
¿Cuáles son tus hobbies favoritos?
Mi familia y mis amigos son muy importantes para mí. Además, me gusta ir nadar y leer.
¿Cómo alugha ha despertado tu interés?
Bernd e Ithamar me informaron sobre alugha cuando yo estaba buscando nuevos proyectos. La idea me entusiasmó inmediatamente y dado que me gusta hacer frente a nuevos desafíos, acepté directamente.
¿Cuáles son tus deberes y qué impresión tienes del trabajo en alugha?
Yo elimino el caos en la empresa, estructuro y organizo. Se tiene que discutir, planificar y procesar los proyectos conforme al plazo, es decir, soy responsable de la coordinación de los proyectos.
¿Qué es lo que más te gusta de tu trabajo en alugha?
El team es estupendo y es siempre divertido trabajar con mis colegas. Se puede participar en distintas tareas responsables.
¿Dónde te ves a ti y a la empresa en el futuro?
Creo en alugha y que será algo muy grande. Veremos qué pasa.
¿Tienes un gran sueño?
Una pequeña casa directamente detrás del digue.
More articles by this producer
El concepto de alugha es superemocionante, y me encanta mi trabajo. Además, me llevo muy bien con mis colegas.
Here at alugha, we love technology and leveraging it in creative ways for our users to provide unique features and a stellar experience.
En alugha, nos encanta la tecnología y la aprovechamos de manera creativa para que nuestros usuarios cuenten con características únicas y una experiencia cósmica.
Videos by this producer
A simple explanation of the services offered by the Point of Single Contact Berlin (e.g. register your business, trade or craft) www.ea.berlin.de Story board: CONVIS Consult & Marketing GmbH Illustration and animation: Frank Apitz Music : JC Binetti Released by: Senatsverwaltung für Wirtschaft, Te
► Help here: https://de.gofundme.com/f/spende-fur-stefano039s-kampf-fightwithme ► Paypal: https://www.paypal.me/stefano1w3