Phil Collins, músico y una gran leyenda
La revista Rolling Stonesdedica su número actual a la leyenda viva Phil Collins y además incluye un álbum exclusivo de su éxito In the Air Tonight. ¡Puedes ganar tres copias!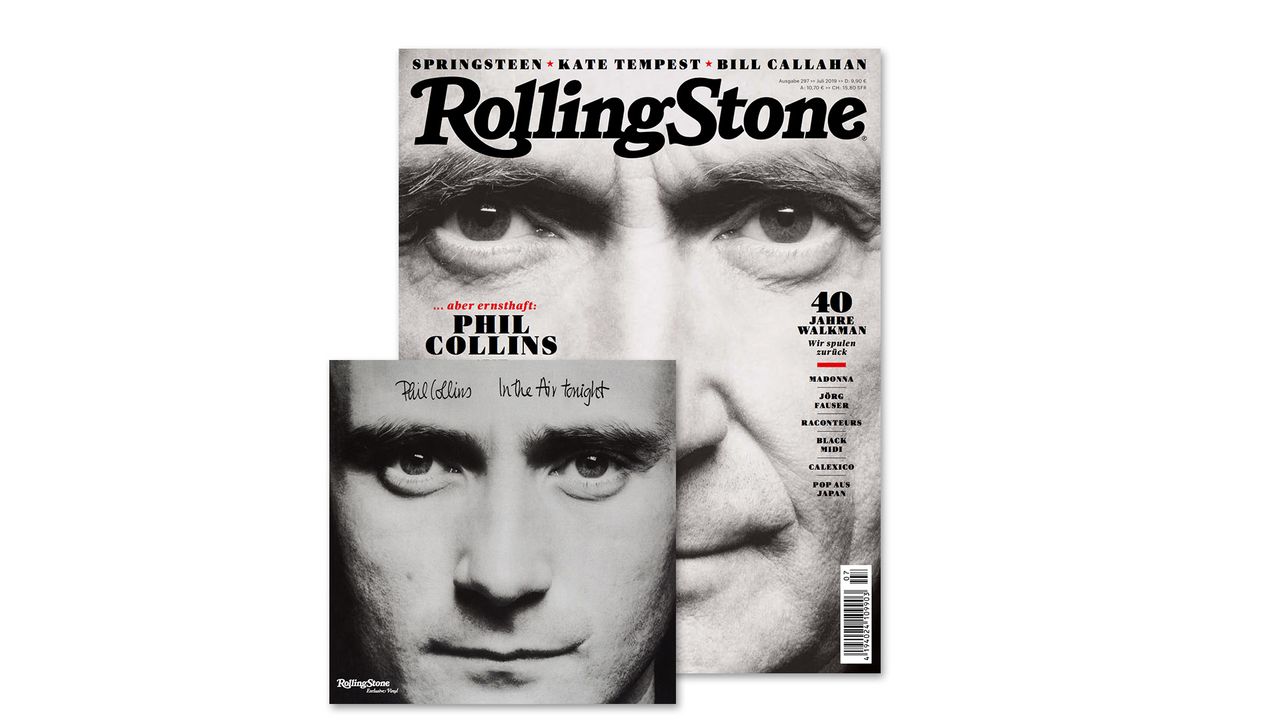 Read this article in: Deutsch, English, Español
Estimated reading time:
2
minutes

Phil Collins es uno de los músicos más famoso de todos los tiempos. Ha escrito varios éxitos mundiales atemporales. Su primer single In the Air Tonight cumplió 38 años este enero y ha recibido 3 premios de oro y 6 de platino por más de 4 millones de discos vendidos. En los siguientes años, Collins se consolidó como autor de éxito con canciones como You Can't Hurry Love, Against All Odds o Another Day in Paradise. Phil Collins ganó la cantidad increíble de 301 premios de platino y 5 de diamantes en todo el mundo.
A la edad de 5 años empezó a tocar la batería. Su carrera como baterista en el grupo Genesis comenzó en 1970, cuando su cantante dejó la banda y Phil tomó el micrófono con un gran éxito. Aunque Collins no ha tocado la batería desde 2009, después de una operación y tiene que sentarse en una silla en el escenario, sigue triunfando y llena grandes salas de conciertos con sus leales y apasionados seguidores.
Recibió un reconocimiento especial de sus fans cuando cantó la canción que dio título a Tarzán You'll be in my heart en varios idiomas, como en español. Puedes escuchar las versiones en inglés y español a través del enlace o el vídeo abajo y comprobar que su voz no pierde sentimiento aún cuando canta en español. ¡Solo tienes que hacer clic en el globo terráqueo del reproductor!
This video is hosted on the YouTube video platform. Therefore, playing this video requires embedding the YouTube video player by YouTube LLC, USA which belongs to Google LLC, USA. By accepting, you agree that we embed their video player, which is able to set third-party cookies, including those used for advertisement and tracking, and may transfer your browser information and IP address to Google servers. For more information, see

Google's privacy policy

.
La revista Rolling Stones se ha dedicado a este increíble músico y ha publicado un álbum exclusivo con un remake del single In the Air Tonight. La revista con un artículo muy completo sobre el excepcional artista Phil Collins se puede encontrar ahora en la revista Handel.En el álbum puedes encontrar las siguientes canciones:
Cara A 01 In The Air Tonight (Versión remasterizada)
Cara B 01 The Roof Is Leaking feat. Eric Clapton (guitarra) (versión demo)
El PHIL COLLINS de 7 pulgadas está disponible exclusivamente con ROLLING STONEde 07/2019.
Para obtener más información y opciones de pedido haz clic aquí (en alemán e inglés).
¡Sorteamos tres ejemplares de Rolling Stonecon el álbum de Phil Collins! Cuéntanos en los comentarios qué canción de Phil Collins tiene un significado especial para ti. Las tres mejores historias ganarán una copia. ¡Esperamos tu participación!