Let's talk - Helena: la bonne fée!
Le travail dans l'hôtellerie m'a appris que nous sommes tous pareils. Depuis lors, je garde mon calme et je fais de l'ordre partout :)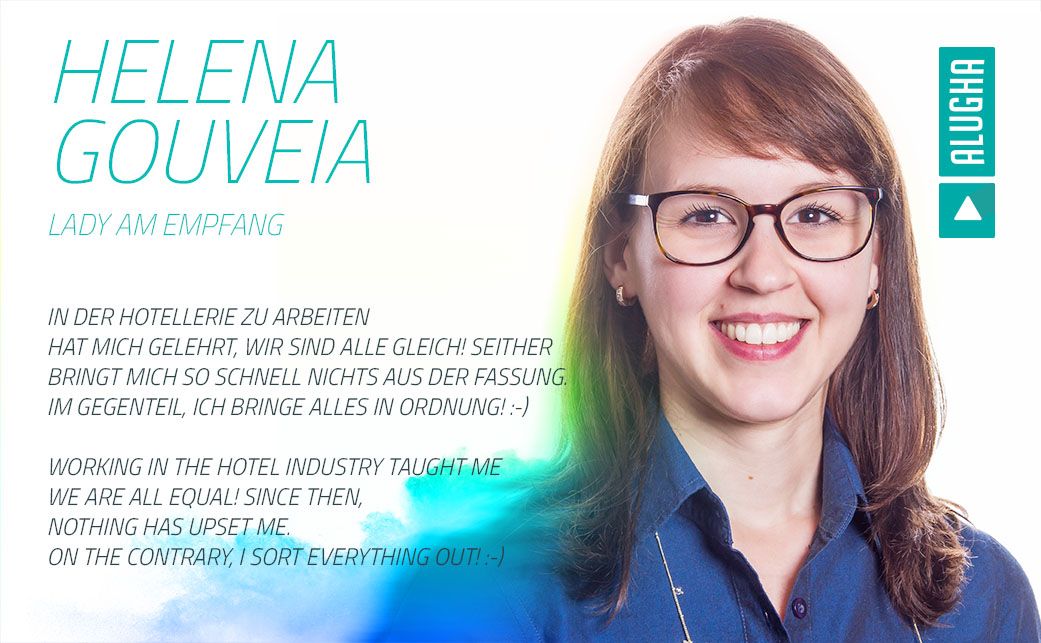 Read this article in: Català, Deutsch, English, Français
Estimated reading time:
1
minute

Présente-toi brièvement: Qui es-tu et qu'est-ce que tu fais?
Je suis Helena, j'ai 29 ans et c'est alugha qui m'a amenée à Mannheim.
Quelles sont les trois mots-clés qui te décrivent le mieux?
Relax, autonome, joyeuse
Quels sont tes loisirs?
Ecouter de la musique, regarder des films, manger et de préférence tout ça avec mes amis et ma famille.
C'est quoi, ce que t'as apporté à alugha?
Quelques décisions qui n'étaient pas trop bonnes, m'ont conduit à la meilleure décision de l'année: travailler pour alugha!
Quelles sont tes tâches et quelle impression as-tu du travail chez alugha?
Ma tâche principale est de faire de l'ordre dans le chaos. J'essaie d'être la bonne fée, de structurer tout. J'ai remarqué tout de suite que les employé(e)s sont passionnant(e)s avec leur travail et l'entreprise. Une telle cohésion sociale ne s'achète pas et preuve que Bernd a raison avec son style de gestion.
Qu'est-ce qui te plaît tout particulièrement dans ton travail?
Je ne sais jamais de quoi sera fait le jour!
Où te vois-tu et l'entreprise à l'avenir?
L'entreprise va croître et croître et conquérir le monde. J'espère que j'en participerai pour de nombreuses années à venir et qu'un jour je serais la vieille, capricieuse secrétaire qui raconte des histoires du passé :D.
As-tu un grand rêve?
Je voudrais bien continuer à mener une vie insouciante. C'est simplement inestimable!
More articles by this producer
Our new computer linguist is not only skillful with words.
Here at alugha, we love technology and leveraging it in creative ways for our users to provide unique features and a stellar experience.
Our Bavarian soldier presents alugha to the world. Usually with a lot of heart and well organized.
Videos by this producer
The roughly 3-minute film provides an initial impression of the MAHLE plant and also presents the principles and values that govern the way the team works together on a daily basis. And, of course, it highlights the innovative technologies that find application in the MAHLE thermal management produc