Let's talk - Helena: la bona fada
Treballar a la indústria hotelera em va ensenyar que tots som iguals! Des de llavors, res m'ha molestat. Ben al contrari, m'ho ha solucionat tot :)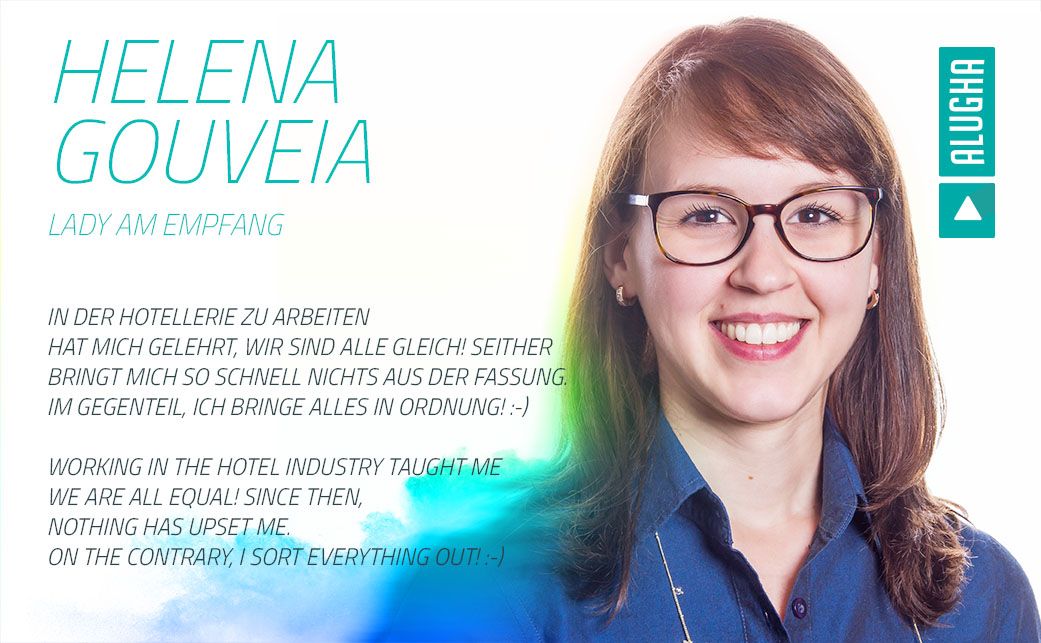 Read this article in: Català, Deutsch, English, Français
Estimated reading time:
1
minute

Presenta't breument: Qui ets i què fas?
Sóc l'Helena, tinc 29 anys i només a través d'alugha, vaig arribar a Mannheim.
Quines són les tres paraules que et descriuen millor?
Relaxada, independent, de bon humor
Què és el que més t'agrada fer en el teu temps lliure?
M'agrada la música, les pel·lícules i el menjar i també estar amb els amics i la família.
Com alugha ha despertat el teu interès?
Una sèrie de decisions no tan bones em van guiar a la millor decisió de l'any ... treballar per alugha!
Quines són les teves tasques i quina és la teva impressió del treball d'alugha?
La meva tasca principal és posar ordre al caos. Estic tractant de ser la bona fada que està mantenint junts a tots els bens a través de l'estructura. Immediatament em vaig fixar en l'entusiasme dels companys per la feina i l'empresa. No es pot comprar aquest esperit d'equip, i això demostra que Bernd té raó amb el seu estil de gestió.
Què és el que més t'agrada del treball a alugha?
Al matí, no sé què hauré fet fins al vespre.
On et veus a tu i a l'empresa en el futur?
L'empresa travessarà el sostre i conquistarà el món. Espero formar part d'ell durant molts anys i ser la vella i peculiar secretària, que sempre explica històries del passat algun dia: -D.
Quin és el teu gran somni?
Continuar vivint una vida tan fàcil com la que tinc ara. Això simplement no té preu.
More articles by this producer
Our new computer linguist is not only skillful with words.
Here at alugha, we love technology and leveraging it in creative ways for our users to provide unique features and a stellar experience.
Our Bavarian soldier presents alugha to the world. Usually with a lot of heart and well organized.
Videos by this producer
The roughly 3-minute film provides an initial impression of the MAHLE plant and also presents the principles and values that govern the way the team works together on a daily basis. And, of course, it highlights the innovative technologies that find application in the MAHLE thermal management produc