The alugha story
How a father and son's concept became a future vision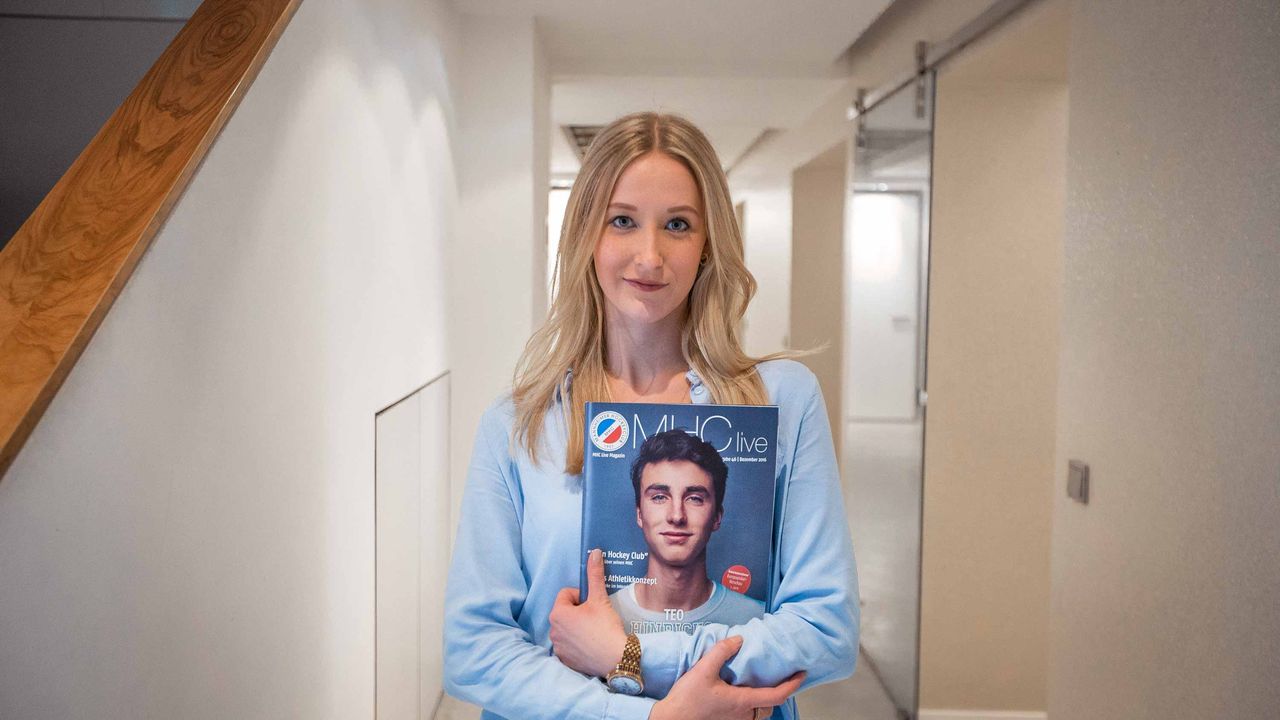 Read this article in: Català, Deutsch, English, Español, Français, Português, Türkçe, Русский, العربية, हिन्दी
Estimated reading time:
3
minutes

alugha goes MHC! In December 2016, we got to fill four pages of the Mannheim Hockey Club magazine with content! Therefore, we'd like to show you a small excerpt, and at the same time answer the exciting question of how alugha was founded.
May 2012: If it doesn't exist… we will just do it ourselves! That's how you could roughly describe alugha's "birth". The requirement was as trivial as it was complicated. A single video in several languages, just like on a DVD, but online. However, there was no way to put your videos online multilingually. Neither YouTube nor other video platforms offered that. With the idea in mind, the ultimately pretty complex construct was born, and the foundation of the alugha video platform was laid.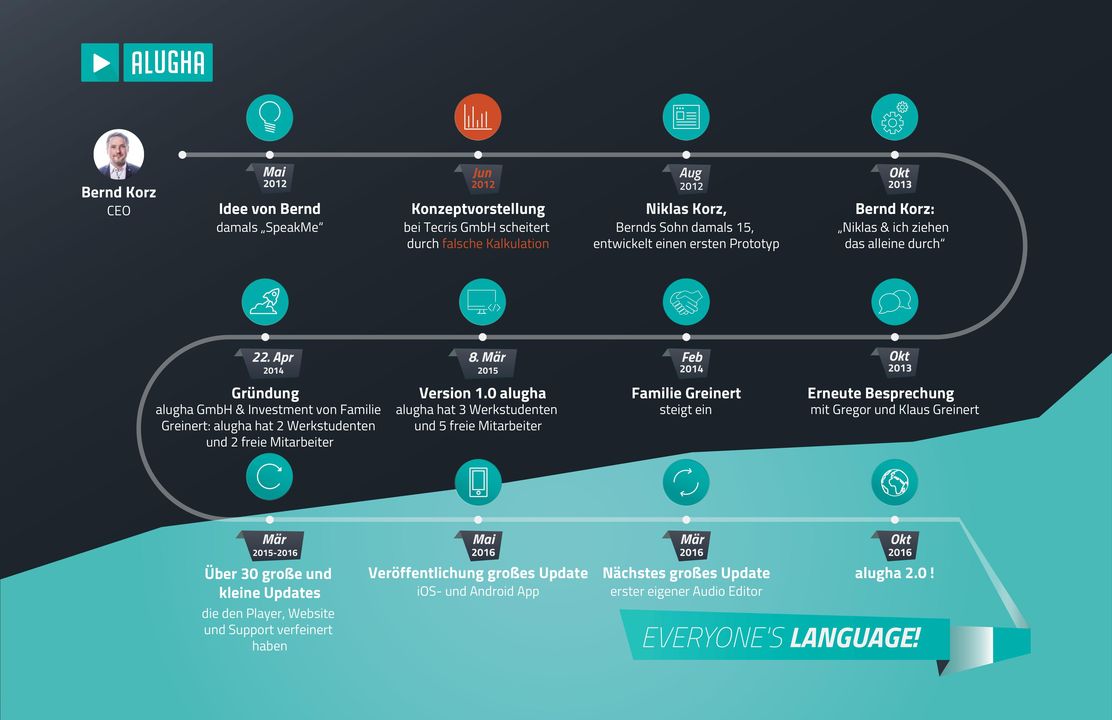 One family
Bernd Korz, at that time co-founder of a little software company in Mannheim, can be described as "tireless". A very diligent, motivated and determined person. After work, he pursues his hobby, producing explainer videos for YouTube. He explains complex mathematical relations, how to build a wall, how to maintain your PC, or how to master things in your everyday life in German. The videos aren't unpopular, some of them have more than 100,000 views, but that's not enough for Bernd Korz.
"I've always believed that knowledge has to be shared."
When customers requested videos in English, he didn't see a problem at first. But neither adding subtitles nor creating an English channel seemed to be an acceptable solution for Bernd. So he tried to "simply" add another audio track on YouTube. But it wasn't that easy, because uploading an additional audio track on YouTube simply wasn't possible. While on a walk with his wife and their dog, Korz has an idea that could solve the problem. He ponders, makes notes, and tweaks. And then he presents his idea. Gregor Greinert also came along to that presentation at a software company. The offer for the development of a prototype was 100,000 euros. With that, the project seemed to have failed. 
"I'll never forget the moment when Niklas came into the living room."
Korz leaves completely frustrated and tells his family about the failed idea of a multilingual video player during dinner. His 15 year old son Niklas, a computer genius, also sits at the table. He, too, is immediately thrilled by the idea of his father. He also doesn't want to accept it to be a failure. So, he sits in front of his computer and builds the first prototype over one weekend, all by himself, at just 15 years old. This got the ball rolling again for alugha, and as it turned out: this time successfully. 
"I never thought of giving up!"
Today, alugha is a software company with 25 employees. For more than two years, many creative minds have been busy steadily bringing the company forward. Within that time, we at alugha have made several brave decisions towards independence. Alugha uses its own player and audio editor, making the company independent of expensive additional programs. In June 2016, we got rid of Wordpress. Since then, articles have been published with a blogging system that was completely written in-house. However, there is still more to come, and this is clear to us, the alugha family! 
Friendship 
We might be small or big today, but we certainly wouldn't be here. Our CEO Bernd Korz and Gregor Greinert have been close friends for a long time. Since Gregor learned of the idea of a multilingual video player, he has been thrilled. So thrilled that the Greinert family joined the company in April 2014. The Greinert family has also been supporting the Mannheim Hockey Club for a long time. And that leads us here. 
Now you know the alugha story. We're proud that we could tell it in the Mannheim Hockey Club magazine, and we didn't want to keep it from you.
Lillifee and the rest of the alugha team wishes you a nice week! 
#alugha
#doitmultilingual 
More articles by this producer
Alugha's concept is super exciting, and I love my job. I get along great with my colleagues, too.
Here at alugha, we love technology and leveraging it in creative ways for our users to provide unique features and a stellar experience.
Here at alugha, we love technology and leveraging it in creative ways for our users to provide unique features and a stellar experience.
Videos by this producer
► Help here: https://de.gofundme.com/f/spende-fur-stefano039s-kampf-fightwithme ► Paypal: https://www.paypal.me/stefano1w3
The roughly 3-minute film provides an initial impression of the MAHLE plant and also presents the principles and values that govern the way the team works together on a daily basis. And, of course, it highlights the innovative technologies that find application in the MAHLE thermal management produc