Núria Tombas Ferré - Catalan & Spanish translation
I'm Núria, passionate about life-long learning so I really enjoy translating while learning new things.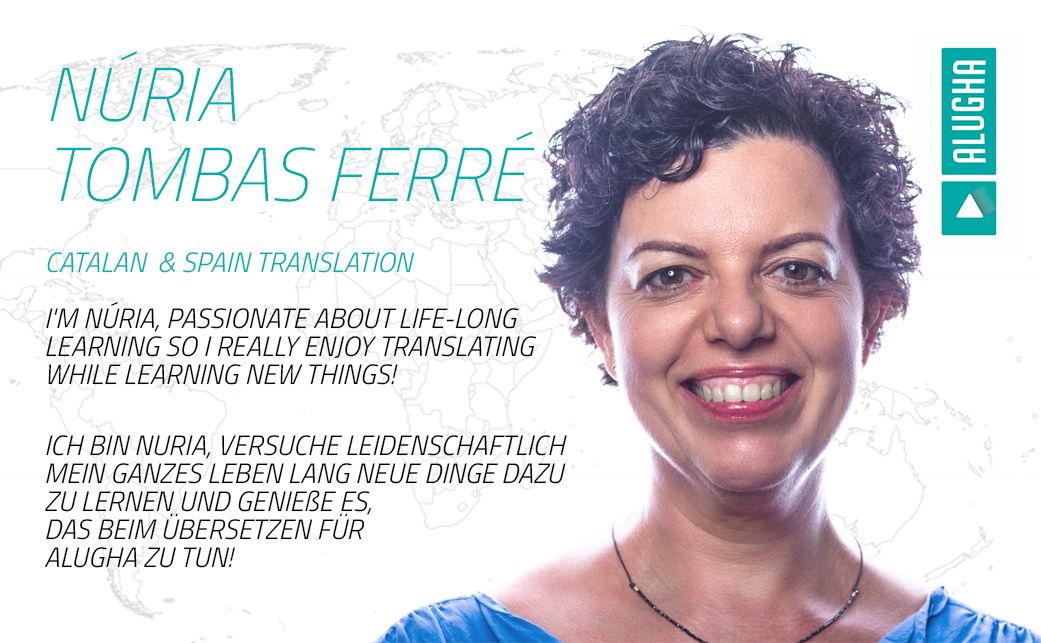 Read this article in: Català, Deutsch, English, Español (España)
Estimated reading time:
1
minute

Briefly introduce yourself: Who are you and what do you do?
I'm Núria, married and mother of two teens… I'm studying a masters in translation at UOC (Catalan Open University) and I'm here as an internship.
Which three words describe you best?
Determined, passionate, natural.
How are you different now than you were ten years ago?
I've lived in England, Switzerland, la Wallonie (Belgium), South Africa and now in Germany, and in Catalonia, of course. I've become more multicultural and multilingual through all these experiences, just like alugha.
What is your favourite thing to do in your freetime?
Spending time with family and friends, reading, walking, traveling…
What are your tasks at alugha?
Text and video translations from English to Spanish and Catalan. I also dub.
What guided you to alugha?
My dear friend Cynthia told me that you were looking for translators and, as I wanted to do an internship for the master, I just rang the bell with my CV in hand and… here I am!
Why do you like being an alughian?
There's an inspiring, vibrant and creativity atmosphere… I just love it!
Where do you see yourself and the company in the future?
Doing the same as I'm doing now, maybe with more responsibilities and with a permanent contract.
However, if I have to move to another country again, I would like to work as a freelance translator.
What is your own big dream?
To be happy, so I try it everyday by doing what I love.
#alugha
#doitmultilingual
More articles by this producer
Our new computer linguist is not only skillful with words.
Here at alugha, we love technology and leveraging it in creative ways for our users to provide unique features and a stellar experience.
Our Bavarian soldier presents alugha to the world. Usually with a lot of heart and well organized.
Videos by this producer
The roughly 3-minute film provides an initial impression of the MAHLE plant and also presents the principles and values that govern the way the team works together on a daily basis. And, of course, it highlights the innovative technologies that find application in the MAHLE thermal management produc