Núria Tombas Ferré - Traducció al català i al castellà
Sóc la Núria, apassionada per l'aprenentatge continu. És per això que m'encanta traduir: tinc l'oportunitat d'aprendre coses noves cada dia.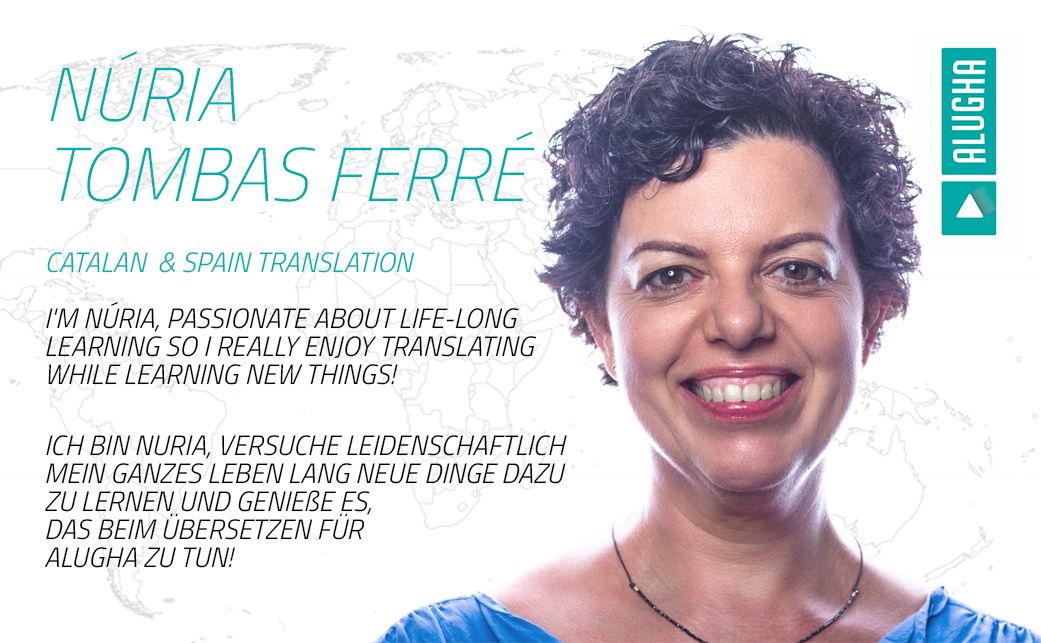 Read this article in: Català, Deutsch, English, Español (España)
Estimated reading time:
1
minute

Descriu-te breument: Qui ets i què fas?
Sóc la Núria, casada i amb dos fills adolescents… Estic estudiant un màster en traducció a la UOC i, de moment, sóc aquí en contracte de pràctiques.
Quines tres paraules et descriuen millor?
Tenaç, apassionada i espontània.
Ets diferent a com eres fa deu anys?
En els darrers anys he viscut a Anglaterra, Suïssa, la Wallonie (Bèlgica), a Sudàfrica i ara a Alemanya, i a Catalunya, és clar! Totes aquestes vivències han fet de mi una persona més intercultural i poliglota, com alugha.
Què fas quan tens temps lliure?
Estar amb la família i els amics, llegir, caminar, viatjar…
Quines són les teves tasques a alugha?
Traduir textos i vídeos de l'anglès al castellà i al català. També faig doblatge.
Què et va portar a alugha?
La meva estimada amiga Cynthia em va dir que aquí buscàveu traductors i, com que volia fer les pràctiques pel màster, vaig trucar a la porta i vaig fer a mans el currículum i… aquí em teniu!
Per què t'agrada formar part d'alugha?
Es respira entusiasme, dinamisme, creativitat… M'encanta!
Com veus el teu i futur i el de l'empresa?
Fent el mateix que faig, potser amb una mica més de responsabilitats i amb contracte fixe. Ara bé, si he de tornar a canviar de país m'agradaria ser traductora autònoma.
Quin és el teu somni?
Ser feliç, cosa que intento cada dia fent el que m'agrada.
#alugha
#doitmultilingual
More articles by this producer
Our new computer linguist is not only skillful with words.
Here at alugha, we love technology and leveraging it in creative ways for our users to provide unique features and a stellar experience.
Our Bavarian soldier presents alugha to the world. Usually with a lot of heart and well organized.
Videos by this producer
The roughly 3-minute film provides an initial impression of the MAHLE plant and also presents the principles and values that govern the way the team works together on a daily basis. And, of course, it highlights the innovative technologies that find application in the MAHLE thermal management produc