Let's Talk - Martin sempre troba nous camins
Els beneficis d'una oficina comuna!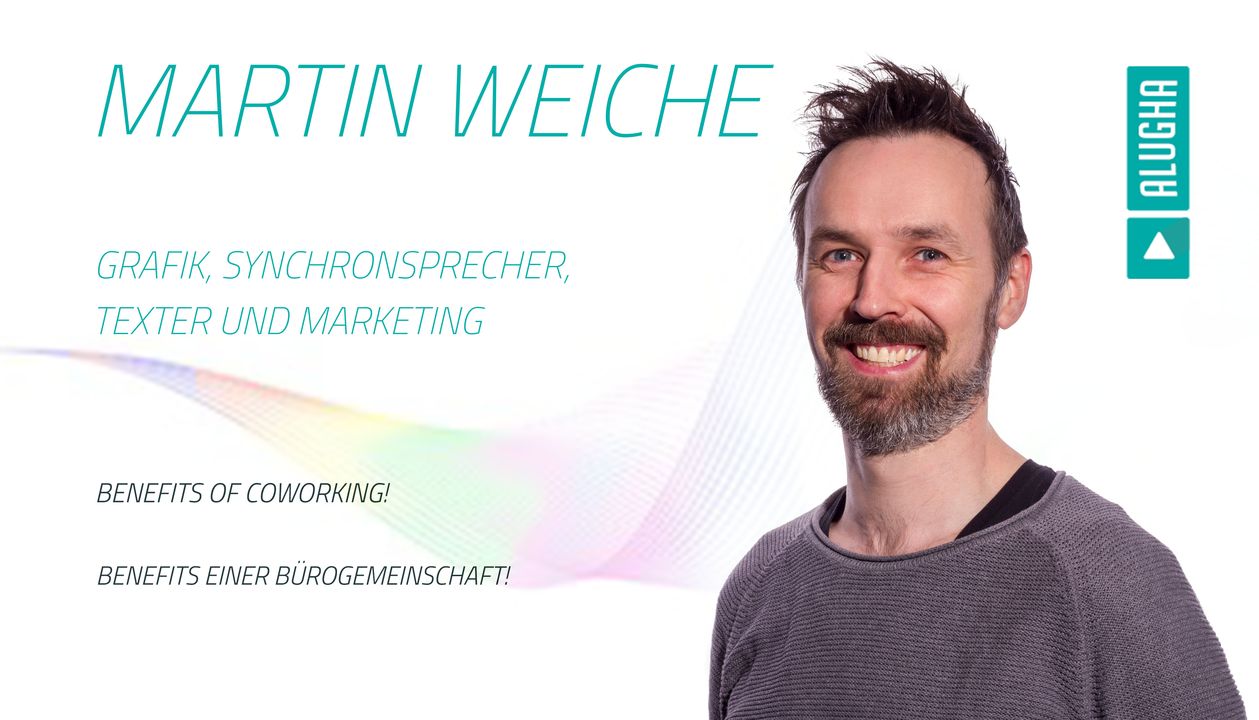 Read this article in: Català, Deutsch, English, Español
Estimated reading time:
1
minute

Presenta't breument: Qui ets i què fas?
Em dic Martin Weiche i sóc de Mannheim. Vaig obtenir el màster de ciències de mitjans a l'Escola Superior de Belles Arts a Braunschweig. Treballo des de fa anys com a creatiu per a l'agència "skipstone", que es troba al mateix edifici que alugha.
Martin és… 
alt, prim, casat
Gràcies a l'experiència guanyada i al seu paper de pare, l'actual Martin és més madur i intel·ligent. En particular pel que fa al tracte a les persones - especialment al treballar en equip, sota estrès.
Què fas en el teu temps lliure?
Entretenir als meus nens, anar en bici de carretera, planificar viatges que mai faré, i des de fa poc, toco la guitarra.
¿Quins són els teus deures a alugha?
Com a treballador "extern" puc presentar la meva experiència a tot arreu de l'empresa. Tradueixo, doblo, treballo en el sector gràfic, faig el "brainstorming" per alugha i formo part de l'equip de màrqueting ... i com el campió no oficial de futbolí, entreno als meus col·legues ...
Com alugha ha despertat el teu interès?
Alugha s'ha instal·lat al pis de baix... i allà hi ha la màquina de cafè comú.
¿Per què t'agrada ser un Alughanès?
Perquè les tasques són variades i puc fer moltes coses noves. I perquè gairebé sempre guanyo contra "alugha" al futbolí.
On et veus a tu i a l'empresa en el futur?
És una pregunta difícil - m'agradaria veure alugha a una llista amb WhatsApp, Facebook, Google, Uber i eBay. El món digital es desenvolupa tan ràpid que, de moment, estic feliç de poder col·laborar amb l'èxit.
Quin és el teu gran somni?
Que la meva idea "alugha P.O.I.N.T.S." formarà part de l'exitosa història d'alugha.
#alugha
#doitmultilingual
#squad
More articles by this producer
Our new computer linguist is not only skillful with words.
Here at alugha, we love technology and leveraging it in creative ways for our users to provide unique features and a stellar experience.
Our Bavarian soldier presents alugha to the world. Usually with a lot of heart and well organized.
Videos by this producer
The roughly 3-minute film provides an initial impression of the MAHLE plant and also presents the principles and values that govern the way the team works together on a daily basis. And, of course, it highlights the innovative technologies that find application in the MAHLE thermal management produc