Let's Talk Again - Matthias Schaudig
One day I will direct my first Hollywood film and put the multilingual soundtrack into the hands of alugha.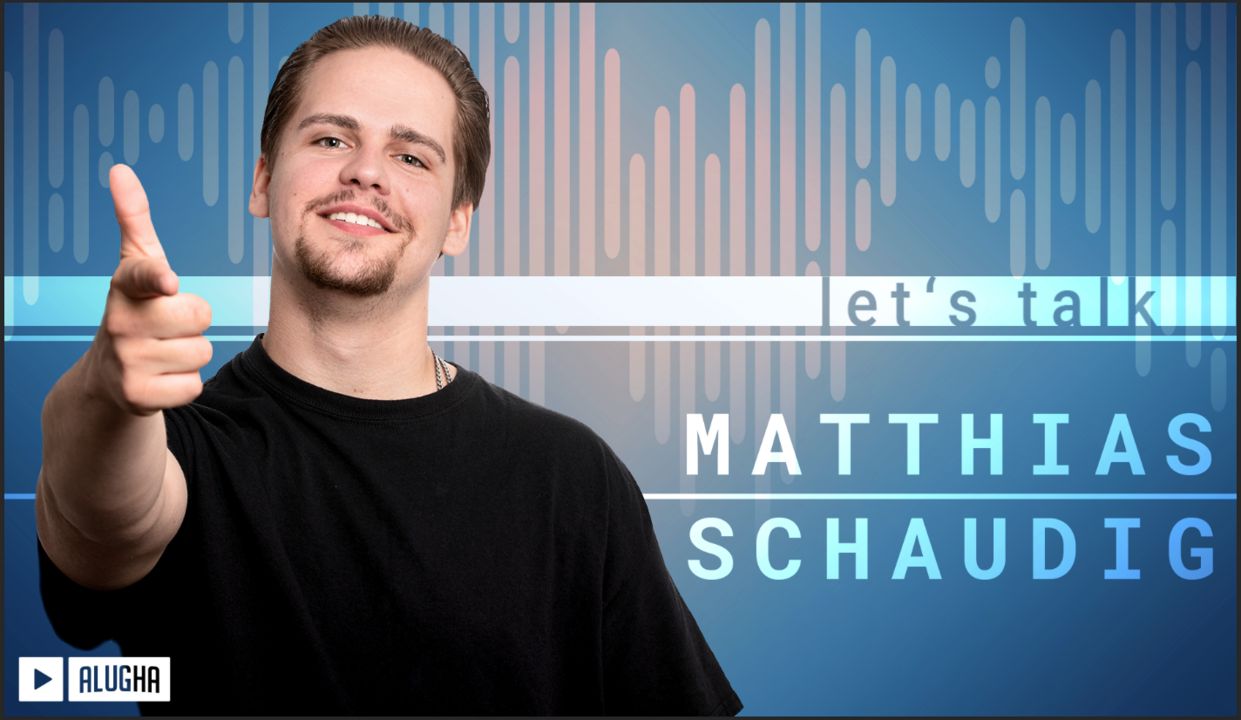 Read this article in: Deutsch, English, Español
Estimated reading time:
5
minutes

How long have you been working for alugha?
The first contact took place in July 2015, where I helped with the hoTodi production, until a few months later I took over the responsibility myself. At that time I studied business administration at the TU Kaiserslautern and wasn't very happy with it. Although I always wanted to start my own business, I expected to learn exactly the same during my studies - unfortunately this was not the case. I was already creative at that time, and I can actually trace this back many years to my kindergarten days... But that you can earn your living with it and that there is much more in this area than I thought - this realization came only when I came to alugha. Officially I started as a working student in February 2016 and I commuted from Kaiserslautern to Mannheim more and more often. When I wanted to be in alugha's office every day, it was clear to me that my future should be built up here and so I was looking for possibilities to consistently follow this path, which led me to start my dual studies at alugha together with Niklas Korz in October 2016 - he in computer science and I in media design. I can now look back on almost 4 years at alugha.
What's the first thing you do in the office?
First I set up my workspace, as I mostly work on my own laptop - laptop cooler, 3 hard drives, external screen and mouse - the whole desk is taken under siege with technology. Second stop - indispensable: the coffee machine. Afterwards I open the window, so that the creative brain can fall back on enough oxygen and I open the company chat, as well as time tracking. Then I plan my working day calmly, the tasks are prioritized and the most important task is set first. As soon as my supervisor arrives at the office, I often enjoy small talk with him about his studies, current projects or innovations in the creative world over an orange juice and coffee in the 1st floor.
What part of your job do you enjoy most?
New briefings - I love new projects. I am lucky that I can actually work in the many areas in which I have been trained - so new briefings and tasks always mean a breath of fresh air and a new challenges for me - and I love challenges!
What has made you laugh today?
My supervisor Manuel Ding and our dubbing specialist Jonas Schlegel - they are always the main suspects who claim my laughing gear!
No workplace is perfect. What would you like to change at alugha?
Huiuiui... Where do I start? As a creative, such a question quickly mutates you into an interior designer! First and foremost, I would like to see new office chairs - but calibrated 4k HDR monitors would really be an important purchase for the workflow, so that you can really work with color accuracy and precision. As a student I would have wished for a beamer in the creative office, where you could show each other new methods and tricks! If I could dream a little, I would have converted the roof into a terrace where you can barbecue during lunch break and sit outside in summer - or just work in the fresh air during working hours.
Have you discovered a new side to yourself?
And even with that question, I don't know where to begin... When I look at my team photo, I don't recognize myself anymore - and I don't mean that only visually. This time felt like a decade of experiences and impressions to me and I am very grateful and humble for the growth I was able to experience. Many things I already knew about myself have grown into real character traits and I'm very grateful that I now approach projects with self-confidence, that I'm not afraid of failure, but try hard to make the best out of it. And if that doesn't work, then I know it's gonna work next time. I learned a certain amount of persistence in competitive sports back then, but I've always tried to maintain this enduring ability by never being completely satisfied with myself and by always working on myself without defining myself through a snapshot - that's new on this scale and I owe it to all the experience I was able to gain here during my studies. I firmly believe that I can still achieve a lot with it and that I can now make a much more significant contribution to alugha than before my studies - even with the creative specialist knowledge left out.
To what extent did the international team influence you?
Very, very, very! So much so that I myself now want to go abroad to gain even more experience. In addition, my English has now become better than my second mother tongue Russian, which is of course a great advantage when you consider that all the great films are produced in English and I would like to make it there one day.
What challenge did you have to face?
Well, all these experiences that made me grow here don't just come from smooth and harmonious situations. I have often got excited, argued a few times and been frustrated at times. But exactly these challenges, whether communication problems, creative disagreements, bad time management (above all from myself, upsi), or similar - all these are experience values, which - if you handle them correctly - let you grow. In addition, I was regularly confronted with my miserable time management and have now been able to get a much better grip on it. In the past, I always approached every project with the maxim of approaching the highest possible quality with Hollywood inspiration - today I know that good design does not mean the best possible visual quality, but that the design must look exactly as the intention and the product for the target group needs.
What's your personal big dream?
One day I will direct my first Hollywood film and put the multilingual soundtrack into the hands of alugha. Also run a creative studio, tick off my bucket list peux-à-peux and have a second apartment in Los Angeles.
What's your advice to a new alughan?
Communication is key! Talk and discuss and maintain the workflow - that's how we all reach our goal! And: Embrace failure - every mistake has the potential to improve and in sum, as a company, we will continue to grow together.
Matthias has finished his training and therefore he will leave us this month. The alugha team wishes him all the best for his future and lots of success in following his dreams!
#alugha
#doitmultilingual
#everyoneslanguage

War ne spannende und coole Zeit! Viele Höhen und Tiefen und viele tolle Outputs! Wir sind sehr stolz darauf, dass wir dir den ersten wichtigen Milestone in deinem zukünftigen Berufsleben ermöglichen und mit dir gemeinsam gehen durften!
More articles by this producer