Ian Burt Martínez: Translation and dubbing to English, French and Spanish
I'm looking forward to contribute to the success of alugha with my ideas and voice.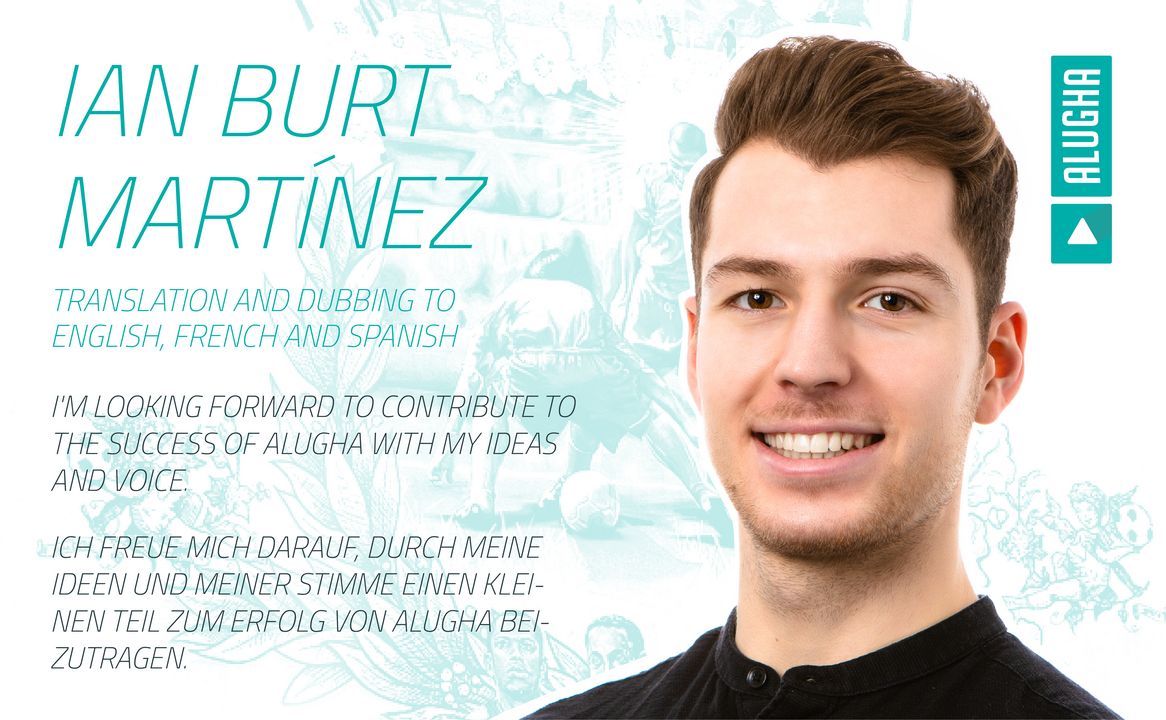 Read this article in: Deutsch, English, Español
Estimated reading time:
1
minute

Briefly introduce yourself: Who are you and what do you do?
I'm Ian Burt Martínez, I study culture and economics at the University of Mannheim and I'm doing an internship at alugha.
Which three words describe you best?
Ambitious, multicultural, team player
How are you different now than you were ten years ago?
Today's Ian has more life experience... and accepted the fact that he can't eat 5 whoppers at once.
Instead he learned to set realistic goals and work on them step by step.
What is your favourite thing to do in your freetime?
When I'm not doing sports, I like to spend time with my friends or annoy people with my thousand music playlists.
What are your tasks at alugha?
I translate and dub in English, French and Spanish and I support alugha finding new business opportunities.
What guided you to alugha?
I knew alugha as a startup in Mannheim for some time. So when my friend told me about a job opening that suited me perfectly I didn't think twice.
Why do you like being an alughian?
I like being alughan, because the multicultural, dynamic working environment offers optimal conditions to explore my strengths and also learn new things at the same time.
Where do you see yourself and the company in the future?
Alugha has the potential to become one of the leading mulitlingual video platforms worldwide. Therefore, I'm looking forward to see, how my contribution will be part of the success story.
What is your own big dream?
Eating those 5 whoppers, definitely!
#alugha
#doitmultilingual
#alughacrew
More articles by this producer
Our new computer linguist is not only skillful with words.
Here at alugha, we love technology and leveraging it in creative ways for our users to provide unique features and a stellar experience.
Our Bavarian soldier presents alugha to the world. Usually with a lot of heart and well organized.
Videos by this producer
The roughly 3-minute film provides an initial impression of the MAHLE plant and also presents the principles and values that govern the way the team works together on a daily basis. And, of course, it highlights the innovative technologies that find application in the MAHLE thermal management produc