Multiple audio tracks - Why they are important for musicians, filmmakers and video producers.
What do multilingual videos and multiple audio tracks have in common? In general, alugha focuses on multilingual online videos. However, we've found another very interesting use of our player.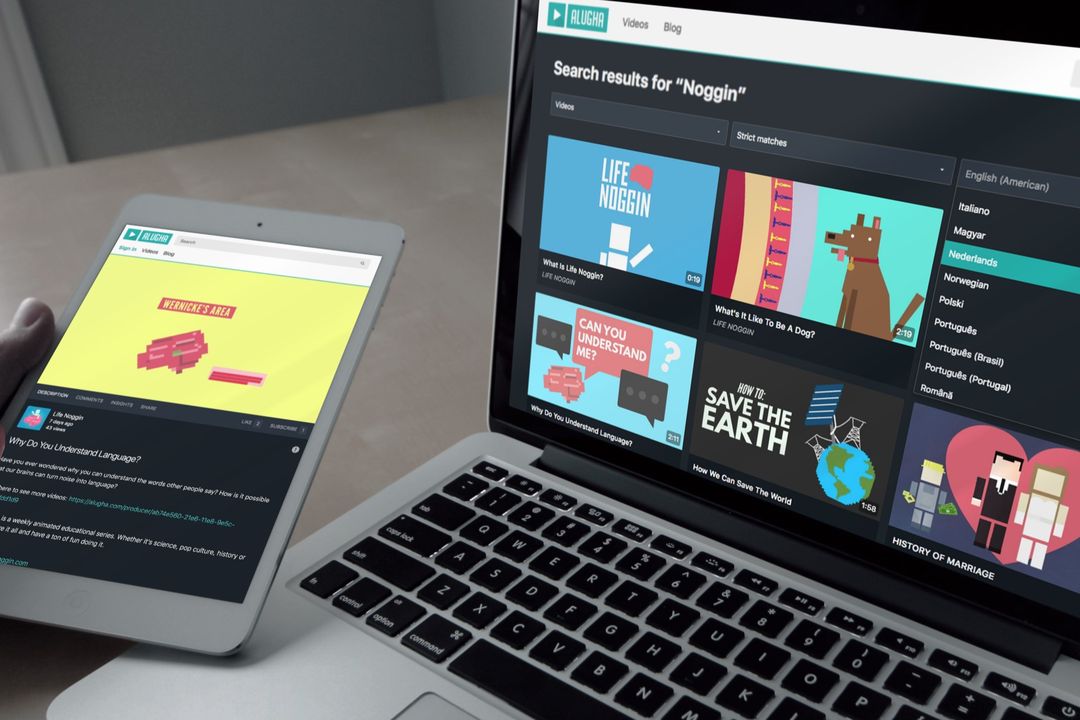 Read this article in: Deutsch, English, Español, Português
Estimated reading time:
3
minutes
In this article, we want to explain why it can by very interesting for musicians, filmmakers and video producers to add multiple audio tracks to an online video. 
Music
Let's start with the band q.age. This band is not only known for their individual style, but also for having more than one singer. Just like Fleetwood Mac, this band also uses different singers depending on the song or music style. The band is known for publishing their songs in multiple languages. One example is a song about special people sung by Andreas Kümmert, who won The Voice of Germany. This song is actually called "special people". Andreas sings the English version, but producer Cosmin Marica wanted more and decided to produce a total of 8 language versions in cooperation with alugha.
This example shows how music producers can benefit from producing the same song in multiple languages. 
Another song by Cosmin Marica and Andreas Kümmert is "I'm walking". 
What's interesting about this song is that it's a reggae song that was recorded in different styles, so there is a version with fast reggae, with slow reggae, with less drums, with more percussions… here, too, it is very exciting to listen to the different audio tracks.
DJ Cosmin's song "The Right Time" is a very cool example of how you can use different audio tracks to explain the meaning of your song to your fans and why you recorded it. Cosmin explained the song's meaning in multiple languages. So for this video, he deliberately made use of multiple audio tracks and multilingualism.
Shadow Films
Let's move on to the moviemakers. Shadow Films is a small independent studio from Berlin, which makes very exciting short movies. Usually, the characters in those movies don't speak much, so you have to watch closely to understand the message of the movie. Shadow Films uses alugha to offer a "director's commentary" for their videos, which means you can change the audio track and listen to the director's explanation why he did things the way he did.
Have you ever noticed how important music is in scenes and how it influences the way you experience a scene? The perception of the same scene changes with the underlying music. A sad scene is less sad when happy music is playing in the background, or boring music can make an exciting scene drag on. We asked producers to use alugha and test those effects on their movies. They can upload videos with different background music tracks and ask their users which one they like best. 
Videos are usually consumed via YouTube or Vimeo and the audio quality on these platforms isn't very good. Of course, it's good enough for smartphones or laptops but not when it comes to watching videos on TV screens. For a good audio quality you'll have to use platforms such as Netflix, iTunes or Amazon Prime Video among others. On alugha, you have the option to upload a video with an audio track in stereo and an additional audio track in dolby surround. This enables you to offer your audience movie trailers that convey much more emotions. Three years ago, we won an award for our short movie "Berndout", which we published in dolby surround.
As you can see… there are many more reasons than just multilingualism to publish a video on alugha. Try it yourself! Upload a video and test the different audio tracks and sound qualities. We hope, you'll enjoy it! If you have any questions, we will gladly assist you.
Register now for free. See you later, ciao!
Bernd and the alugha team! 
#alugha
#doitmultilingual
#everyone'slanguage