Samba de Janeiro - Wilgen translates into Brazilian Portuguese
The work here is diverse and I can contribute my professional skills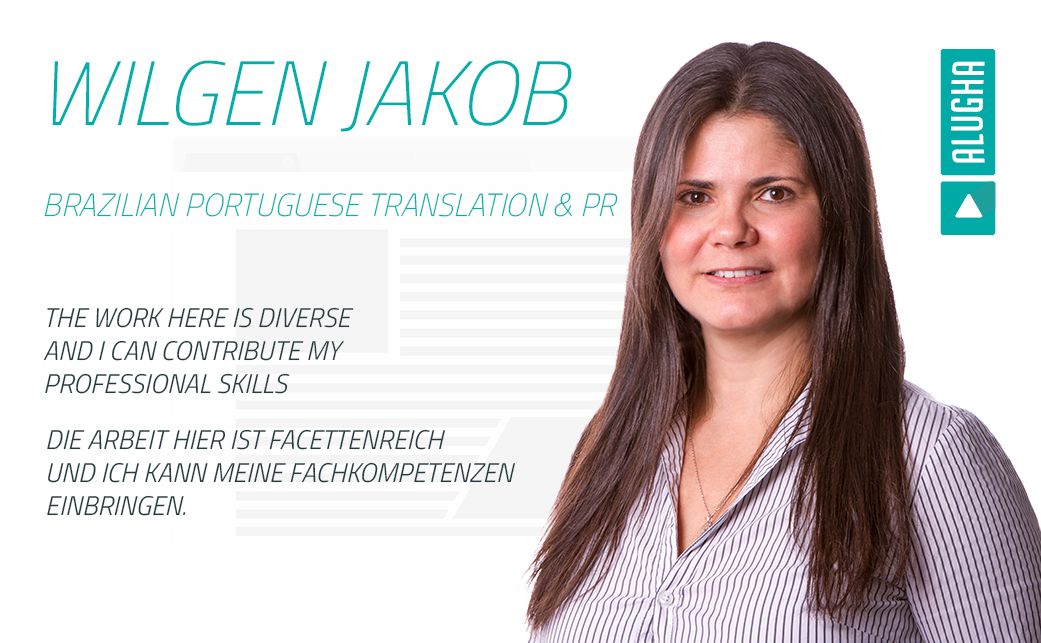 Read this article in: Català, Deutsch, English, Español, Français, Português
Estimated reading time:
2
minutes

Briefly introduce yourself: Who are you and what are you doing?
Hello, my name is Wilgen and I am a Brazilian journalist and I recently started working at alugha. I just finished giving the Portuguese version of the alugha homepage a little Brazilian flair. I translated the content from German to Portuguese. Alugha is starting to enter the Brazilian market and I am contributing my journalistic competence to help them become known there. I also help to increase alugha's level of awareness in Germany. Of course, I am also going to write Portuguese articles for the blog and translate them for the German market, if there's demand. 
Which three keywords describe you best?
Oh my goodness! I am persistent, competent and I love learning new things...
What is your favourite thing to do in your free time?
My husband, my son and I love to do sports together, therefore we train capoeira two times a week. If we have time, we go to the gym. Apart from that, we make use of all the seasons in Germany: In the spring, we do bike tours. In the summer, we go to the lakes since there are no beaches close by. In the Autumn, we take long walks in the forest and during winter, we go skiing whenever it is possible. Furthermore, I love meeting friends, having barbecues, traveling, and before I go to bed, I like to read a book or watch a film. 
What guided you to alugha?
I already knew the Korz family for a couple of years. Our children have been friends since kindergarten. One day, Bernd invited us to a concert and we talked about work. He invited me to work for alugha and I immediately was excited. 
What are your tasks at alugha and what is your impression of working here?
I translate and dub, I also help in the PR department, see to the content of the Brazilian homepage version and help make alugha known on the Brazilian market. The work here is diverse, you do not only learn something new every day, but also grow in your field. 
What do you like best about working here?
The ideas of the staff are put into practice here! Thus, the employees feel appreciated. My colleagues are very friendly and helpful. At alugha, there is a friendly working atmosphere!
Where do you see yourself and the company in the future?
The company has a very visionary focus and is innovative in its field. Alugha has the potential to grow. We all work for that!  Fate will show where alugha and I are going to be in the future.
What is your own big dream?
We all have more than one dream. One of my dreams was to get into my field in the German market. But my biggest dream is to see my son happy and fulfilled!
#alugha
#squad
#doitmultilingual
More articles by this producer
Our new computer linguist is not only skillful with words.
Here at alugha, we love technology and leveraging it in creative ways for our users to provide unique features and a stellar experience.
Our Bavarian soldier presents alugha to the world. Usually with a lot of heart and well organized.
Videos by this producer
The roughly 3-minute film provides an initial impression of the MAHLE plant and also presents the principles and values that govern the way the team works together on a daily basis. And, of course, it highlights the innovative technologies that find application in the MAHLE thermal management produc