YouTube - The undisputed market leader
Numerous myths twine around the origination of YouTube. Do you remember Janet Jacksons' nipplegate at the Superbowl 2004? Apparently Jawid Karim was so annoyed that you couldn't find any online videos thereof, that he couldn't stop thinking about it. The idea of YouTube was born.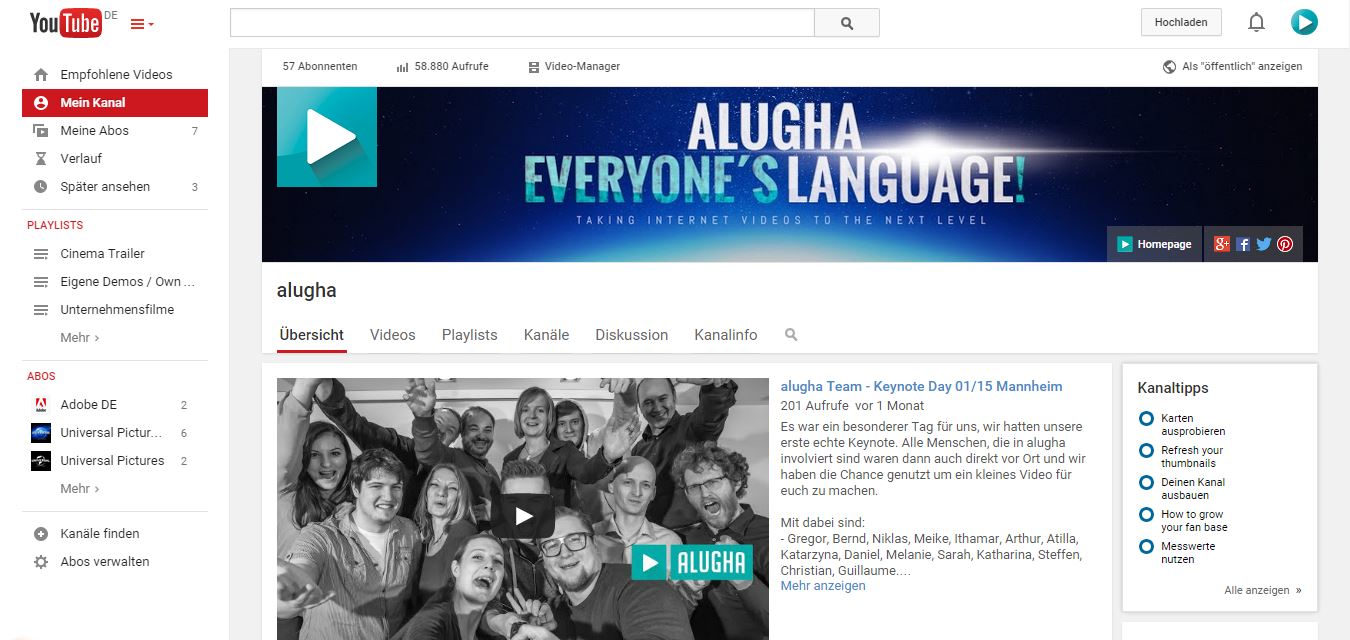 Read this article in: Deutsch, English
Estimated reading time:
4
minutes

When a dream comes true The video platform YouTube is celebrating its tenth anniversary these days. The company was founded in 2005 by the the three former PayPal-employees Chad Hurley, Steve Chen and Jawid Karim and means colloquially as much as "You send / You Tube". By now YouTube is available in 61 languages and cooperates with international partners and users who provide the material for the website. The first YouTube-video:
This video is hosted on the YouTube video platform. Therefore, playing this video requires embedding the YouTube video player by YouTube LLC, USA which belongs to Google LLC, USA. By accepting, you agree that we embed their video player, which is able to set third-party cookies, including those used for advertisement and tracking, and may transfer your browser information and IP address to Google servers. For more information, see

Google's privacy policy

.
Numerous myths twine around the origination of YouTube. Do you remember Janet Jacksons' nipplegate at the Superbowl 2004? Apparently Jawid Karim was so annoyed that you couldn't find any online videos thereof, that he couldn't stop thinking about it. The idea of YouTube was born. One and a half years later those three sold the company for epic 1.6 billion Dollar to Google. By the way, Jawid Karim is talking about elephants in the first YouTube video. Money, Money, Money With the support of the venture capitalist Sequoia Capital YouTube received a funding of 3.5 million US Dollars in 2005. A year later further 8 million dollars had been received. Now YouTube cooperates with international partners like National Geographic or CNN. Media companies partly offer their content at additional costs of a few cents. But not only YouTube got Dollar signs in their eyes. Even the user can benefit from the companies success. Those participating in the affiliate programme receive parts of the advertising revenue that is achieved by shown commercials. How much is down to negotiation. Settlement is per click on the ad banner. The rule is simple: the more successful the channel, the higher the reach and the higher the profit. Crazy YouTube facts: 300 hours of video footage are uploaded every minute, it's 432.000 hours material per day. Luckily millions of users share the "work", so that four billion YouTube videos are being watched daily. Besides that 30 million users are subscribers of different YouTube channels. More than one billion users visiting the platform every month. Psy became Mr. YouTube himself with his hit Gangnam Style. With 2.266.840.290 clicks it is the most successfull video on the platform. One of the most successful nonsense-videso is "Charlie bit my finger" with more than 800 million clicks. By now YouTube is beeing received on 350 million devices (smartphones, tablets, mp3-player) and this more than 600 million times a day. Videos can now also be experienced directly in the living room with the new smart-tv's. Who needs manuals, if there is YouTube? There is a solution video for every problem. Even the platform itself discovered this potential and opened the YouTubeEdu channel. More than 700 education channels with more than half a million videos, the most successful channel is Sesame Street. Videos of this channel have been clicked more than 700 million times. When bought by Google, YouTube had 67 employees, based somewhere around the Californian San Mateo. By now the company has more than 800 employees and is based in San Bruno. By embedding videos in social networks the distribution of the videos is sure-fire success. Facebook addicts are watching about 500 years of video footage every day. Directly on YouTube more than 100 million users use the comment or rate funktion every week. Success and meaning As with anything, the success rises or tilts with the encouragement of potential customers and viewers. Concerning YouTube we talk about members that upload videos, rate or comment them, means we talk about an interacting user group. Since its foundation the internet giant became the undisputed video platform per se. With the unprecedented innovation it became the biggest TV - competitor. Where television broadcaster had a classical monopole to visual material, the video portal created a completely new media age. On one hand the platform is constantly fed with content of any type, which can be found and watched any time. On the other hand YouTube has an incredible amount of archived video, tv or music content which is used as source for various contents. There are discussions arising about video content within the community via the comment function, so that it is possible to give feedback to new formats at any time. This enables a completely new form of trend research. Generally it can be observed that YouTube peeled away older tv formats with its conception. If you consider that for example the music tv of the 90s-era, which significantly contributed to the development of the pop culture movement. The popularity and the request for such formats decreased immense, so that there are currently only pay-tv-formats available (like MTV). The brilliant quality of videos (for example 5K) offers a great video experience by now, that's why live streaming of sportevents or other events could be possible in the future. Even German broadcasting companies favour the trend of online video portals, to create a better offer for online-savvy users. Especially RTL (Clipfish) or ProSiebenSat.1 Media Group (MyVideo) which own parts of video portals and are trying to distribute their formats. YouTube is still the undisputed market leader and will most likely keep its position and even extend it. But there is also a lot of potential improvement. To keep the users, the faultless loading of videos must be ensured, this is still lacking: sometimes videos don't buffer quick enough and break down. Also the advertising capacities are not fully depleted. And also the international market is coming up with hard competitors. Who that is and which advantages those portals offer: more next week.
#alugha
#everione's language