Learn foreign languages for free with alugha!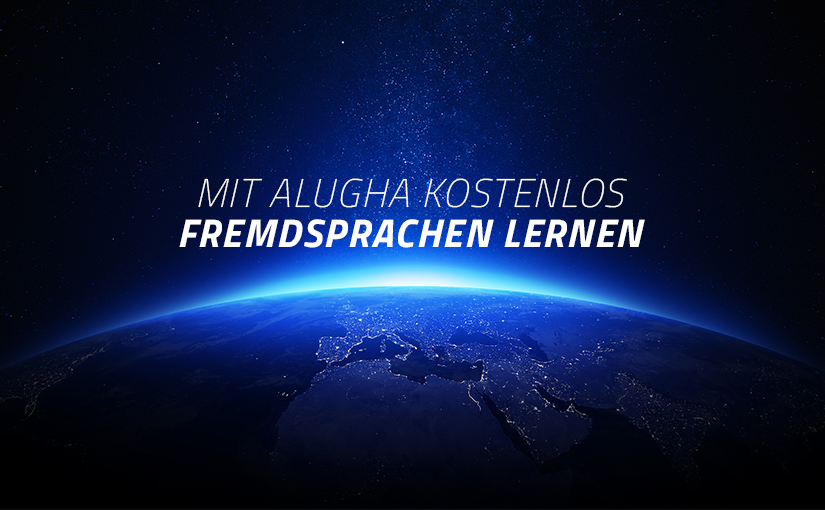 Read this article in: Deutsch, English
Estimated reading time:
3
minutes

Expolingua Berlin 2015
A fair is always a bit tricky… does it get us anywhere, do we reach the right people, is it a good target audience? When we learned of the Expolingua from our PR agency and they told us that we should be there and ready for action, it was already high time: in fact, registration deadline was the next day and we first had to check if it really was right for us. There were uncertainties but in the end we said: Ok, let's do it! Our booth wasn't half bad: 3m² – two standees, one table and two bar stools. In addition, our exhibition site was located right at the stairway so virtually no one could walk "past" us :-). The focus of our fair appearance was the central idea to learn foreign languages with multilingual online videos. Many tutors, trainer, and inquisitive people were enthusiastic about that and gave us very positive feedback. The idea of a combination with educational videos, so getting equipped with knowledge and learning a foreign language at the same time, also found an echo. After the two-day fair appearance, our CEO Bernd Korz gave a presentation on this very topic: how can you learn foreign languages more efficiently with multilingual online videos? For us, the fair was such a success that we directly decided afterwards to further deepen the topic education and foreign languages. With our video learning portal hoTodi, we already make a lot of multilingual tutorials about everything related to knowledge, tips, tricks and more… now we want to add educational videos to our variety. For that, we've selected 100 online educational videos in English and are dubbing them gradually for you (we will soon report on this in detail).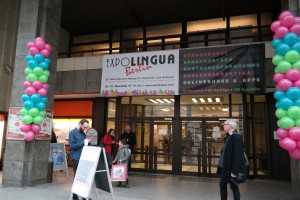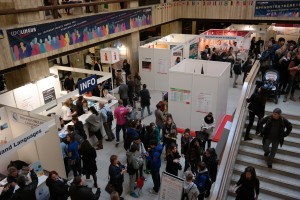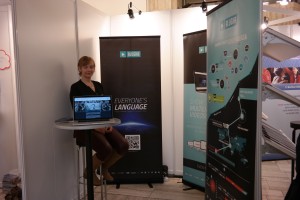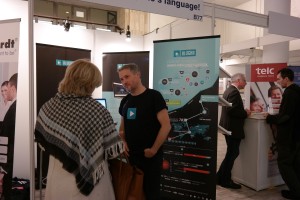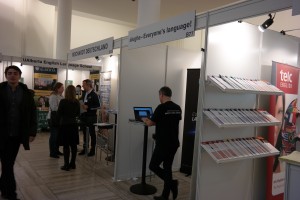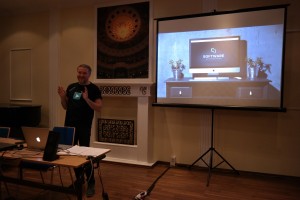 Learn foreign languages with multilingual videos
All videos on our platform can be played in various language versions and are therefore ideal for learning foreign languages! Just watch the video in your native language first to understand the content. Subsequently, click on the blue globe and switch to the language you want to learn or improve – for example, German or Spanish. For a better understanding, you can now also display subtitles in several languages in many of the new videos on our platform!
Learning through singing
The learning process is especially easy when you listen to or sing along songs. A study by British scientists provides evidence for this. It shows that you better learn foreign languages when you first listen to a text and then sing it afterwards. I'm sure you can relate to this: there is a new catchy hit song in English which is played on the radio over and over again. Once the song has been played a few times, you can almost sing the entire song by heart (or at least the chorus). Probably, it is also easier to memorize the lyrics through the respective tune. Give it a try with the song Let it go from the Disney movie Frozen:
This video is hosted on the YouTube video platform. Therefore, playing this video requires embedding the YouTube video player by YouTube LLC, USA which belongs to Google LLC, USA. By accepting, you agree that we embed their video player, which is able to set third-party cookies, including those used for advertisement and tracking, and may transfer your browser information and IP address to Google servers. For more information, see

Google's privacy policy

.
Sounds to support the learning process
Even simple sounds such as the chirping of a bird can contribute to the memorizing process. You hear the chirping and are simultaneously told the English term bird, so that the two stimuli are linked to each other in your head. According to this principle, we have already produced a video to learn simple English and Spanish words.
And there is also already a video on emotions in German, English and Spanish:
Learn foreign languages and acquire knowledge at the same time
For those who do not only want to improve their language skills but also want to acquire interesting knowledge at the same time, the several channels of alugha offer plenty of choice. For example, with the videos of Kurzgesagt, Khan Academy or TED-Ed, you can learn interesting facts from the fields of science, history, natural sciences and mathematics. For topics related to physics, MinutePhyics provides many interesting videos – one of which can be found below. With this video, it is possible to learn German, English and Spanish and simultaneously learn how to weigh a million dollars with your mind.
This video is hosted on the YouTube video platform. Therefore, playing this video requires embedding the YouTube video player by YouTube LLC, USA which belongs to Google LLC, USA. By accepting, you agree that we embed their video player, which is able to set third-party cookies, including those used for advertisement and tracking, and may transfer your browser information and IP address to Google servers. For more information, see

Google's privacy policy

.