alugha tourne une vidéo de critique sur Outfittery
Des vêtements dans la boîte - une révision!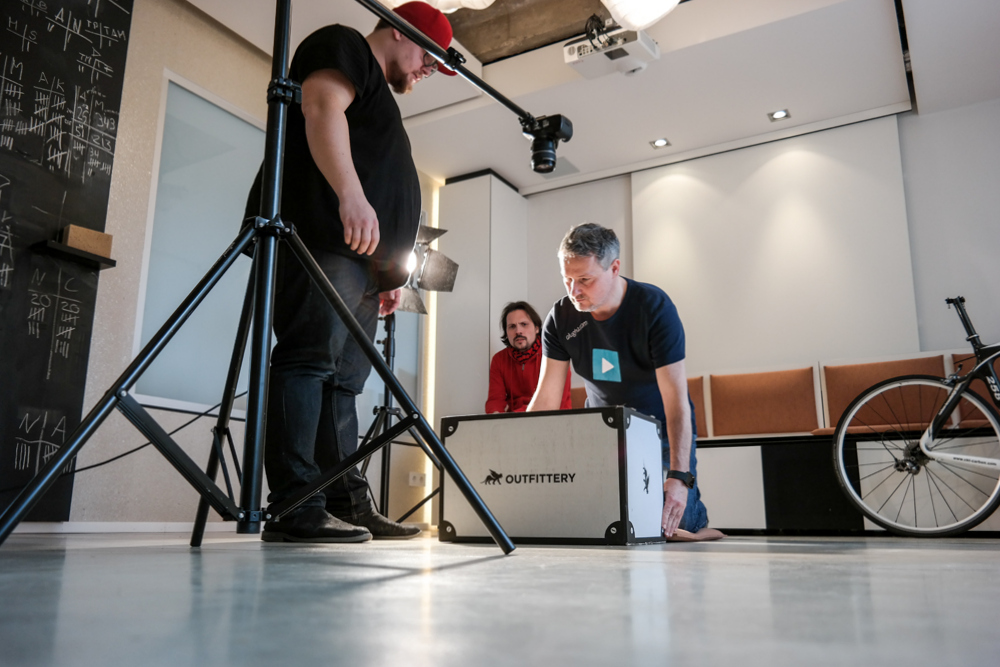 Read this article in: Deutsch, English, Español, Français
Estimated reading time:
1
minute

Outfittery est une entreprise en ligne allemande grâce à laquelle les hommes peuvent recevoir gratuitement des conseils de style, et où ils peuvent ensuite y acheter leur tenue, parfaitement adaptée.
L'idée de créer une nouveauté
L'idée de produire une vidéo critique sur Outfittery professionnellement et dans différentes langues, est partie d'une conversation entre le gérant d'alugha, Bernd Korz, et un collaborateur de l'agence Social Ninja, qui est responsable de la communication d'Outfittery. Le Social Ninja fut immédiatement enthousiasmé par l'idée de rendre des vidéos multilingues. Après avoir décidé de tourner une vidéo critique sur les produits d'Outfittery, une commandé au fournisseur de vêtements en ligne a été passée en un rien de temps.
Le tournage commence
Le paquet d'Outfittery arriva à Mannheim quelques jours plus tard mais on ne l'ouvrait qu'au premier jour du tournage. Toute l'équipe, particulièrement Meike Korz, était vraiment curieuse d'en voir le contenu et ce qui se passe. Non seulement à cause du paquet mais aussi parce-qu'un tournage de vidéo est toujours intéressant. Voici les impressions: [gallery link="file" ids="3934,3935,3936,3937,3949,3950"] photo: alugha
L'équipe créative a fait excellent travail
Arthur Rewak, notre directeur artistique, a montré encore ce qui est possible avec la technologie vidéo moderne et le sens du détail. Il fait presque tout pour une prise de vue parfaite: cela ne lui pose pas problème de se poser par terre pendant trente minutes pour capturer le moment optimal. Après le tournage, notre motion designer Manuel, qui faisait un super boulot comme assistant réalisateur, a amélioré les matériaux par images de synthèse. Il en résulte une vidéo extraordinaire. Soyez curieux ce qu'on verra d'alugha à l'avenir! Mais maintenant mettez-vous à l'aise et regardez la nouvelle vidéo. https://alugha.com/1/videos/99025ab8-f752-11e5-bd00-55dae32db684?vlang=fra
More articles by this producer
Our new computer linguist is not only skillful with words.
Here at alugha, we love technology and leveraging it in creative ways for our users to provide unique features and a stellar experience.
Our Bavarian soldier presents alugha to the world. Usually with a lot of heart and well organized.
Videos by this producer
The roughly 3-minute film provides an initial impression of the MAHLE plant and also presents the principles and values that govern the way the team works together on a daily basis. And, of course, it highlights the innovative technologies that find application in the MAHLE thermal management produc