alugha shoots a video review on Outfittery
Clothes in the box - a review!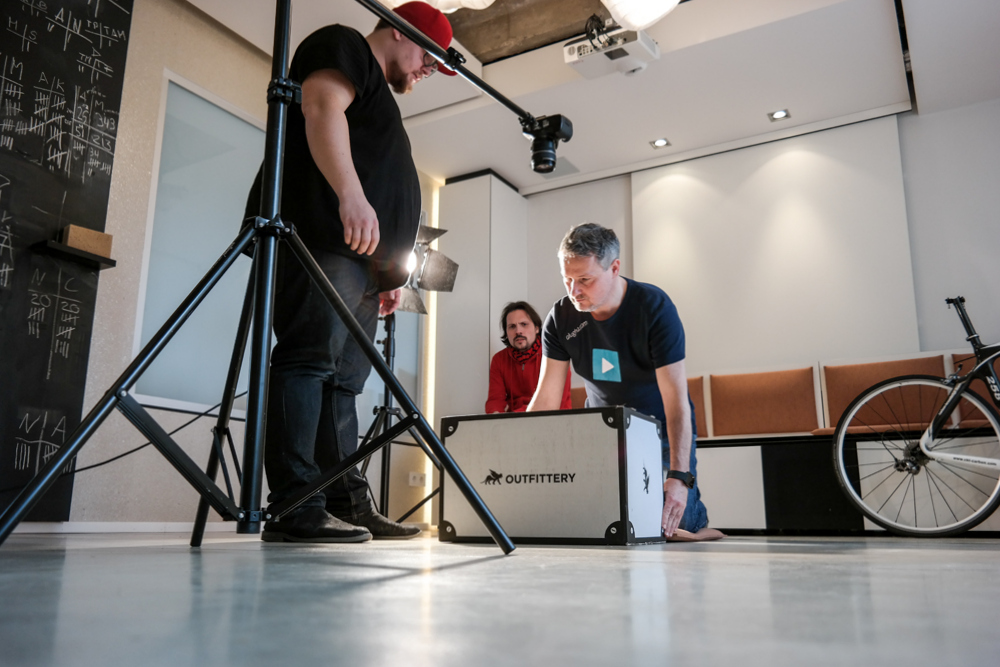 Read this article in: Deutsch, English, Español, Français
Estimated reading time:
1
minute

Outfittery is a German online company where men get free style advice and can subsequently purchase a box with a perfectly balanced outfit.
Born out of the idea of doing something new
The idea to produce a professionally shot review on an Outfittery order in multiple languages was developed out of a conversation between alugha CEO Bernd Korz and an employee at the Social Ninja agency, who supervises the communication of Outfittery. Since Korz intended to use the service of the online outfitter anyway and Social Ninja was instantly sold on the idea of making multilingual videos, they did not think twice. An order was quickly placed on the fashion retailer.
Let the days of shooting begin
Shortly afterwards, the Outfittery box arrived in Mannheim. However, it was only opened on the day of shooting. The whole team, especially Meike Korz was excited to see what was in the box. Many of us were a fly on the wall, not only because of this but also because a video shoot is really exciting. Here are some impressions: [gallery link="file" ids="3934,3935,3936,3937,3949,3950"] photos: alugha
The creative team did a bang up job
Our art director Arthur Rewak has shown once more what is possible with modern video technology and an eye for details. For a perfect result, he doesn't mind getting his hands dirty - every so often, you find him lying on the floor for half an hour in order to capture the optimal moment. The result is a truly stunning online video which is a lot of fun. Arthur got help from our motion graphics artist Manuel, who did a great job as assistant director. Subsequently, he pimped the video using Computer-Generated Imagery. You can be excited about what alugha has in store for you in the future. But for now, just watch the finished video review - sit down, relax and enjoy: https://alugha.com/1/videos/99025ab8-f752-11e5-bd00-55dae32db684?vlang=eng