Yulia translates, dubs, and is our VK specialist for Russia
Alugha is like a big multicultural family. I can develop!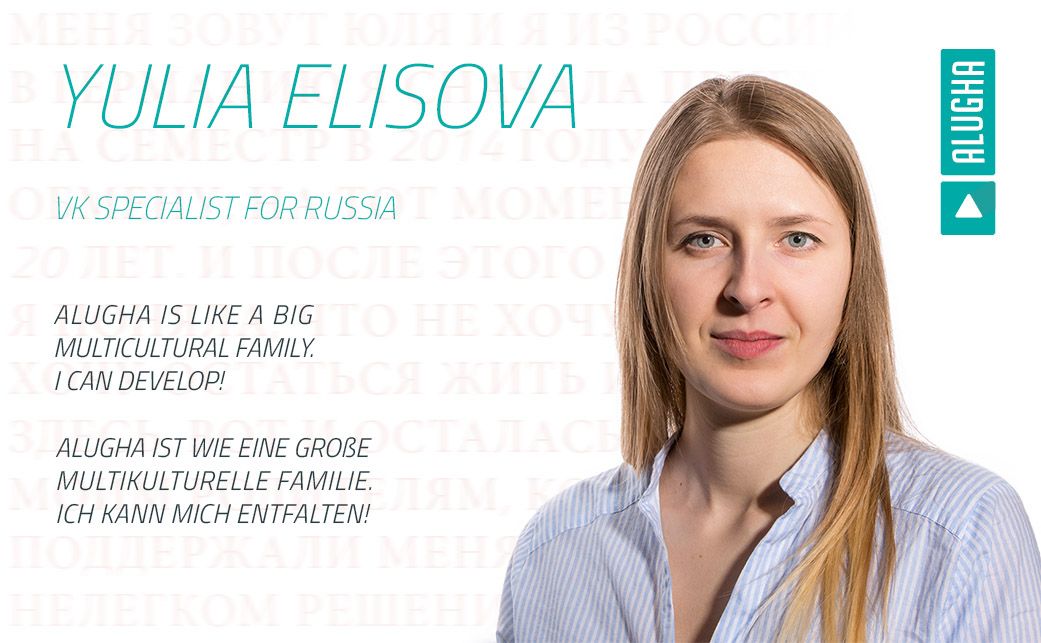 Read this article in: Deutsch, English, Русский
Estimated reading time:
2
minutes

Briefly introduce yourself: Who are you and what do you do?
I am Yulia Elisova and I am from Russia. I'm studying Slavic Studies and Education Studies at Heidelberg University. In 2014, when I was 20 years old, I spent a semester abroad in Germany. After that semester, I was thrilled about the university and Germany in particular. That's why I decided to continue my studies here.
Which three words describe you best?
Straightforward, friendly, impatient.
How are you different now than you were ten years ago? 
Hmm that's hard to answer, ten years ago I was still going to school. I can only say that I've grown up. In the last years, I've developed my personality. Living in Germany has particularly shaped me.
What is your favourite thing to do in your freetime? 
Depends on the weather. On warm, sunny days, I like to drive my bicycle, go on a slow-paced walk or go swimming. And of course I like to spend time with my family, but unfortunately, we can't see each other often due to the distance.
What are your tasks at alugha?
Since I studied linguistics in Russia my tasks at alugha consist of Russian translations, dubbing of videos of all kinds and supporting the marketing team.
What guided you to alugha?
My boyfriend started working at alugha and he always told me what he does there and it sounded very interesting. Back then I considered applying at alugha but for some reason I always procrastinated it. After some time, I went to a concert with the alugha team. There, I met almost all of the employees, and on the next day, I already signed my contract.
Why do you like being an alughian?
Alugha is a good opportunity to develop. Alugha is like a big multicultural family and I am very comfortable here.
Where do you see yourself and the company in the future?
I don't know yet. Three years ago, I couldn't imagine living, studying and working in Germany.
What is your own big dream?
I like to travel and I would like to become a freelancer. That way, I am location independent and can work from anywhere in the world.
#alugha
#doitmultilingual
#crew

Sehr cool! Freue mich RIESIG, dass du da bist und uns für den russischen Markt aufpolierst. Wir wollen Wissen und Bildung in die Welt tragen und deine Arbeit trägt dazu wesentlich teil.
More articles by this producer
Our new computer linguist is not only skillful with words.
Here at alugha, we love technology and leveraging it in creative ways for our users to provide unique features and a stellar experience.
Our Bavarian soldier presents alugha to the world. Usually with a lot of heart and well organized.
Videos by this producer
The roughly 3-minute film provides an initial impression of the MAHLE plant and also presents the principles and values that govern the way the team works together on a daily basis. And, of course, it highlights the innovative technologies that find application in the MAHLE thermal management produc