Agreement on YouTube and Gema
Gema and the google daughter came to an agreement about a license after years of dispute.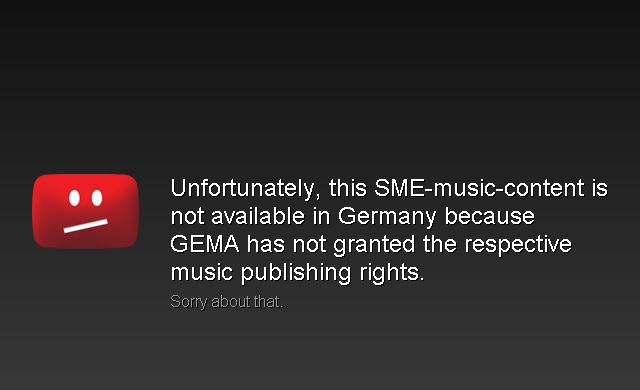 Read this article in: Deutsch, English
Estimated reading time:
2
minutes

On 2nd of November 2016, it was announced, that google daughter YouTube and the society for musical copyright enforcement (in short: Gema) finally came to an agreement in the dispute over the licensing question. 
We want to give you a small overview of everything important about that: 
The Gema is a company which takes care that all musicians get money, when their music is played. That is: Whoever uses music publicly should pay the creator in return. And exactly this was the problem so far. Because lots of videos were blocked and not accessible for German YouTube users, since there was disagreement about the music rights. 
This problem should now be a thing of the past. Gema and YouTube confirmed an agreement on a license agreement. According to that, YouTube is paying a fee to Gema, whereby all the YouTube users have access to music clips which were unavailable before. This contract is not only enabling German YouTube users to finally watch multiple videos, but also that the artists finally get paid for playbacks of their videos on YouTube. 
Up to now, both Gema and YouTube, keep silent about the amount which flowed to the company. With the agreement, a dispute which seemed even partially judicial unable to solve since 2009 is ending. In over seven years, Gema and YouTube did not seem to find a solution about the question of who is the licensee of the videos. The present agreement should be effective retroactively for the period since 2009. 
A lot of artists already expressed their joy over the agreement officially. Apparently, the Gema is going to discharge the amount to the artists they're representing. 
What this means to us 
The agreement between google daughter YouTube and Gema does also have a great meaning to us. Up to now we faced the problem, that music producers weren't able to use our tool, because a plurality of videos were blocked on YouTube. Of course, we also had to adhere the block. That is: Through the agreement between the two affiliates, the videos are available again at once, which means to us that our tool can be used by even more people and that we can reach an even bigger rate of people multilingually! 
Great news for alugha and an important step for the videoportal YouTube. 
In this context: Let's go!
#doitmultilingual