Larissa, the blog aunt from Swabia
I'd like to take as much as possible. A start-up is among the experiences I haven't done yet and alugha offers me the great opportunity to take responsibility for the complete blog section.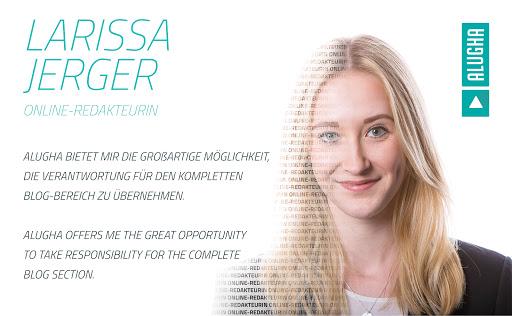 Read this article in: Deutsch, English, Español
Estimated reading time:
2
minutes

Shortly introduce yourself: Who are you and what are you doing?
My name is Larissa. I'm studying media and communication science in combination with the minor subject German studies at the university of Mannheim. In September 2015, I moved from Ravensburg to Mannheim due to studying and I feel very comfortable about it. 
Which three keywords describe you best?
humorous, active and harmonic
What is your favourite thing to do in your free time?
I like hanging around with my friends and family. I also like to venture a lot and I like reading. Of course, I love shopping and long walks at the Rhine. For the future, I resolved to travel more and get to know more places. 
So there's still time for work … What guided you to alugha?
I was looking for a job and I wanted to do things that have something to do with my study and that bring something for my further path of life. Then I stumbled upon alugha and thought: That's it! 
What are your tasks at alugha?
I am primarily responsible for the blog of our homepage: planning and writing blogposts, embedding videos in the texts, releasing them … If there's still time, I also dubb from time to time and try to get involved where I'm needed. 
What do you like about the work here?
The big trust which is shown to me here. I can and should decide which contents are important for alugha and should be transported "outside" by myself, here I have a free hand.  At the same time I can always rely on my colleagues, if I need help. This giving and taking isn't self-evident. And I like the nickname they gave me here: Lillifee. :-) 
You already deal a lot with social media at university and at work - what role do social networks play in your private life?
I'm honest: of course I like posting photos and am happy, if a lot of my friends like them. But I plead for more reality on facebook, instagram & Co. Everyone has to decide by him- or herself how far they go with self-staging, but I think one should stay on the ground of reality. Filters may be nice and good, but I'd like to recognize myself in my picutres. :-)
Keyword future: Where do you see yourself and the company in ten years?
Alugha should be a matter of course in ten, alas in five years, for all people who want to reach as many people as possible on the whole world. The idea of alugha is trendsetting and I am sure it will make its way. 
As for me: In ten years, I want to be a successful journalist and live a happy and pleased life at a place where the sun is shining a lot. 
The last point is about big dreams - do you have some?
I am trying to fulfill smaller dreams regularly. My big dream is to look back in twenty years and say: I did everything right! 
More articles by this producer
Our new computer linguist is not only skillful with words.
Here at alugha, we love technology and leveraging it in creative ways for our users to provide unique features and a stellar experience.
Our Bavarian soldier presents alugha to the world. Usually with a lot of heart and well organized.
Videos by this producer
The roughly 3-minute film provides an initial impression of the MAHLE plant and also presents the principles and values that govern the way the team works together on a daily basis. And, of course, it highlights the innovative technologies that find application in the MAHLE thermal management produc