Let's talk - Sanny
007 Sanny – incorrect sayings are her specialty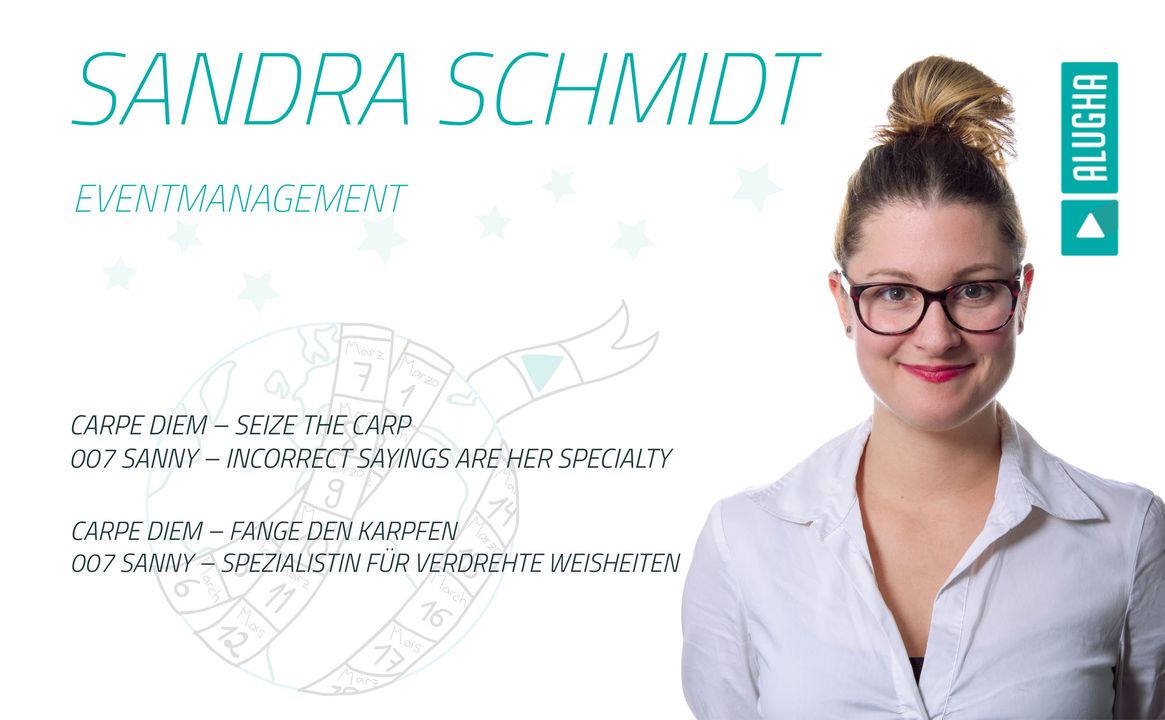 Read this article in: Català, Deutsch, English, Español
Estimated reading time:
3
minutes

Please introduce yourself: Who are you and what do you like to do?
Hi there. My name is Sanny. I enjoy long walks on the beach and I just don't get avocados, they are weird. Other than that you can talk to me about food, wine, movies/tv shows and books. And if there is nothing else planned I love to travel and go see a band live. Also, I drive a Volkswagen Golf.
Sanny is …
Tiny, passive-aggressive, honest
What would you say differentiates today's Sanny from the Sanny 10 years ago?
She's older but none the wiser. Instead she is way more intolerant, chronically tired and has long since shed all of her dreams in favor of "money, health and family". Boring, right ?
How do you like to spend your free time?
Doing nothing, preferably. Which, let's face it, one gets to do less and less the older one becomes. The rest of my stressful leisure time is spent between hanging out with family and friends, being in love with my man and burning through my paycheck faster than a squirrel on speed. Furthermore I work on taking over the iron throne and trying new things like crocheting (really, old things that I learned in school but gave up for extensive teenage drama during puberty). Sometimes you can find me in my kitchen baking 80 cupcakes and all the time you will find me avoiding night clubs like the plague (give me a nice pub and I'm in though!). But honestly, I really don't care much about what I'm doing, as long as I'm happy doing it.
What is it that you do at alugha?
Some of this and a little of that. But actually what I spend my time doing (part-time as a matter of fact since my real job as a secret super spy involves creating chaos and upheaval in outside companies) is spreading nonsense ideas within the marketing department and then watching what happens. It's quite amusing. Besides, I plan and organize alugha's participation at exhibitions, other events and Woodstock 2.0.
What lead to you working for alugha?
Easy, I was in the right place at the right time. And after the mastermind behind alugha (Bernd) found out that I was an event manager in my past life, he nowadays "borrows" me from my boss.
What do you like most about being an "alughian"?
Here at alugha, we have a great variety of intelligent and creative individuals, who work together like a quarreling yet caring patchwork family. And, without fail, someone takes time from their work to explain to me the technological side of things. Since I am pretty much technologically handicapped. And mathematically. But that is for another story time :-P To bring this to an end, it is admirable how involved everyone at alugha is. In bettering the company, the team and themselves every day.
Where do you see alugha and yourself in the far future?
For starters, alugha will most definitely be listed on the stock exchange, be globally well-known and become an indispensable product worldwide. As far as I am concerned, I see myself married with a few kids of my own and a part-time job so that I have time to finish all of my little DIY projects.
What's your biggest dream?
Just the one? No, thank you, but one dream simply isn't enough. But to keep it at a minimum I will tell you only two of them. First one is so cliché, but what can I say, so am I. Therefore, I want to see as much of the world as possible (on this note, let me please ask you to take care of your environment and your fellow humans; It is not actually that hard to be considerate and empathetic once in a while). The second one isn't much better in it's originality, but I really really really wanna have a little farm with a pool in the shed (alternatively a house at the beach or even just a lake will do).
#alugha
#doitmultilingual
#crew
Automatic
Català
Deutsch
English
Español
E-Mail
Twitter
Reddit
LinkedIn
Pinterest
WhatsApp
Tumblr
VKontakte
Xing
More articles by this producer
Alugha's concept is super exciting, and I love my job. I get along great with my colleagues, too.
Here at alugha, we love technology and leveraging it in creative ways for our users to provide unique features and a stellar experience.
Here at alugha, we love technology and leveraging it in creative ways for our users to provide unique features and a stellar experience.
Videos by this producer
A simple explanation of the services offered by the Point of Single Contact Berlin (e.g. register your business, trade or craft) www.ea.berlin.de Story board: CONVIS Consult & Marketing GmbH Illustration and animation: Frank Apitz Music : JC Binetti Released by: Senatsverwaltung für Wirtschaft, Te
► Help here: https://de.gofundme.com/f/spende-fur-stefano039s-kampf-fightwithme ► Paypal: https://www.paypal.me/stefano1w3