Pranjali Jawale - Traductora d'hindi i desenvolupadora de software
El que em va motivar a formar part d'aquest equip va ser poder compartir els esdeveniments a escala mundial en la meva llengua.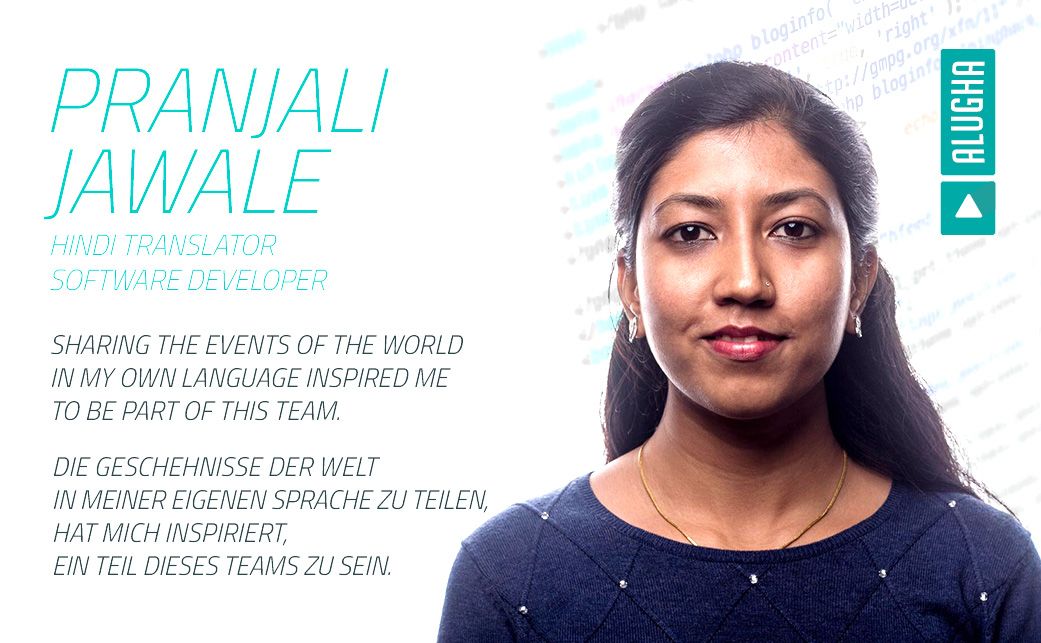 Read this article in: Català, Deutsch, English, Español, हिन्दी
Estimated reading time:
1
minute

Descriu-te breument: qui ets i què fas?
Hola, em dic Pranjali i sóc de la Índia. També sóc un nou membre de la família d'alugha. Estic estudiant un màster en informàtica empresarial a la Universitat de Mannheim.
Quines tres paraules et descriuen millor?
Amable, alegre i treballadora.
Ets diferent a com eres fa deu anys? 
He madurat amb l'edat. Ara puc tenir una conversa en una llengua estrangera (alemany) i tinc uns quants objectius de vida clars. Les experiències que he tingut han donat forma a la meva personalitat, per això m'adapto amb facilitat. En aquests moments gaudeixo d'una vida matrimonial força tranquil·la.
Què fas quan tens temps lliure? 
Quedo amb els amics, cuino (plats de diferents parts de la Índia) viatjo i miro la tele.
Quines són les teves tasques a alugha?
Tradueixo vídeos i articles de l'anglès a l'hindi, també faig doblatge i desenvolupament de software.
Què et va portar a alugha?
L'oportunitat de compartir esdeveniments a escala mundial en la meva llengua i amb la meva gent va ser determinant a l'hora de prendre la decisió de formar part d'aquest equip.
Per què t'agrada formar part d'alugha?
La cultura laboral és excepcional. Tot són jocs i diversió i, malgrat això, es tracta d'un enfocament coordinat i centrat en la feina.
Com veus el teu futur i el de l'empresa?
Al món calen eines per entendre les diferents cultures mitjançant traduccions i alugha ofereix un concepte molt impactant per tal de fer-ho possible. M'agradaria contribuir en la visió d'alugha, o bé amb el treball final de màster del departament de desenvolupament de software, o bé, a la llarga, com a treballadora autònoma o en plantilla.
Quin és el teu somni?
M' agradaria viure en un món sense barreres lingüístiques per a què hi hagués un intercanvi cultural totalment lliure.
#alugha
#doitmultilingual 
#alughacrew
Code

Name

Views

Percentage

eng
English

493

53.13%

deu
Deutsch

218

23.49%

hin
हिन्दी

97

10.45%

spa
Español

71

7.65%

cat
Català

49

5.28%

Total

928

100%
More articles by this producer
Our new computer linguist is not only skillful with words.
Here at alugha, we love technology and leveraging it in creative ways for our users to provide unique features and a stellar experience.
Our Bavarian soldier presents alugha to the world. Usually with a lot of heart and well organized.
Videos by this producer
The roughly 3-minute film provides an initial impression of the MAHLE plant and also presents the principles and values that govern the way the team works together on a daily basis. And, of course, it highlights the innovative technologies that find application in the MAHLE thermal management produc