Software development with Indian flair
Sharing the events of the world in my own language inspired me to be part of this team.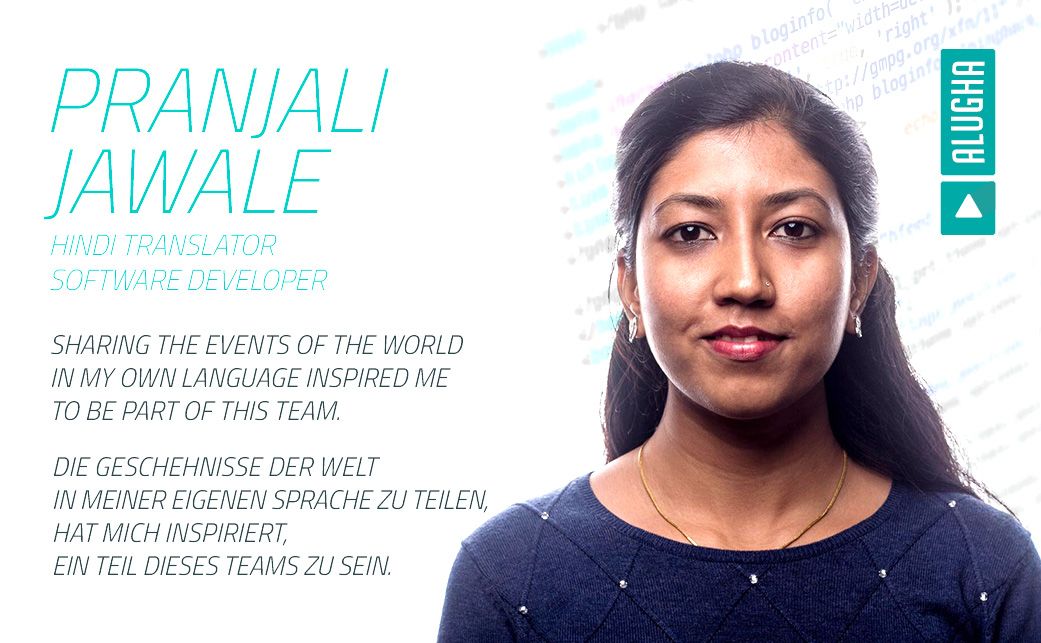 Read this article in: Català, Deutsch, English, Español, हिन्दी
Estimated reading time:
1
minute

Briefly introduce yourself: Who are you and what do you do?
Hello, I am Pranjali from India, a new family member of alugha. I am doing my master's in business informatics at the University of Mannheim.
Which three words describe you best?
Friendly, jovial and hardworking.
How are you different now than you were ten years ago? 
I have become more mature with age. I now can converse in a foreign language (German) and have clear goals in life. My life experiences have shaped my personality to the effect that I can adapt to any circumstances. And currently, I am enjoying a peaceful married life.
What is your favourite thing to do in your freetime? 
Meeting friends, cooking (different kinds of Indian cuisine), traveling and watching TV.
What are your tasks at alugha?
Translating videos and articles from English into Hindi, dubbing and developing software.
What guided you to alugha?
The opportunity to share the events of the world in my own language and with my own people surely made up my mind to be a part of this team.
Why do you like being an alughian?
The work culture is quite unique. It's all fun and games, and somehow despite all of this, there is a coordinated and focused approach to work.
Where do you see yourself and the company in the future?
The world definitely needs a tool to understand different cultures through translations and alugha provides such a powerful concept. I would like to contribute to alugha's vision either through a master's thesis in the software development department or as a freelancer or a full-time employee in the long run.
What is your own big dream?
I would like to live in a world not bound by language barriers so that we are able to exchange our cultures with total freedom .
#alugha
#doitmultilingual 
#alughacrew