Let's talk - Maria!
alugha allows me to introduce my language to the company: Catalan!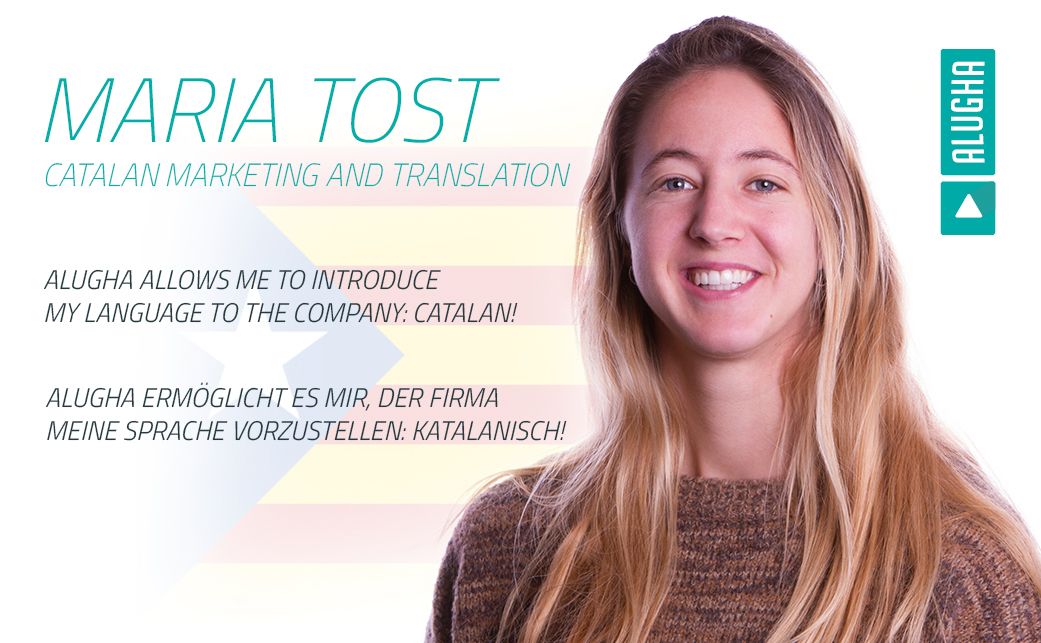 Read this article in: Català, Deutsch, English, Español, Português
Estimated reading time:
2
minutes

Briefly introduce yourself: Who are you and what are you doing?
My name is Maria Tost and I'm from Spain. I'm 22 and I'm an international hockey player. In September 2016, I came to Mannheim to play for MHC. Ever since I was younger my goal has been to play in a foreign hockey league. Currently, I'm majoring in Business Management and I will finish my studies in the coming months.
Which three keywords describe you best?
Ambitious, cheerful and dedicated
What is your favourite thing to do in your freetime? 
When I don't play hockey, I like surfing, cycling, cooking (especially baking cakes) and going out with my friends.
What guided you to alugha?
To be honest, I haven't heard of this company before I came to Mannheim, and I'm working here thanks to MHC. I was looking for an internship and the club was helping me to find it. I gave them my CV and a few weeks later I received an email from alugha inviting me to an interview. In the end, I liked them and they hired me for four months. 
What are your tasks at alugha and what is your impression of the work here?
My job is to translate texts from Spanish to Catalan since alugha wants to reach the Spanish market in order to expand and to be well-known worldwide. I live in Catalonia and there we speak Catalan. So, that's why I'm translating into this language. 
I think it's a really good business idea, and if it's promoted around the world, it can be very successful. In addition, I like the philosophy of the company, and how they care about their employees. The working environment is great which is essential for employees to perform at their best.
What do you like best about the work?
What I like most about my job is that I have the freedom to develop marketing ideas. Besides, working hours are flexible which is perfect to balance sport and work.
Where do you see yourself and the company in the future?
For now, I'm going to work at alugha for four months. In the future I would like to start my own business. It's not easy, but I like to be self-employed and responsible for my obligations. Additionally, if alugha continues what it does, it has a bright future ahead of it, since alugha is the first company dedicated to translating videos into several languages. 
What is your own big dream?
My big dream is to participate in the Olympic Games someday. Last summer, I was training for Rio de Janeiro, but in the end I wasn't selected. I believe in second chances and I know that if I keep working, I am able to achieve it since I'm only 22. 
#alugha
#team
#multilingual