Excited to learn customer language?
Learning a foreign language takes time and dedication. As a business leader it is essential to learn the language of your customers, because this will accelerate your sales, make your brand more engaging and give you a competitive advantage.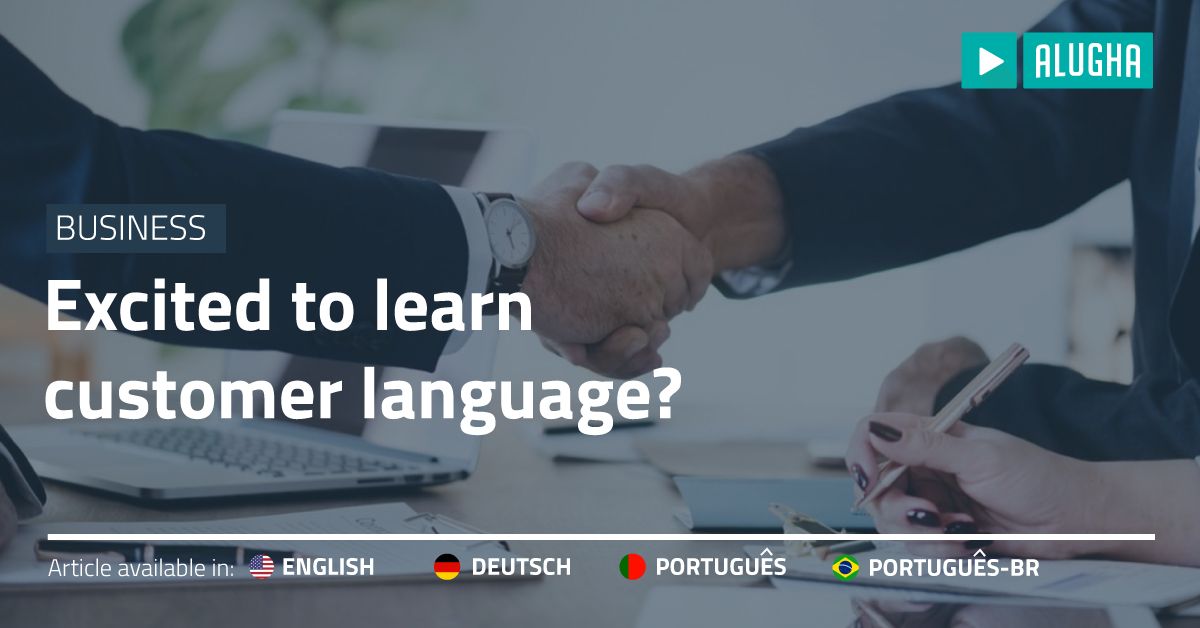 Read this article in: Deutsch, English, Português
Estimated reading time:
4
minutes

We live in the age of the consumer, and businesses have to consider customer views before they do anything else. Product development, for example, needs to start with the question "What do customers want?" rather than "What do we want to give customers?" But even after developing customer-focused products, companies need to make sure they are speaking the customer's language if they want to sell.
The internet is changing the way customers interact with us, they want all the information online. We have to find solutions where we don't just interact with customers once a year. The concept of insurers building relationships and properly communicating with customers is a difficult one. You need to get into an emotional space that adds something meaningful for the consumer and we need to have an ongoing relationship with our brand and company.
The key to building relationships is through relevancy, personalization and of course, data. It is one area where insurers have always been strong. However, the need for data to be timely and useful is something where the traditional insurance company set up can be a hurdle. Data often sits in different units and systems that are not connected. Moreover there is no lack of data but a lack of focus on what data is useful. Companies need to resolve these issues, understand their target customers, analyze and act on insights to deliver competitive advantage.
Customer experience is one of the key topics we are discussing right now. Customer research, and the process of listening to the voice of our customers can help improve marketing, product development and sales in general. In order to truly satisfy our customers, we have to know what they want and need from us, what they're saying about us, and how they feel about our brand.
Listening is a skill like any other, and learning a new language is never easy – especially when that language is always evolving. Speaking the same language as our customers requires constant study and interaction. What do they want? What do they wish they had?
Online tools have made it easier than ever to listen to customers. Historically, we used to do a few surveys a year. Today, we can do online research and customer listening on a daily basis, giving us much better access to individual insights in a way that is more cost-effective and more actionable. Combine this with artificial intelligence and the chances that you truly understand your customers and not only get glimpses of them increases significantly. Are system that provide sophisticated insights easy to build? No, they are not and will take time and resources. Nevertheless, it is important to have an idea where we want to go and build a road map how to get there. Listening to customers and understanding and speaking their language provides us with the direction for success, directly from the people who really matter and can also provide a competitive edge that is not easy to copy.
Content is one of the hottest topics in marketing at the moment, but it still suffers from the lack of best practice and expertise in the world of marketing. Therefore, brands need smarter strategies to make it relevant and successful. Partnering with well-established quality content publishers is one route to go. Zurich Insurance is one example, as we established a media partnership with Bloomberg, the Financial Times and Linkedin. At the same time, we are working closely working with The World Economic Forum, The Atlantic Council and The University of Oxford to create high quality content especially for B2B audiences. Within two years these partnerships have resulted in a 44% higher reach and 50% reduced cost.
AI in marketing: There's been exponential growth in the exploration of artificial intelligence and its potential to alter all aspects of our lives. A lot of companies are already using advanced algorithms to predict the best time to reach you, on what device, and tailor email messages based on your online behaviour.
One example of AI's potential comes from an implementation at our partner McCann Japan. McCann hired a robot as creative director. The robot attended the Tokyo office's new employee welcoming ceremony in April 2016, along with other recent college grads who have also joined the team. In June, the AI creative director has released its first work in competition with a human director in the battle for creative supremacy.
Both creative directors were asked to develop a video for a Japanese client. The robot was able to draw from a database of tagged and analyzed TV commercials from the past ten years of winners in Japan and it also had the ability to learn from its previous campaigns. The campaign ran online from June to August and the Japanese public was asked to vote for the ad they preferred (without knowing which ad was created by the robot and which one by a human). The race was pretty close: the human won 54%-46%.
Pretty amazing, don´t you think?
About the author
Monika Schulze is Head of Customer & Digital Experience at Zurich, Advisor to Atheer AiR™ and Member of the Board at Schloss Wachenheim AG. In 2017, she was recognized by Forbes as one of the world's most influential CMOs, nominated by AdAge as "Woman to Watch Europe 2017" based on remarkable accomplishments, and announced as a LinkedIn Top Voice 2017 D-A-CH. This article was originally posted on LinkedIn.
If you have an interesting topic about which you'd like to write on our blog, please send us your suggestion by email. 
Thanks for reading! 
Wilgen and the alugha team!
#alugha
#doitmultilingual
#MonikaSchulze
Automatic
Deutsch
English
Português
E-Mail
Twitter
Reddit
LinkedIn
Pinterest
WhatsApp
Tumblr
VKontakte
Xing
More articles by this producer
Our new computer linguist is not only skillful with words.
Here at alugha, we love technology and leveraging it in creative ways for our users to provide unique features and a stellar experience.
Our Bavarian soldier presents alugha to the world. Usually with a lot of heart and well organized.
Videos by this producer
The roughly 3-minute film provides an initial impression of the MAHLE plant and also presents the principles and values that govern the way the team works together on a daily basis. And, of course, it highlights the innovative technologies that find application in the MAHLE thermal management produc