Muthanna Al-Mahamad – our man for Arabic
Muthana from Syria wishes to see his family again! At alugha one of his main tasks is to introduce the company to the Arabic countries.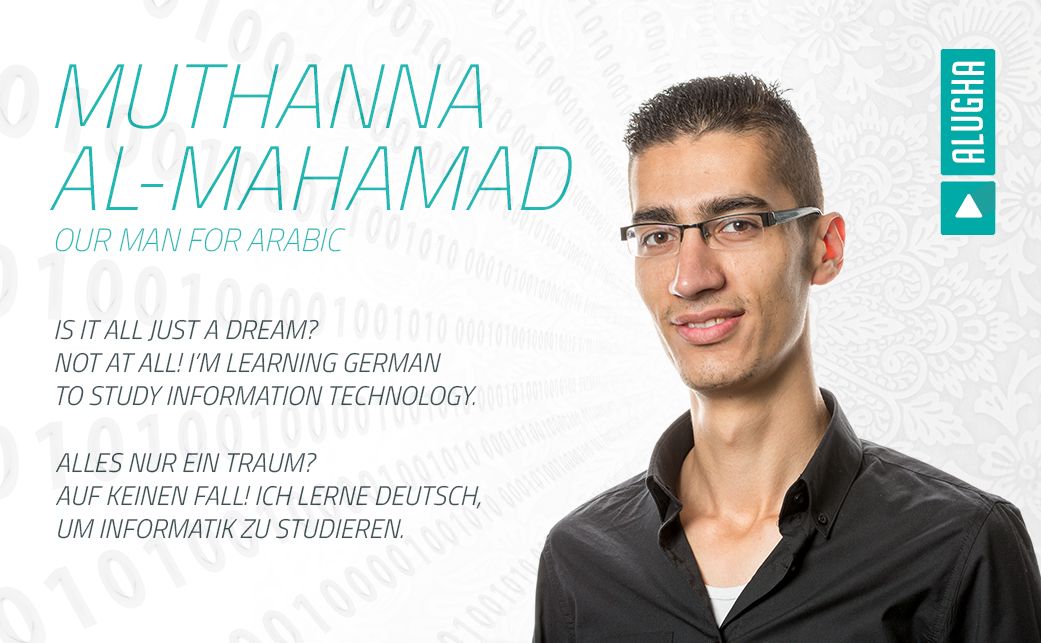 Read this article in: Català, Deutsch, English, Español, العربية, हिन्दी
Estimated reading time:
3
minutes

Briefly introduce yourself: Who are you and what do you do?
My name's Al-Muthanna Al-Mahamad, but friends simply call me Muthanna - without "Al" which is an Arabic article that I don't need. My home country is Syria, but I'm living in Germany for 2 years now. I'm learning German and want to start my studies in information technology as soon as possible. Furthermore, I'm engaged in refugee relief and I translate for friends who also fled Syria or Iraq every time I can.
Which three words describe you best?
Honest, calm, music-connoisseur
How are you different now than you were ten years ago?
10 years ago? Back then I was only 13 years old. I was a little boy who liked to stay at home and had little idea how life works. The last years strongly affected me because I had to  leave my home, I grew up. Today I'm a person with a plan - very determined. But basically, I'm quite a nice guy, I guess!
What is your favourite thing to do in your freetime?
I like to cook with friends and I love walking around, especially in my new home town Heidelberg. Sometimes I prefer to stay at my place alone, listen to music and enjoy the quiet. I like to play computer games and to work at my laptop. Like I said, I want to study information technology - this really is my thing.  
What are your tasks at alugha?
Arabic - I'm responsible for everything related to Arabic. I translate videos and articles, do dubbing and update and optimize Arabic translations which were done before I came here. A win-win-situation: it helps me to learn German and alugha gets introduced to the Arabic world. 
What guided you to alugha?
It was all a huge coincidence: When I came here two years ago, I wasn't able to speak a word of German. With Andreas, my first German teacher, I share a really good friendship. He has known alugha for a long time and told me about what they are doing and that they are looking for an Arabic translator. I liked the idea from the beginning and so I presented myself at alugha. 
Why do you like being an alughian?
The team is super nice and very motivated. I can learn a lot and I enjoy to connect with the people. In the refugee camp I also translated and interpreted much, so the job here is a perfect upgrade. I'm helping with international understanding and preparing a little for my planned study of information technology. 
Where do you see yourself and the company in the future?
Alugha is growing constantly. The company is getting larger and more known. The idea to do multilingual videos is very smart and brings people closer together. It delights me to be a part of this success story. I hope that I can help the company to move forward in the future with my creative input.
What is your own big dream?
I want to travel and see the world. I want to visit the USA, Asia and especially the Philippines. I wish to see my family again and hope that the war in Syria ends soon. All of this shouldn't remain a dream, but become reality instead! A dream that doesn't really have to come true is a BMW M5 E60. With this car I would drift over the race track on weekends - that would be cool!
#alugha
#alughacrew
#doitmultilingual

Wir sind so stolz, dass du ein Teil unseres Teams bist Muthanna. Ich bin beeindruckt von deinem Willen, die Dinge zu lernen und wie weit du alugha für uns bringst. Ich freue mich auf die nächsten Jahre!

Danke sehr , und ich hoffe, dass ich mein Bestes bieten kann.
More articles by this producer