Translation is my passion
I'm doing my part in making the world a bit more comprehensive for everyone.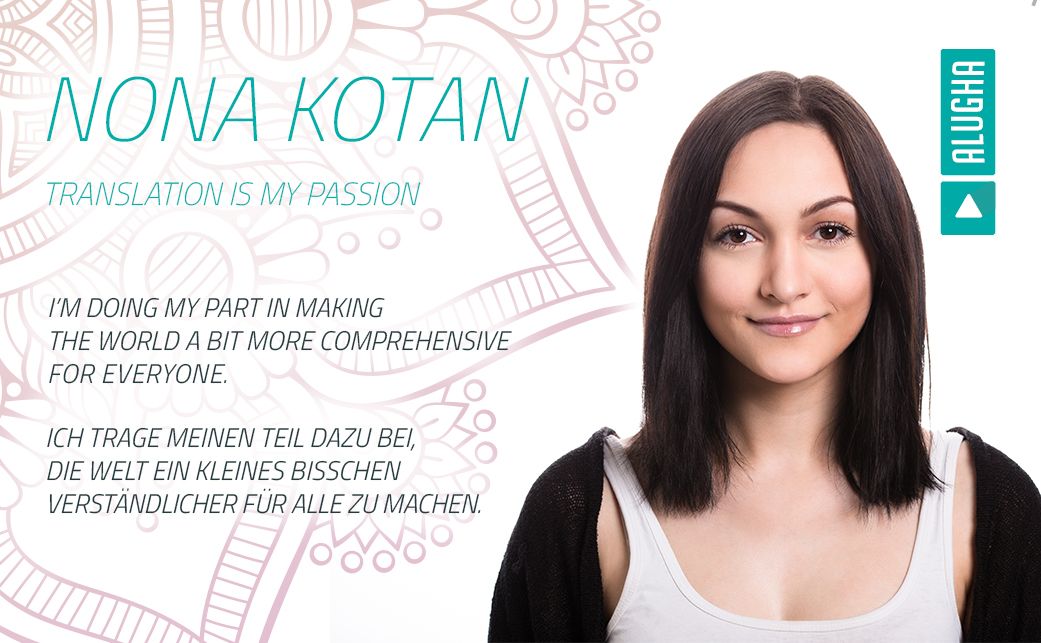 Read this article in: Deutsch, English, Türkçe
Estimated reading time:
1
minute

Briefly introduce yourself: Who are you and what do you do?
Hi, my name is Nona and I work at alugha as a translator and dubbing actor. Additionally, I dabble in social media. 
Which three words describe you best?
open-minded, direct and honest.
How are you different now than you were ten years ago? 
Now I'm a lot more determined and I know what I want. I know where I want to get in life and I'm working hard to get there. 
What is your favourite thing to do in your freetime? 
I love to look after my pets, meet friends and definitely Netflix!
What are your tasks at alugha?
I translate and dub Turkish. 
What guided you to alugha?
A series of lucky circumstances!
Why do you like being an alughian?
I love the working atmosphere and above all that the team gets along quite well. If you need help, you'll get it immediately and I felt very well received by everybody. 
Where do you see yourself and the company in the future?
In my opinion, this company fulfills a very important task in our digitized world and I hope to remain a part of it!
What is your own big dream?
To wake up in the morning and just be satisfied and happy. (and also two cute dogs).
#alugha
#alughacrew
#doitmultilingual