COMMENT FUNCTION ON ALUGHA!
Revolution at the multilingual video platform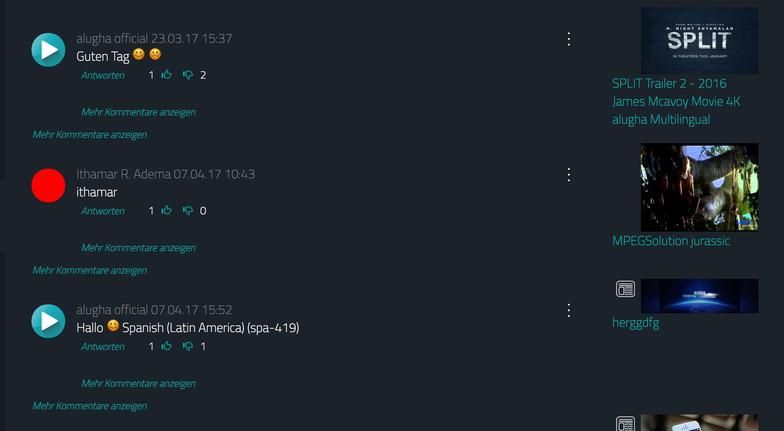 Read this article in: Deutsch, English, Español
Estimated reading time:
3
minutes

We have breaking news
The short
In a nutshell - before we get down to the nitty-gritty, here's the "summary": We now have comments on alugha, in true multilingual style :)
And now the long version for our interested users.
And the long of it
Interaction.. a small but pretty powerful word. From the beginning, we've been aware that this would be one of the keys to success for alugha. However, if you have limited resources, you have to focus on the important things first. And since we're a video platform, it was obvious that the platform first has to reach a status quo in order to plan the next step. 
Everyone that produces videos wants to receive feedback from the viewers or even enter into a dialogue with them. The video itself is kind of a one-way street and therefore not that suitable. On the other hand, the written word alone is not what a video producer wants. So what could be better than the option to comment below the video and so let others also participate?
As always at alugha: Why do it the easy way when you can do it the complex way? Our whole platform is designed for global and multilingual range, and that should also be the case for the comments. If you have an English track, you want to address English viewers, of course… ergo you must be able to receive comments in English. But what if someone comments in German? Doesn't it start to get confusing then? Exactly, and this is where the complexity begins, because every language available in the video also needs to be available in the comments. And you either want to see absolutely all of the comments in every language or in only one language.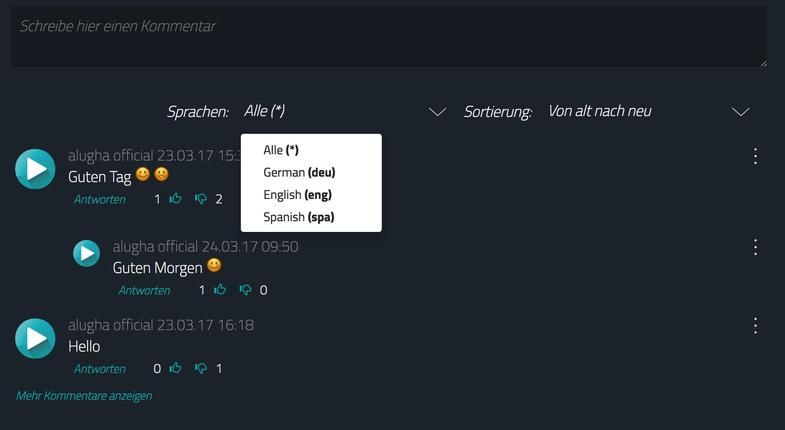 Comments are nothing without ratings. You either like a comment or you don't, and you also want to express this. And so we already have the next function we have to implement.
Not every comment is fair, and on the internet emotions are easier to let loose. An insult is often quickly made and so it's only logical that it has to be possible to report comments. The same applies to spam. 
And what if you have many comments? Then you should also be able to filter them. From old to new, from lots of likes to less likes to none and so on. 
At alugha, it's not ONLY about multilingual videos, we also have our self-coded multilingual news/blog section for bloggers and video producers, who also cover subjects and use multilingual videos for that. And what is the logical consequence? Of course, you should also be able to leave comments there. 
The nitty-gritty
That's it regarding what the user sees on augha. But in the end, the comments also have to be managed. We have bloggers and video producers that want to have an overview of the comments in their articles/videos and manage them. Here, we specifically developed a section in the backend to manage comments. To keep it neat, you can also use the language filter here, and for every comment a separate entry is created with a link to the video or blog article. 
Also, the option to leave comments may seem "trivial" at first, but is was a great deal of work to code it. This is why we are especially proud to finally have taken the next step.
Team 
A very special thanks go to Sabrina for proving once more to be an enrichment to this project. Of course, we also want to thank Ithamar, who implemented the function into the system again and again, and coded the API. We want to thank Felipe, who transferred the mazy thoughts of our CEO Bernd into genius Wireframes and, of course, thank Naveen, who laid the foundation for the commentary function during his time at alugha. 
So last but not least … If you're thinking: Well, now they have comments… you couldn't be more wrong :) The commentary function was just the beginning of a "communication headquarter" between producers, tutors and viewers! 
Stay tuned!
#alugha
#doitmultilingual
#revolution
More articles by this producer
Our new computer linguist is not only skillful with words.
Here at alugha, we love technology and leveraging it in creative ways for our users to provide unique features and a stellar experience.
Our Bavarian soldier presents alugha to the world. Usually with a lot of heart and well organized.
Videos by this producer
The roughly 3-minute film provides an initial impression of the MAHLE plant and also presents the principles and values that govern the way the team works together on a daily basis. And, of course, it highlights the innovative technologies that find application in the MAHLE thermal management produc