Alexandra Moisescu - Head of Key Account Management
The alugha team is growing. Our Key Account Manager travels around for alugha and sets off rockets!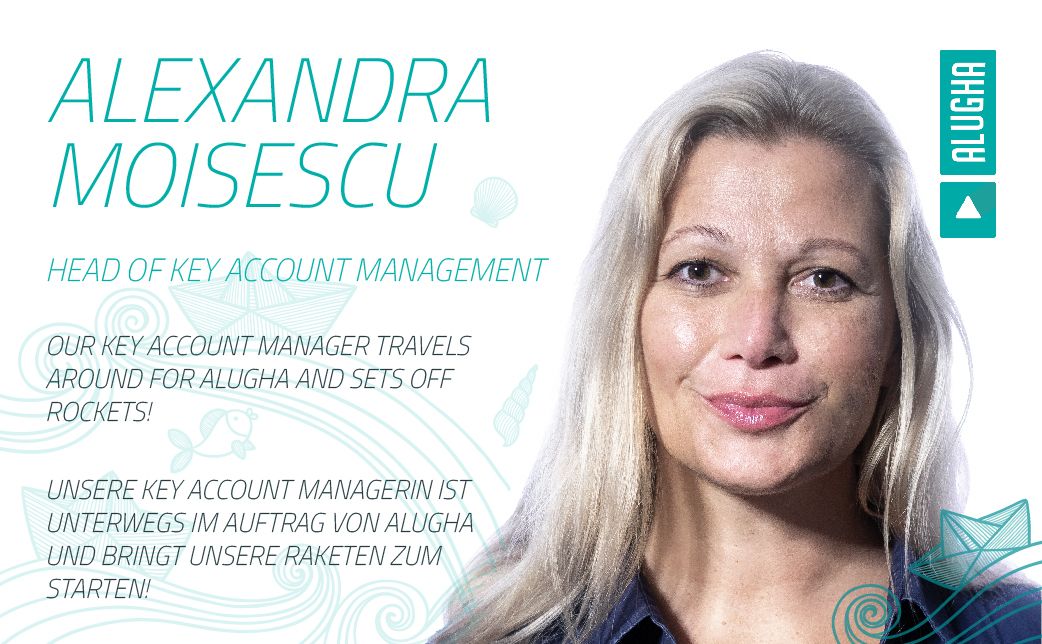 Read this article in: Deutsch, English
Estimated reading time:
1
minute

Briefly introduce yourself: Who are you and what do you do?
49-year-old global earth-dweller who has lived in many places, worked - or rather lived - in the advertising industry for a long time and now works as a freelancer in communications. At the same time I work as a coach and I have my own practice for crisis support. 
Which three words describe you best?
Visionary - Doer - Brave.
How are you different now than you were ten years ago? 
Nowadays, I like to sleep over a decision and think before I act. I used to storm off right away.
What is your favourite thing to do in your freetime?
Travelling - Reading - Coaching - Sports - Learning.
What are your tasks at alugha?
Convince national and international clients to use alugha and make it big. 
What guided you to alugha?
Bernd Korz on Linkedin.
Why do you like being part of the alugha team?
I like the medium, the idea, the worldwide applicability and the spirit at alugha. 
Where do you see yourself and the company in the future?
Hm... I'd love to see myself in a red house in Sweden and alugha on the top of its potential - worldwide!
What is your own big dream?
To have a house on the coast and write books all day long and live with nature around me, Sweden, South Africa, or maybe South Tyrol Lächeln :)
#alugha
#team
#alughacrew
More articles by this producer
Our new computer linguist is not only skillful with words.
Here at alugha, we love technology and leveraging it in creative ways for our users to provide unique features and a stellar experience.
Our Bavarian soldier presents alugha to the world. Usually with a lot of heart and well organized.
Videos by this producer
The roughly 3-minute film provides an initial impression of the MAHLE plant and also presents the principles and values that govern the way the team works together on a daily basis. And, of course, it highlights the innovative technologies that find application in the MAHLE thermal management produc