Startup school in Silicon Valley: "They even have "Kölsch" in San Francisco"
The Blackbox program prepares startups for the big stage in tightly scheduled workshops. Alugha's CEO, Bernd Korz, participated and shares his experiences with us. The first part covers his impressions of the west coast metropolis and overcoming his pitching trauma.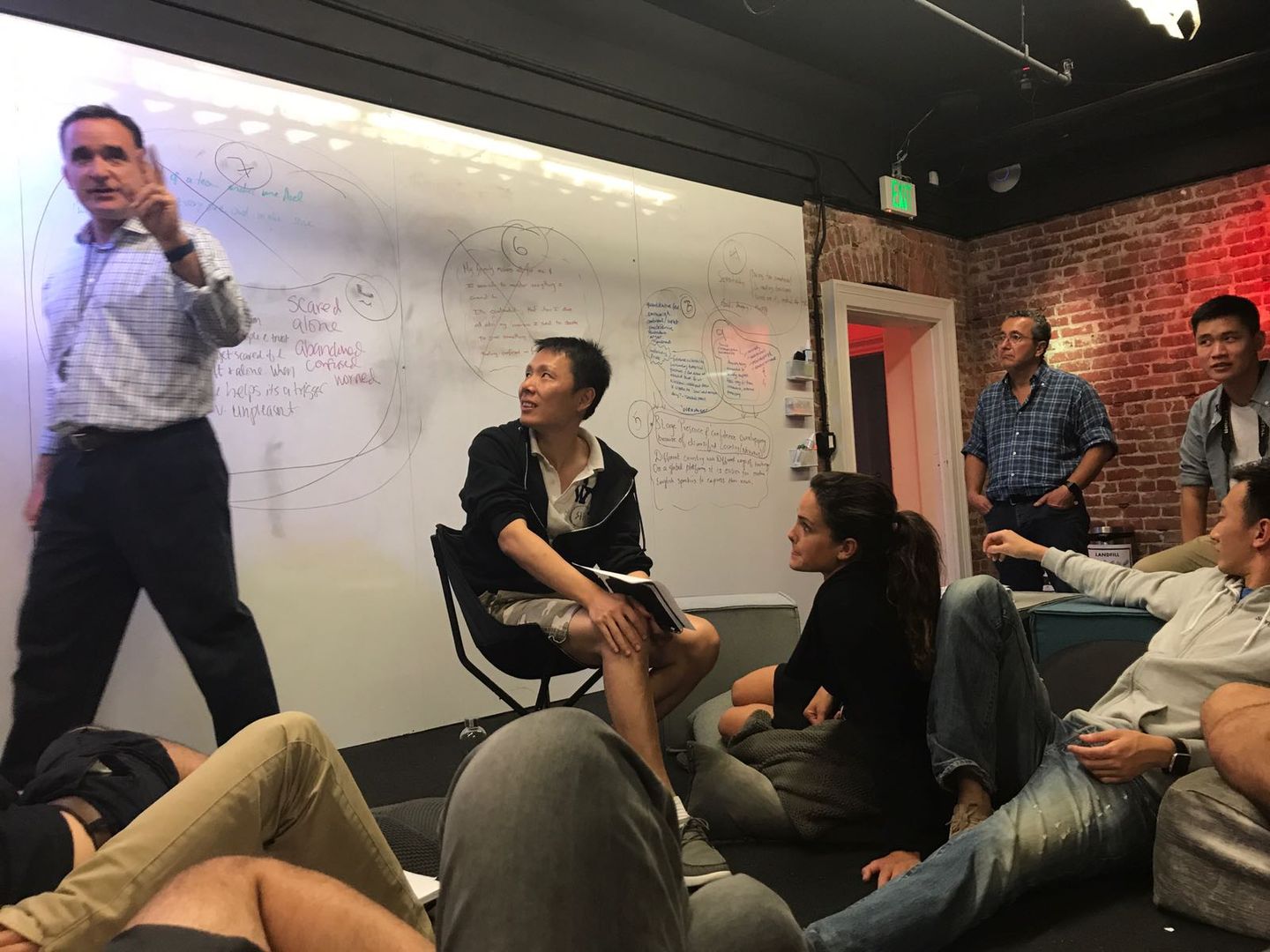 Read this article in: Deutsch, English, Español, हिन्दी
Estimated reading time:
8
minutes
The non-profit organisation Blackbox, which has 56 partners including "Google for Entrepreneurs", offers several programs for founders outside the US to boost their chances in the global market. The hand-picked participants of the Blackbox Connect program come together with experienced entrepreneurs from Silicon Valley, but also with venture capital investors and professional mentors. The workshop's aim is to develop the founders' personalities to prepare them for their executive tasks in a global company. 
Access is limited: basically, only founders who are proficient in English and have a product launched in the market can apply to one of the programs. After picking the best applications, the initiators of Blackbox try to get an idea of every entrepreneur who made it to the second round and their startup. If it looks promising, Blackbox founder, Fadi Bishara, personally interviews the candidate via Skype. He not only asks detailed questions about the founder's idea and the company but also answers questions about the Blackbox program. A following internal discussion at Blackbox finalizes the list of participants. 
So far, only eight German entrepreneurs have made it into the program. This time, it was Bernd Korz, CEO of Alugha. The company based in Mannheim develops and runs a platform on which you can publish videos in several languages. For Berlin Valley, Bernd wrote down the experiences he had at the 19th program. 
Hello, San Francisco! 
It started on August 13: from Worms to Frankfurt on the Main and from there a flight to San Francisco. Flight duration: 11 hours. Thanks to ESTA-Visa and several prior visits, everything went faster than expected and I was out of the airport within an hour of arrival. Despite mist, light rain and rough wind: San Francisco keeps its charm. Next destination: the Factory.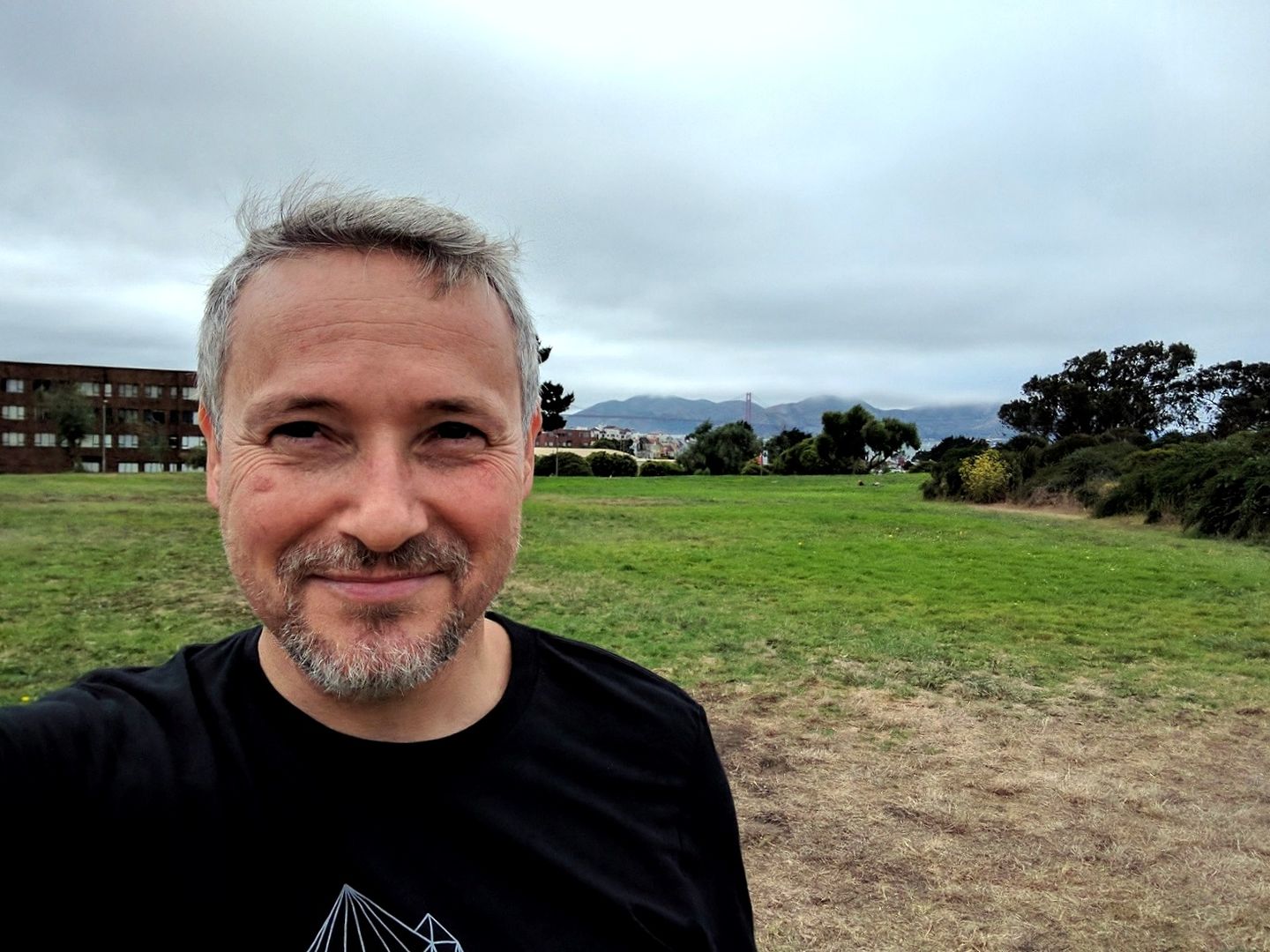 The Factory is an old building with an inspiring vibe - designed for the kind of event the participants are about to experience in the next days. Large rooms with many areas to sit and meet, high ceilings, visible stonewalls everywhere and excellent lighting elements. The location is a dream, directly beside a beautiful park with unbelievable trees and definitely worth a walk. 
After the arrival: first, taking some pictures, meeting the first fellow participants and then getting something to eat. Vegetarian food in America is not so easy to find, but it's getting better. My recommendation: the Horsefeather. They even have "Kölsch" and "Radler" (German beer specialities). I had a ginger beer and pasta - simply great, although the price was a bit high. 
Back at the Factory, several other participants had arrived and we had the chance for some - exciting - small talk. My impression: a very diverse group and promising 14 fascinating days lie ahead. At 11 p.m. San Francisco local time, I could finally go to bed and sleep a couple of hours.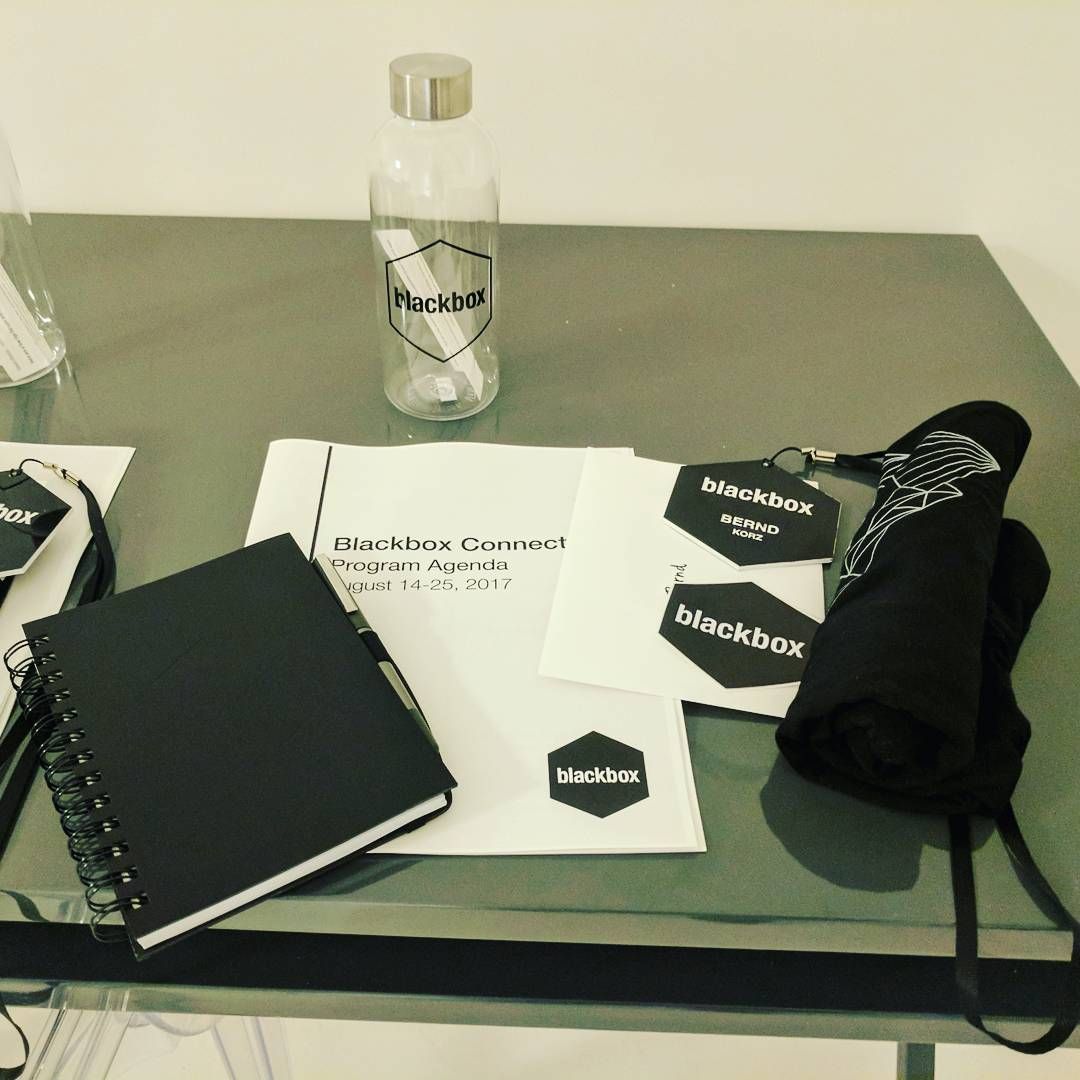 Arrive, understand, belong
Feeling the jetlag a little, we had one hour after breakfast to deal with our business, in short: checking e-mails. After all, Germany is awake for 9 hours already and a lot could have happened. At 10 a.m. we start at last. 
The room is very cool: chairs, armchairs, cushions, high chairs - one for everyone, comfort is important. Arrive, understand the program and get to know your fellow participants - this is today's focus. The next days should go as efficiently and smoothly as possible.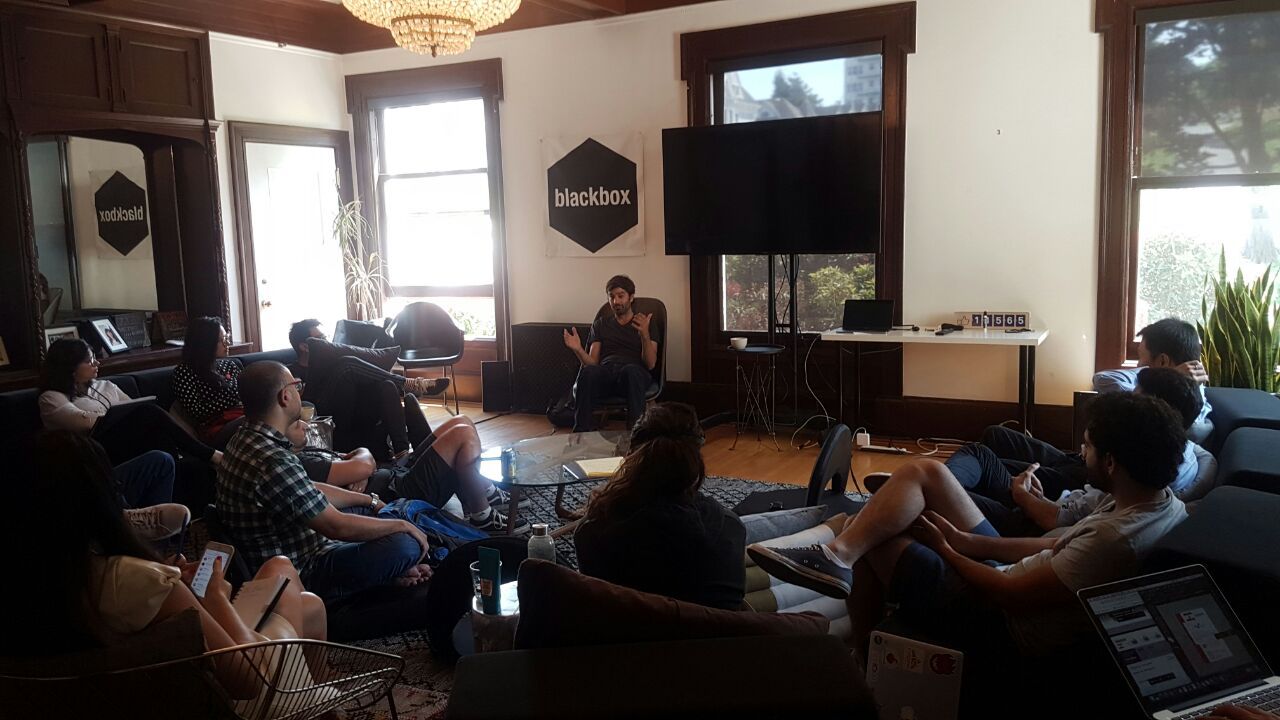 We learn trivia about the Factory: built on a rock in 1906, it is one of the few buildings that survived large earthquakes almost without any damage. In the beginning, especially refugees and migrants lived here before the building got transformed into a bed and breakfast. Now, it's writing a new chapter as the perfect hub for startups. 
"Coming here was definitely the right decision."
After lunch, our hosts explained once again what to expect from the Blackbox program. By all means, coming here was definitely the right decision. And I should not regret it. 
Then everybody introduced their company. During the pitches, it got very clear on which criteria the participants had been chosen. It's about scalability, about the possibility to make each idea big over the internet. And about people or founders who have the courage to take the next step. 
Later we had a Q&A session with two startups that had already participated in the program and found investors in the US afterwards. So the end of the day brought some new food for thoughts, be it VCs, strategic partners, costs or developers. 
Although I was already extremely tired at 9 p.m., I tried to stay awake for another hour to fight the jetlag. The next day was going to be busy.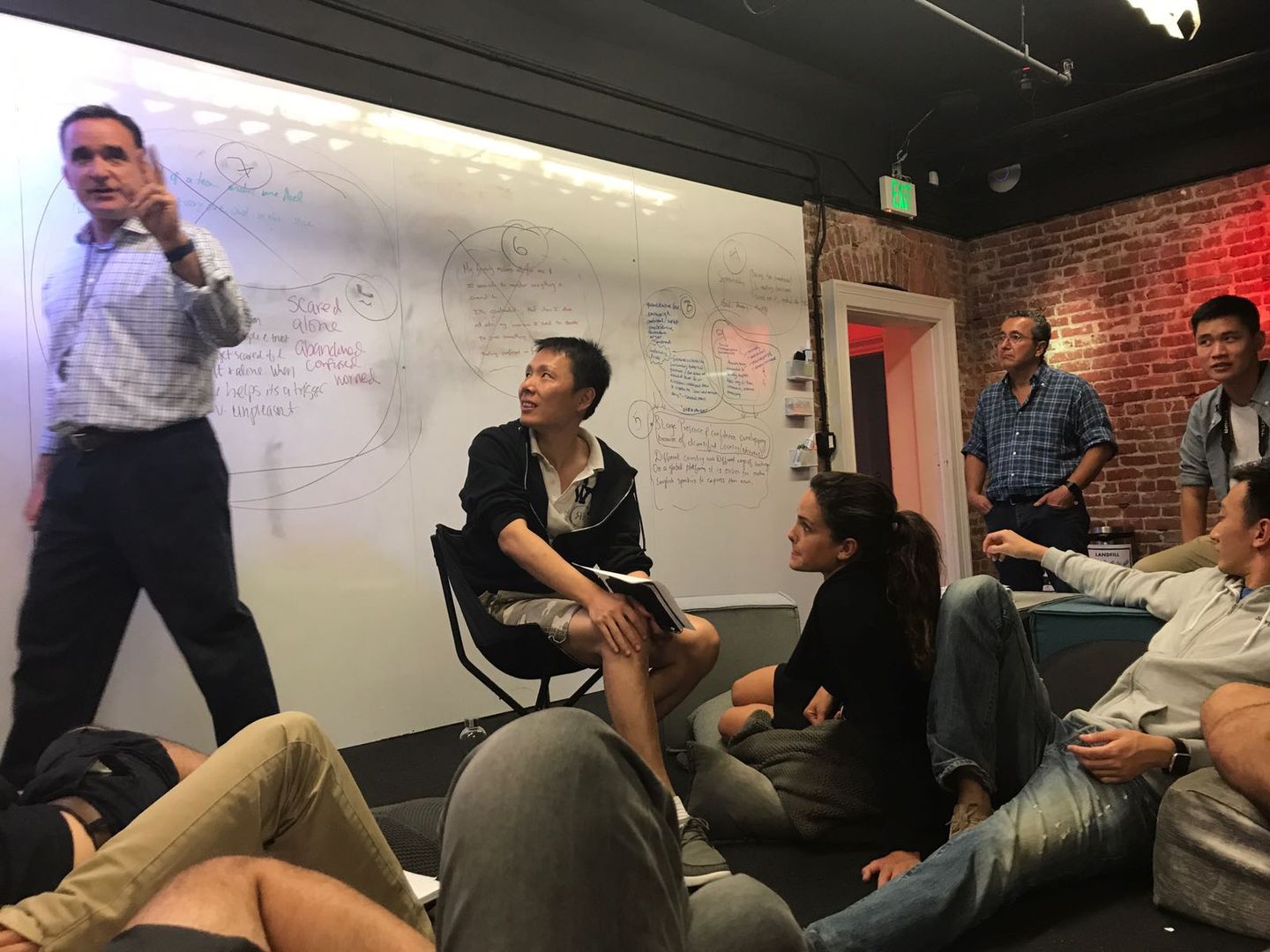 The workshops
Gené Tears didn't leave room for doubts in her workshop: Silicon Valley still is the center of the international tech and investor scene. And Crunchbase is the top tool to search for investors and trends. Tears is Head of Content at Crunchbase and explains how the platform works and how you can find interesting projects also outside the US. 
Some interesting facts:
Founders hold around 100 meetings with investors

They receive on average 1.3 million dollars for a seed invest

Series-A investments are between 6 to 11 million dollars

Later Stage: on average 20 to 30 million dollars
"It's doable to describe a project impressively with only seven words."
We also talked about gender issues still prevailing in the tech industry. Only 16 % of all founders or co-founders are female - and the trend stagnates. Especially in the Valley, you notice this strongly - even in Arab countries, there are more female developers.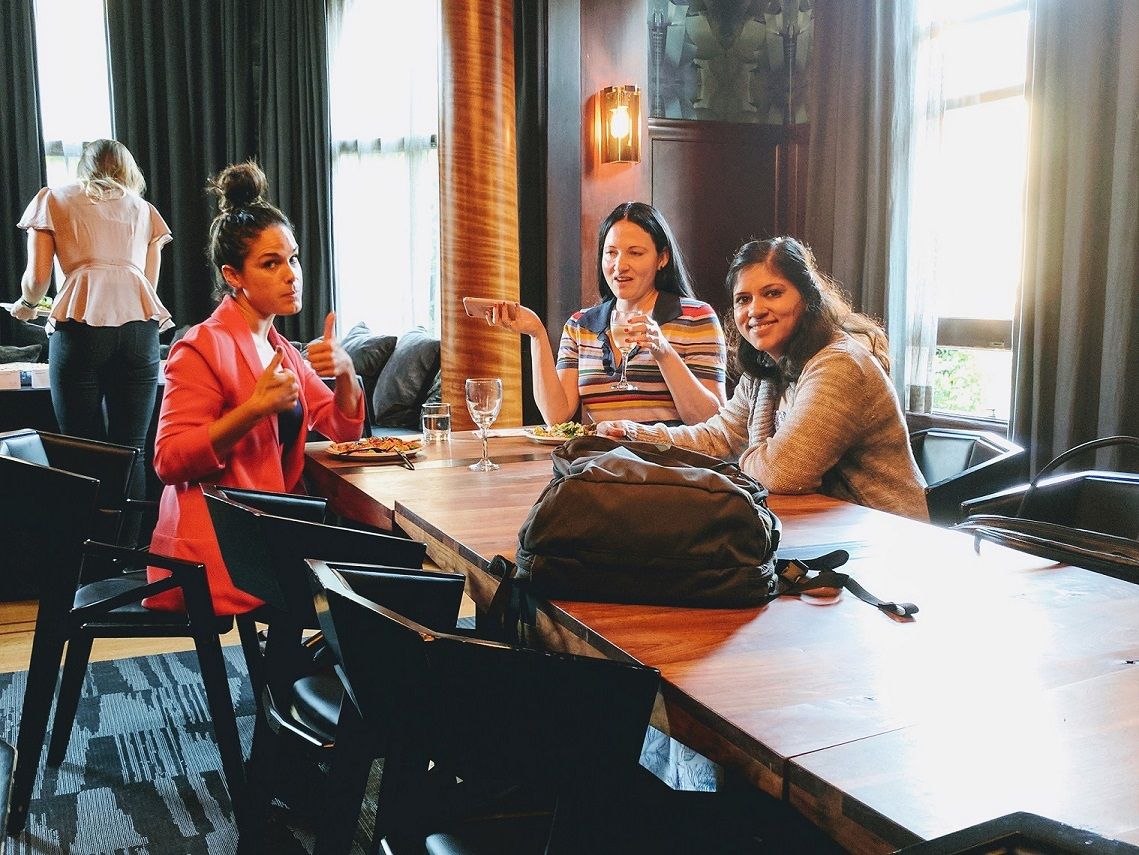 After the Q&A with Gené, it was crunch time. Our drill-instructor for the next five hours was Bill Joos from Goto Market Consulting. Bill worked at Apple and IBM as Vice President and worked for a long time with Guy Kawasaki. Regardless of what I learned about pitching in the last two years: if you want to do it right, learn from the best - and it's the same in the Valley. We went through the pitching problems almost all startups have in the beginning. We learned that it is doable to describe a project impressively with only seven words.
"During a table talk with an investor you should be able to write down on a napkin what it is all about"
We not only practiced an elevator pitch that takes less than a minute, but also a fictional so-called napkin pitch. During a short table talk with an investor you should be able to write down on a napkin what your project is about and what problems and profits are realistic. 
Build dots, arouse interest, offer a follow-up conversation: within a few days, I noticed what I had done wrong in my pitches for years. I talked too much and sometimes about something irrelevant. I didn't take enough breaks to let the words sink in. I didn't ask if I could send more information. Soon it occurres to you why the big investments are made in the Valley and not in Berlin.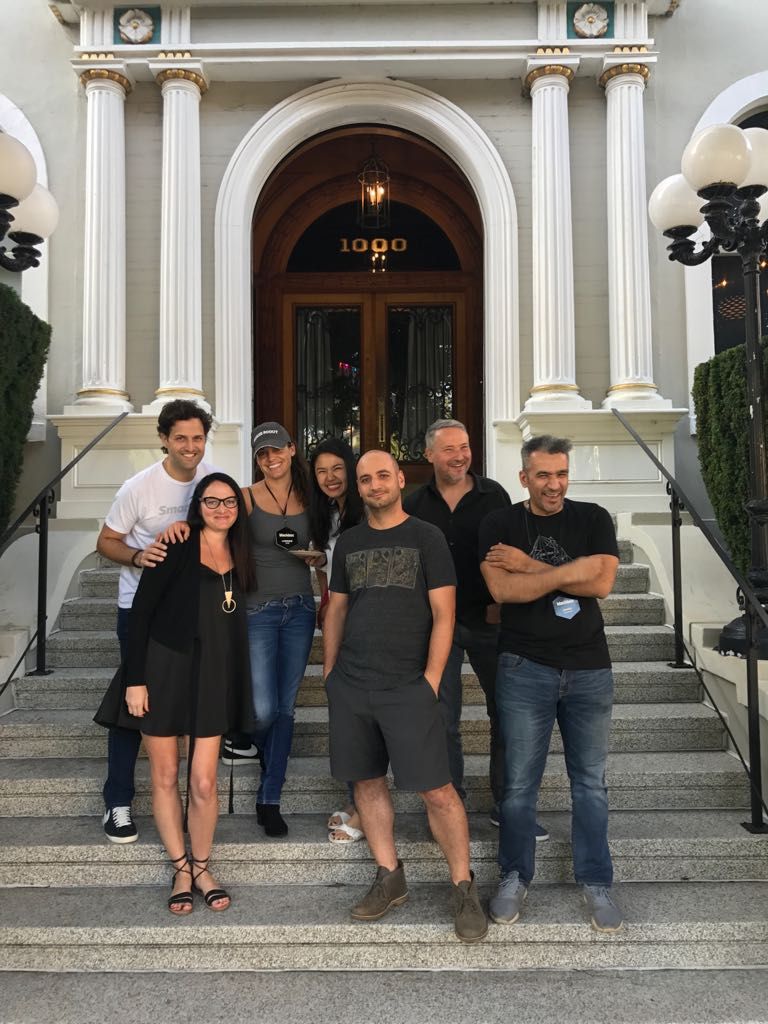 My elevator pitch
Let your videos become a global message 
Did you know that we speak over 7700 languages and dialects? To reach billions of people you have to produce videos in multiple languages which is extremely expensive and time consuming.
With Alugha we connect potentially 1.6 billion bilingual people with over 100 million video producers and make it very easy for both to manage, translate and dub videos. The time of a translation can be as rapid as never before – even the controlling of it due the crowd. And beside this, we create an unbelievable amount of income for people who never had a chance to make money.
Would you like to know more?
Putting pitches to the test
On Wednesday, we put pitches to the test: we had to use what we had learned about pitching in front of the other participants, namely in a trial pitch with our "stage hog" Bill. I was hoping to do an elevator pitch, but instead I had to do a napkin pitch. I was standing beside a flipchart, Bill was on the other side and I had to sell him the idea behind alugha. 150 seconds with many words, gestures and emotions. During the whole pitch, I was completely nervous and thought that what I was doing was a complete disaster.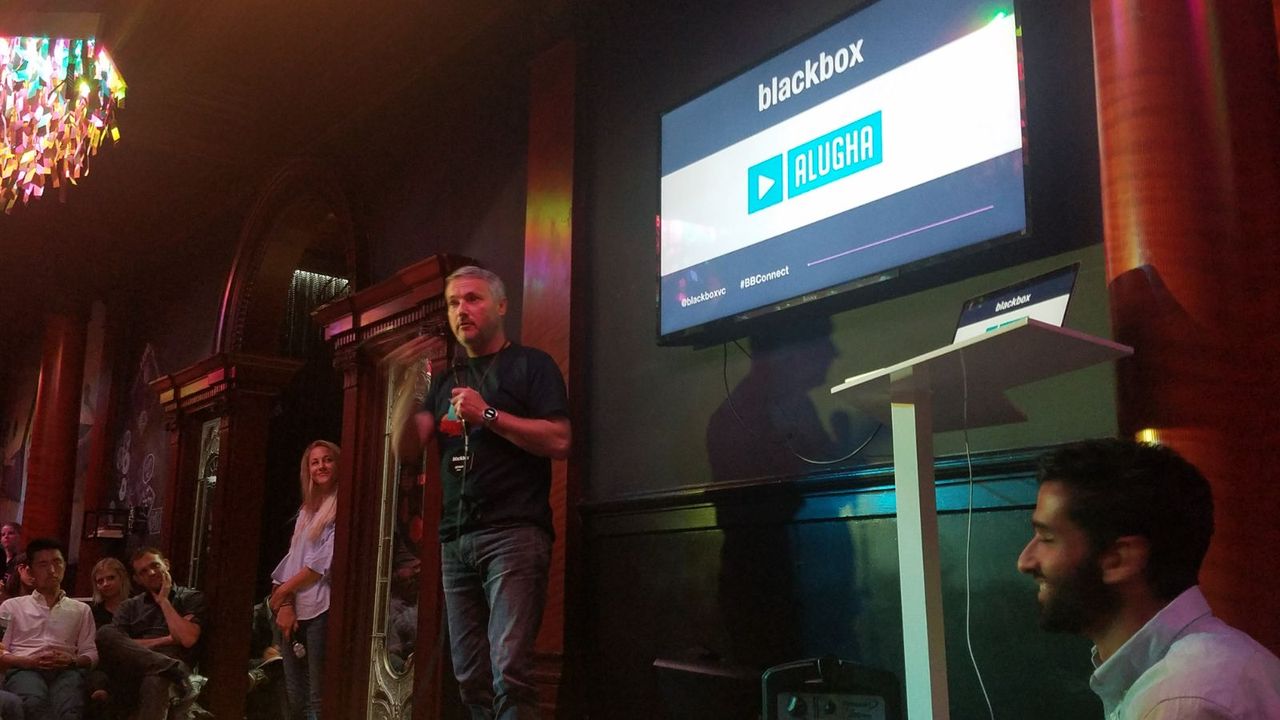 But to my surprise there was applause and praise after I had finished. Bill said: "You know what you are talking about, you have a lot of background knowledge and put almost everything perfectly in a nutshell". I'm just asking myself if we are talking about the same pitch - and I'm very happy to answer the questions of the other participants. The pitch, my eternal trauma: I believe I've finally overcome it. Two years, I was searching for the perfect pitch and here in San Francisco I found it at last. 
The day was completed by a speech of star blogger Robert Scoble giving us an impressive outlook into the world of tomorrow titled: "Building Blocks of Innovation Ecosystem". We had to introduce our startups briefly. It was very impressive how Robert's grasp and understanding of technology was reflected in his questions. He instantly understood what it is about and what the opportunities and risks of our young companies are. The visit of Allen Taylor from Endeavor wasn't any less exciting. The VC employee gave us stunning insights into investments, sponsoring and many links within the industry in the evening. After this agenda item we ended the evening eating dinner together. 
Read the second part in which Bernd Korz tells us about his most important insights from speeches of well-known Valley entrepreneurs. 
#alugha