Katrin Schawohl puts ideas into practice
At alugha, I have exciting projects and funny lunch breaks every day.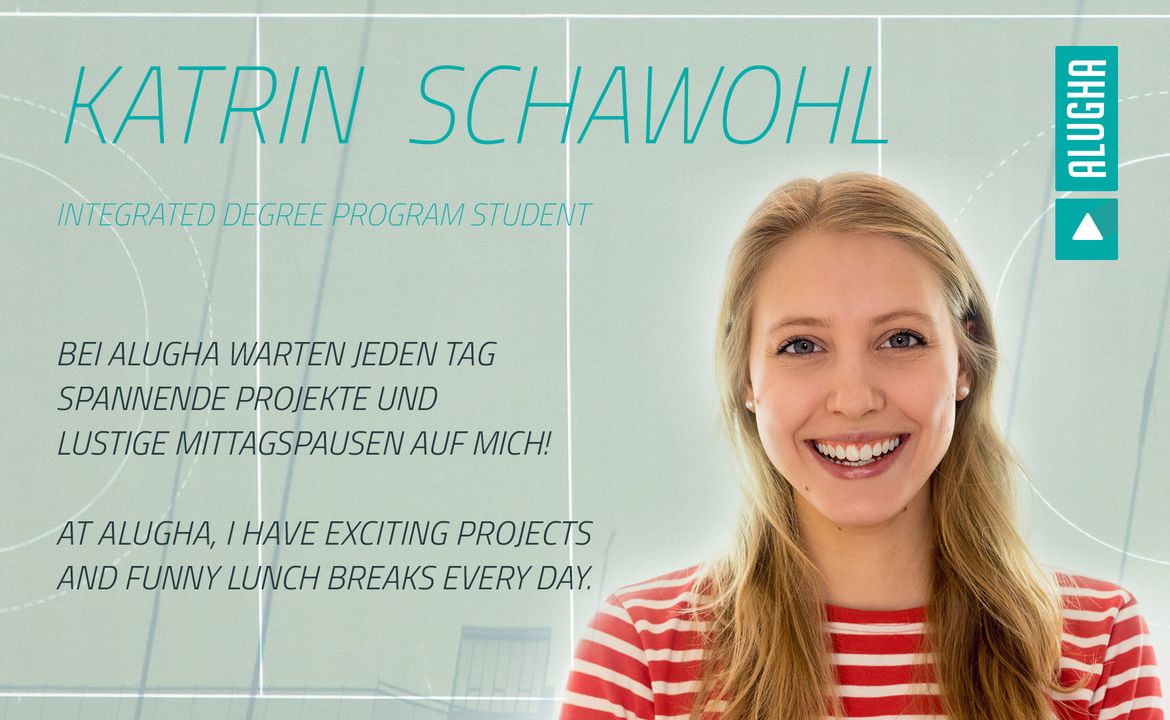 Read this article in: Deutsch, English
Estimated reading time:
2
minutes

Briefly introduce yourself: Who are you and what do you do?
Hi! I'm Katrin, 21 years young and I am an integrated degree program student at alugha.
Which three words describe you best?
structured, team player, never sitting still
What is your favourite thing to do in your freetime? 
My favorite thing is playing field hockey. I'm happy when I'm doing sports in a team and with my friends. If I'm not on the hockey field, I like going out with my friends - to the city, grab some food or go to the movies; but I also equally like to stay at home with my family. 
What are your tasks at alugha?
There are many creative people at alugha resulting in endless good ideas. The implementation of those ideas has to be planned - I believe as a business student my tasks will mainly be project planning and implementation. But since the focus of my studies is media and communication, I'm looking forward to learning about all the creative stuff at alugha. 
What guided you to alugha? 
Because of my studies, the center of my life has shifted to Heilbronn in 2015. But since I'm playing hockey in Mannheim and I really like this city, I returned to Mannheim after 2 years of studying. Alugha and the Mannheim Hockeyclub are working closely together so I got the opportunity to finish my studies at alugha. 
Why do you like being an alughian? 
Every day is different at alugha. You are constantly busy and every day new exciting projects and funny lunch breaks are waiting for me. The aluga team is open and warm-hearted, you can always ask questions. I'm happy to be part of this creative and determined bunch of people. 
Where do you see yourself and the company in the future? 
Alugha is at the beginning of a considerable success story and I'm not only proud to be part of it, but also to looking forward to creating and writing some chapters or passages in this story myself. 
What is your own big dream? 
Sitting with a wrinkled face at the North Sea in my own beach chair and realizing that I never lost my curiosity and that not one day passed without me learning something. 
#alugha
#doitmultilingual
#alughacrew

Hey! Super, dass du dabei bist! Ich freue mich schon auf unsere Zahlensessions wenn wir die Zeit- und Kostenpläne zerpfücken :)
More articles by this producer