Let's talk - Matthias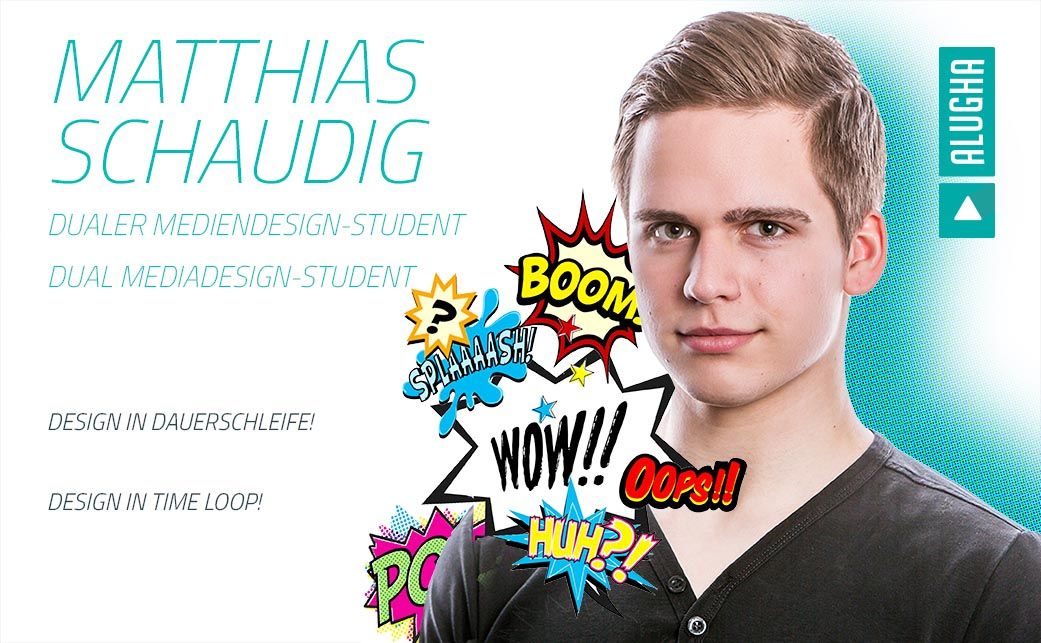 Read this article in: Català, Deutsch, English, Español, Français
Estimated reading time:
1
minute

Présente-toi brièvement: Qui es-tu et qu'est-ce que tu fais?
Hey, je suis Mat, j'ai 21 ans et je suis étudiant chez alugha. Je fais un double cursus de design graphique.
Quelles sont les trois mots-clés qui te décrivent le mieux?
Intrinsèquement motivé, déterminé, distrait.
Quels sont tes loisirs?
J'essaie de créer du contenu créatif ou de m'améliorer à tout moment. En plus, je prends du temps chaque jour pour le karaté, ma forme physique et ma santé. En outre, je lis beaucoup de blogs et je produis des vidéos pour ma chaîne YouTube.
C'est quoi, ce que t'as apporté à alugha?
C'était Nico: il savait que l'entreprise cherchait quelqu'un pour la production de vidéos en ligne et il pensait que j'étais la bonne personne pour cette tâche.
Quelles sont tes tâches et quelle impression as-tu du travail chez alugha?
Au début, je travaillais "seulement" dans le secteur "production de vidéos en ligne" pour notre chaîne hoTodi mais maintenant je participe aux plusieurs différents projets, par exemple comme opérateur de caméra ou dans les secteurs son, animation et design graphique. Avant tout, l'équipe d'alugha est vraiment cool! Je peux apprendre pour mon travail par les nombreux différents domaines de l'entreprise. En tant qu'étudiant j'en profite beaucoup.
Qu'est-ce qui te plaît tout particulièrement dans ton travail?
C'est un travail varié et diversifié et offre beaucoup de défis créatifs.
Où te vois-tu et l'entreprise à l'avenir?
Aux États-Unis!
As-tu un grand rêve?
J'aimerais bien produire un film à petit budget avec moi devant et derrière la caméra.
More articles by this producer
Our new computer linguist is not only skillful with words.
Here at alugha, we love technology and leveraging it in creative ways for our users to provide unique features and a stellar experience.
Our Bavarian soldier presents alugha to the world. Usually with a lot of heart and well organized.
Videos by this producer
The roughly 3-minute film provides an initial impression of the MAHLE plant and also presents the principles and values that govern the way the team works together on a daily basis. And, of course, it highlights the innovative technologies that find application in the MAHLE thermal management produc