Big update of our website and download section
Over the last weeks we have been working with high pressure on our biggest update for our and reworked a lot of things. Most important to us was the download section. Here you can find all existing extensions, plug-ins, add-ons and Apps for iOS, Android and other platforms.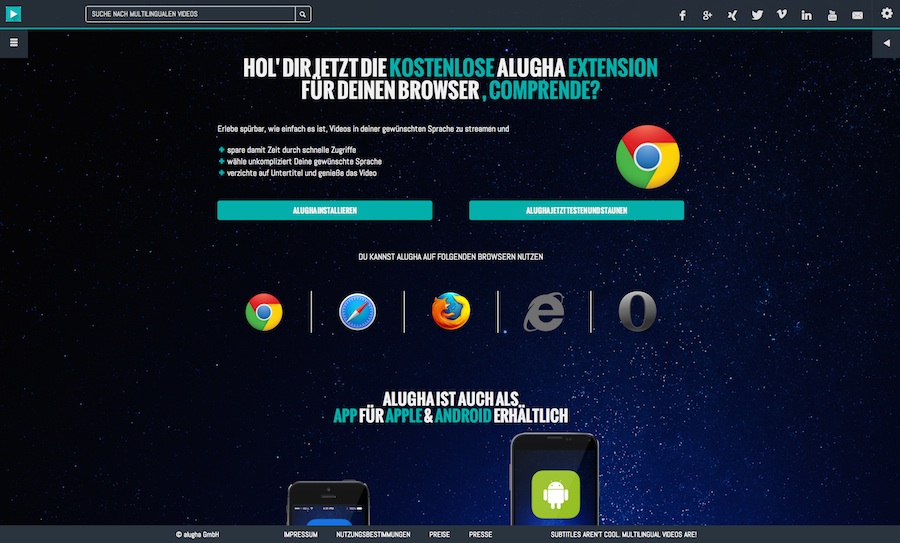 Read this article in: Deutsch, English
Estimated reading time:
0
minutes

A picture is worth a thousand words! So simply go to downloadsite and install alugha! Besides the download section we also built an improved demo site for you where you can simply look at alugha (and show it to people who you like to share your enthusiasm with) and even try it out. It will be exciting this week, there is a lot we have to announce, so stay tuned! You can also just subscribe to our newsletter to not miss anything.
More articles by this producer
Our new computer linguist is not only skillful with words.
Here at alugha, we love technology and leveraging it in creative ways for our users to provide unique features and a stellar experience.
Our Bavarian soldier presents alugha to the world. Usually with a lot of heart and well organized.
Videos by this producer
The roughly 3-minute film provides an initial impression of the MAHLE plant and also presents the principles and values that govern the way the team works together on a daily basis. And, of course, it highlights the innovative technologies that find application in the MAHLE thermal management produc