alugha chrome's into the wide world

24 Months - 2 Years - This is exactly when the idea of alugha was born. If you look at alugha as if it is a small village you can say that we constantly worked on the planning, while we started building the foundations, measured land, build houses and gardens. The drainage, the streets, the shops.... The idea, the zoning and the city plan were converted into the village. Most of what's needed has been finished. So we could already publish our Standalone-Player for you some time ago. Publishing videos, which have been improved with alugha, can already be shown to the audience on websites.

Read this article in: Deutsch, English, Español, Français, Italiano, Magyar, Português, Русский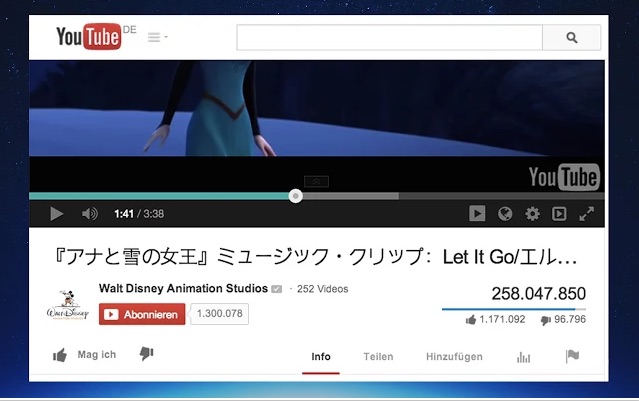 We want more! Not only videos should be multilingual, no.......there is much more! Today we can offer you the first extension (download here) for the Google Chrome Browser free of charge. It doesn't take 30 seconds to extend your Chrome Browser and YouTube with this genius feature. If you install the extension you can directly watch the videos on YouTube multilingual. And not only that! Even the title and the description will be shown in the language you choose. For you as a viewer a real added value, you don't need a long time to look for videos in YOUR language anymore.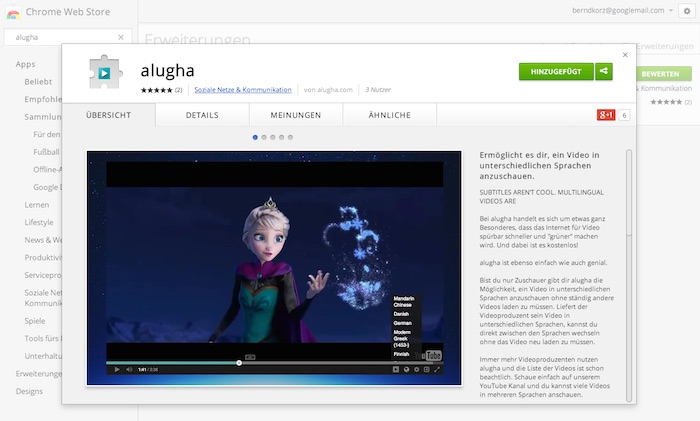 There are already more than 300 videos, published multilingual via alugha available on the respective YouTube channels. (here a list of videos) and there are more to follow. Further producers are coming on a daily basis who use alugha to offer their audience a real add value.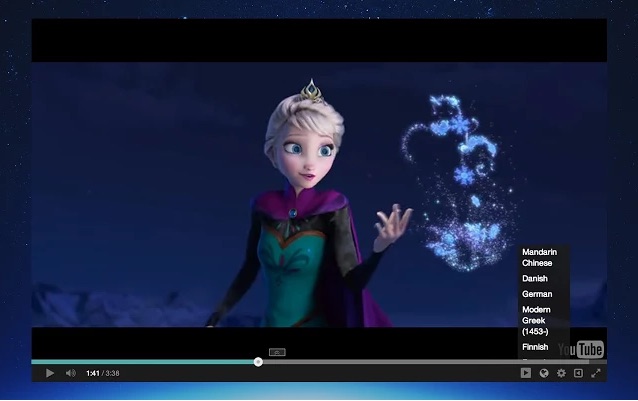 But we also need your help! If you have a channel and you want to extend your viewer and subscriber figures, then register with alugha, it's still free of charge and the basic account will always be. Tell it to your audience, show them that you, thanks to alugha, offer a video in various languages. Extend your videos in your language with a foreign one audio track and embed it in your blog or animate your viewers to install the Google Chrome Browser extension free of charge. You will have a real added value! We need you - especially - you as a viewer! Share it, tell your friends, acquaintances, relatives.... everyone can install alugha for free. Tell the YouTuber's whose videos you are watching that they should offer their videos also in other languages. Go to channels, tell them they should offer your most favorite video in your language (you can even help him and deliver the audio track in other languages, like you did with various exciting videos already yourself!)
Google Chrome Browser is not used by everyone, of course, but no worries! Shortly we will publish the extension for Apple's Safari Browser (Apple Developer Account is already there and the extension is under final testing). Even the Mozilla Firefox is nearly ready. The AddOn has been programmed and there is only one bug to fix, which relates to Flash active/inactive. As soon as this is rectified the AddOn will be ready for the Mozilla Foundation check and approval! Last but not least ...... of course we are also working on Microsoft Internet explorer, but there is more work to do and we will be able to deliver it to you in the near future! We also invested a lot of Work for the mobile Apps, those will be published soon as well :) So stay tuned! Again a BIG request to you! Please share with everyone, that they should install the Google Chrome extension. It does not eat any of your food or resources. If you have done that, please evaluate, like and share! THISISIMPORTANT! We promise in return that we will continue working on everything with high-pressure and that you will get even more surprises from us!