Facebook as video platform - where are we heading to?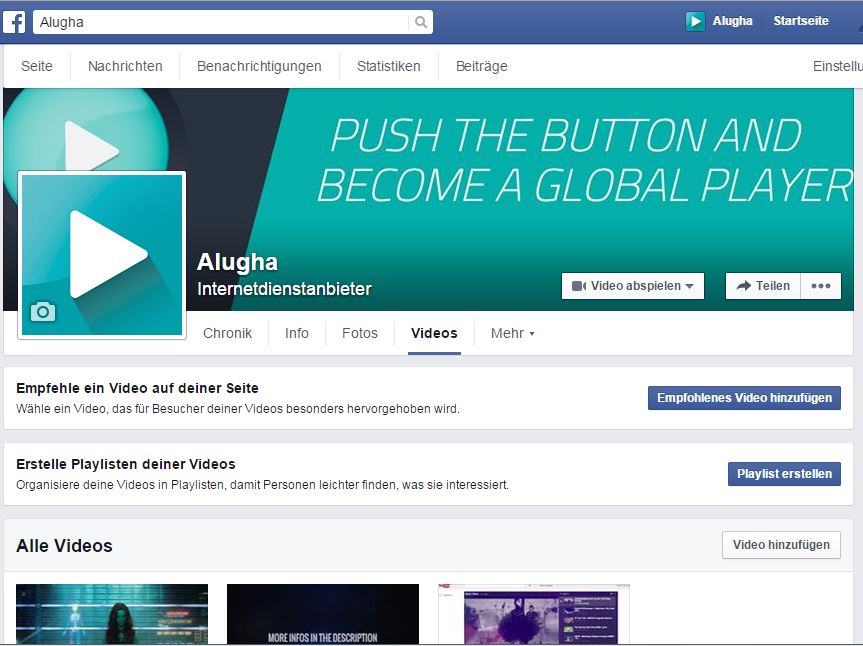 Read this article in: Deutsch, English
Estimated reading time:
3
minutes

Even at Facebook gnaw the ravages of time. The social network could lose user in the future. Portals like Instagram or Pinterest are already enjoying a high popularity especially by young users. But how to counteract to the loss of users? There is only one thing: detect and track trends. And therefore all signs at Facebook point to video! Published videos should get an even more popular position in the newsfeed in the future. This trend can already be noticed. There are growing allegations that the procedure is not quite fair. Facebook vs. YouTube? The allegations relate to the posting of videos on Facebook. It's the question if Facebook is restraining the speed of embedded YouTube videos in order to motivate the owners of Facebook-pages and also the users to directly upload the videos via the social network. That Facebook is trying to establish itself in the online video market should be clear for everyone who is looking into his newsfeed from now and then. Does the social network want to take up the fight with the video giant and even get him off the own platform? More often page owners complain about that they share their videos, users see the preview of the YouTube videos on Facebook but then those videos cannot be played at all. Might this be a targeted inhibition of the platform, to propagate the uploading of videos directly on Facebook? Clearly: who doesn't provide, doesn't get rewarded. And if YouTube videos cannot be played, they of course lose clicks and therefore also reach. If Facebook is really intervening cannot be clarified. There are also other factors which are playing into the social networks' hands when extending their video platform. Different presentation Especially the presentation of videos in the social network differs. While YouTube videos are shared with a small preview link which you have to click first to see the video, Facebooks own videos have an autoplay function since 2013. With this, videos that are uploaded directly to the social network are played automatically without audio in the newsfeed. Statistically, YouTube users close the video after 10 seconds to 1 minute. That within Facebook they have to click the link first, blocks them quite often. This problem is avoided by the autoplay function of Facebook-videos. The user gets a short insight into the video. If he likes it, he can click it and play it with audio. User data, videos and ads Of course not only Facebook users benefit from this simplified video function. If you monitor the video clicks for Facebook, it's becoming pretty clear that the social network is already directly behind the established video platforms. Last year the company published on its website that about 1 billion videos are being watched every day, in terms of desktop video clicks, the social network already overtook YouTube. The autoplay function seems to be especially odd, if looking at the data protection policy launched 31st January 2015. As already explained in our last blogpost, the personal data is processed and used for advertising purposes. Based on website visits and clicks it's even possible to state more detailed users' likes, what they plan and it's relatively easy to create an advertising customer profile. That's why the platform inserted an autoplay function for advertising videos in the newsfeed. This means de facto, that marketing strategies can be limited at one point to social networks only. We also find advertising on YouTube but only if we specifically click a video. Facebook however doesn't give us the possibility to actively decide by ourselves. As the advertisements are played automatically, it's unavoidable to watch them. And of course it's also customised for us. If this platform really establishes like the other video examples, tremendous advertising income could be created. The content of the videos is not specifically exploited commercially yet, but this might happen soon. For this purpose videos with repsective advertising have to be archived so that they can be found by users. It's conceivable that the social network creates sub-pages for these reasons. As soon as this happens, the big competition starts. Because Facebook then will establish itself as social multiplatform, which is even more looking for commercial customers. The big question might be, if the platform is able to steal those customers and establish itself as market leader.
More articles by this producer
Our new computer linguist is not only skillful with words.
Here at alugha, we love technology and leveraging it in creative ways for our users to provide unique features and a stellar experience.
Our Bavarian soldier presents alugha to the world. Usually with a lot of heart and well organized.
Videos by this producer
The roughly 3-minute film provides an initial impression of the MAHLE plant and also presents the principles and values that govern the way the team works together on a daily basis. And, of course, it highlights the innovative technologies that find application in the MAHLE thermal management produc