A call from space – a radio- and advertising spot produced by our student interns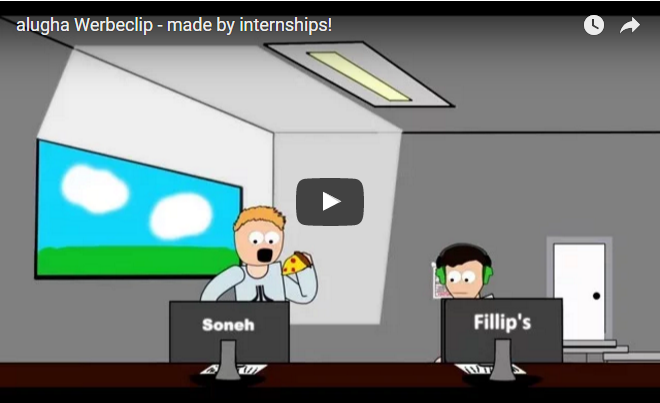 Read this article in: Deutsch, English
Estimated reading time:
2
minutes

Internship at alugha
When should you hear of our brilliant tool? Preferably already in school :-)! One of the reasons we at alugha are always open for interns and working students is that we want to receive feedback from young people early on. And what would be better for that than to try our small and efficient company out, completely unbiased, for a short period of time. We listen, and we work together with our interns on something meaningful to them. It is very important to us that a proper result can be seen at the end of an internship at alugha. The students should not just pass the time but make a meaningful contribution. There is always a sense of achievement when you realize that you have actually done something. It was just like that with our student interns Nikolas and Michael.
Nikolas – production of the radio spot
Last year, Nikolas who is 16 years old was with us for an one week internship. He was in 9th grade at that time. During his internship, he took care of the production of the radio spot for alugha. Together with Steffen and Arthur, he developed a concept and created the final audio track. He had never done something in the direction of advertising before and he certainly didn't expect that the result of his internship would be a finished radio spot. Nikolas had a lot of fun thinking about ideas for the radio spot and actually implementing them. He said he could quite well imagine to do something in this direction in the future, because he likes the combination of creativity and strategic thinking.
Michael – animation of the advertising spot
Michael is 15 years old and in the 9th grade. Last December, he interned with us for two weeks. His task was to create a fitting animation to Nikolas' radio spot, so that it would be a complete advertising spot in the end. Since Michael likes to animate 3D short movies in his spare time, he had all the makings of it. During his time with us, he increasingly came out of his shell and created the animation with attention to detail. The internship confirmed his desire to do something in the direction of media design after school. And here it is, the finished advertising spot produced by our student interns Nikolas and Michael: If you would like to intern with us; or if you are looking for a job as a working student; or if you want to write your bachelor- or master thesis here – we are keen to support you! Just contact us :-)
More articles by this producer
Our new computer linguist is not only skillful with words.
Here at alugha, we love technology and leveraging it in creative ways for our users to provide unique features and a stellar experience.
Our Bavarian soldier presents alugha to the world. Usually with a lot of heart and well organized.
Videos by this producer
The roughly 3-minute film provides an initial impression of the MAHLE plant and also presents the principles and values that govern the way the team works together on a daily basis. And, of course, it highlights the innovative technologies that find application in the MAHLE thermal management produc