Development and greek translation
A fortunate coincidence brought her to alugha! A beautiful sunset lead Margarita to us!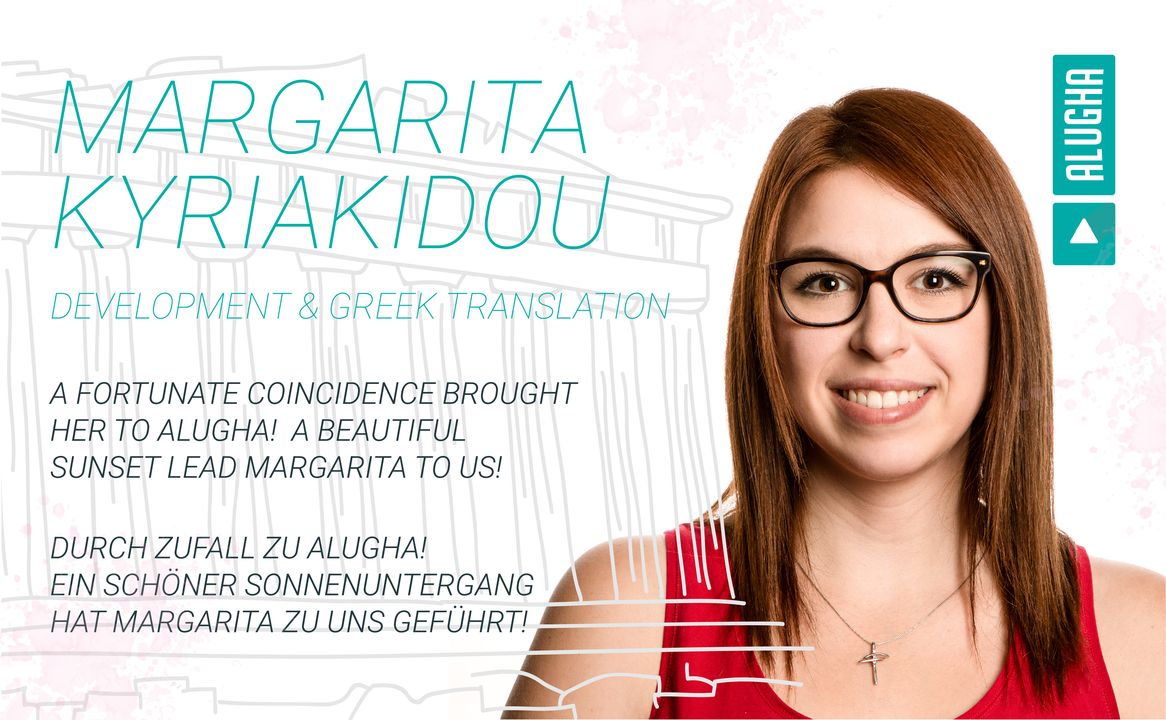 Read this article in: Deutsch, English, Ελληνικά
Estimated reading time:
1
minute

Shortly introduce yourself: Who are you and what are you doing?
"Geia sas" or rather hello? My name is Margarita Kyriakidou, I'm 25 years old and I studied application development. At alugha I applied for the position as web developer and I just started my 4 weeks internship. 
Which three keywords describe you best?
Creative, animal-friendly and teamworker
How are you different now than you were ten years ago?
I've become more open-minded and I can express my thoughts and wishes freely without having a bad conscience. During my education I learned to do my work focused and structured. But one thing stayed the same over the years - once a rabbit-lover, always a rabbit-lover. 
What is your favourite thing to do in your freetime?
I love to take care of my rabbits, I help out in my family's restaurant, I like to go out with friends and I'm part of a club for traditional greek dances - OPPAA!
What are your tasks at alugha?
I'll be working in web development and will be doing greek translations and dubbing. 
What guided you to alugha?
I was looking at a beautiful sunset near the Wasserturm in Mannheim and there I spotted the logo on the roof - simply a coincidence!
Why do you like being an alughian?
The working atmosphere and the open interaction is great! You feel welcome right away. There are numerous tasks to do, so it is very diverse.
Where do you see yourself and the company in the future?
Communication, understanding and globalization are an important part of today's society. Its nice that alugha connects the people on a digital level. I'm looking forward to being part of this company's success story!
What is your own big dream?
Starting happy and satisfied into each day and someday having my own big happy family. 
#alugha
#doitmultilingual
#alughacrew
More articles by this producer
Our new computer linguist is not only skillful with words.
Here at alugha, we love technology and leveraging it in creative ways for our users to provide unique features and a stellar experience.
Our Bavarian soldier presents alugha to the world. Usually with a lot of heart and well organized.
Videos by this producer
The roughly 3-minute film provides an initial impression of the MAHLE plant and also presents the principles and values that govern the way the team works together on a daily basis. And, of course, it highlights the innovative technologies that find application in the MAHLE thermal management produc