Blazej Adamowski - film maker
Hand me a camera and I can't stop. I shoot on behalf of alugha, in a cinematic sense.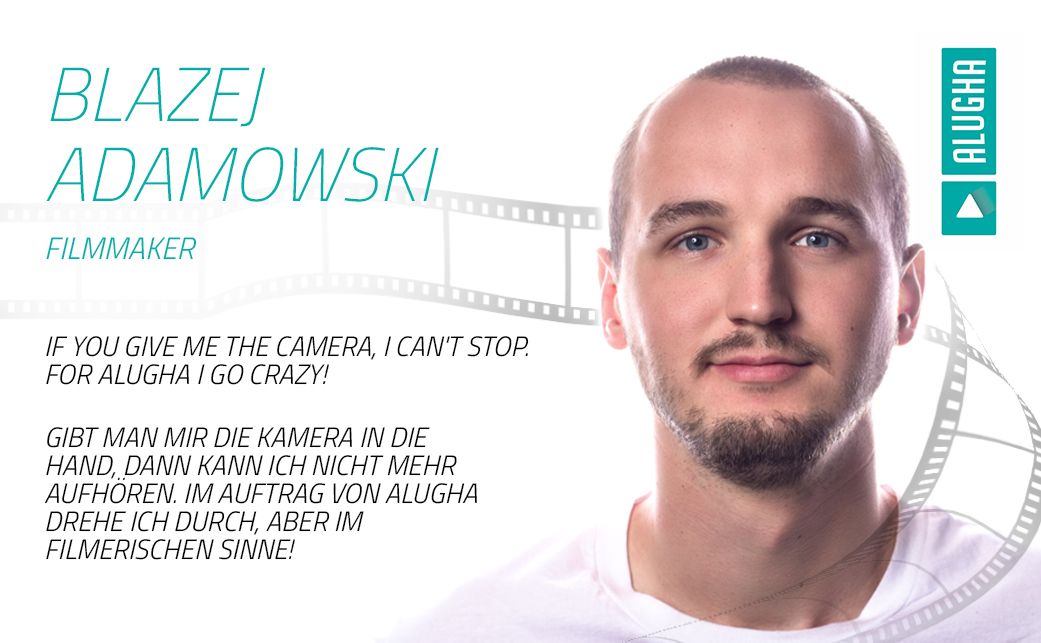 Read this article in: Deutsch, English
Estimated reading time:
1
minute

Briefly introduce yourself: Who are you and what do you do?
My name is Blazej Adamowski, I'm 22 years young and I'm a freelance film producer. Until the end of July, I studied film for 3 years in Stuttgart and now I'm back in Mannheim, my home town!
Which three words describe you best?
Tidy, organized, but sometimes still quite out of it.
How are you different now than you were five years ago?
I know my goals and the path I need to take to make it, no matter what comes along. Every day brings me closer to my goal.
What is your favourite thing to do in your freetime?
I love to watch YouTube tutorials about filmmaking and to point out all the movie errors I can find to my friends during movie night. (I know this is annoying, but I can't stop.)
What are your tasks at alugha?
At alugha I mainly shoot and edit video content. 
What guided you to alugha? 
Knowing the creative director Arthur, I was able to support him in some video projects for alugha during my studies and this cooperation worked very well. So one thing just lead to another....
Why do you like being an alughian? 
Because all departments work together smoothly and complement one another! There are many exciting project in which I take part, and my creativity is challenged. 
Where do you see yourself and the company in the future?
After a successful EuroHockey Nations Championship, during which we accompanied the national field hockey team and filmed a documentary, I see many more sports teams for which we could do the same!
What is your own big dream?
Arthur and myself will be in Hollywood in 9 years time. That's a done deal. :D
Blazej and the team of alugha!
#alugha
#doitmultilingual
#alughacrew