Marketing and Social Media Specialist
I was very lucky to find a company in which I can learn and grow a lot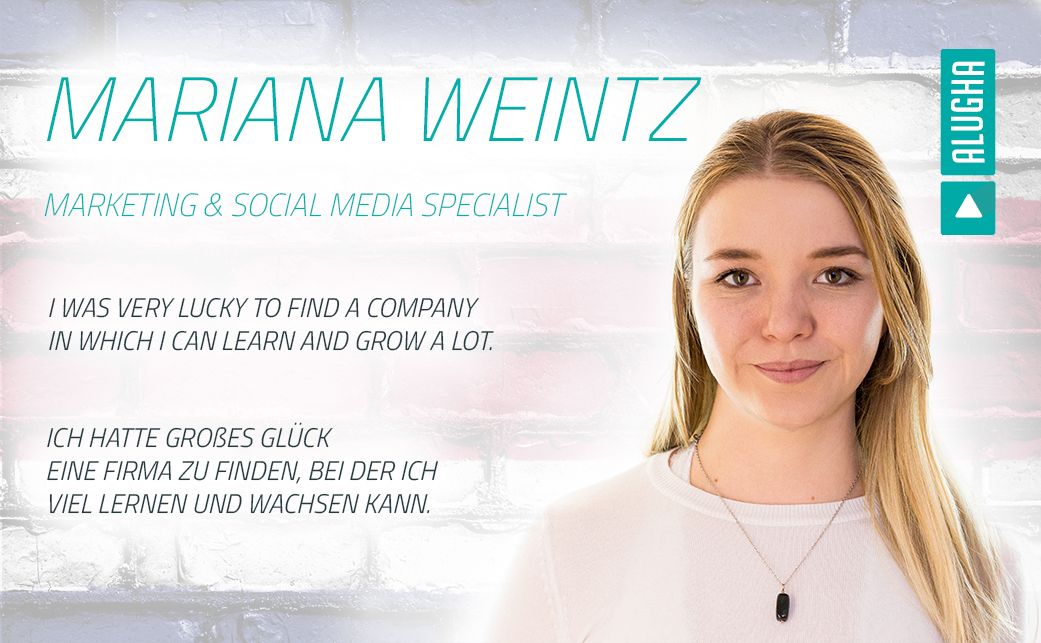 Read this article in: Deutsch, English, Español
Estimated reading time:
1
minute

Briefly introduce yourself: Who are you and what do you do?
My name is Mariana Weintz Aguilar, I'm half German and half Costa Rican. I work in the marketing and social media department at alugha.
Which three words describe you best?
Friendly, optimistic and organized.
How are you different now than you were ten years ago? 
Right now I know myself a little better than 10 years ago. I recognize my strengths and weaknesses.
What is your favourite thing to do in your freetime? 
I like spending time with friends and family. 
What are your tasks at alugha?
I work on things related to design, content management and user experience.
What guided you to alugha?
I was very lucky to find a company in which I can learn and grow a lot
Why do you like being an alughian?
To me alugha is a family. Everyone is very supportive and welcoming.
Where do you see yourself and the company in the future?
I hope alugha and I grow to our full potential without losing our character and core values.
What is your own big dream?
To be happy and successful as a person. I want to look back at my live and be proud of my accomplishments, relationships and experiences.
#alugha
#doitmultilingual 
#alughacrew
More articles by this producer
Our new computer linguist is not only skillful with words.
Here at alugha, we love technology and leveraging it in creative ways for our users to provide unique features and a stellar experience.
Our Bavarian soldier presents alugha to the world. Usually with a lot of heart and well organized.
Videos by this producer
The roughly 3-minute film provides an initial impression of the MAHLE plant and also presents the principles and values that govern the way the team works together on a daily basis. And, of course, it highlights the innovative technologies that find application in the MAHLE thermal management produc